I'd like to get our Millard caravan renovations underway.
I have no idea how we're going to do that, considering our caravan is our current full-time home.
Nonetheless, I'd like to renovate her.
So with that in mind, I'm on a caravan renovations research mission.
I'm going to be researching all the caravan renovations I can find here in Australia, and in New Zealand, and organising them into a series of posts which I will share with you all.
This is what you can look forward to over the next couple of months…
Caravan Renovations by type/brand
Caravan renovation interiors
Caravan Renovations – exterior
Vintage Caravan Renovations
So let's get stuck straight into it!
I'm going to start with the Millard caravans, since that's what we have.
Although after this post, you can check out our Viscount caravan renovations, if you're keen.
Millard History
Millard was started by Jim Darlington in the late 1940's in Sydney. Taking his cue from the popularity of travel trailers in the United States, he set about making a few vans. It didn't take long before 'a few' caravans turned into a 'a lot' and they moved into a bigger factory.
Jim was soon joined in the business by his sons John and Peter, and under their leadership it become the second largest caravan manufacturer in Australia at the time.
Millard was sold to Viscount in 1979.
Millard has been through a few changes over the years, but is one of the longest enduring names in the Australian caravan industry.
Millard Caravan Renovations
You'll see that for each of the Millard caravan renovations, I've included the link to the people who did all this hard work.
For more pictures and in-depth information for each of these renovations, please head on over to their Instagram page or website, and give them some love.
And now on to the actual renovations…
Maggie The Millard
Georgia and Amy have done a fabulous job of renovating this old girl.
You'll see on their Instagram that they've got a lot of photos of the renovation process, and now that she's just about finished, she is looking so crisp and cool!
Maggie is a 1976 Millard Capri that came into their possession already stripped out inside. They've rewired all the electrics (240V and 12V), insulated the walls, put the walls on, floor coverings, a few new ceiling beams and ceiling, and created a space that's both stylish and comfortable.
They've thought ahead as well, with a set of bunks at one end so that it's perfect for a family (even though it's just the two of them, and Ziggy the dog). In the future, if they decide to sell, or list it on Camplify or have a family themselves, they've got the perfect Maggie already.
She's not totally finished yet, but she's already looking so pretty that I just couldn't resist sharing her with you!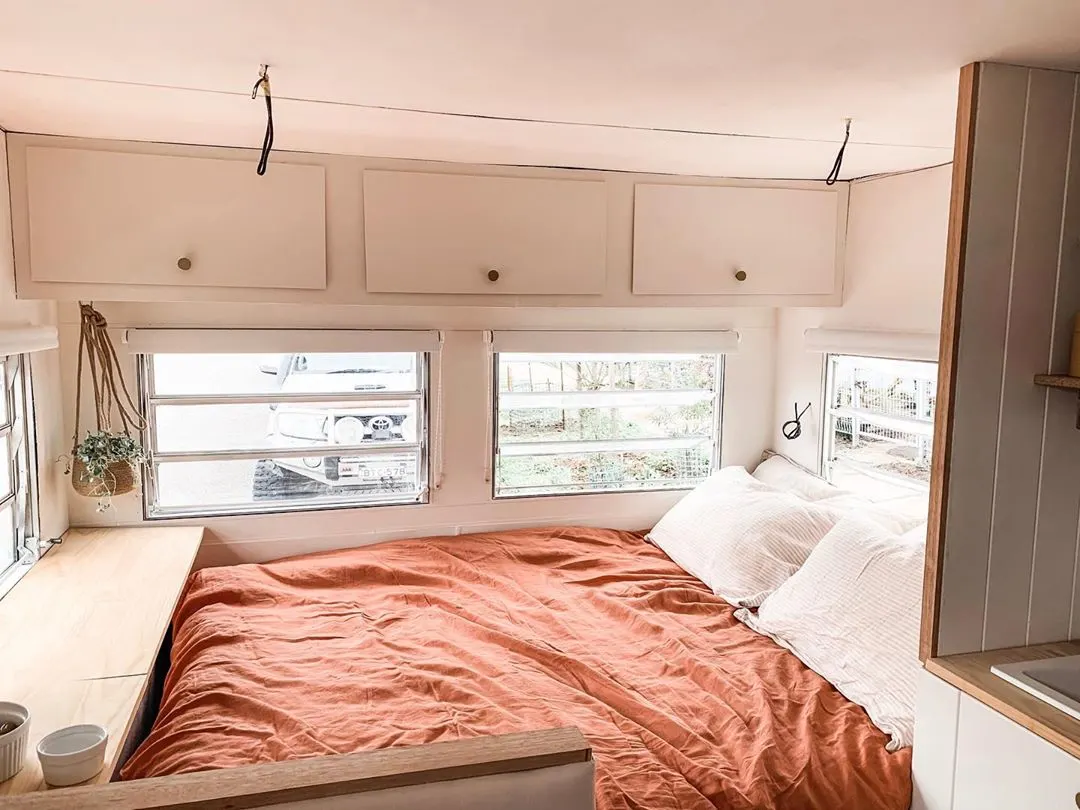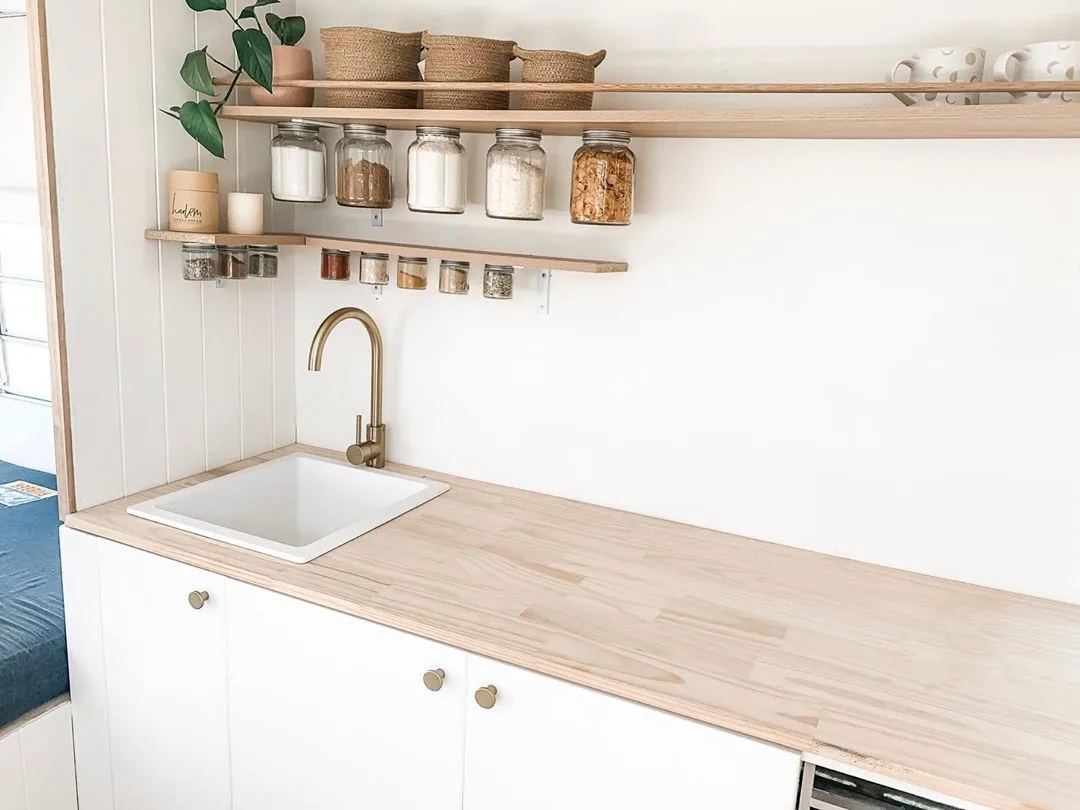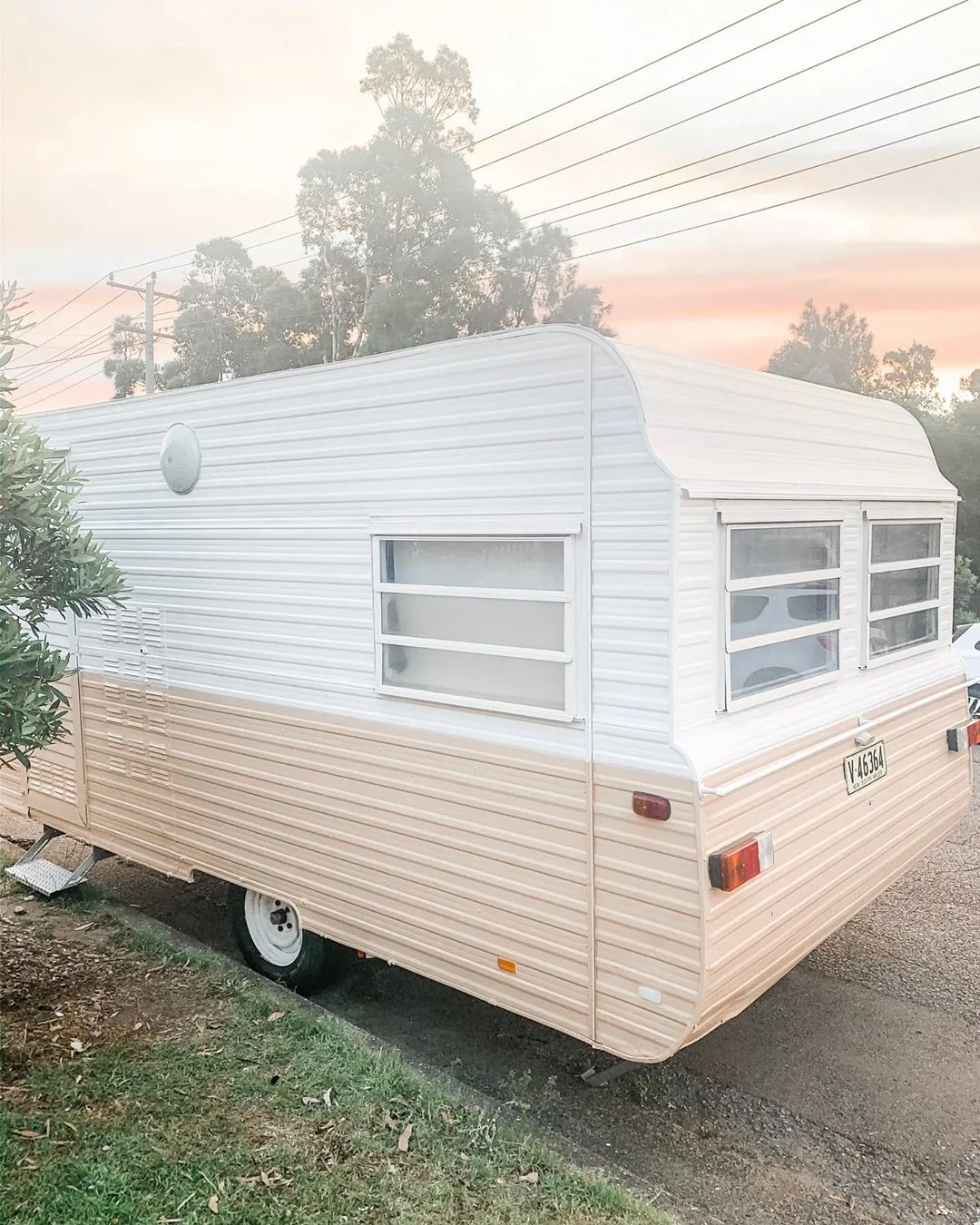 Amy & Georgia have a lot of photos of their renovation process on their Instagram account, so be sure to check them out at: @themaggieproject_
And they also have some in-depth posts about the process over on their blog: The Maggie Project
1976 Vintage Millard
@_creativecorners are lovers of vintage, pre-loved and handmade goods that took this very old and tired 1976 Millard caravan and transformed it into a haven of comfort where they can enjoy their holidays.
This renovation involved taking things right back to the bare bones, removing all the interior, rewiring for 240V, 12V and solar, re-sheeting the walls and floor, fixing windows, cleaning and waterproofing the roof… and the list goes on!
They managed to save some of the original pieces from the van when they gutted it, and it's delightful to see them get a new lease on life.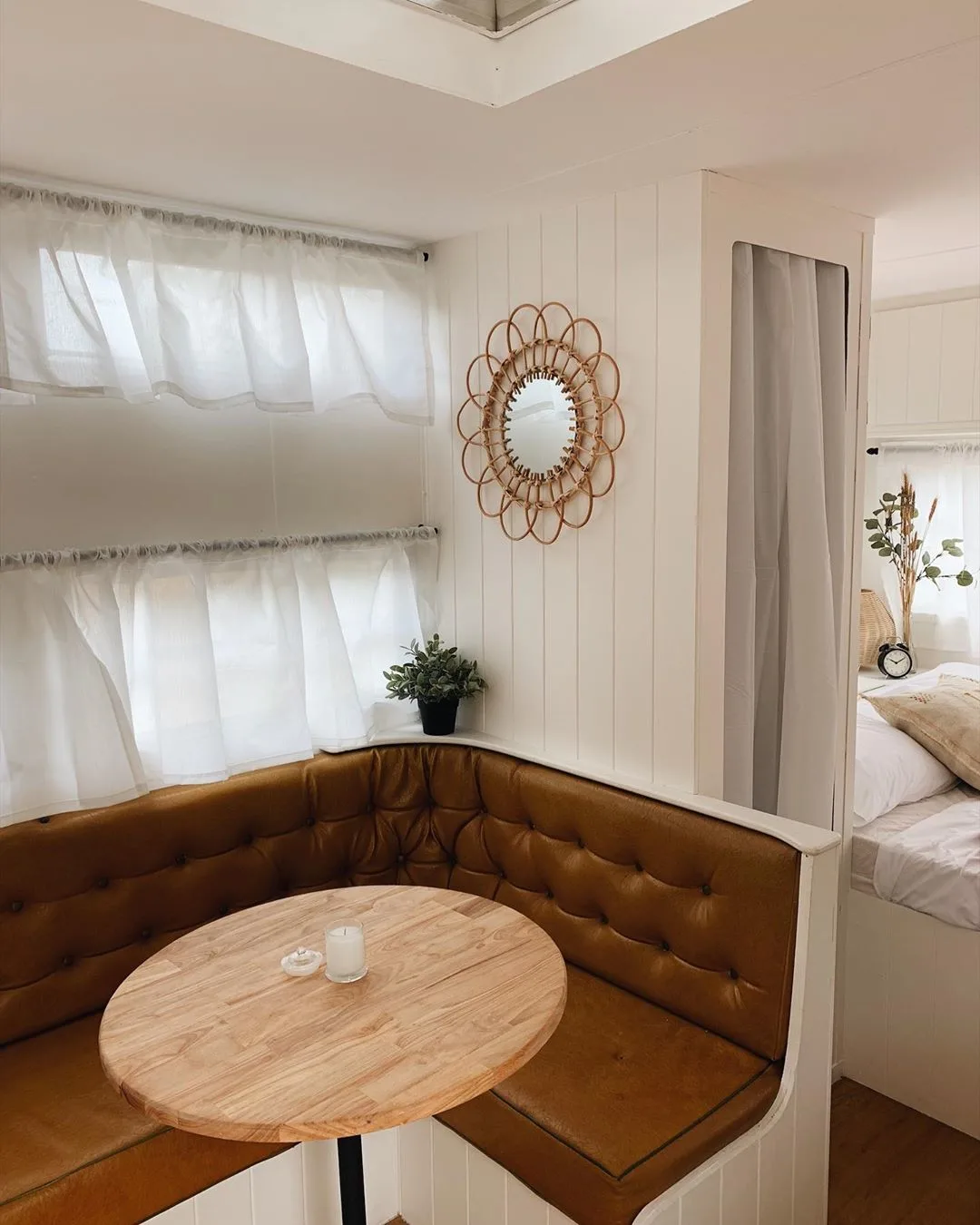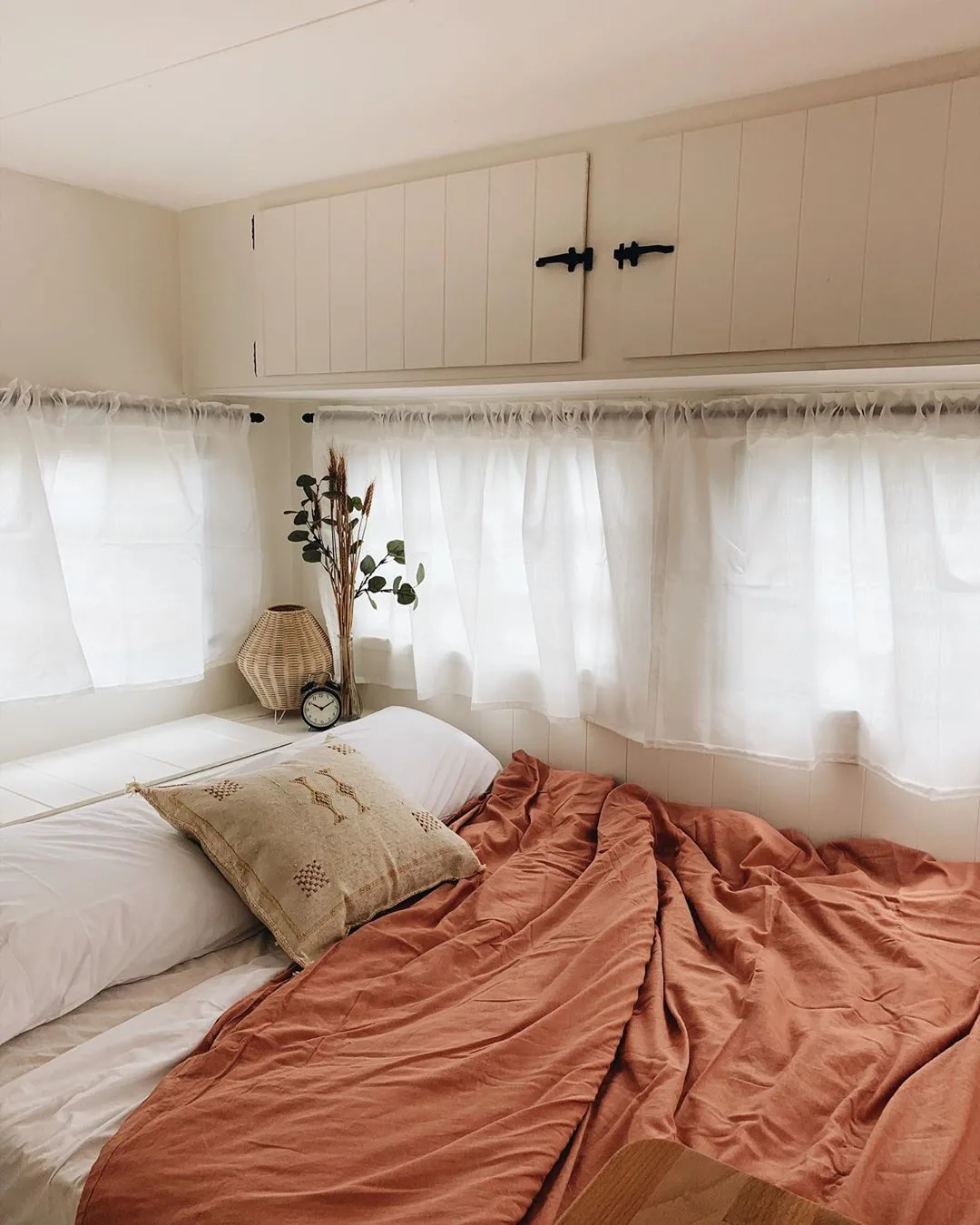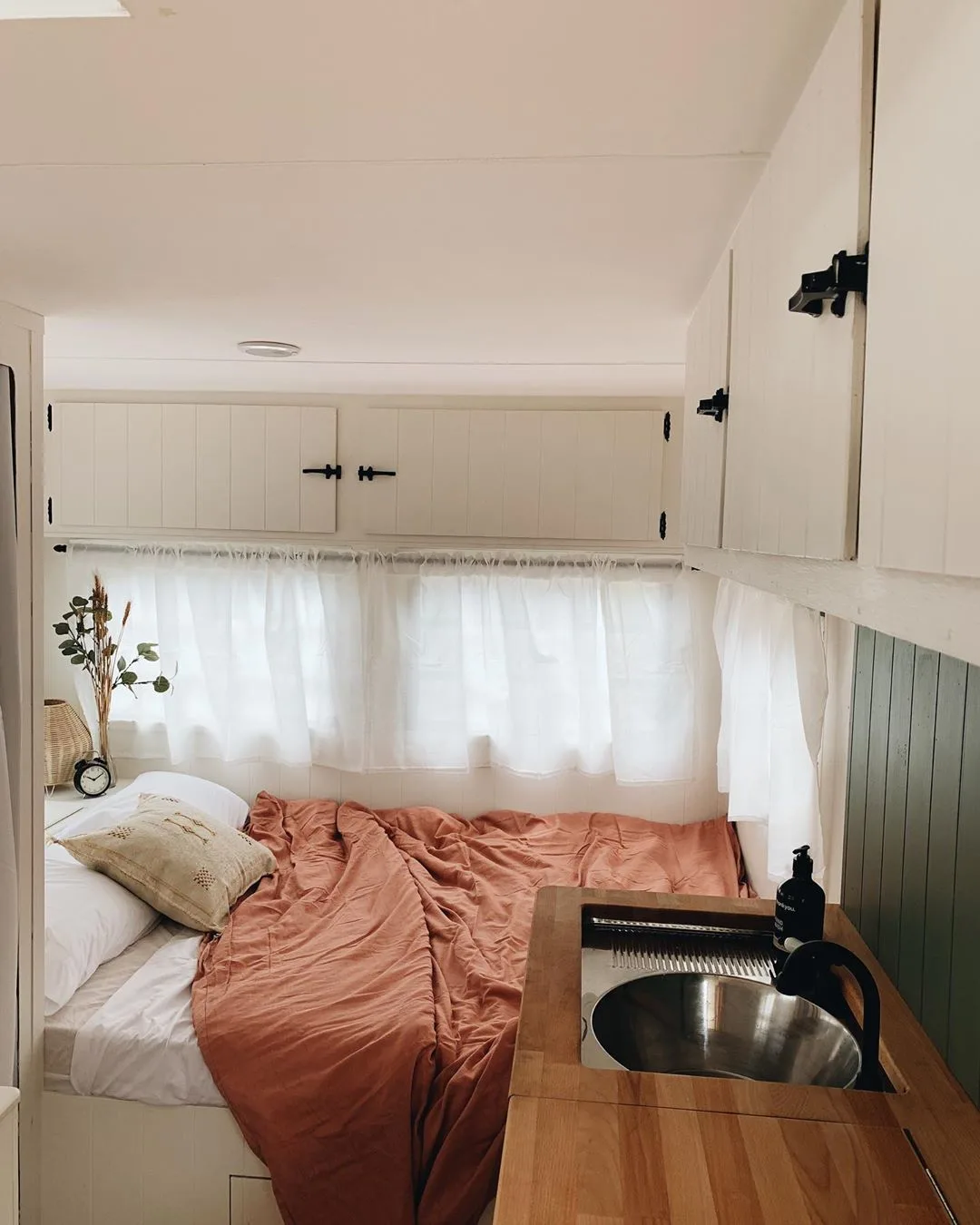 Check them out on Instagram at: @_creativecorners and be sure to check out their story highlights for lots of 'during' photos to help you with your own caravan renovations.
Marlow Mac
Marlow Mac is so gorgeous that I just don't know what to say about her.
So I'm just going to let the photos do all the talking.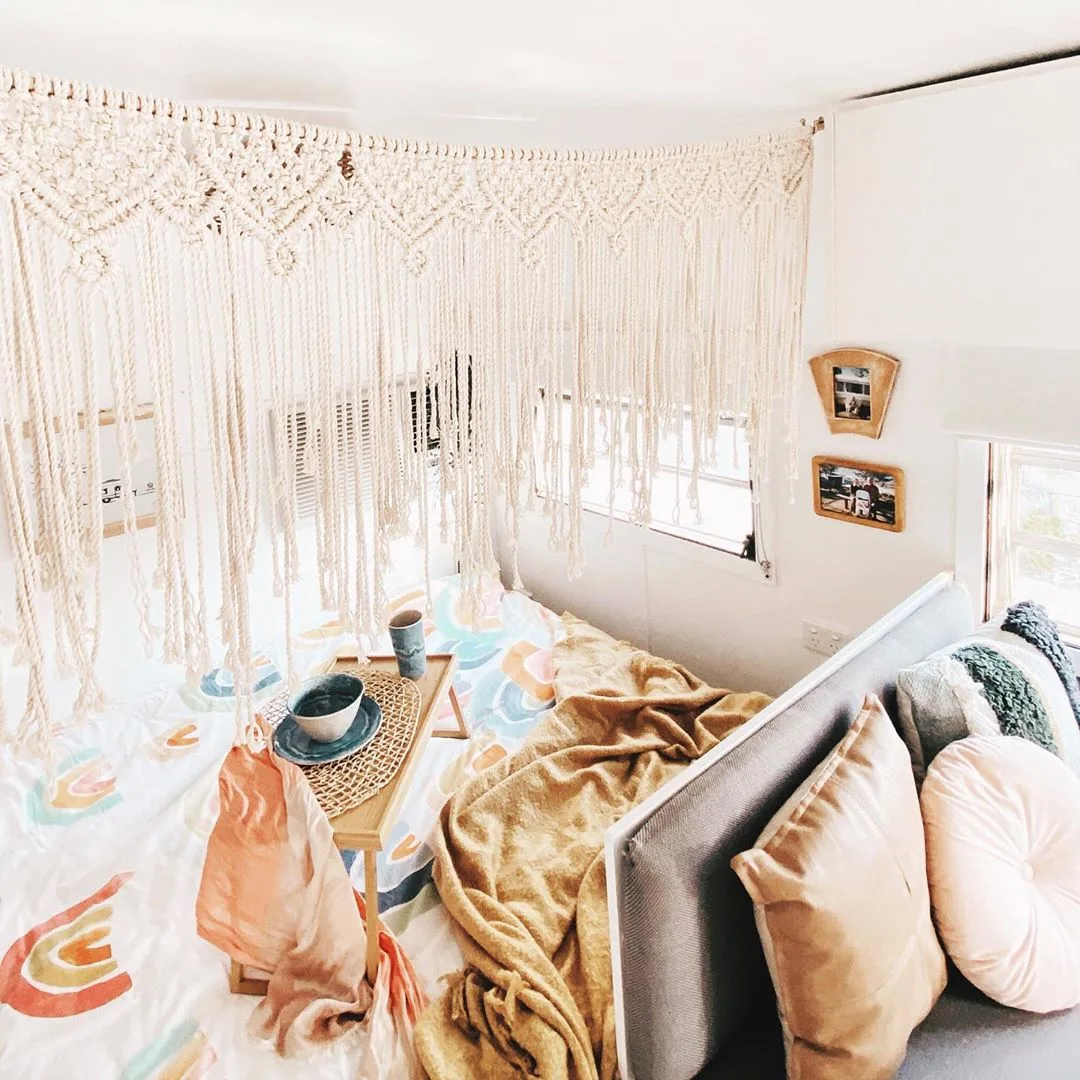 I love how there are personal touches to Marlow that make her unique to this family, she's even named after Granny Mac, who was the original Van Queen. I love that. She must have been an amazing woman.
There are more pictures of Marlow Mac over on her own Instagram profile: @memoirs_of_marlow_mac
Mabel
She's a motherly figure with warm earthy tones and textures, she just invites you to sink into her warm hugs, relax and let her look after you for a little while.
I don't know if that's what Nikki & Jason were going for, but it's the vibes that I get from Mabel and her wonderful renovation.
She's a 1984 Millard pop-top that was looking a lot the worse for wear when she arrived. But after having her insides all taken out, rebuilt and lavished with love, she's looking brand new.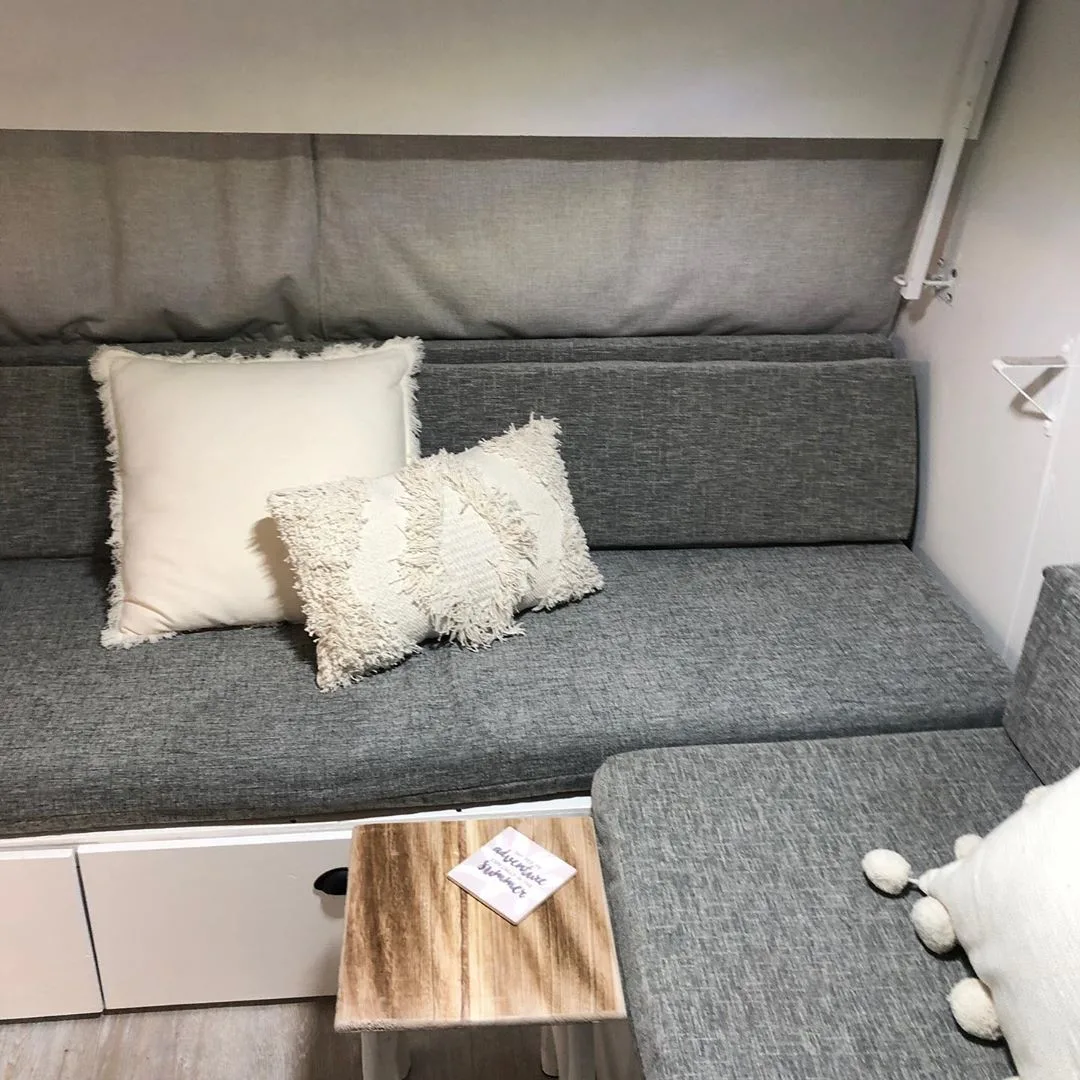 To see more of lovely Mabel, head on over to her Instagram account at: @mabelmillard
Our Millard Moments
Doesn't this photo just sum up everything about a caravan holiday?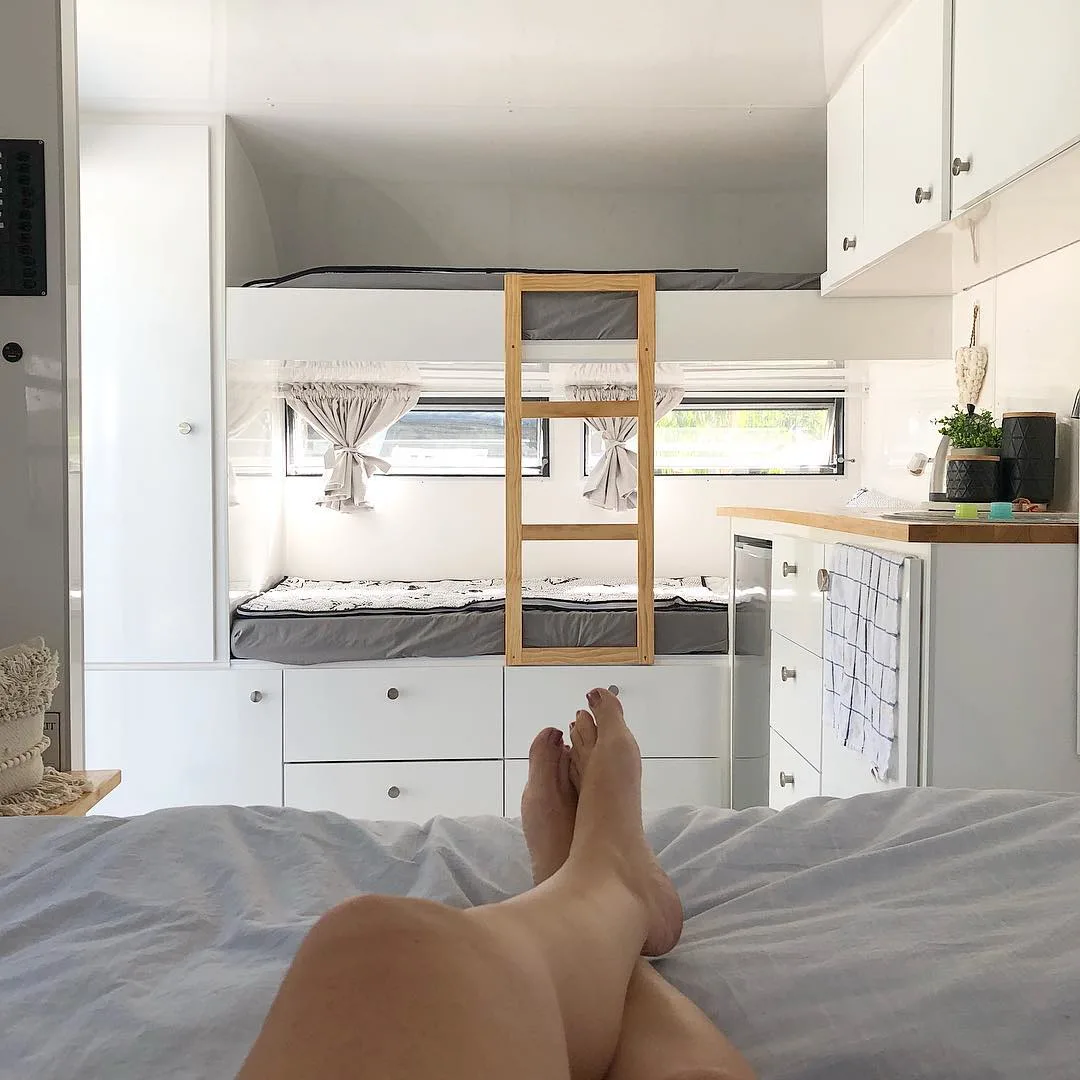 This is the kind of haven that this family of 4 have created for themselves when they renovated this 1971 Millard.
I think their profile sums it up perfectly… 'Adventure Awaits'.
Indeed, it does.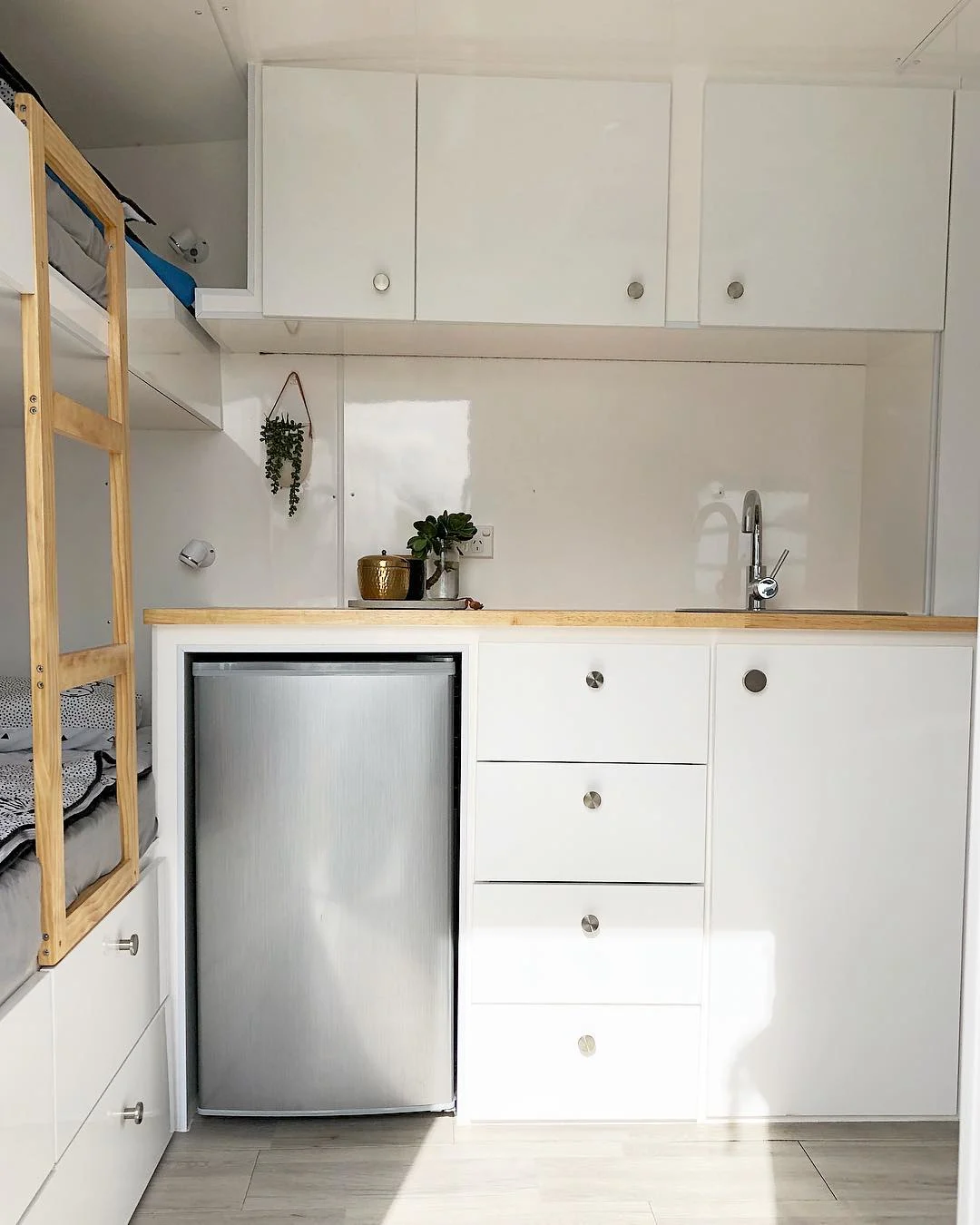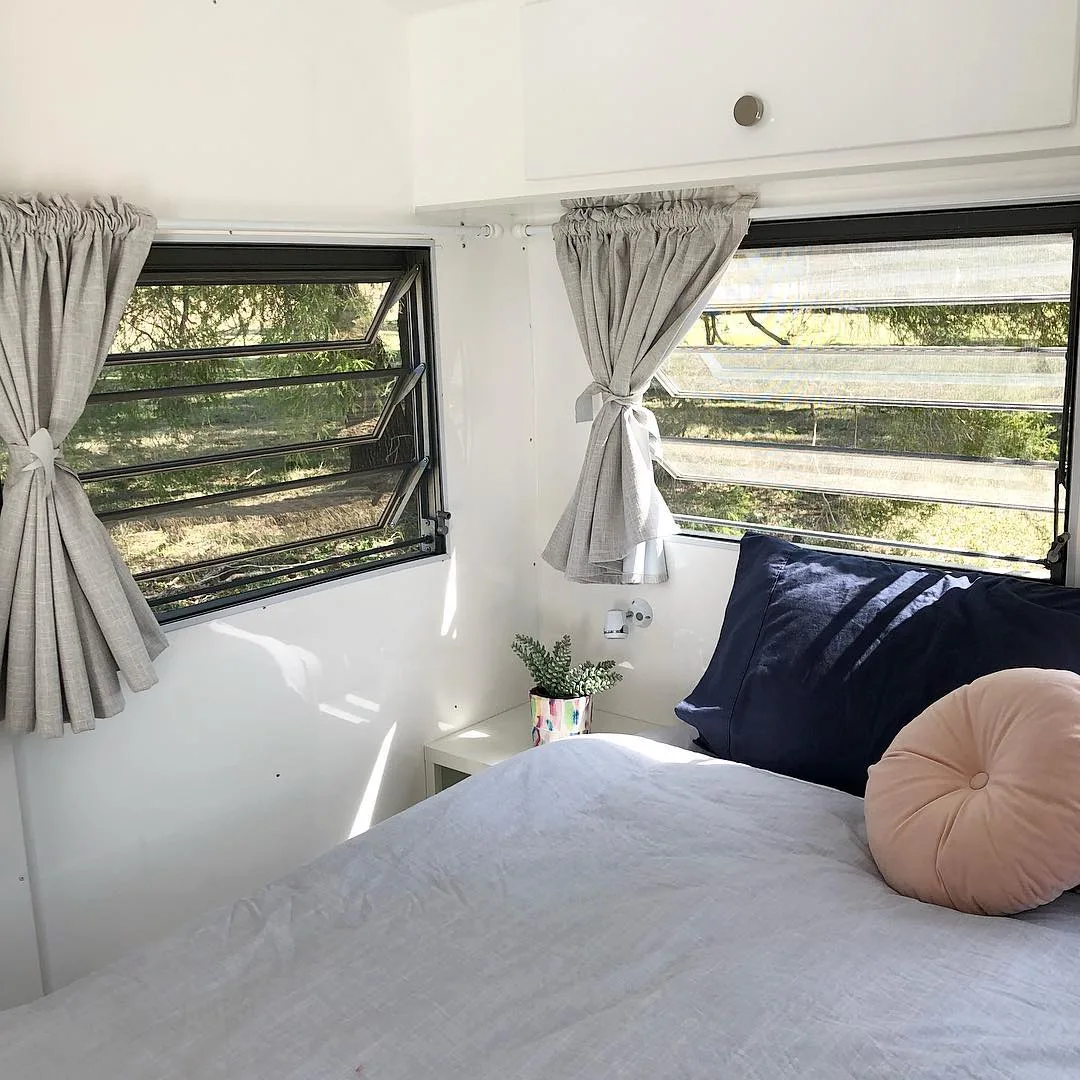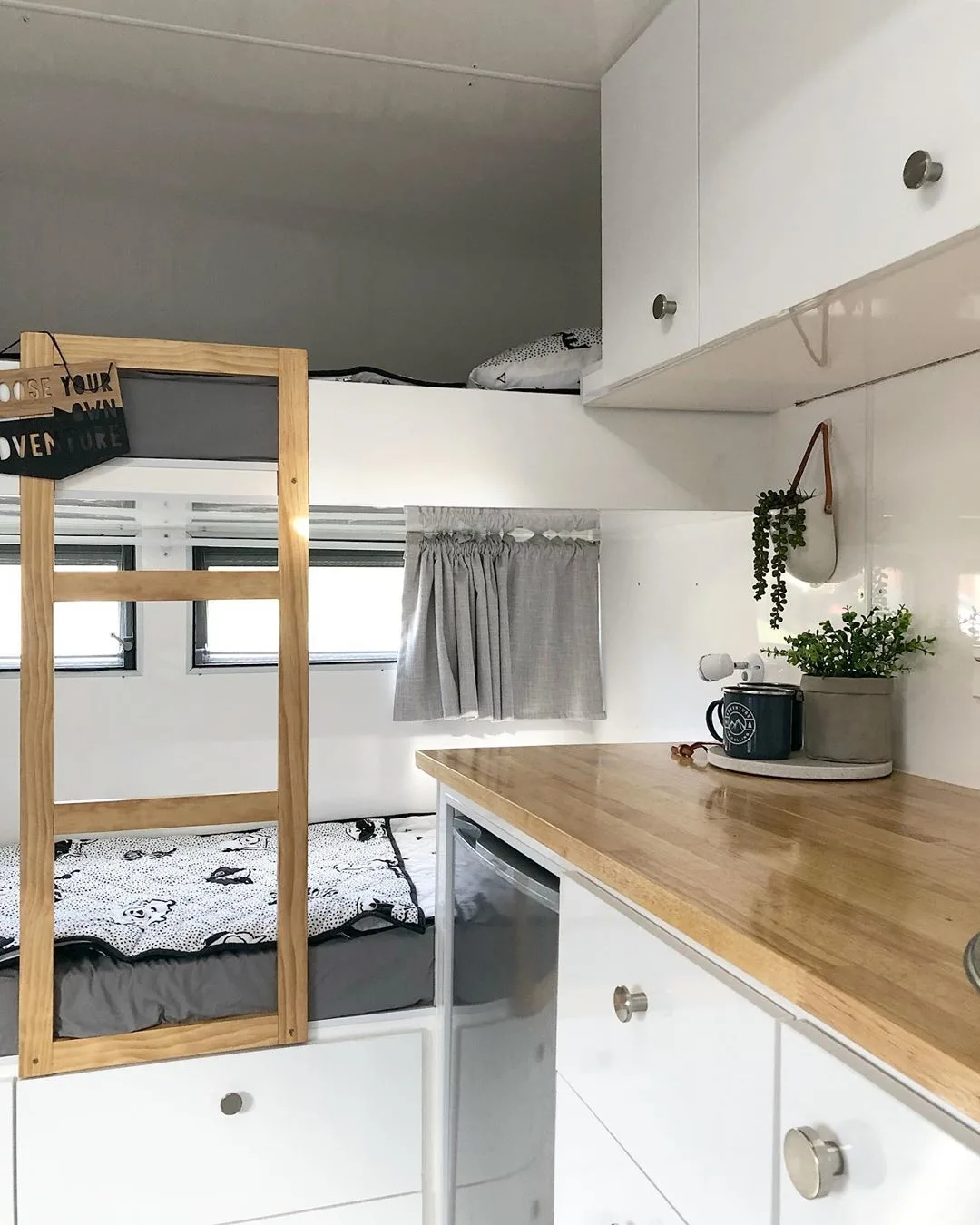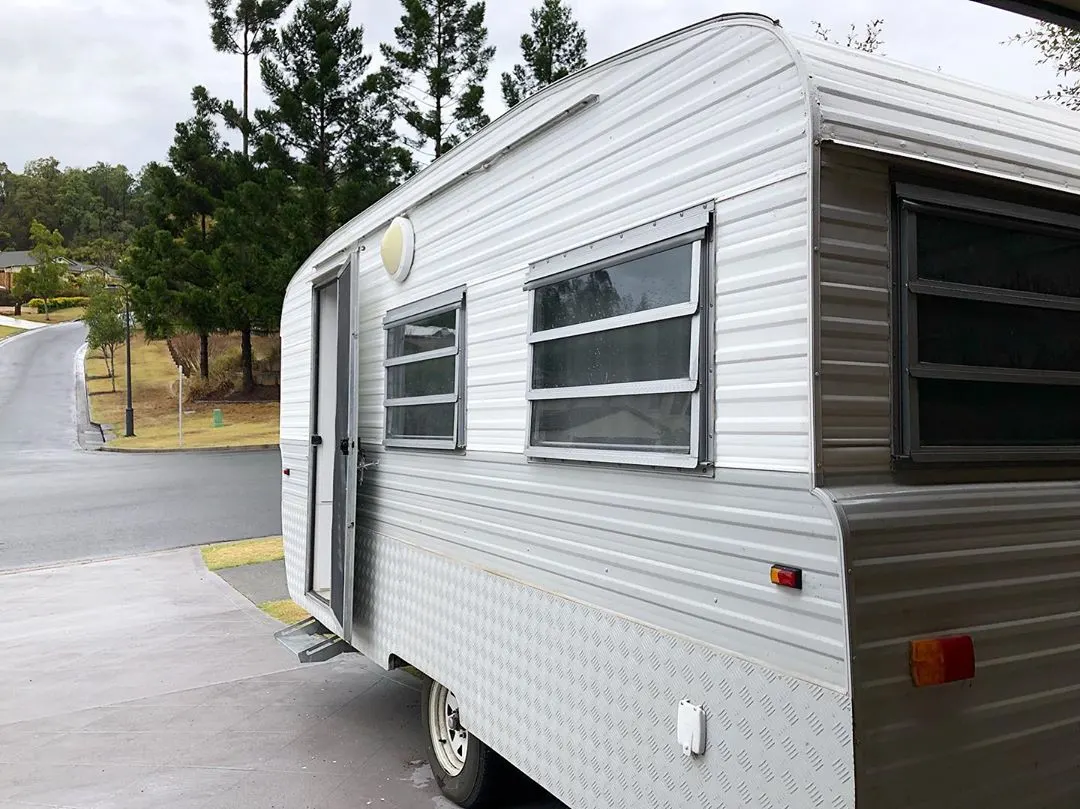 You can follow along with this family's adventures over on their Instagram profile at: @ourmillardmoments
Clementine
This citrus flavoured Millard is bright and so inviting!
She's been totally refreshed with lots of paint, new floors, some new appliances, heating, repairs and now has a personality to go with her vibrant colour scheme.
She hasn't been totally gutted like many other caravans of this age. But I think you'll agree… she doesn't need it!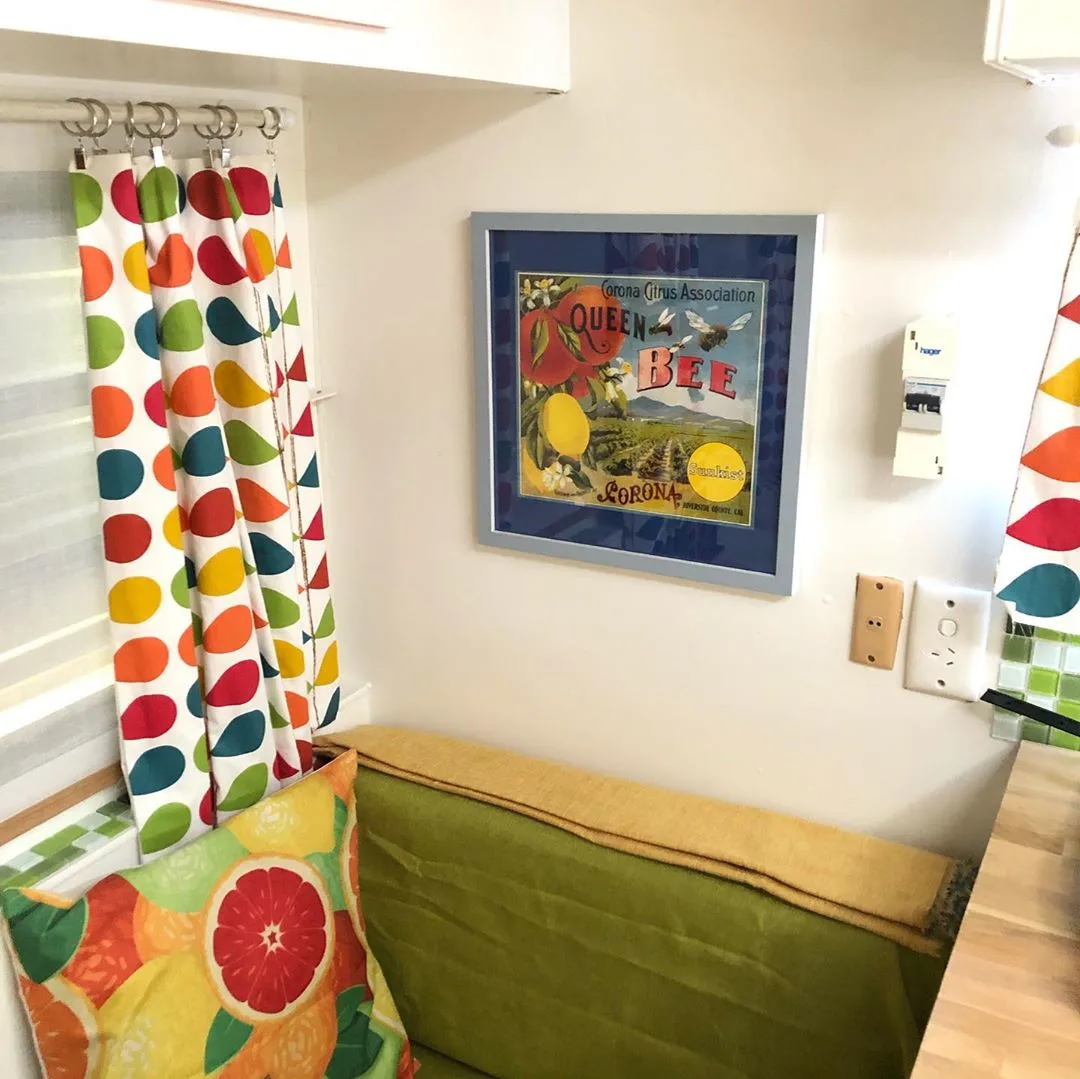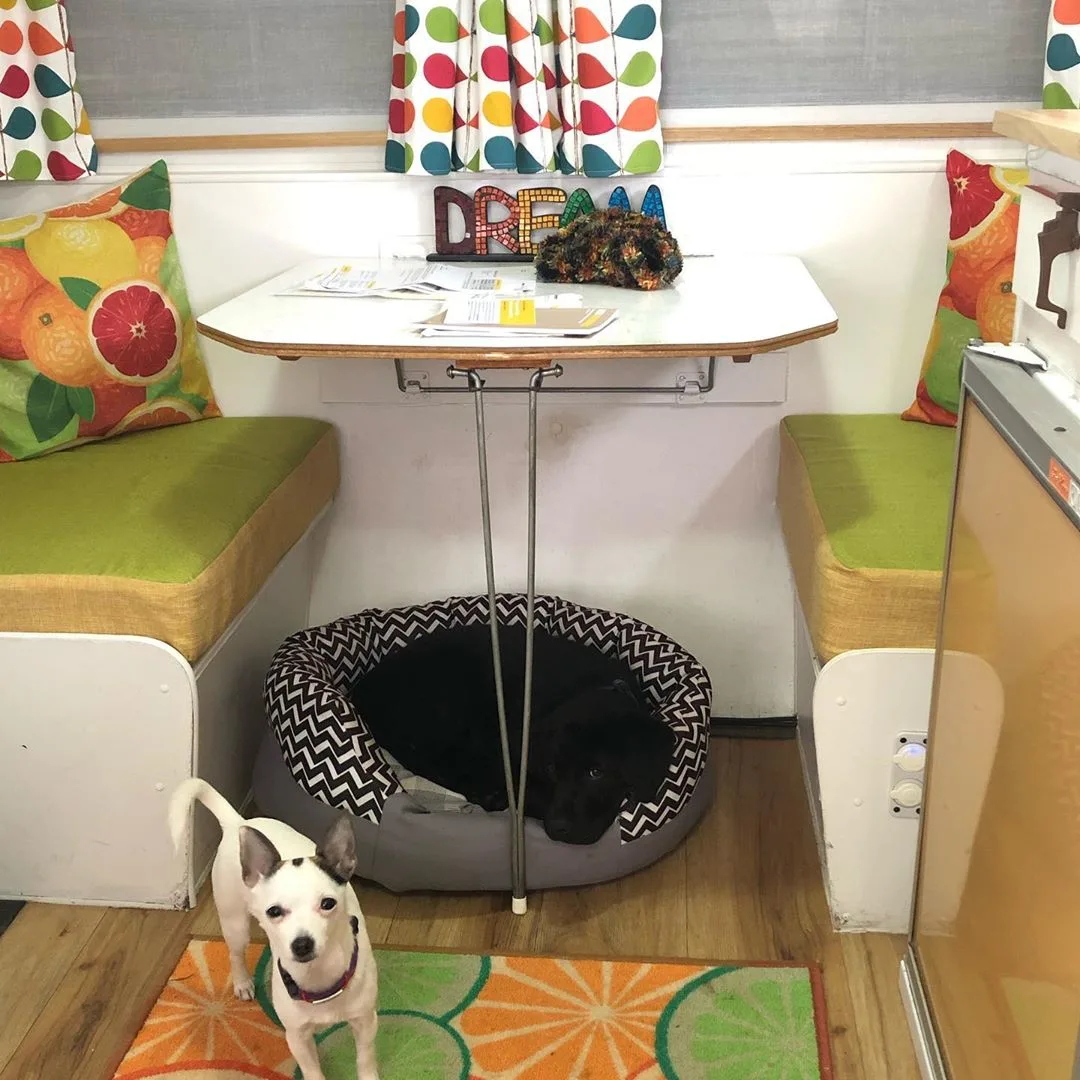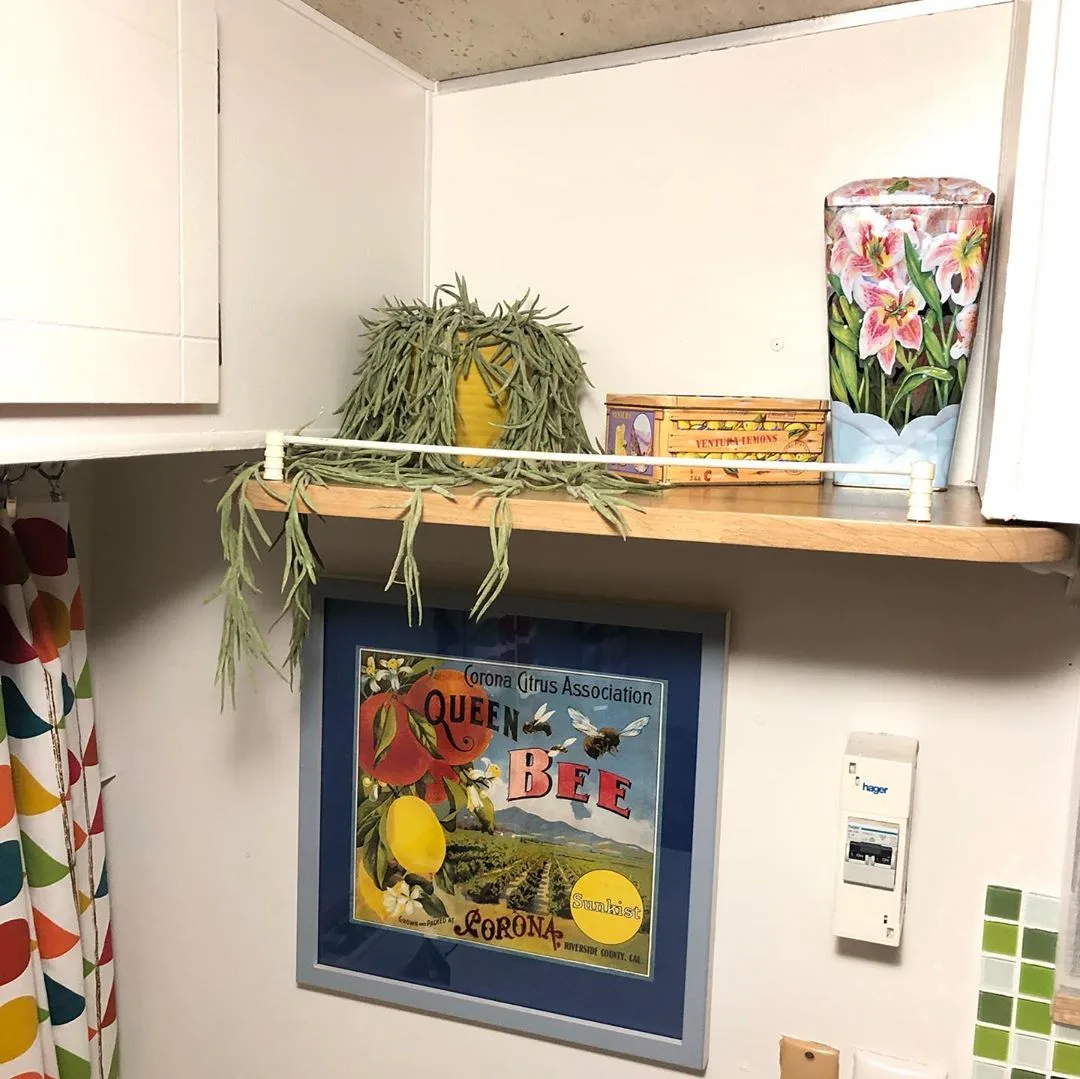 You can see more of the adventures that Clementine is going on, over on her own Instagram account: @ooohmydarlingclementine
We have featured a few Millards in previous posts, so if you haven't seen them already, here they are below:
Millie
Mille was the first caravan renovation by superstar renovation duo Carlene and Michael of Cedar & Suede fame (in case you don't know, they were on 'The Block' a few years back and have gone on to do more TV work in the renovation space).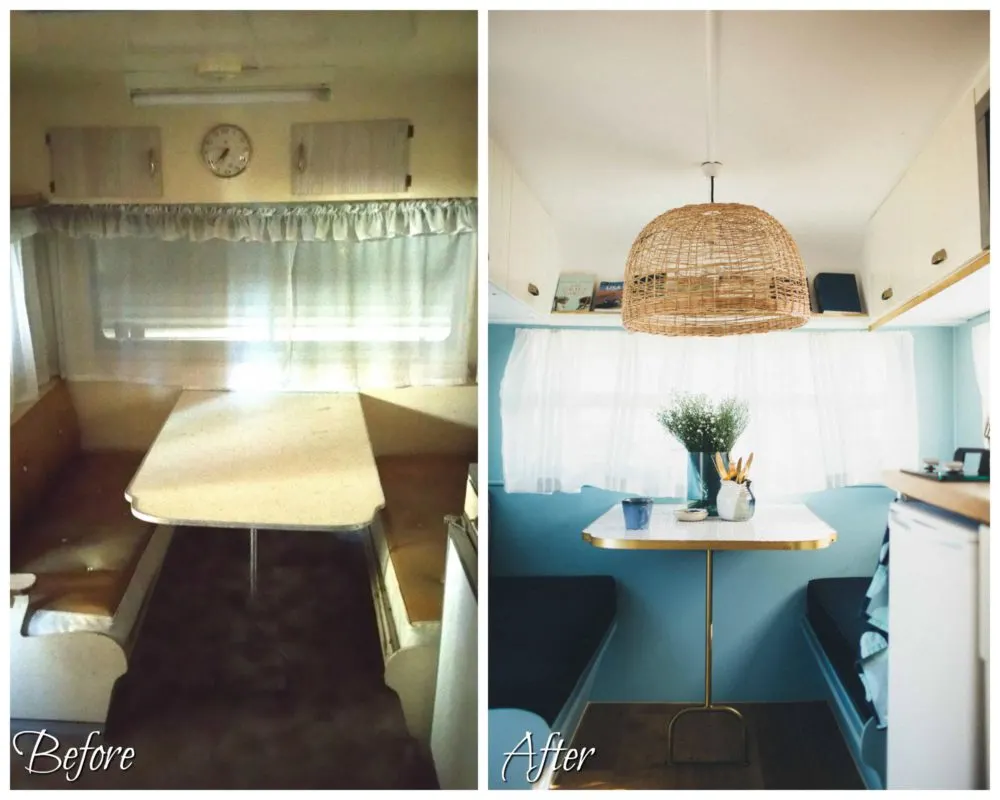 We featured her on our first Caravan Renovations post and you can see more of her over on their website at: Cedar + Suede
Our Vintage Caravan
Our Vintage Caravan was featured in our post DIY Caravan Makeovers and she was a hit!
This is a picture of her exterior (which, for some reason, has been going cray cray on Pinterest! People absolutely LOVE her).
Click on the picture below to head on over to the post to see pics of her interior.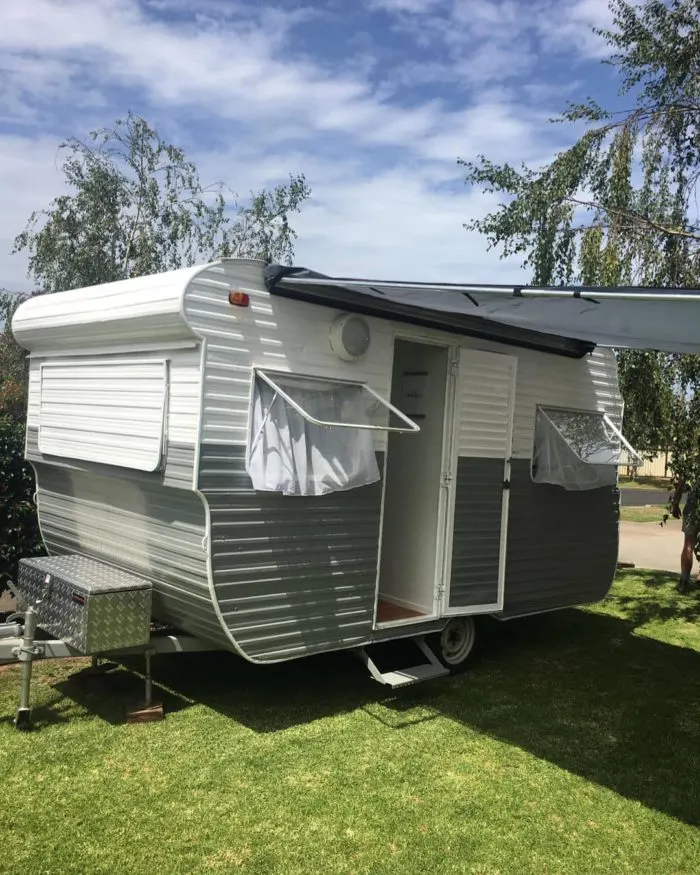 While they've now taken on a new project (a 1976 Viscount Royal… which you can see in our post about Viscount renovations) you can still see plenty of photos of their first renovation if you scroll back a little bit.
Here's a link to their Instagram: @ourvintagecaravan
Mona
We recently featured Mona The Millard on our post titled DIY Caravan Renovations | More Aussie Gems. She's a 1973 Millard and I love how they describe the process of transforming her from 'Beast to Beauty'.
She truly is a beauty.
See more of her transformation and her adventures, over at @monathemillard on Instagram.
Norbit
We featured Norbit in our DIY Caravan Renovations | More Aussie Gems post. He's a 1968 Millard that was lovingly renovated into a luxurious tiny home on wheels.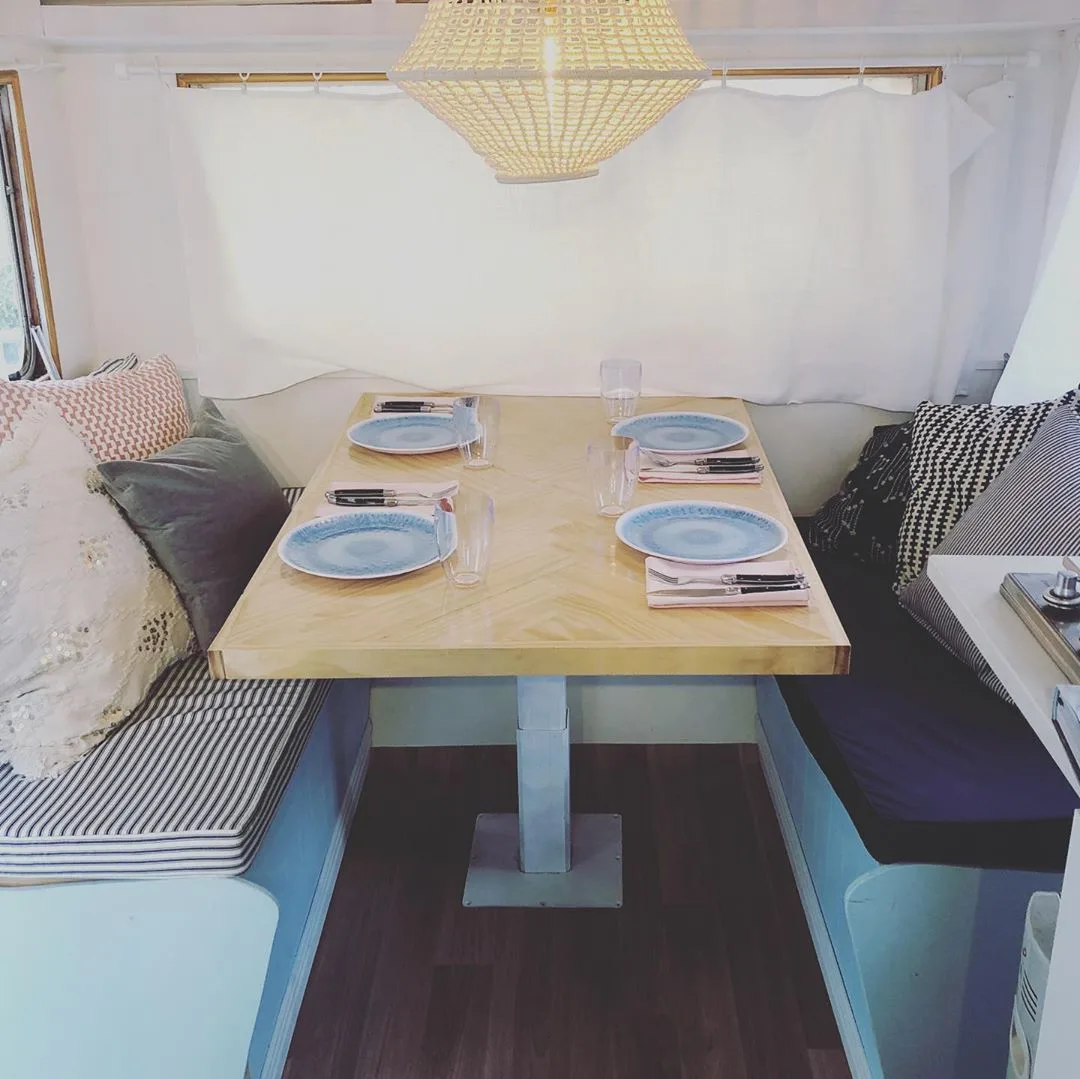 He's now been sold to a new family but you can still see photos and information about his transformation over at @norbit_the_nomad on Instagram.
Do you have a Millard caravan renovation that you'd like to share with us? Pop your link in the comments below so that we can all share in each others lessons and learnings. 🙂
Save these stunning Millard caravan renovations to Pinterest