Hybrid Caravans Australia
Have you seen the dramatic increase in hybrid caravan models that are available here in Australia?
It seems that everyone is getting on the off road caravan bandwagon and producing these 'hybrids', but what are they really, and would they suit you and your style of travel?
What is a hybrid caravan?
A hybrid caravan is a cross between the luxury of a caravan and the off-road capabilities of a  camper trailer, but erring more on the side of the caravan. 
They're marketed as being as nimble and robust as an off road camper trailer, but with all the amenities and luxury of a caravan.
Kitchen is outside, with many having smaller kitchen facilities inside as well.
They are off-road capable, with features like offroad suspension, off-grid capabilities (solar, water & waste tanks), angled rear end, bash plates and stone guards.
However, I do feel like there are caravan manufacturers that are just getting on the 'hybrid' bandwagon and selling us caravans that are less 'hybrid' and more 'heavy luxury pop-top off-road capable caravan'.
My personal opinion – if you're truly after a nimble rig that has a few more of the creature comforts than just a camper trailer, then look for the hybrid caravans that are smaller and actually look closer to a camper trailer. 
This article by 4wdingaustralia goes in depth into hybrid caravans, why you would want one and what you should look for when buying one.
Have a read of this article to help you understand what you may want, and then come here for my comprehensive spreadsheet of all the hybrid caravans available here in Australia.
TheDirt4WD defines hybrid camper trailers into four different categories (notice the different terminology here, they're referring to hybrid camper trailers, rather than hybrid caravans). Those four categories are:
Canvas Hybrid – Often shaped like a teardrop camper, with solid walls around the bed area, but then with a canvas extension that greatly increases the inside space.
Micro-Hybrid – Less than 5.5m total length and under 2.2m tall. Think small pop-top.
Full Size Hybrid – Larger and with all the options of different layouts allowing for bunks, bathrooms and whatever else you want.
Hypercamper – This seems to be a classification of one manufacturer for their hybrids that have lower storage capacity and travelling height.
As you can see, nailing down a definition of a hybrid caravan is difficult.
Difference between a hybrid caravan and a caravan
The key difference between a caravan and a hybrid caravan is where you can take them, and a lot of that comes down to size. 
Hybrid caravans are smaller which makes them better suited for off-road tracks where they will follow in the tracks behind the tow vehicle.
In order to be smaller, the kitchen is often on the outside of the caravan, and if there is a bathroom it's either an external tent or a small wet bath inside.
Are hybrid caravans made in Australia?
There are many hybrid caravans that are made in Australia, and there are also many caravans that are manufactured overseas and imported here. 
You'll also find that some Australian caravan manufacturers will have components manufactured overseas and put together here.
How do you tell if a hybrid caravan has been manufactured in Australia or overseas? 
If a hybrid caravan has been built here in Australia, the manufacturer is likely to highlight that point.  
But another 'non-scientific' way to tell is by the price. 
The reason why so many caravans are manufactured overseas is that it's cheaper. Brands can have their caravans made overseas and shipped here for  cheaper than it is to manufacture here.
Cost of hybrid caravans
In Australia, hybrid caravans cost as little as $36,000, right up to $200,000 for a high end, fully featured model. Average cost is in the region of $70,000 AUD.
Is a hybrid caravan right for your style of travel?
Now that you've seen the (varied) definitions of a hybrid caravan; you can see that they're ideal for those travellers who want to go off-road, but would like to still have a somewhat luxurious place to retire each night.
If that's you, then a small, rugged and off-road ready hybrid could be the right choice for you.
Hybrid caravans in Australia
I have scoured the internet and found all the hybrid caravans that I possibly could.
And I've managed to find 52 caravan manufacturers with almost 250 different models of hybrid caravans!
I've listed all 52 of the manufacturers at the end of this post, if you just want to see who they are.
All 248 hybrid caravans on a spreadsheet
If you want to see all 248 different models, we've made available a spreadsheet where I've painstakingly gone through every manufacturer's website and listed every model of theirs that they have defined as a hybrid caravan.
I've included the Make, Model, Length, Width, Height, Weights, Number of people it sleeps, whether it has a bathroom or not, the battery set-up, aircon, tow hitch and Base Price; and the URL so you can go and check it out for yourself.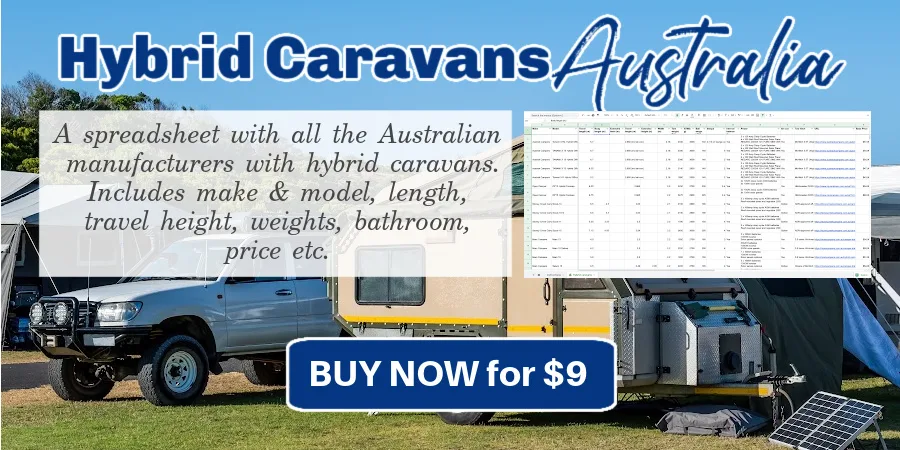 Click here to buy the Hybrid Caravans spreadsheet.
13 Australian hybrid caravans
If you just want to see a selection of some of the hybrid caravans available in Australia, here are 13 that I think would be great for any Aussie adventure. (And if you're looking for a hybrid caravan with an ensuite, all the campers on this list do include an internal bathroom.)
Austrack Campers Tanami X15L Hybrid Offroad Camper
https://www.austrackcampers.com.au/product-category/hybrids/
With ample room for a couple this off road caravan is a little package that packs a big punch.
The extendable bed means that you have the full size bed as well as a spacious lounge to relax inside on those not-so-great weather days. And that space converts to a bed, allowing you to have an extra double bed if you need it.
The 'standard' features on this caravan has lots of those 'extras' (like aircon, external gas outlet, fully enclosed annex) that are usually optional (and cost extra) on other caravans. So I love that there's lots included already.
Travel length: 6.7m
Travel height: 2.65m
ATM: 3000 kg
Base price: $62,990
Opus Camper OP13 Hybrid Caravan
https://www.opuscamper.com.au/op13-op15/
The Opus OP13 is another compact caravan that has everything you need want for an offroad adventure. You can even bring the family as they have 3 different layouts to choose from, one of which includes bunks. That's a lot of convenience to fit into such a small unit.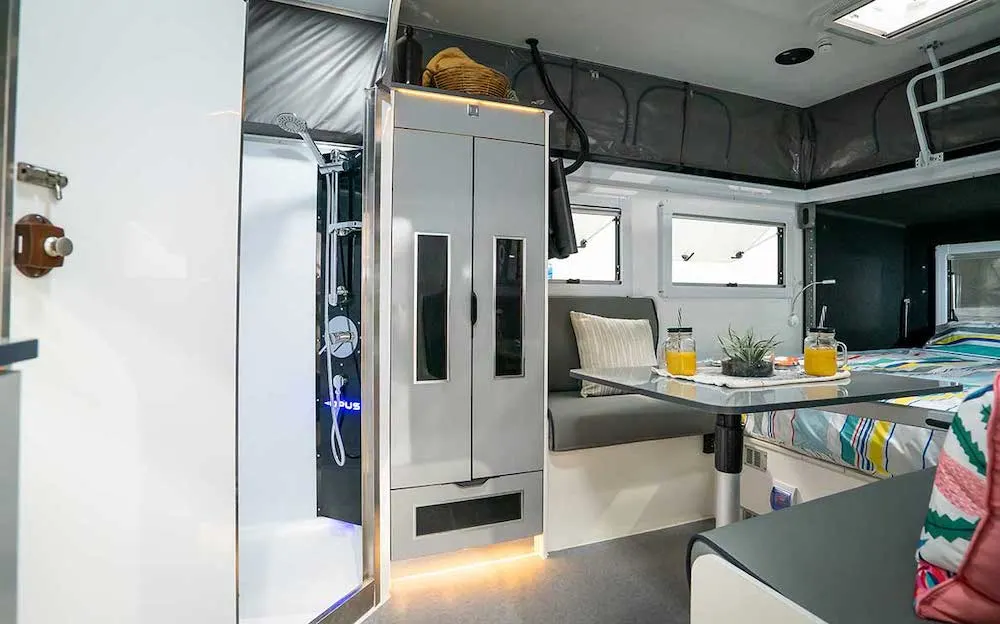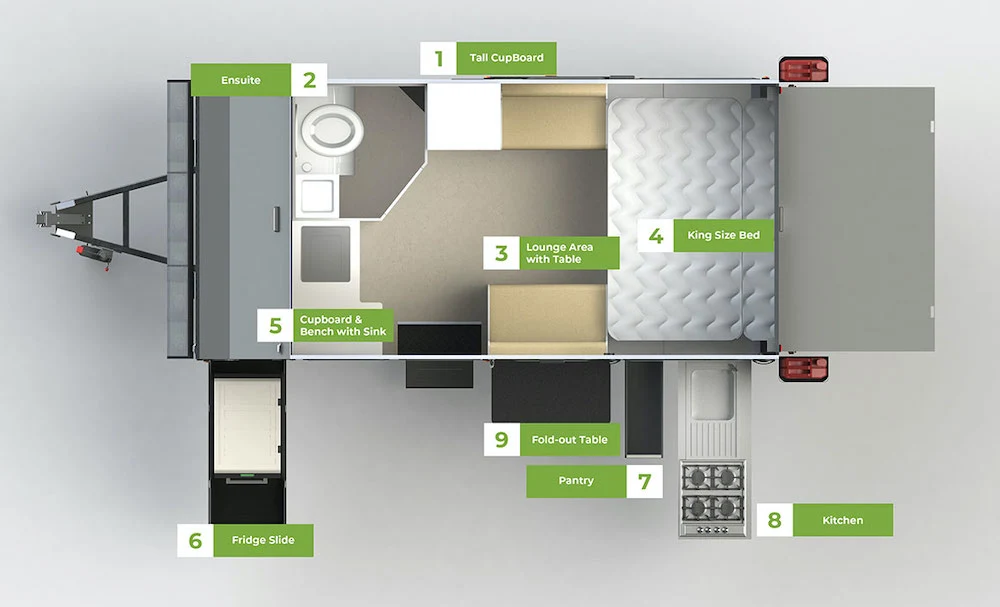 Travel length: 6.25m
Travel height: 2.685m
ATM: 2700 kg
Base price: $54,999
Stoney Creek Campers Scout-14 Off-road Hybrid Caravan
https://www.stoneycreekcampers.com.au/campers/#off-road-hybrid-caravans
The perfect couples retreat, the Scout 14 by Stoney Creek Campers is like a little tetris camper with so much fitting into such a small space.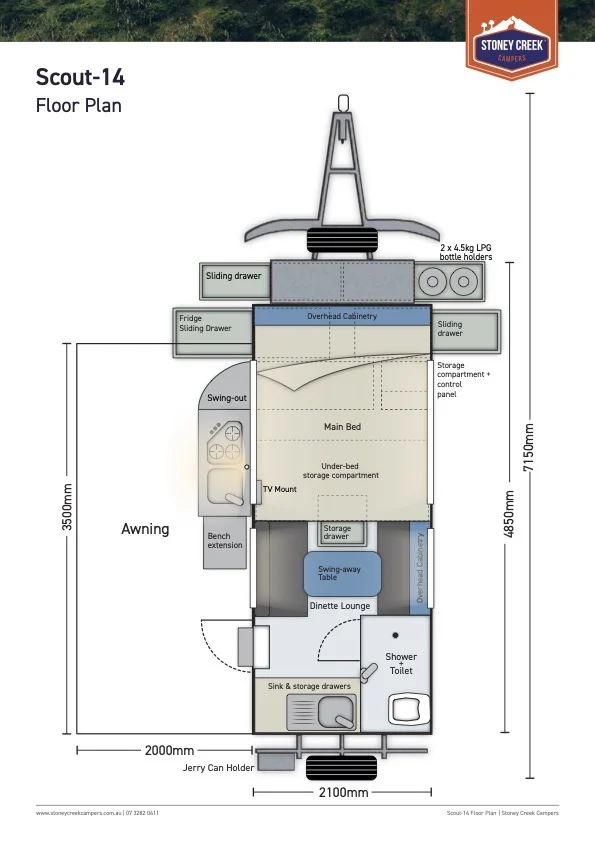 Travel length: 6.6m
Travel height: 2.63m
ATM: 2800 kg
Base price: 
Mars Campers – Mars 13X
https://marscampers.com.au/campers/hybrid-caravans/
The Mars 13X is one of a number of hybrid campers by Mars, and one of their smallest. Even so, there's still room for a comfy king size bed plus all the mod cons.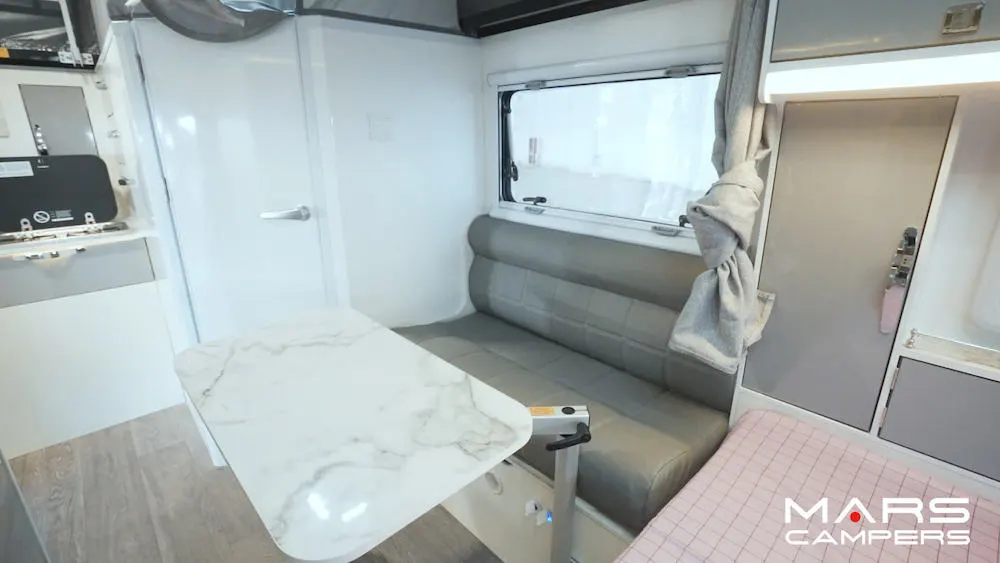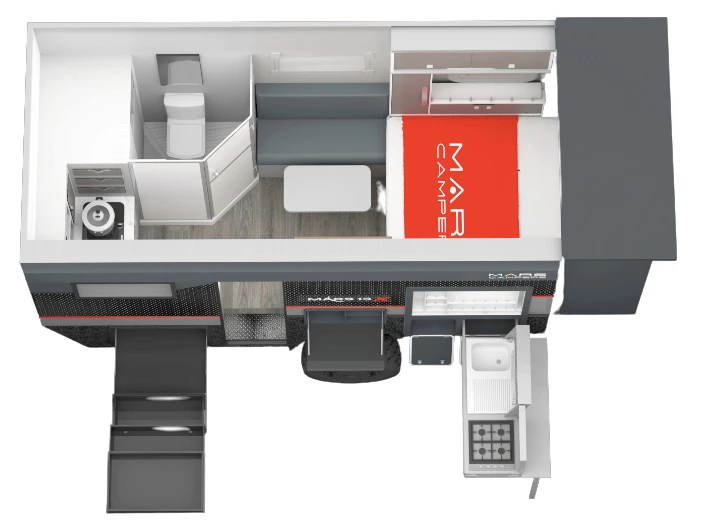 Travel length: 5.66m
Travel height: 2.48m
ATM: 2800kg
Base price: $51,999
Prime Campers – GT13C Grand Tourer
https://primecampers.com.au/new-hybrid-caravan/
The bed slide on the GT-13C really adds to the space and allows for that massive king size bed. There are other layouts available in the Prime Campers range that can include double bunks, which makes these little campers great for families.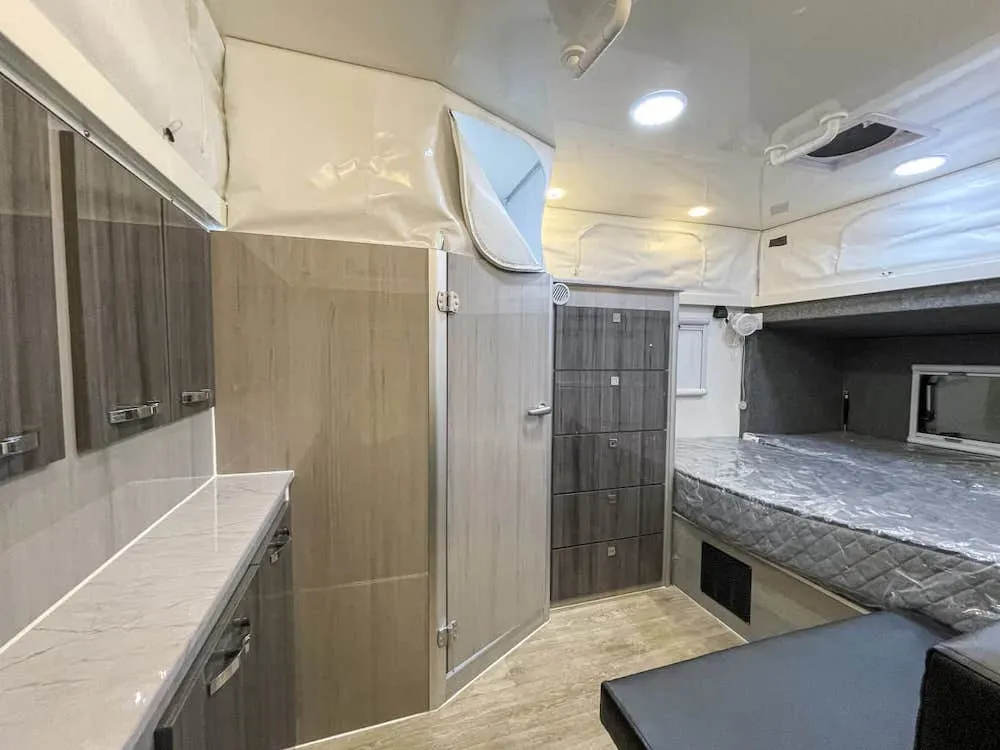 Travel length: 5.5m
Travel height: 2.5m
ATM: 3000kg
Base price: $57,999
Fantasy Caravan F1-E Hybrid Off-road Caravan
https://fantasycaravan.com.au/hybrid-campers/
It kinds blows my mind when you see how much can fit into just an 11ft caravan. Of course, having the kitchen outside saves a tonne of space, but there is still a sink inside and bench area that can be used as a kitchen (with a portable stove top) if the weather is bad.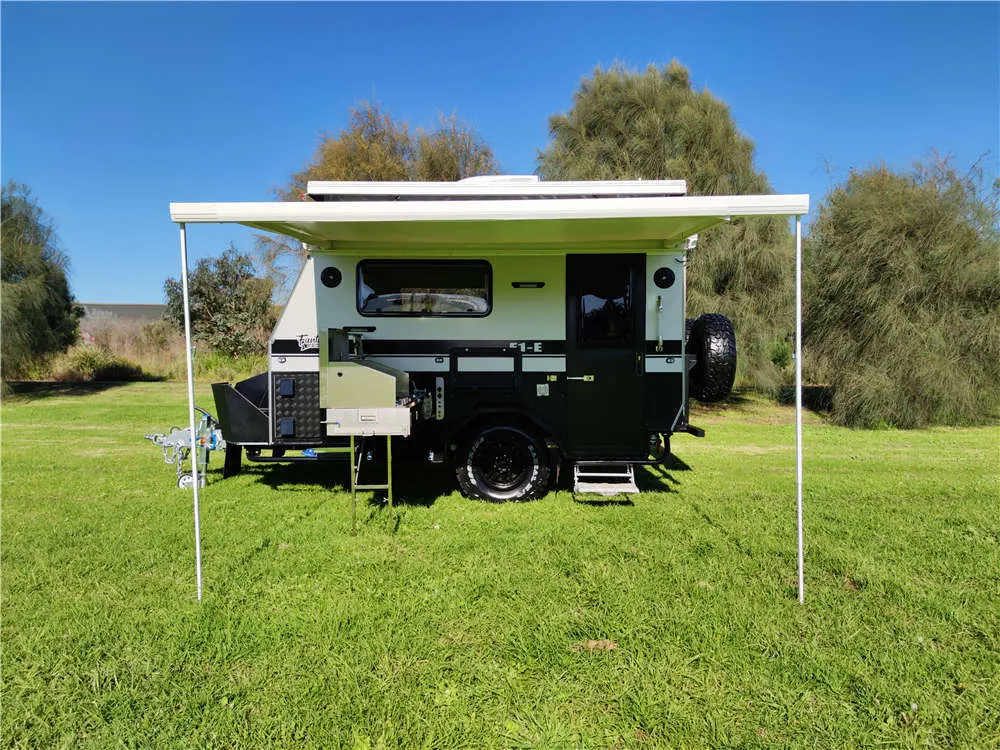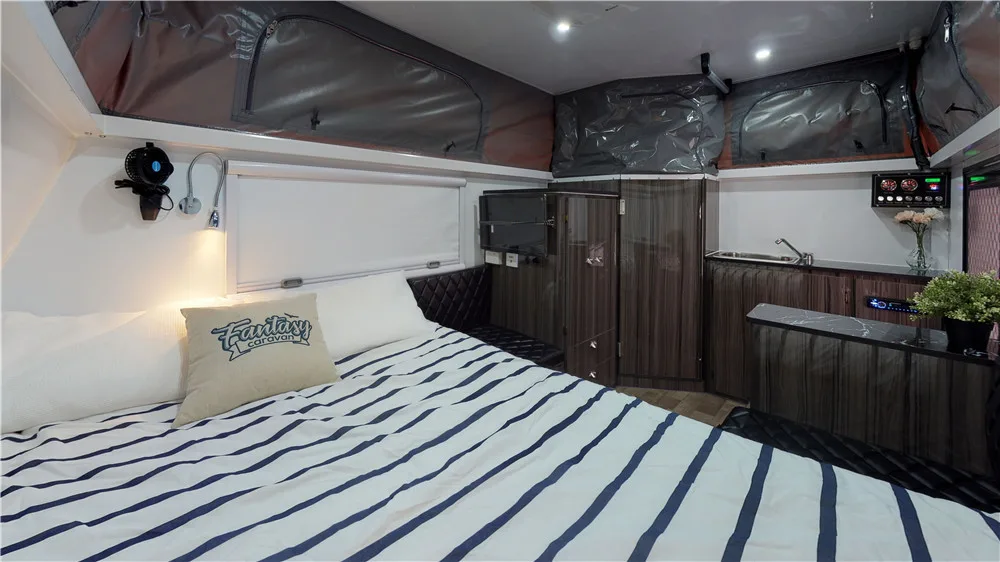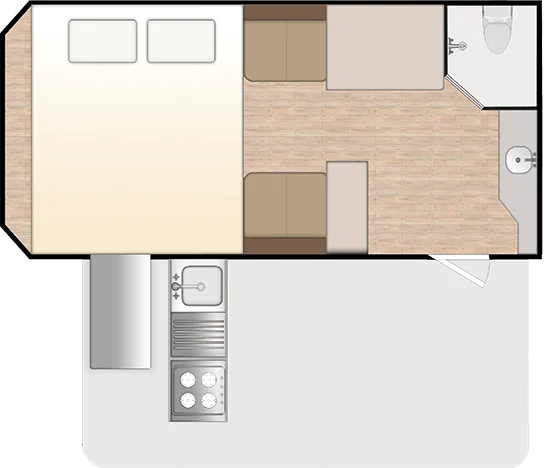 Travel length: 5.38m
Travel height: 2.6m
ATM: 2750kg
Base price: $48,990
Track Trailer T4 Rhapsody
https://www.tracktrailer.com.au/t4-hybrid/
While Track Trailer has 3 models of their off-road hybrid caravans, they're actually very customisable so you can probably design exactly what you want/need. And they don't look like every other caravan out there, with their unique window shapes and sleek interior decor.
This is the Rhapsody which looks perfect for a couple.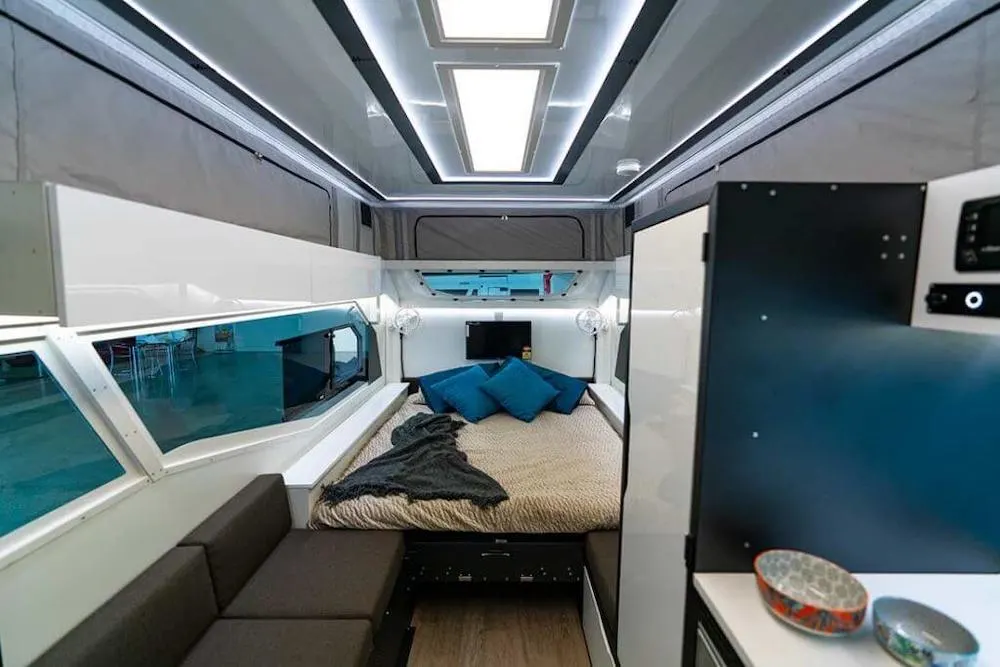 Travel length: 6.575m
Travel height: 2.55m
ATM: 2650kg
Base price: $161,070
Eagle Camper Trailers – Warrior 10 Off Road Ensuite Hybrid
https://www.eaglecampertrailers.com.au/off-road-caravans/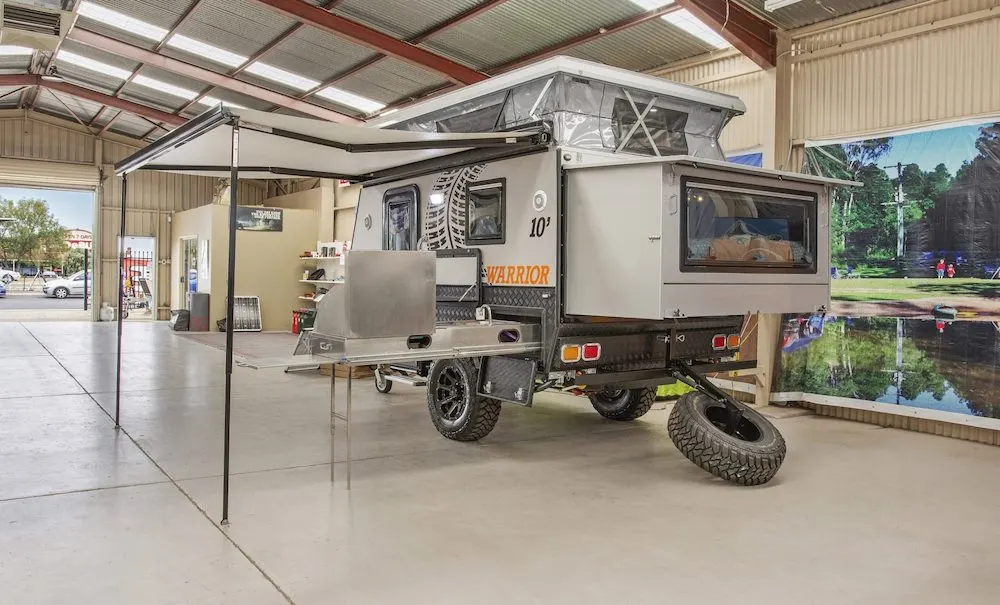 Travel length: 5.42m
Travel height: 2.475m
GTM: 2250kg
Base price: $46,990
Signature Camper Trailers – Iridium 13 Hybrid Camper Trailer
https://signaturecampertrailers.com.au/iridium-hybrid-camper-trailer/
As with most caravans, the Signature – Iridium 13 comes with a lot of optional extras and you can customise it quite a bit. You can have a queen bed and ensuite, or queen bed & single bunk with ensuite, or queen bed and double bunks with no ensuite.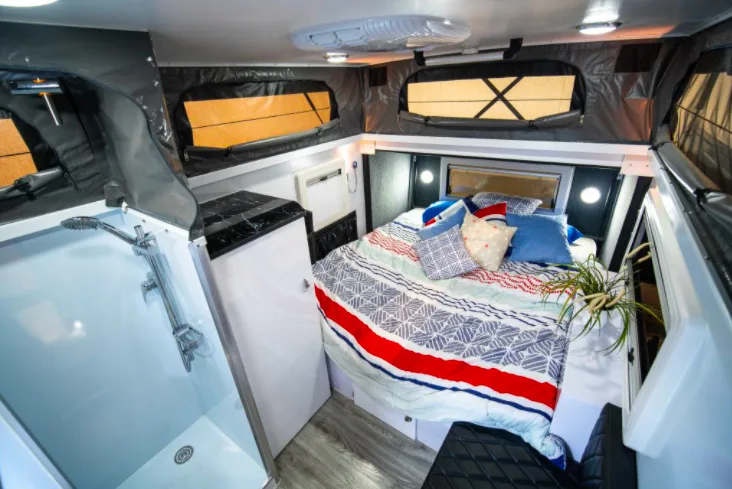 Travel length: 5.4m
Travel height: 2.36m
ATM: 2500kg
Base price: $49,990
Market Direct Campers (MDC) XT12HR Hybrid Off-road Caravan
https://www.marketdirect.com.au/off-road-caravans/
It's hard to imagine something this luxurious on a bush bashing adventure, but it sure would be nice to pull up to a remote campsite and be able to retreat to and indoor haven.
The XT12HR is hard roof, but there is a pop top version if you prefer.
I'm loathe to put a hard top caravan in this list because in my head, a hybrid can't be a hard top. 
But, the manufacturers call it a hybrid so… 
And they know a whole lot more than me, that's for sure! They've called it a hybrid, so I've included it in my list.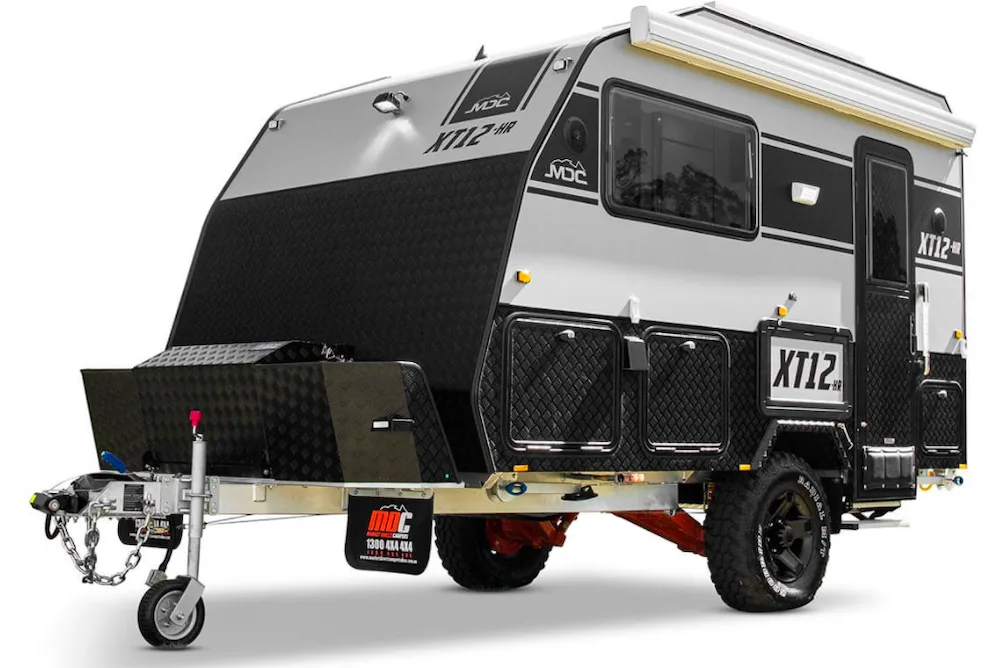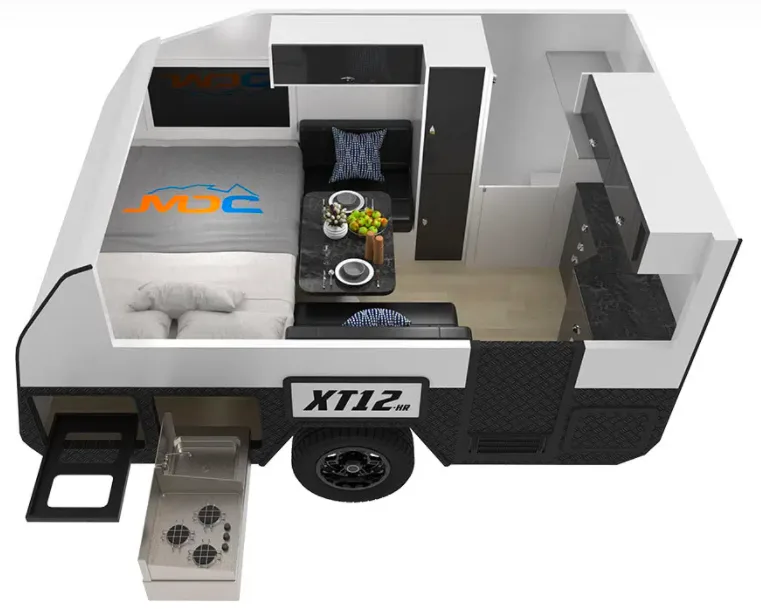 Travel length: 5.543m
Travel height: 2.8m
ATM: 3000kg
Base price: $62,990
Jayco Hybrid Caravan – Crosstrak
https://www.jayco.com.au/range
We all know the name Jayco, as they are big players in the caravan world. 
There are 4 different layouts of the Crosstrak hybrid caravan, 1 has bunks, and 2 of them have a bathroom. The bathroom version below is the largest of the 4.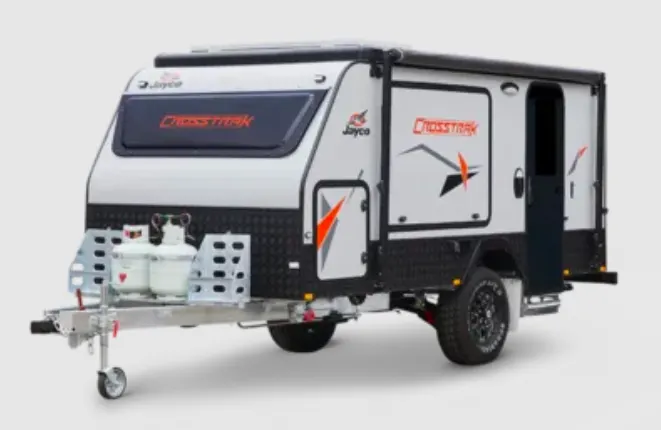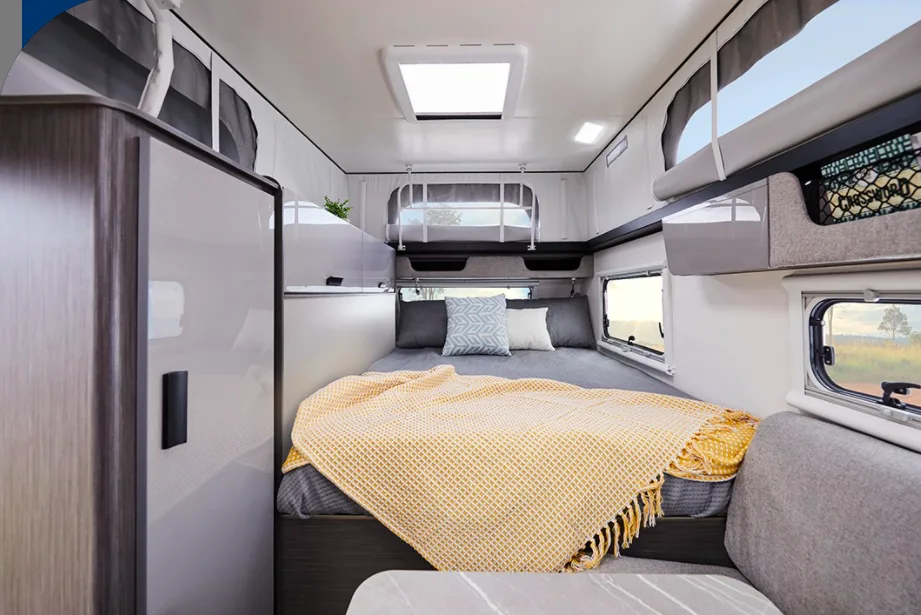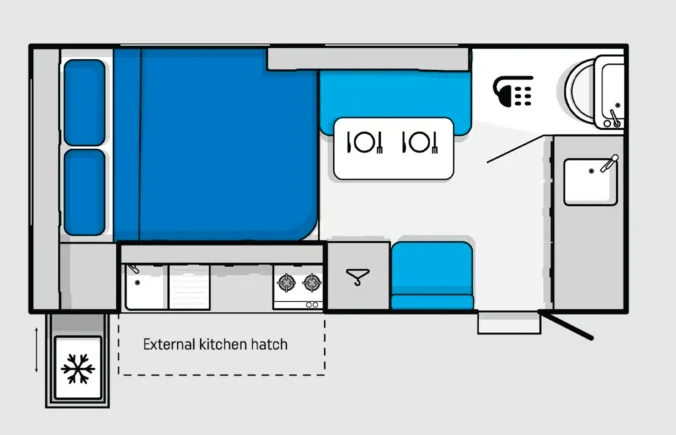 Travel length: 6.65m
Travel height: 2.58m
ATM: 
Base price: $55,390
Australian Off Road Odyssey
https://australianoffroad.com.au/listings/odyssey/#off-road-pop-top
The AOR range of caravans are high spec and specialise in off-road caravans and camper trailers with the Odyssey bridging them both.
I know I said at the beginning of this post that this list included caravans with an internal bathroom… but this one doesn't. :-/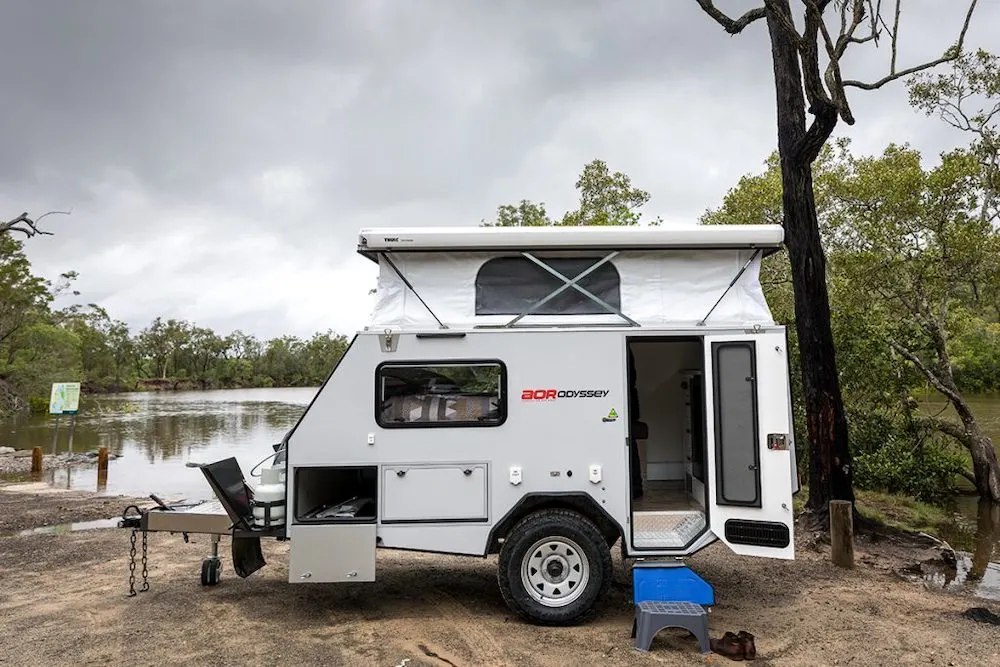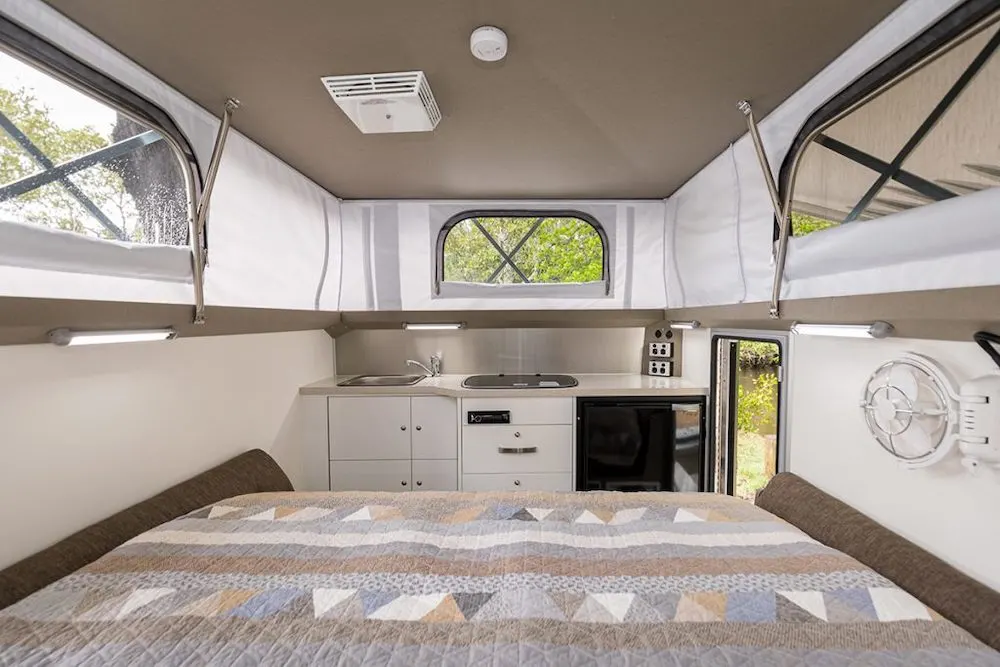 Travel length: 5.4m
Travel height: 2.335m
ATM: 2000kg
Base price: $85,900
EzyTrail Hybrid Caravan – Parkes 15 MK3
https://www.ezytrailcampertrailers.com.au/shop-category/caravans/hybrid/
There are three models in the Parkes range of hybrid caravans by EzyTrail. The Parkes 15 MK3 is a large caravan with room for the whole family.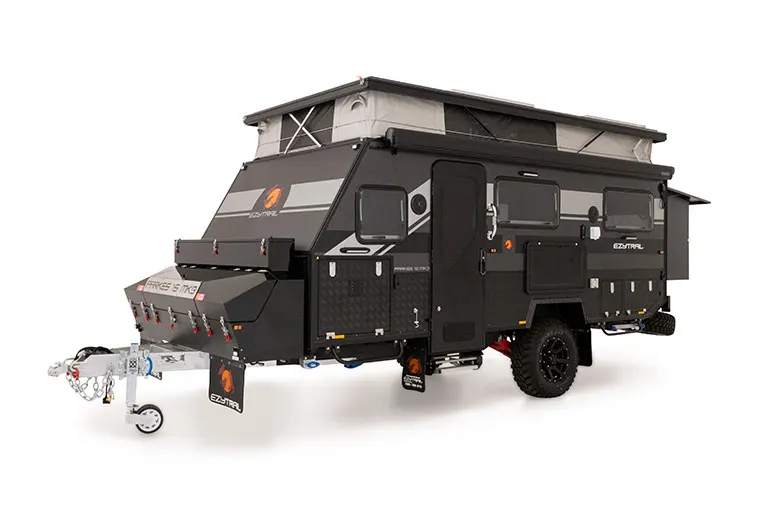 Travel length: 6.7m
Travel height: 2.7m
ATM: from 2440kg
Base price: $58,990
---
Has that selection peaked your interest in a hybrid caravan for your own travels around Australia?
If you want to see almost 250 other models, we list them all on our spreadsheet, which is available for $9 AUD.
52 Hybrid caravan manufacturers in Australia
This list is all the caravan manufacturers in Australia (that I could find) that have hybrid caravans in their range.
Some of them are 100% manufactured in Australia, some have components manufactured overseas and put together here in Australia, and some are completely manufactured overseas.
I hope you found this article on hybrid caravans useful.
Don't forget, if you want to be able to sort through the full list of hybrid caravans, we have them on a spreadsheet, available for just $9.