If you've been looking for teardrop campers for sale here in Australia, you've come to the right place.
I've been thinking about teardrop campers ever since we had a couple of these little campers come in to the show grounds.
One turned up on a bit of a windy, blustery day, so we set about finding them a reasonably protected spot (right beside the chooky sheds, as it happened) since they needed to cook their dinner without the wind whipping out the flame on their gas cooker.
This got me thinking about the pros and cons of a teardrop camper trailers and whether or not I could travel in a camper that is so small.
If you like small campers, check out these Best Small Campervans, Pop top caravans Australia or Small fifth wheel trailers.
In my opinion, the pros and cons of teardrop campers are pretty much at the opposite ends of the spectrum. What makes teardrop campers great… can also be what make them horrible!
Pros
Small – basically a bed on wheels
Light weight – can be towed with almost any vehicle
Have most things you need – a warm bed, cooking facilities, somewhere to retreat in the rain
Price – not as cheap as a tent, but certainly not as expensive as a full caravan. You're more likely to be looking in the $10-20k price range for a teardrop camper, compared to $50k+ for a caravan.
Cons
Small – you can't stand up in them, so it's really just for sleeping and relaxing
Outside living – it's basically just a bedroom so you'll be doing most of your living outside (which can also be a 'pro'!)
No bathroom – so you may be limited to staying in caravan parks or campgrounds that have facilities
There's not a whole lot to be said about teardrop campers, really.
They have that distinct shape, they're generally only a little big bigger than a double or queen bed, and have a kitchen on the rear end.
Teardrop campers range in price from $10,000 – $20,000 with some going all the way up to $35,000 AUD.
Teardrop campers are not so common in Australia, but I have seen a couple and it got me to wondering if there are many manufacturers here in Australia. Thanks to google, this is what I've found…
For clarity, I'm only going to look at campers that are in that classic teardrop shape that are only about as big as a bed, and have the kitchen on the rear.
There are plenty of other small campers that are only as big as a bed, but just to keep this list from becoming bigger than Ben Hur, I'm limiting it to teardrop shaped campers.
Teardrop Campers Australia
First up, let's look at teardrop campers manufactured here in Australia, then we can look at those that are manufactured overseas.
The Teardrop Camper Company
The Teardrop Camper Company are a NSW based company that specialises in teardrop campers Australia.
They currently have 5 teardrop camping trailers in their range but talk to them if you have some special requirements. They're a small company who are keen on R&D so you're not just a mindless number with these guys.
Below is the Grand Tourer 'GT', check out The Teardrop Camper Company website for the full specs on this beauty.
Price: $24,601
Little Guy Australia
With four models in their range, Little Guy Australia is based in Adelaide. The 'Deluxe' (below) is the lightest of their models but has everything you need for a great Aussie getaway.
For more information on these teardrop camping trailers and where to find dealers, head to the Little Guy Australia website.
Price: $16,100
Riptide Campers
Riptide Campers are more on the larger side of teardrop campers, but still retain that classic teardrop shape.
Below is the Swell which is the lightest of the Riptide Campers. See the rest of the Riptide Campers over on their website.
Price: $19,900
Tucana Teardrop Camper
The Tucana Teardrop Camper produced by Stonegate Industries is a a bit larger than the others, with the inside bed area able to be converted to a dinette set up, and the addition of a large tent to the side of the camper increases the protected space by a lot.
There are a lot more photos on their website, so go and check out the Tucana Teardrop Camper here.
Price: $29,999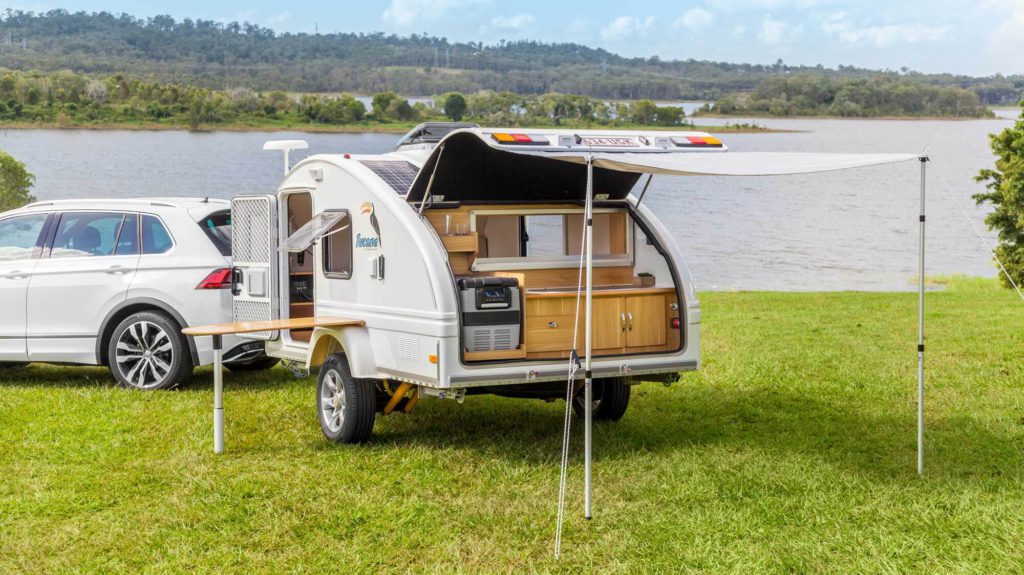 Cool Beans Campers
Cool Beans make hand made custom teardrop campers in Western Australia. They've got a great little kitchen set up and a vibrant colour scheme.
Find out more about Cool Beans Campers on their website.
Price: $36,000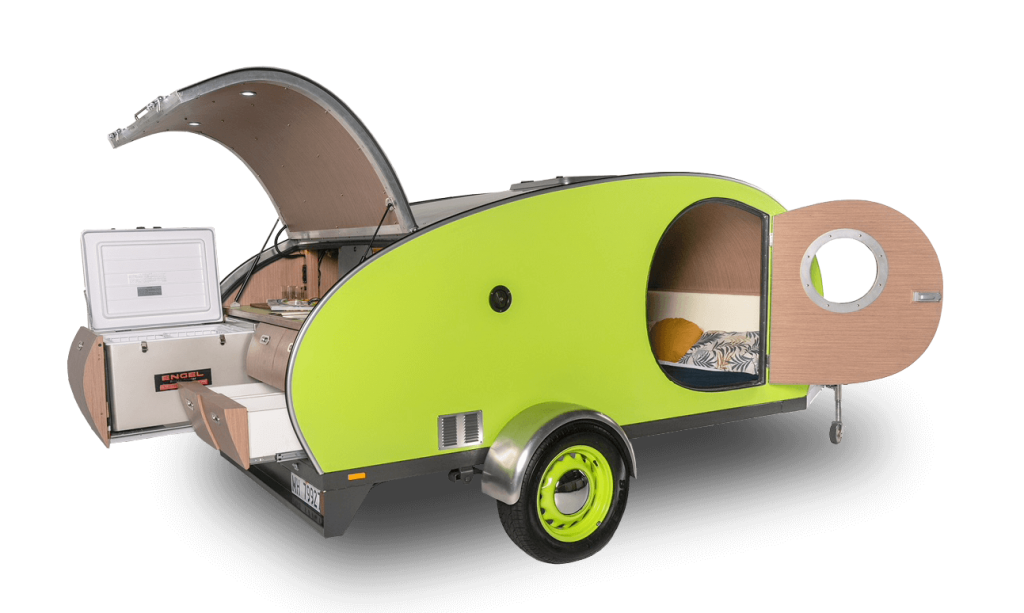 Smidge Teardrop Campers
Smidge may only be a new brand (started manufacturing at the beginning of 2019) but they have years of design and manufacturing experience behind it.
Smidge is manufactured by Suncamper Motorhomes and have 3 campers in their range (the 'Dash', 'Drop' and 'Dram') 
See more on the Smidge website here.
Price: $24,500
Caretta Camper
The Caretta Camper is a cute little number (aren't all of these teardrop campers though!) that produce both an on-road and an off-road version of their teardrop.
Check out their full range on their website
Price: $24,999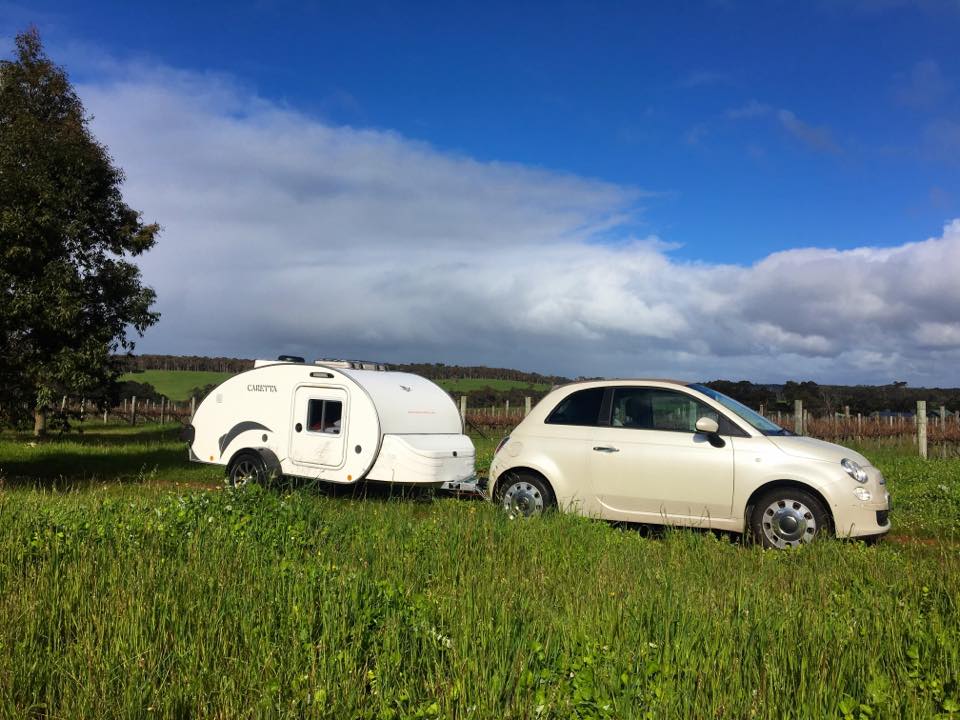 Travelbug Teardrop Campers
With names like Snuggle Bug and Escape Pod, these cute teardrop campers are a winner with me.
A family owned and run business from Darling Downs, there are four camper models for you to choose from.
See more on Travelbug Teardrop Campers website.
Price: $14,500
Ridge Teardrop Campers
These lightweight beauties are a fibreglass construction that is hand made in Sydney.
Price: $26,950
Jayco JPOD
The JPOD is barely in the teardrop shape, but with Jayco being such a big name brand, I thought it likely that many people would think of this model. It doesn't have the kitchen on the back like most of these teardrops, but it is still small and light.
Price: $21,190
Thanks to some very helpful comments from readers, we've got some more Australian teardrop campers to add to the list:
Sawhorse
A construction company that specialises in high quality custom projects.
They can build you a teardrop camper, and everything is bespoke to you can have it exactly the way you want it.
See more over on the Sawhorse website.
Price starts from: $16,400
Navitear
Builders of custom-made tear drop campers. Their design includes a queen size bed that converts into a seat, perfect for those rainy days when you're stuck insid.! And I love that huge window in the front!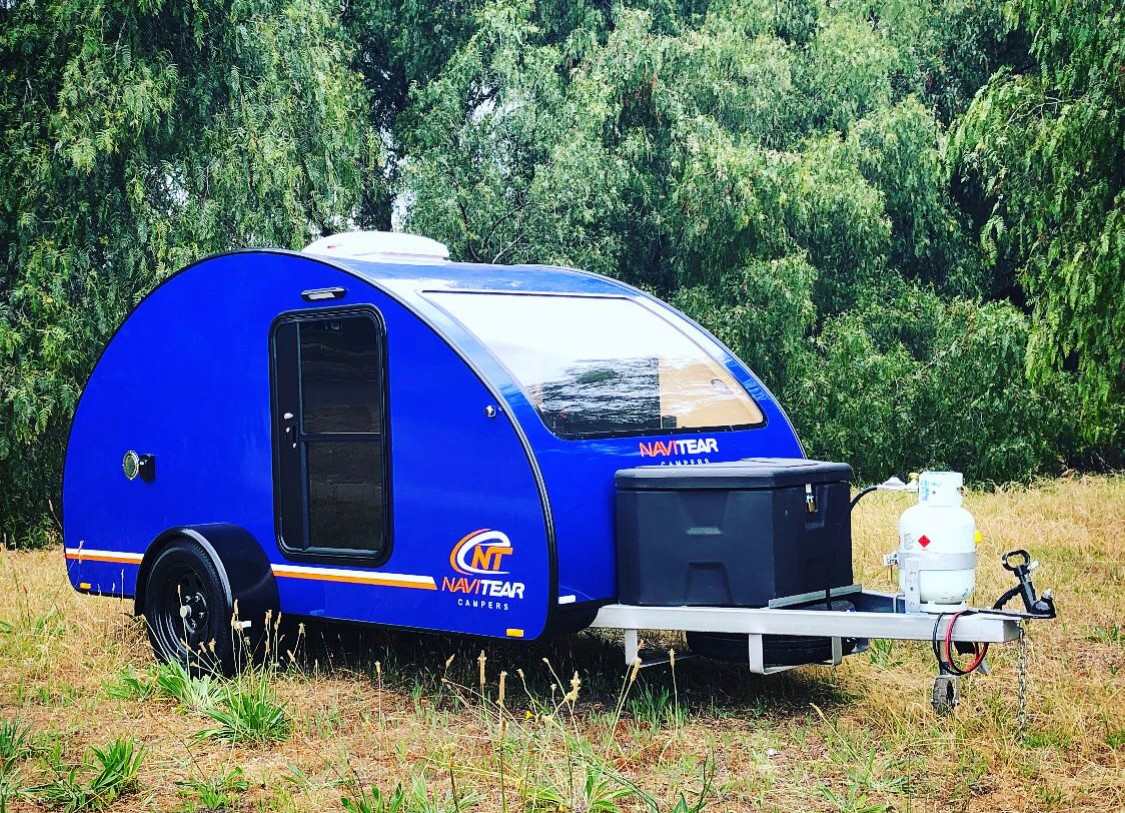 Wotpods
This Sydney based start-up markets itself as the 'most affordable' teardrop camper, and it does appear to be very reasonably priced.
Check out the Wotpods website to see for yourself. 
Price: $12,990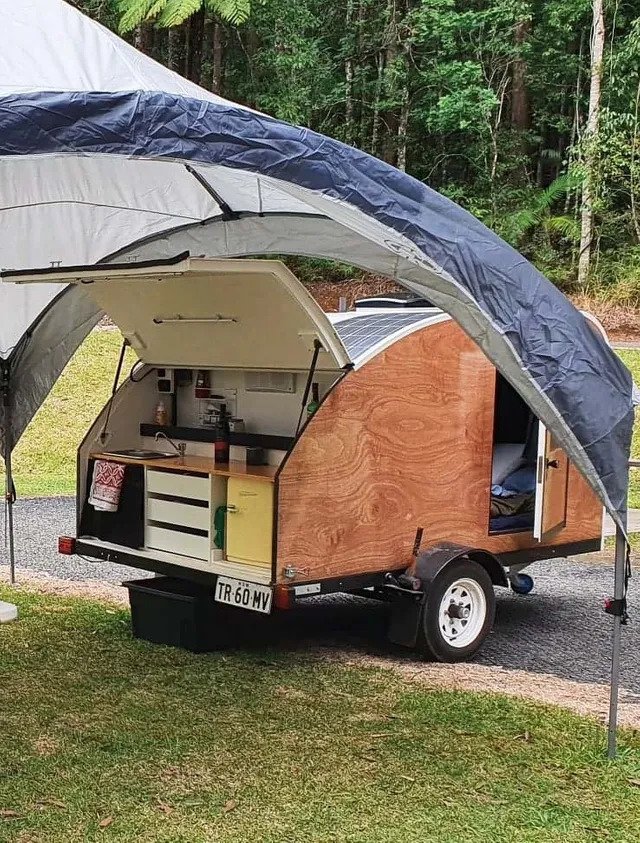 Rugged, off-road teardrop camper hybrid trailers
The following campers are that hybrid between a teardrop camper and … something else? Maybe a camper trailer? Or are they just called pods?
While they are the teardrop shape, they're not necessarily that 'classic' shape we're all familiar with. But they do have the kitchen on the back.
It's just that they're the teardrop camper with more.
More suspension. More ground clearance. More solar. More awning. More high tech.
Bruder
With that roof top tent option, this may be what some families are looking for? Click here for the Bruder website
Lumberjack
The Sheoak is another rugged teardrop / pod by Lumberjack Camper Trailers. Check out the Lumberjack website.
Stockman
A great little camper that gets into the spots you want to explore. See the Rover on the Stockman website.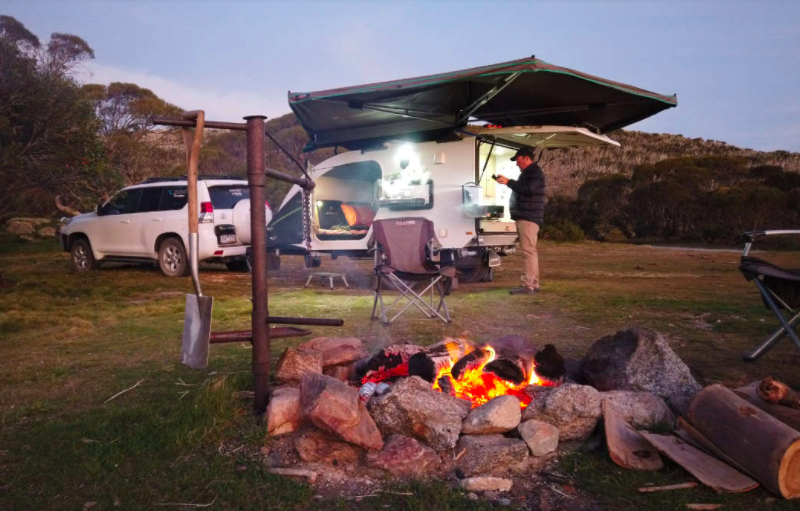 BRS Offroad
The Sherpa is a striking camper has been aptly named, it carries everything you could need. It's got a roof-top tent, bat wing awning, ensuite tent and all in a small and light package. See all the details over the Sherpa on the BRS Offroad website.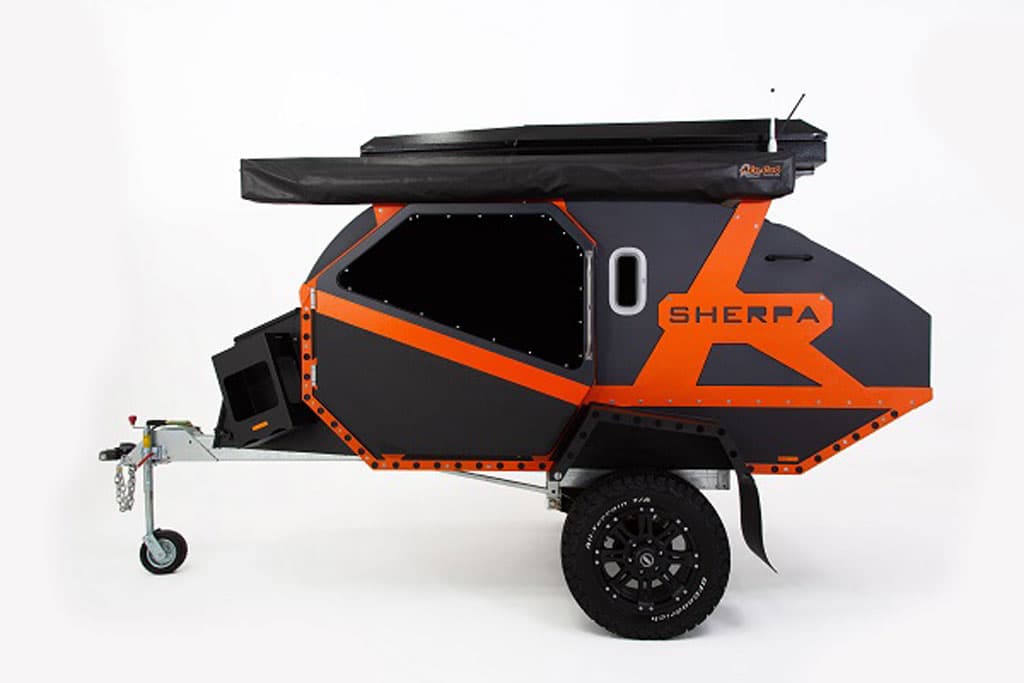 Teardrop Campers from around the world
Below are some of the most popular and well-known teardrop camping trailers from around the world.
I'm including these so you can get an idea of what else is available on the market.
nuCamp
I've already swooned over United States based nuCamp on my other blog (RVObsession.com) where I talked about the T@B trailers (you can see that post over here), but nuCamp also have the T@G teardrop trailers.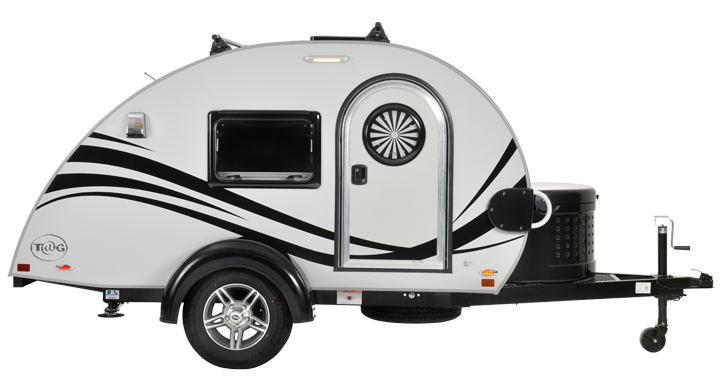 These are very stylish little campers, with luxuries like TV and air-con! And plenty of upgrades for going off-grid if you want to.
You can see lots more photos and models, over on the nuCamp website.
Tiny Camper
Now across to Lithuania where they're building these great, little Teardrops.
They have just two models, the Mini and the Expedition.
Tiny Camper do have teardrop camper kits but they're based in the EU so not really much good to us in Australia.
Check out the TinyCamper.eu website.
Timberleaf Trailers
The beautiful Classic Cabin from Timberleaf Trailers makes me feel like you're really experiencing the rough and rugged outdoors… without too much of that uncomfortable rough and ruggedness!
She looks a beauty, doesn't she! And fit's right into her natural environment.
See more pictures, details and specs over at Timberleaftrailers.com
Vintage Overland
You can tell just from the pictures that Vintage Overland take great pride in crafting each of their teardrop campers.
See these beautiful designs and read the story of how they got started over at: www.vintageoverland.com
What about if you want to build your own teardrop camper?
You may be looking for teardrop camper plans or even teardrop camper kits, but I've found them pretty hard to come by here in Australia.
However, I have found a website that's a wealth of information for anyone building their own teardrop camper trailer.
The Aussie Teardrop Campers website has heaps of really helpful information.
Teardrop Camper Kits
The only Teardrop Camper Kit I've been able to find here in Australia, is a Chesapeake Light Craft Australia kit sold by Denman Marine. Here's a link to the kit so you can check it out for yourself.
Do you think it's worth considering a teardrop camper for your holidays around Australia?
Personally, I think a teardrop trailer is perfect either short-term (2 weeks or less) holidays or a trip where you're going to be moving around a lot (like on a road trip right around Australia). You have all the important amenities (somewhere to sleep and somewhere to cook) in something that's small, lightweight and easy to tow, while also being way more comfortable than a tent and easier to set up than an RV.
Does this make you want to hop straight online and look for teardrop campers for sale near you?
Save these Teardrop Campers for sale in Australia to your Pinterest