I've been quite surprised by the number of caravan bunk beds I've seen in all these caravan renovations that I follow.
It's become obvious to me that renovating an older caravan appeals to families.
An old caravan can be bought for pretty cheap, do it up as you have time and money, and fit it out in whatever way suits your family the best.
And that often involves installing caravan bunks.
So if you're planning on putting bunk beds into your caravan renovation, I've compiled a big selection of renovated caravans and their bunk beds.
I've included as much detail from these renovations as I could, but if you have any specific questions I encourage you to click over to each Instagram account and make contact with the owner there.
You'll also get to see lots more of their renovation, and in some cases they've done a great job of documenting the whole renovation process.
This post contains affiliate links. Please see our disclosure for more information.
Double Bunks
Lola
@misstrilly has created a cute little cubby in Lola the caravan, where her youngest daughter can snuggle up in her own little world. I would have loved something like this when I was a kid! (Ummm, I'm sure I would love something like this now, actually!)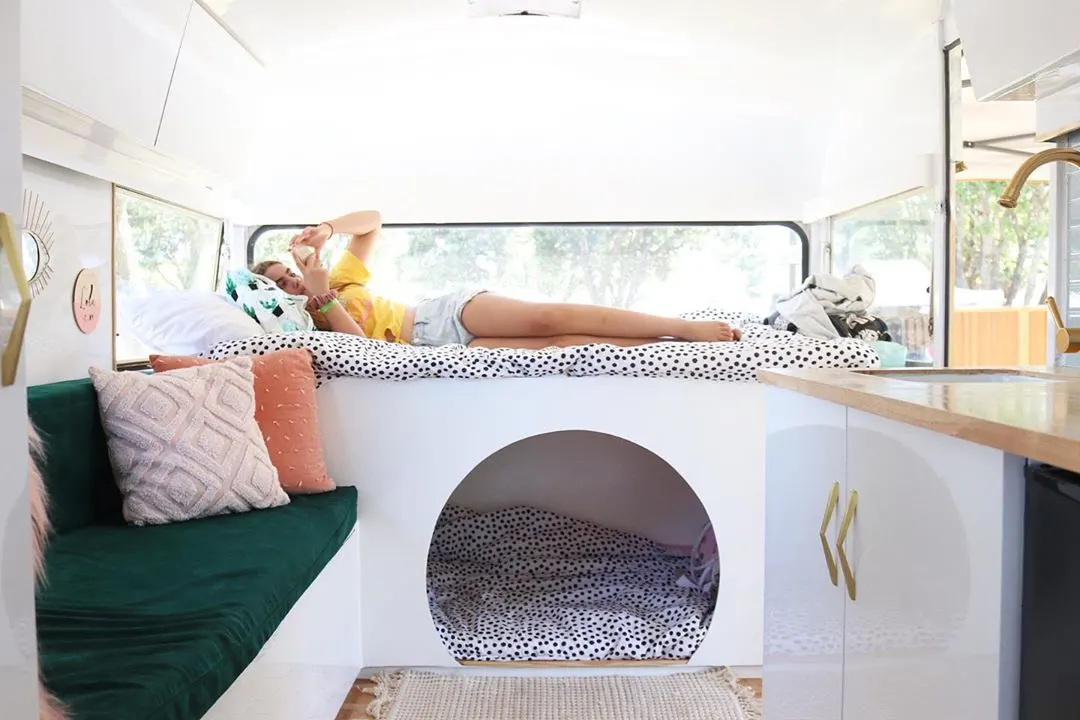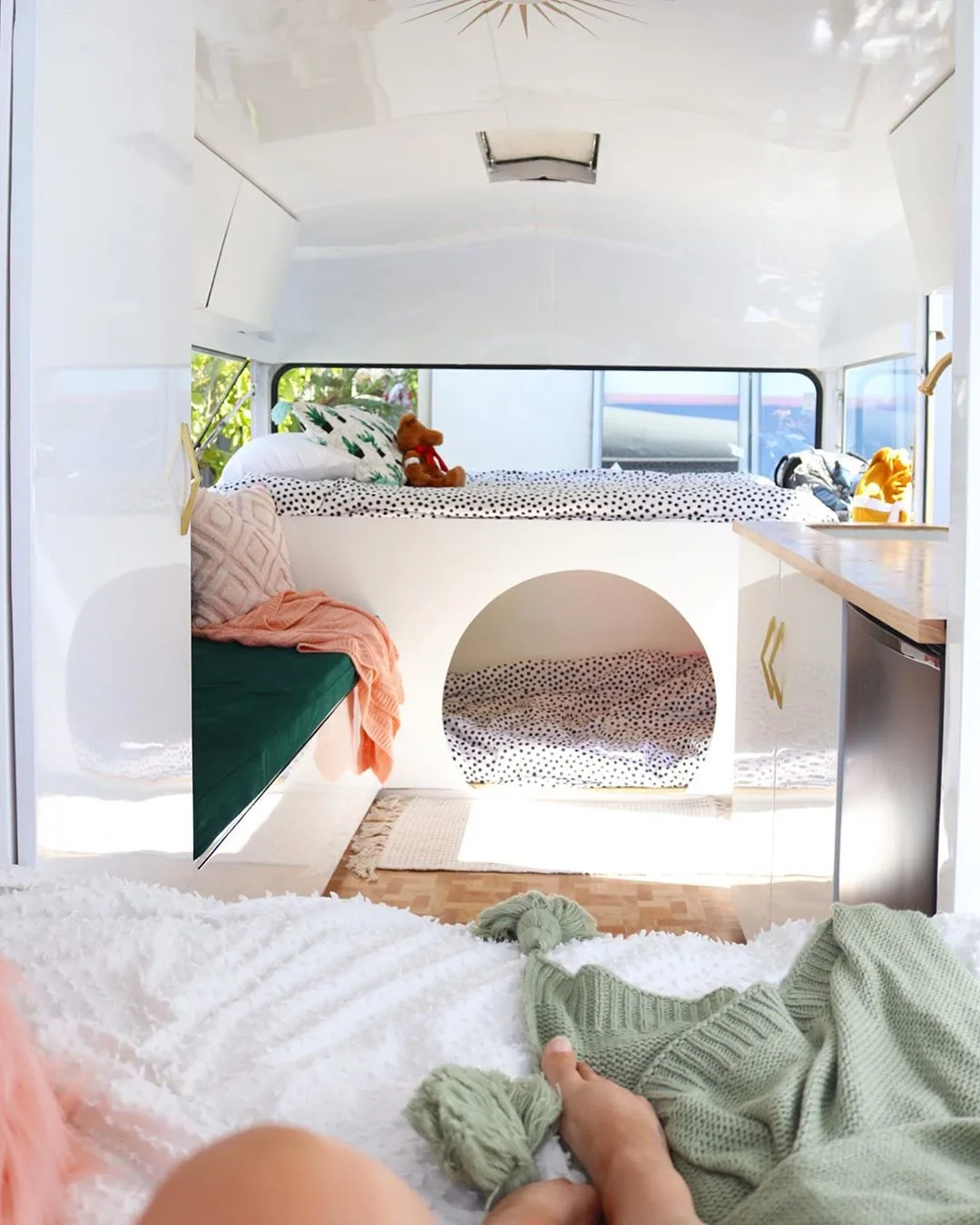 1976 Viscount Royal
There's much to love about this caravan renovation by @ourvintagecaravan  (it's their second one, you can see the first one they did in the Toddler bunks section near the bottom of this article), but I think it's the simple, uncluttered-ness of this van that I find so calming.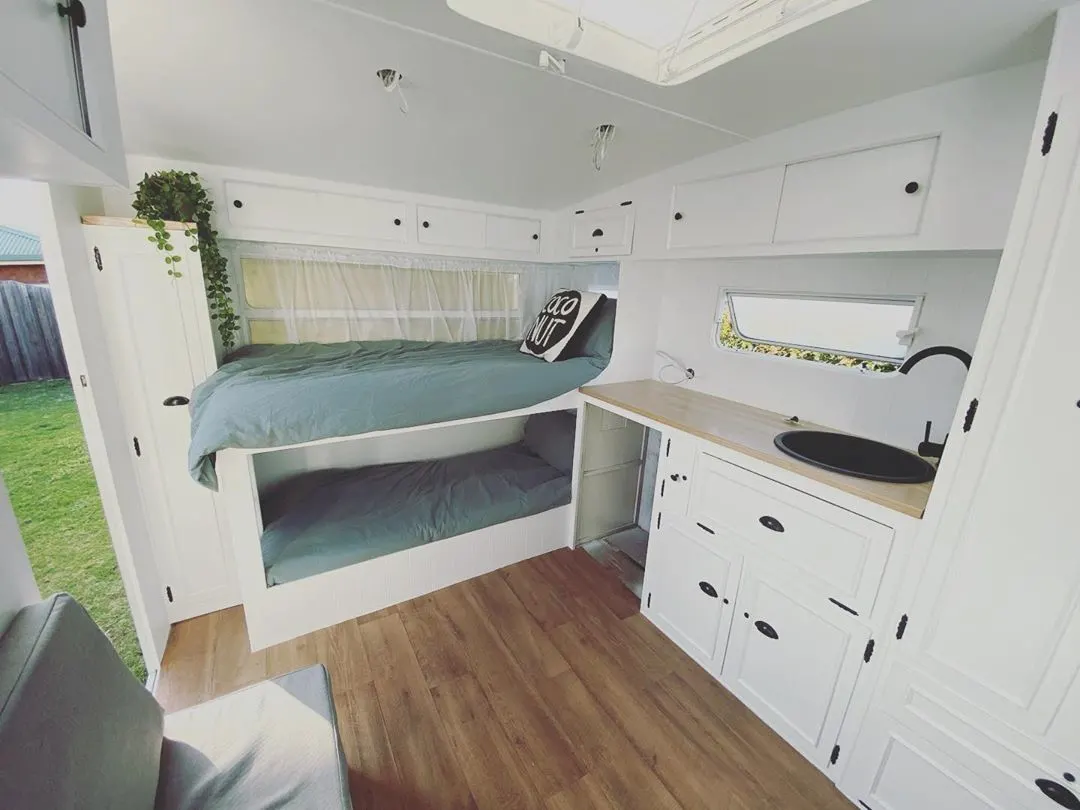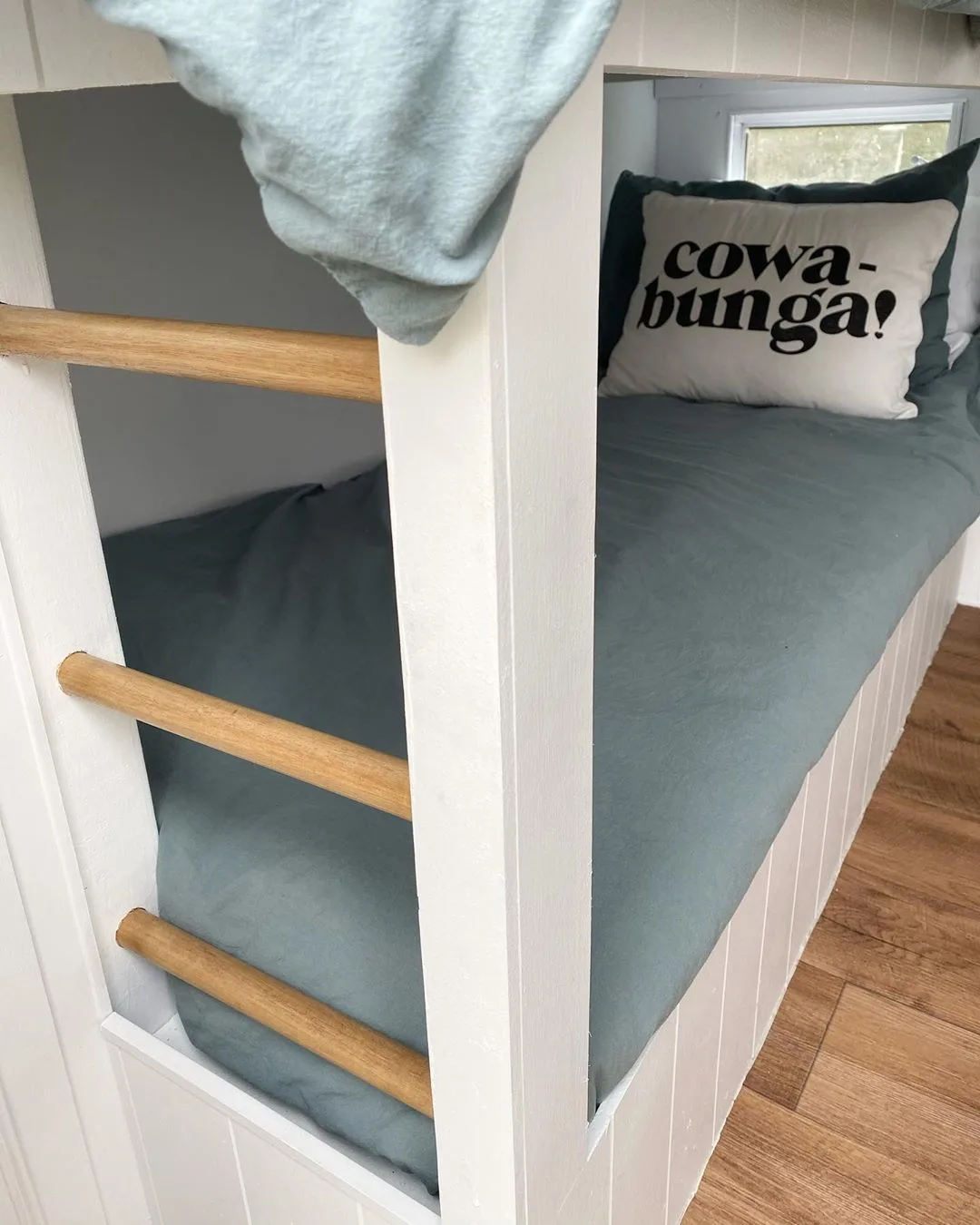 Velzy
@velzyandsol have created cute little bunks for their little ones.
VanWarro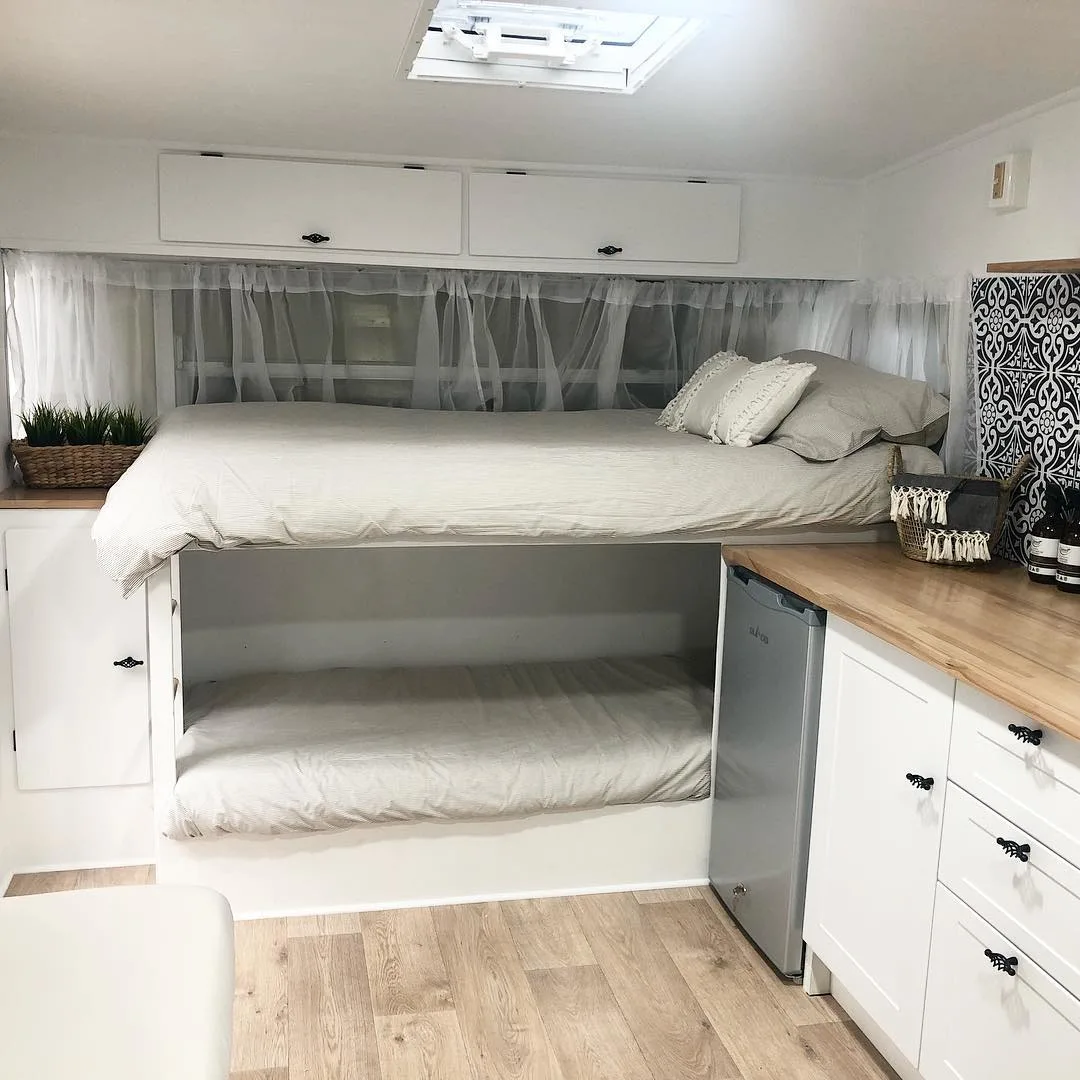 Daisy
@ourlittletribe_  Daisy is one of my favourite renovations. I'm loving all that dreamy white.
Side note: there is no way our caravan could look this good full-time. Life is a lot more messy than this… well, ours is anyway. But it's a lovely neutral palette to build upon.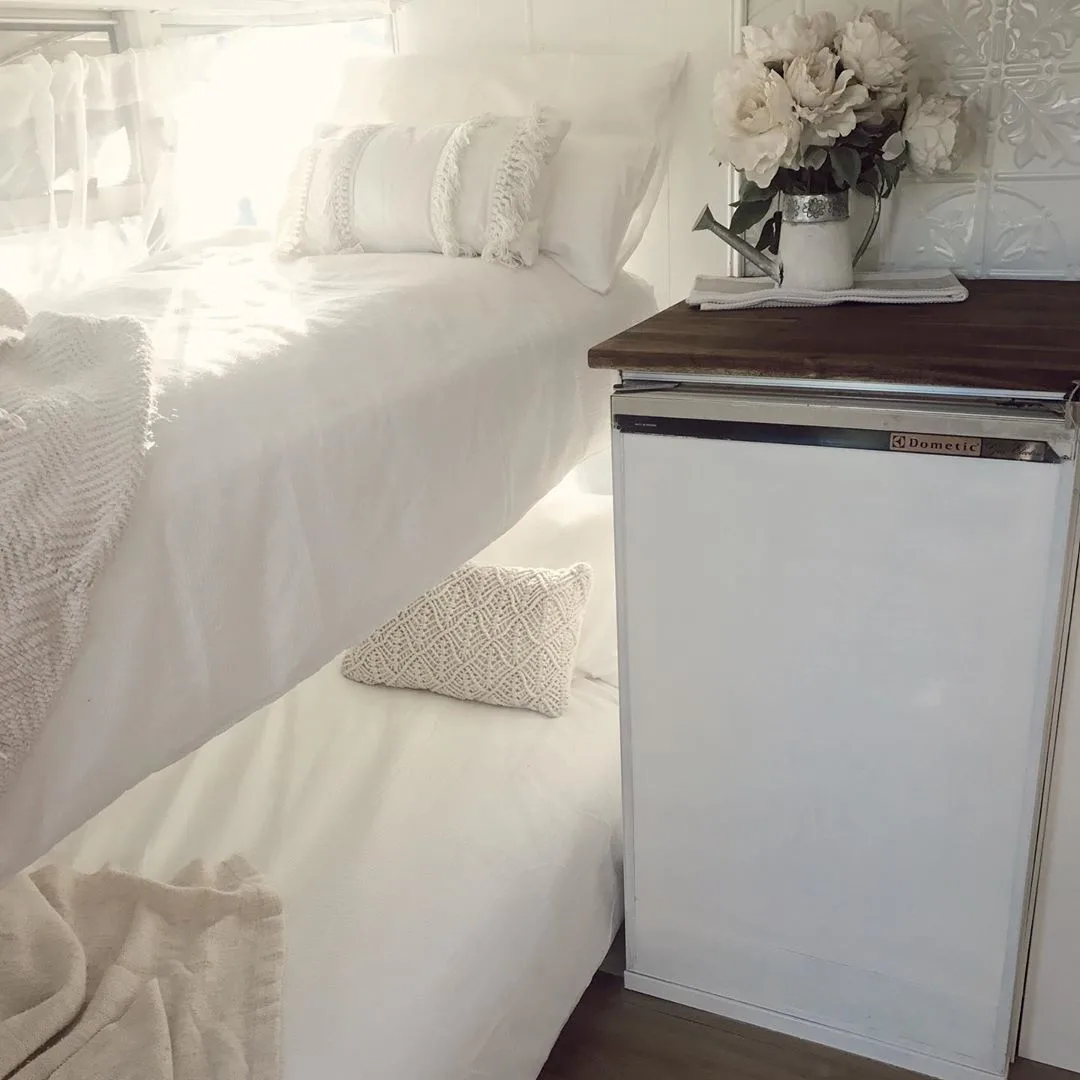 Mona
Caravan bunk beds by @monathemillard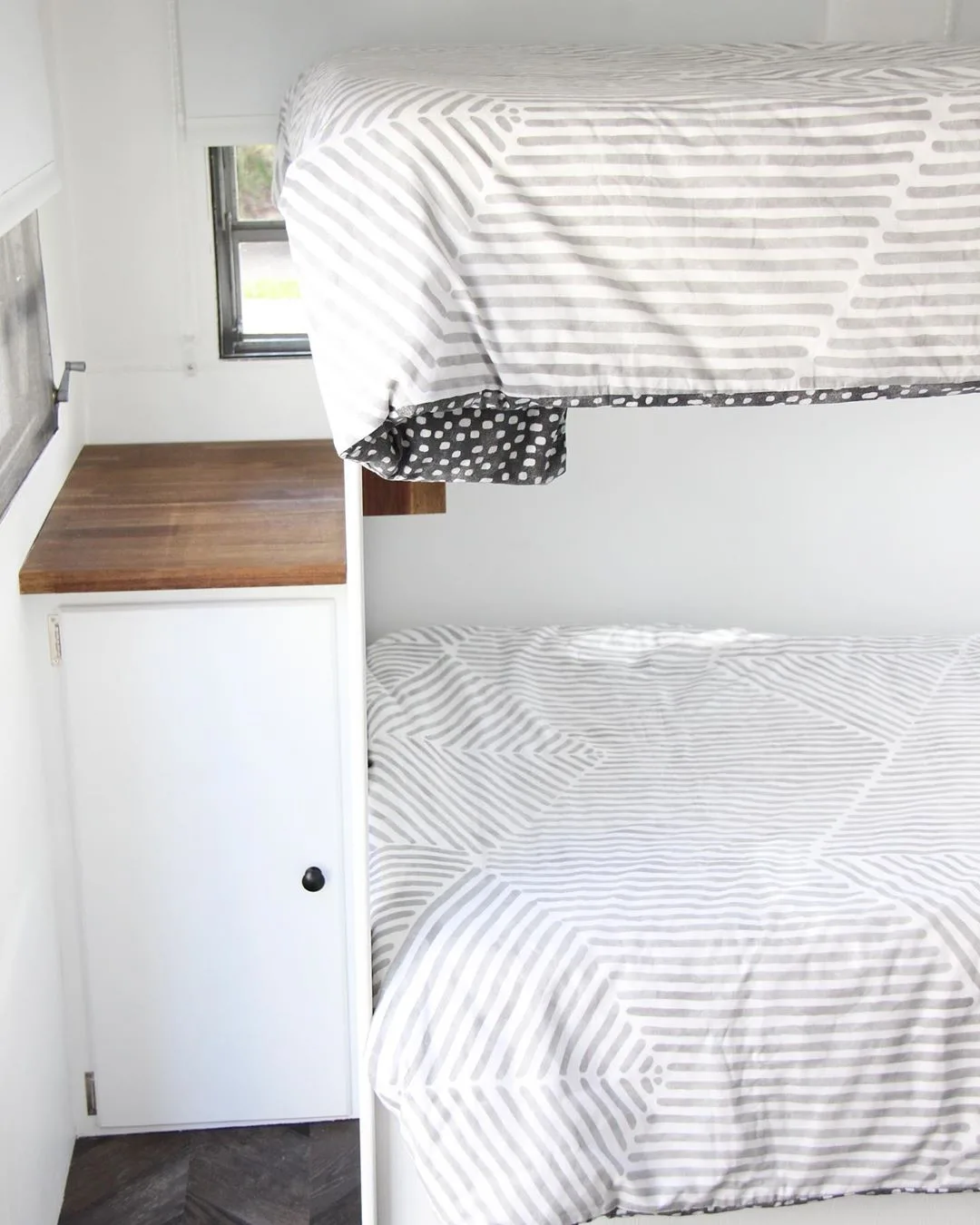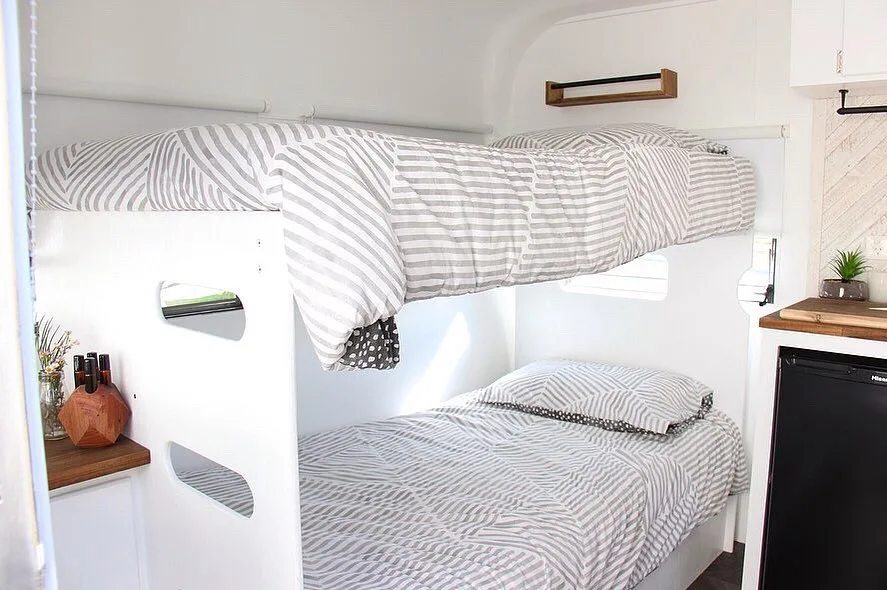 Maggie
Now this is 'thinking ahead'…  @themaggieproject are a young couple with no kids, but they made sure to include bunk beds in their caravan renovation. They can hire Maggie out on AirBnB or Camplify, or sell her in the future. Those bunks make her very appealing to families.
Check out @themaggieproject feed for lots more pictures of the whole renovation process.
Sadie
1976 Millard
Aloha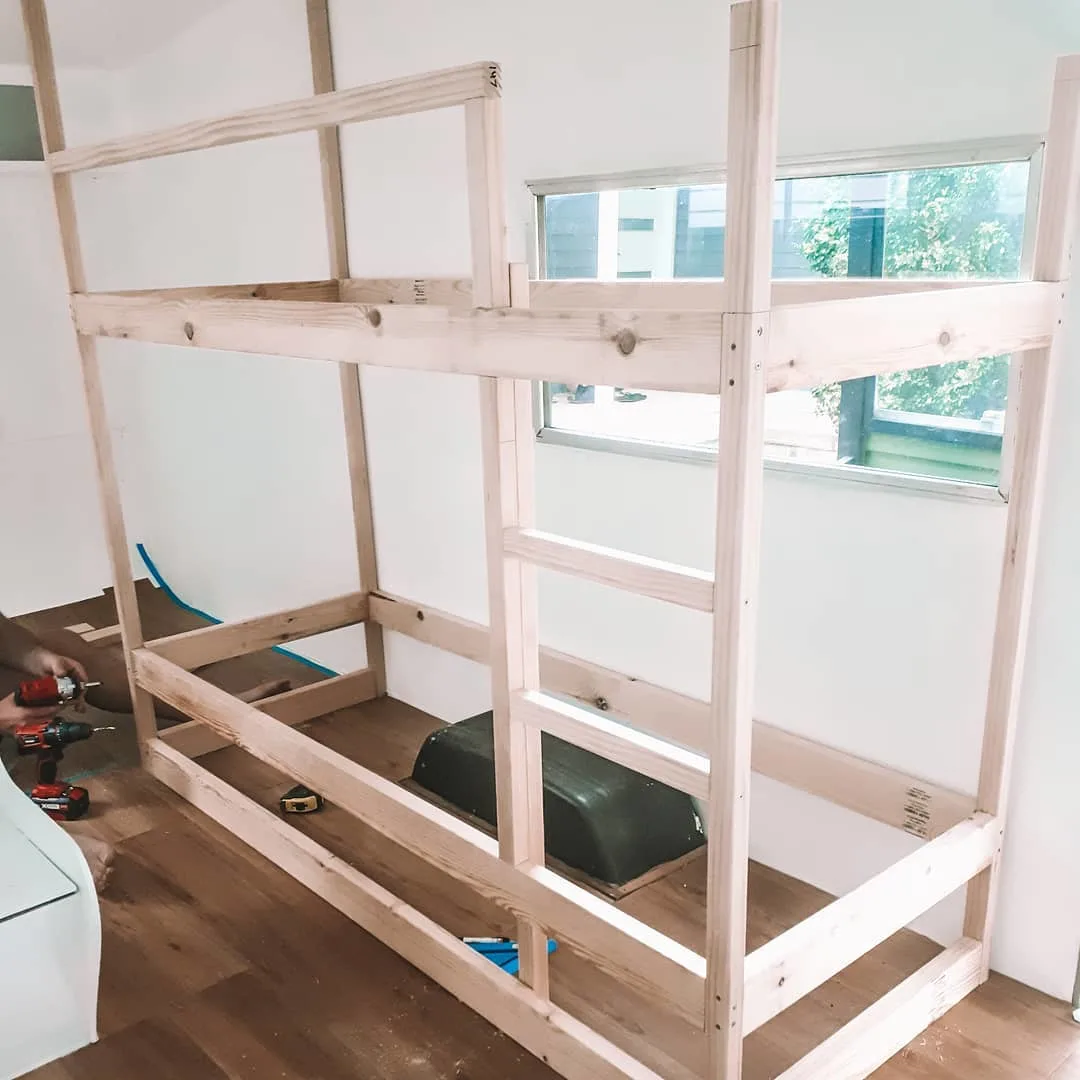 See the stories on their Instagram profile for a bit more info on the bunks.
Our Millard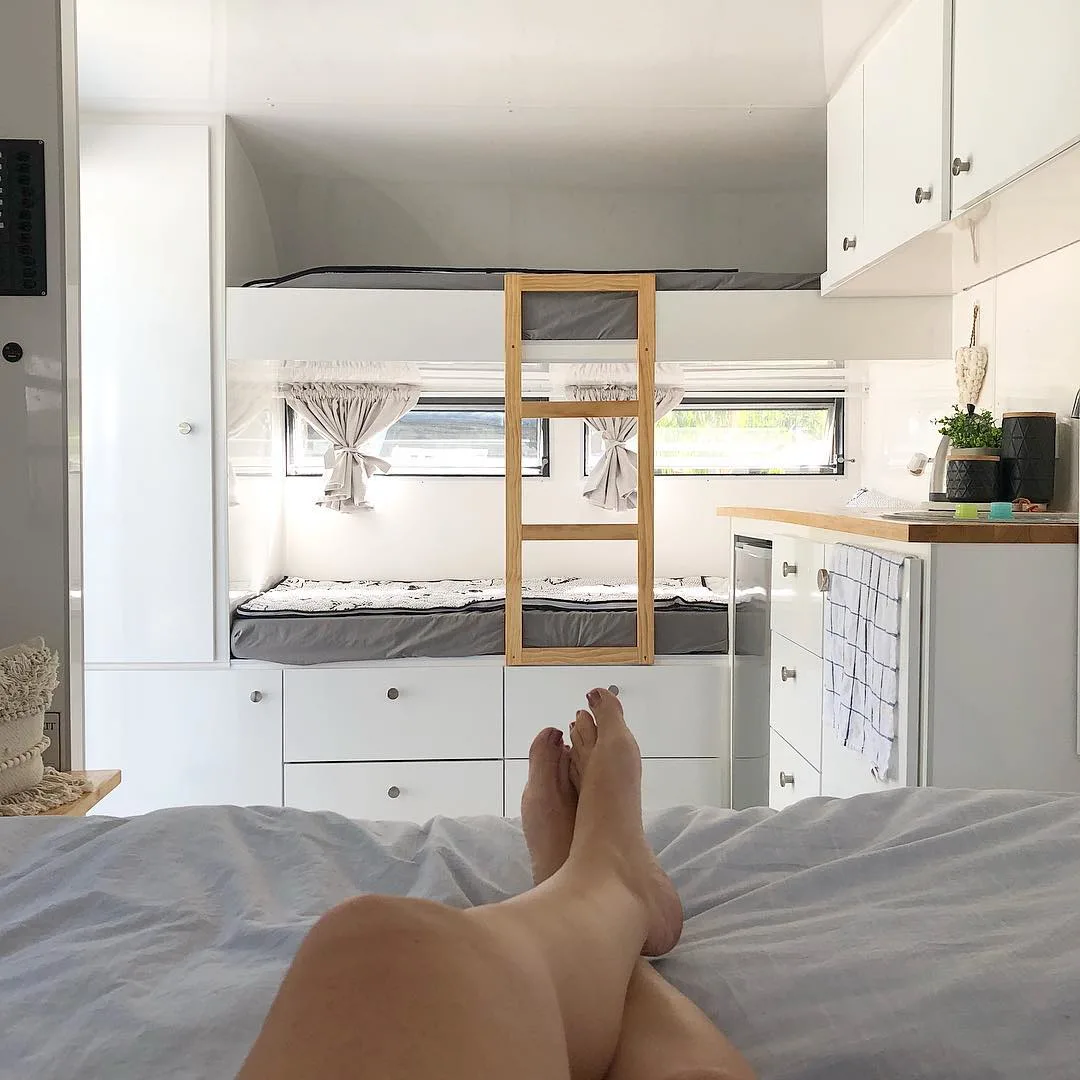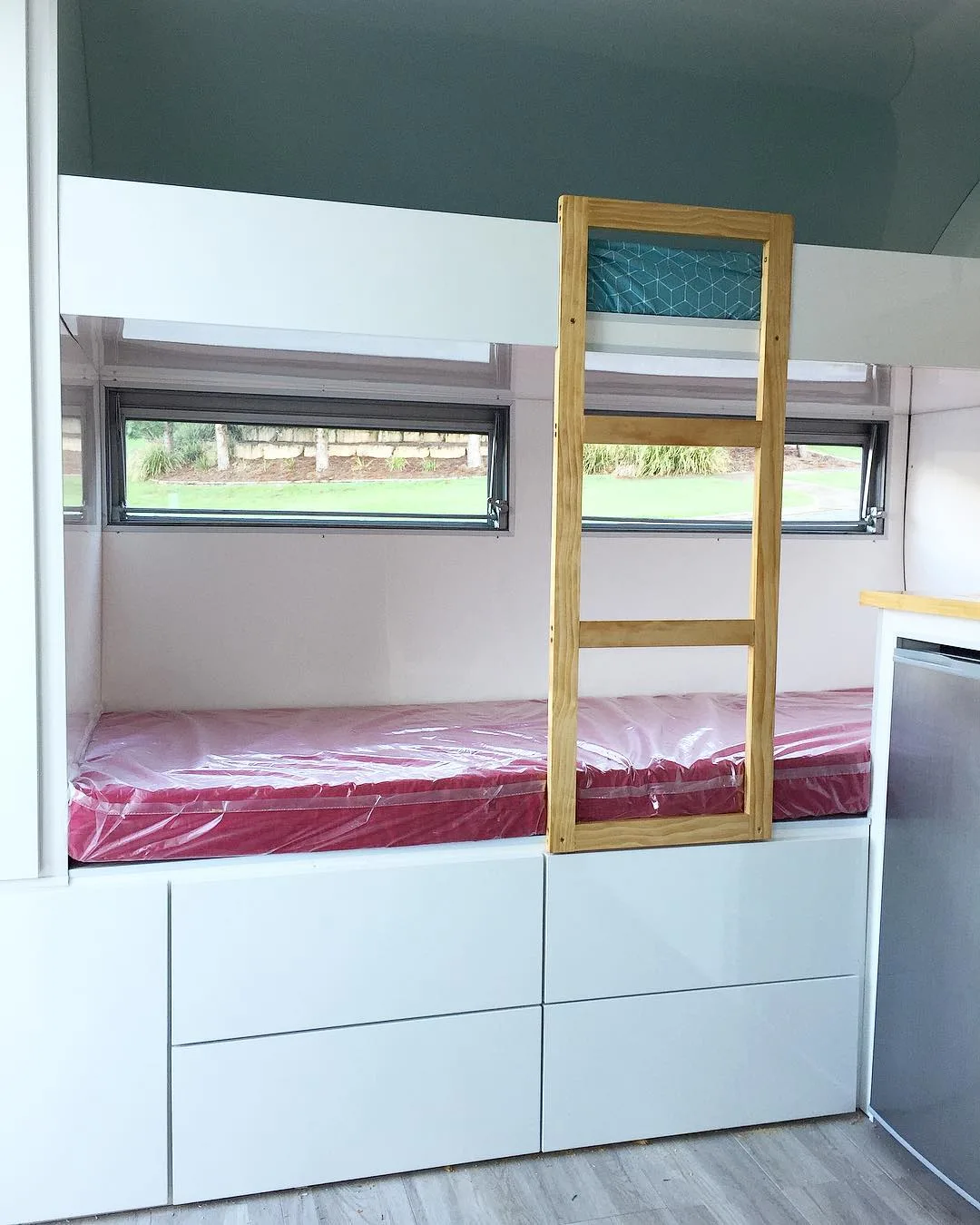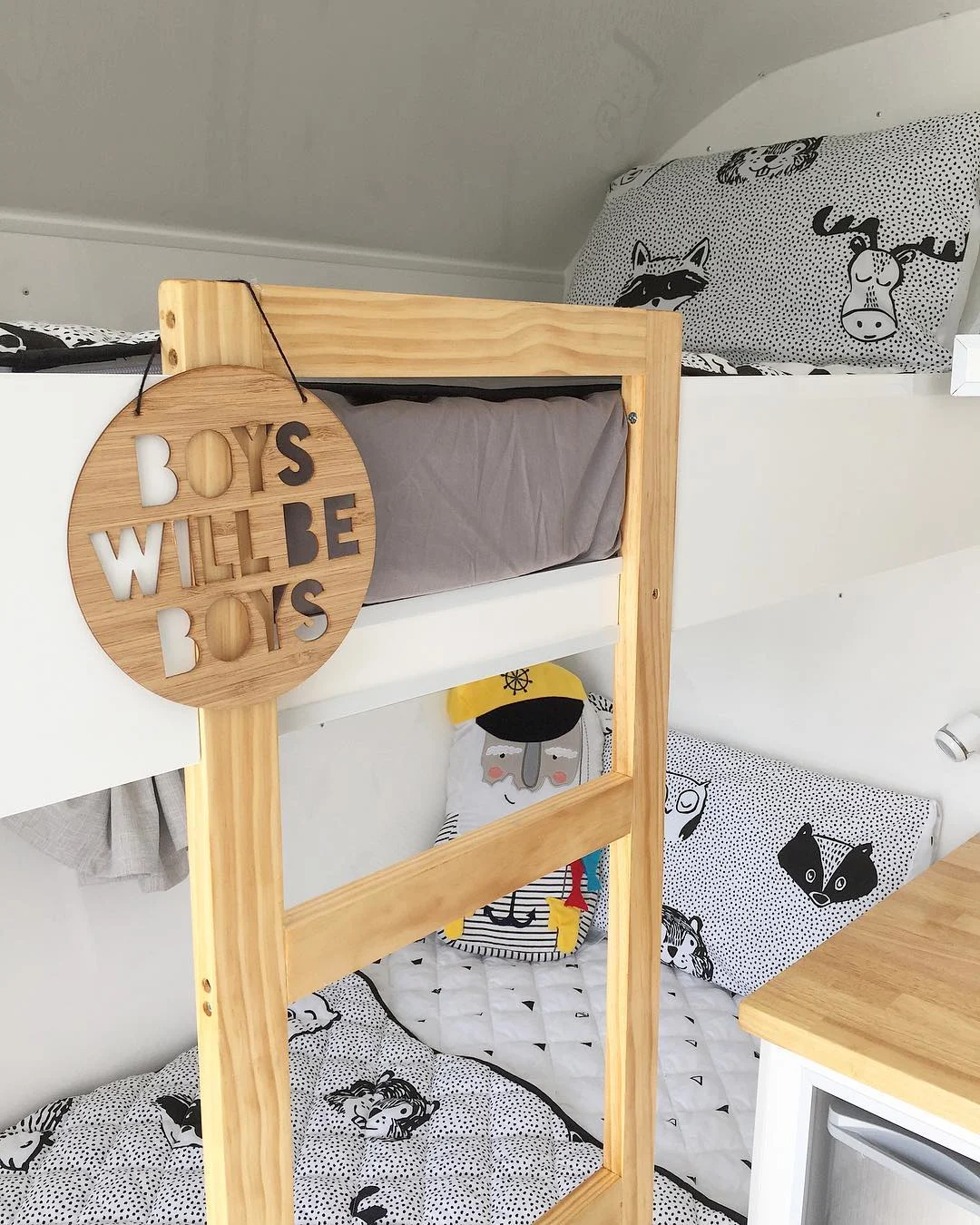 Violet
Our Happy Van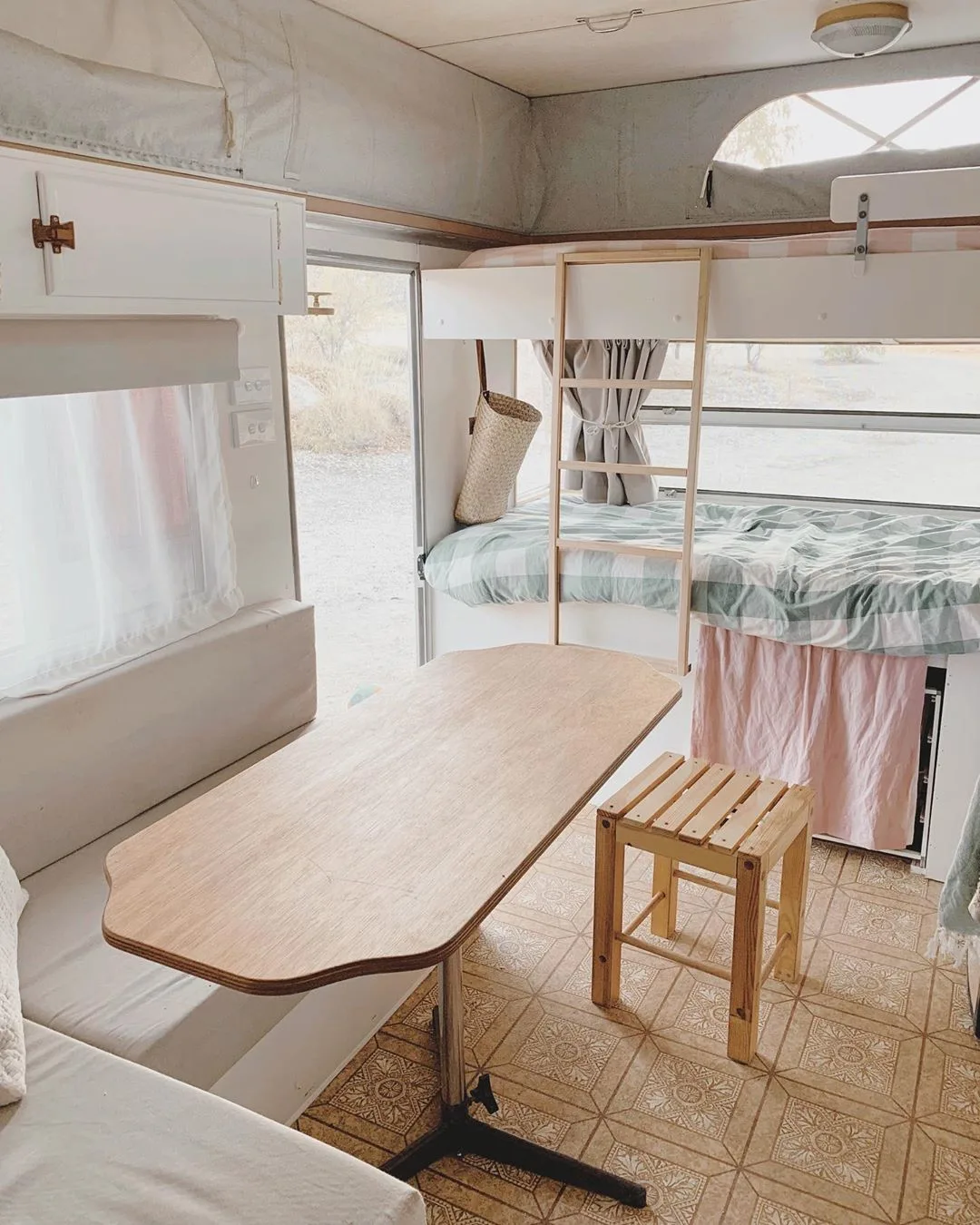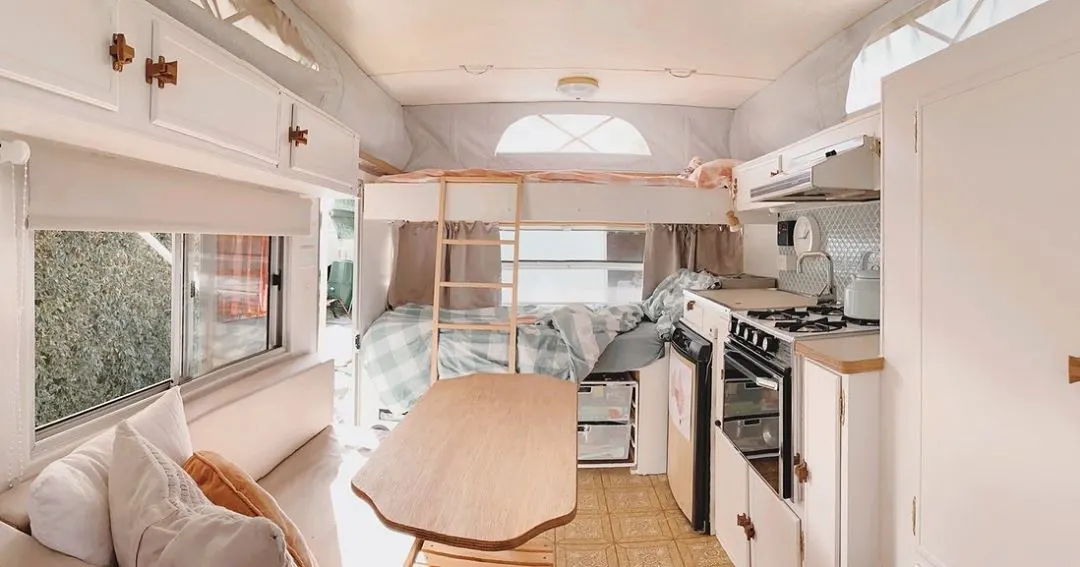 Sandy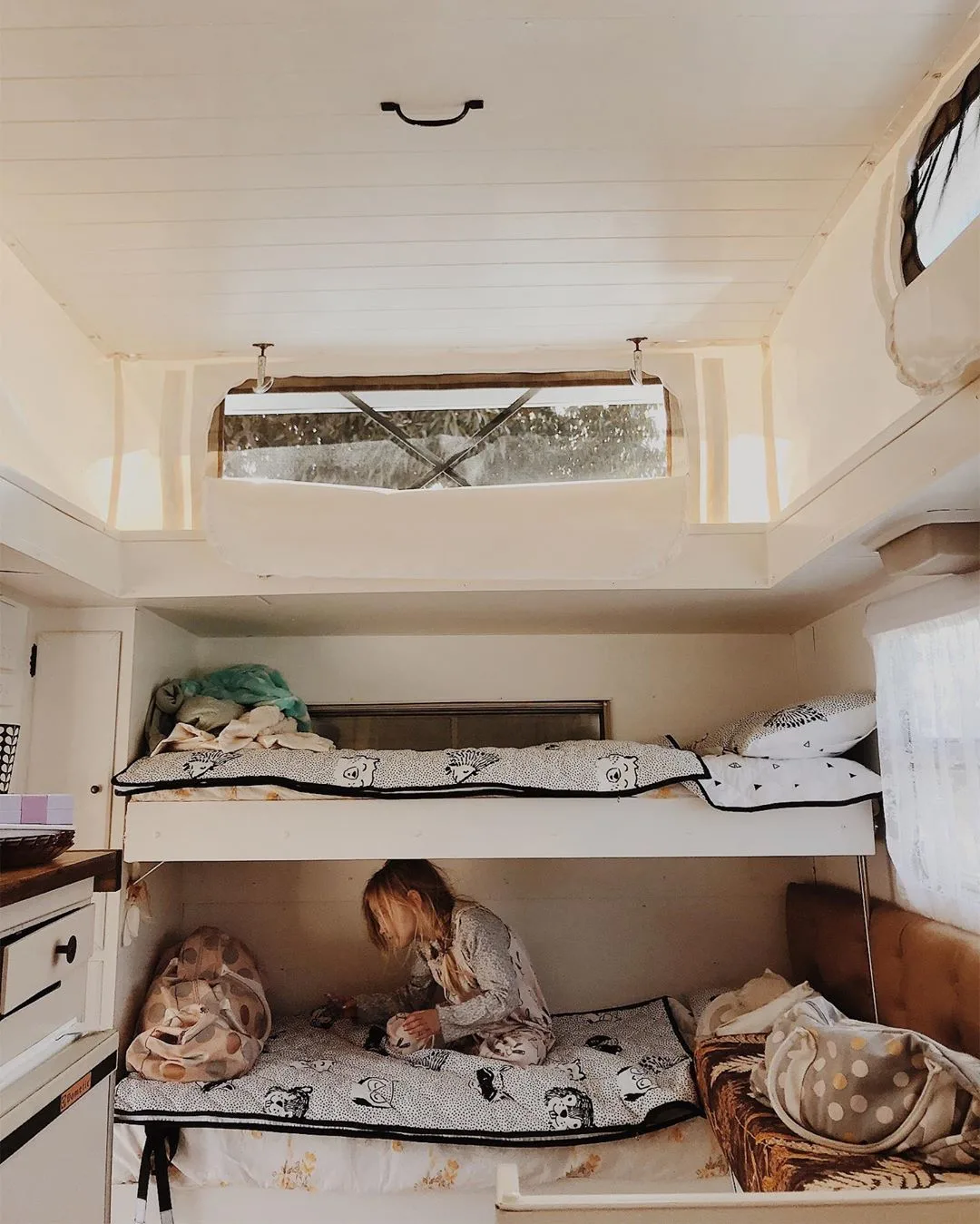 With 3 kids, but only really enough room for double bunks, the couch/day bed serves as the 3rd bed.
Vintage Van Adventures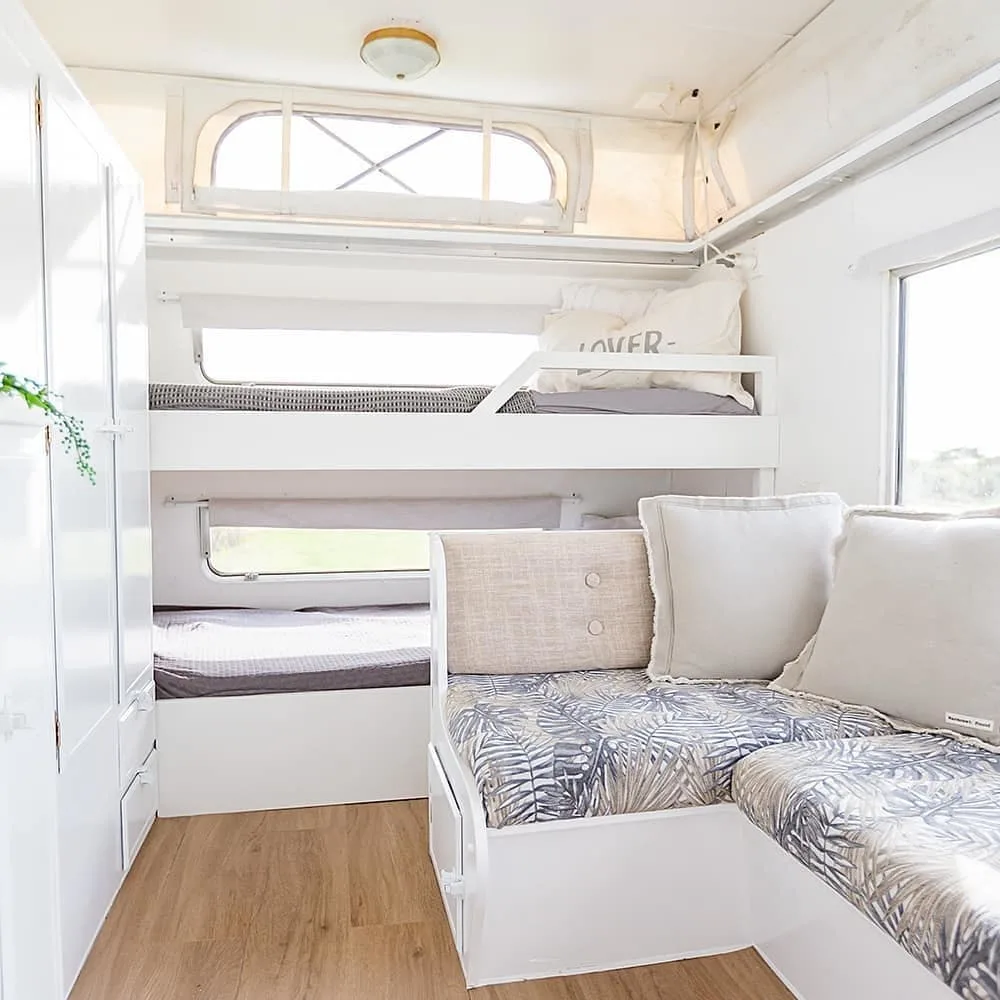 Von
Triple bunks
Marlow Mac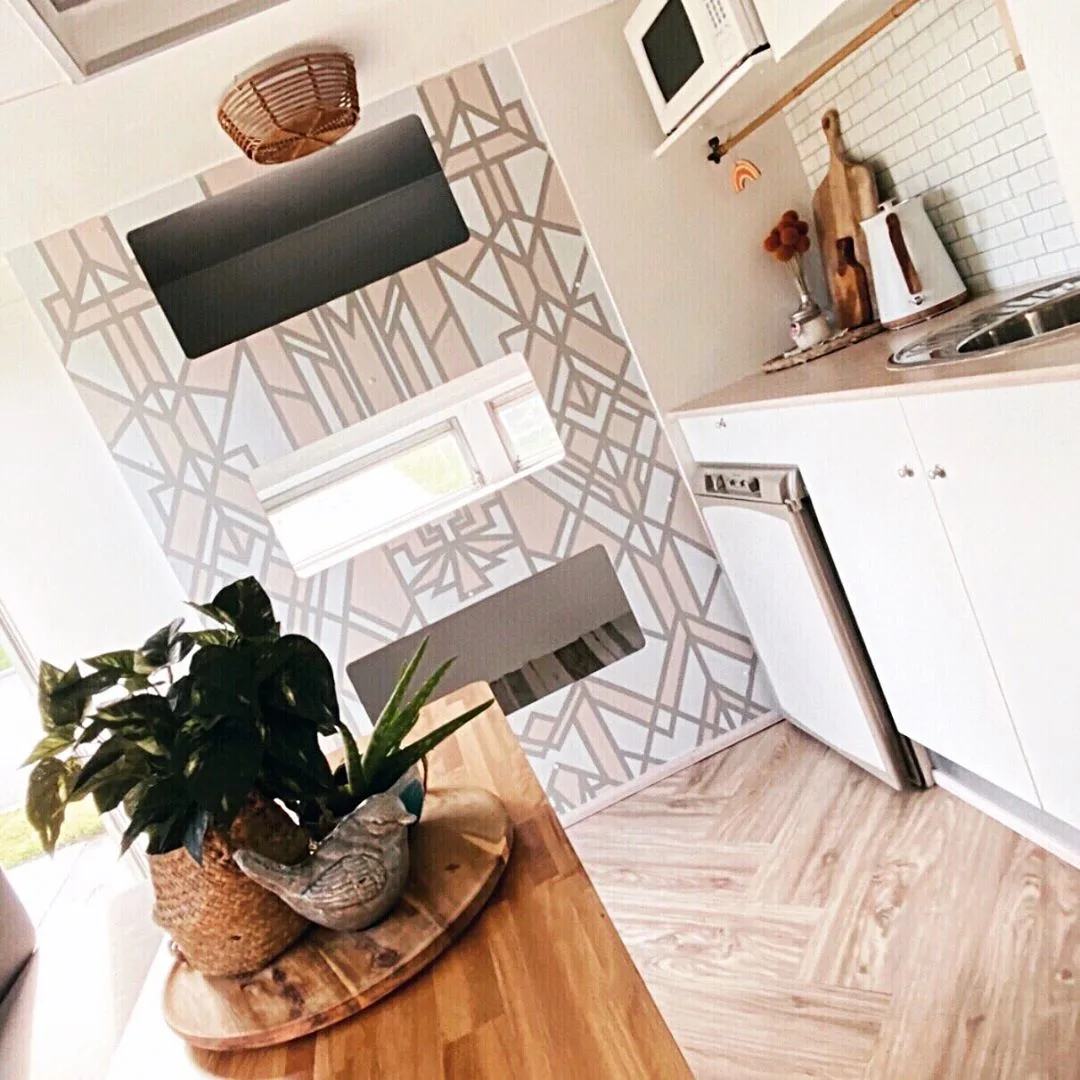 See @memoirs_of_marlow_mac Instagram stories for more on these 'Cubby Bunks'.
Wilde
Caravan Cots
1976 Viscount Royal
@ourvintagecaravan  have found a great way to convert the bottom bunk into a cot, with a retractable baby gate.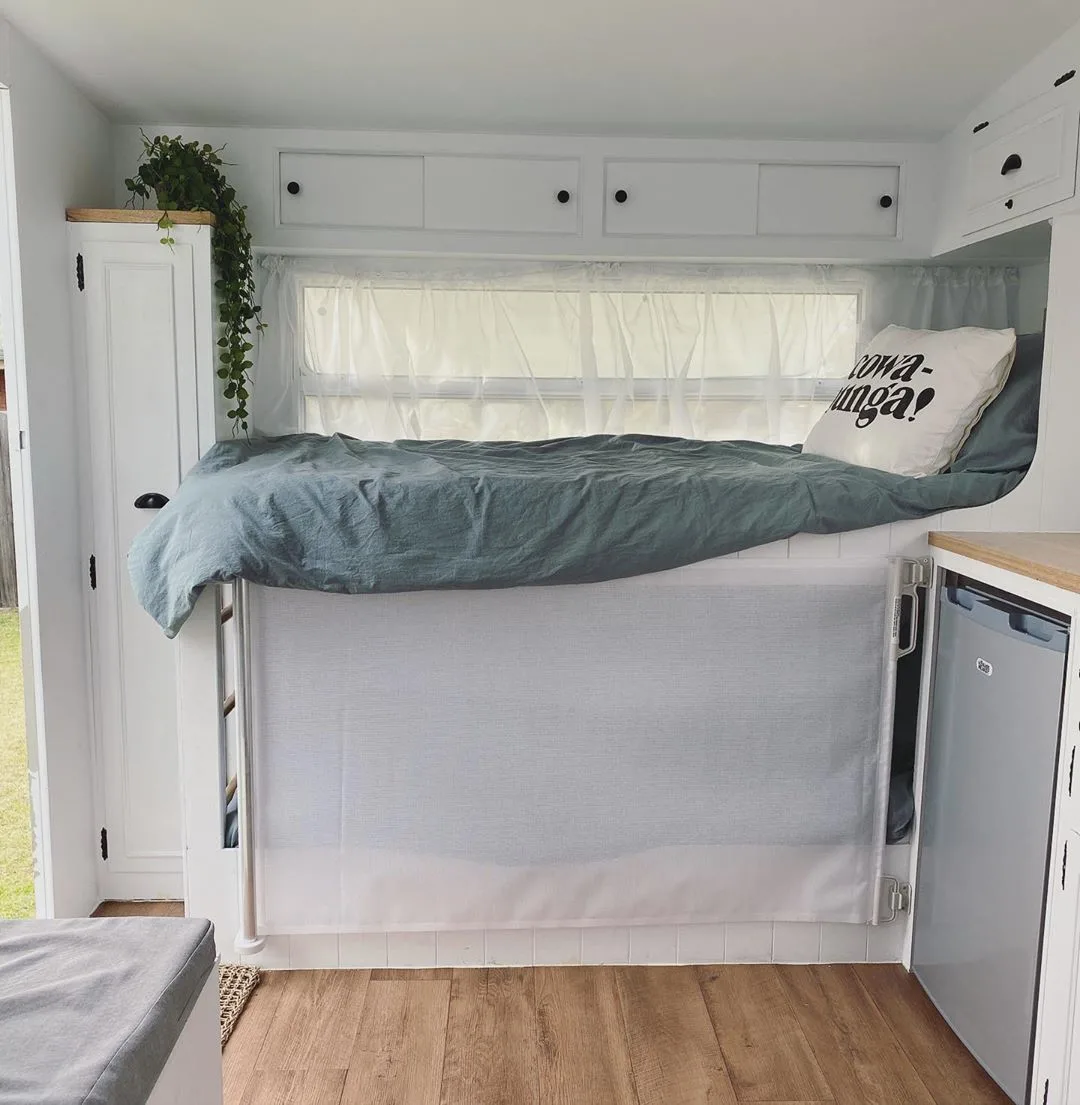 Zahlis
And in this article from Caravanning with Kids, Ebony has a canvas/mesh cover made for the lower bunk, with zip access. Have a look at all the details for how to turn your caravan bunk bed into a cot here.
Toddler bunks (over/under parents bed)
Vintage Millard
Below is a picture of the first van that @ourvintagecaravan  renovated, and they put in a crib above the foot of their bed. What a great idea!
(You can see this whole renovation over on our blog post DIY Caravan Makeovers)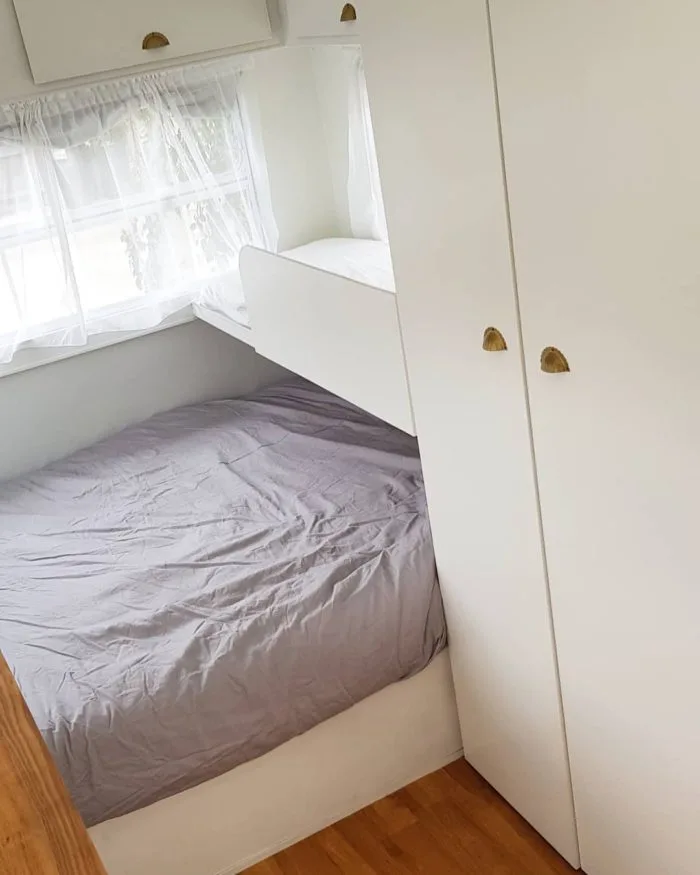 Woody World Packer
Over on woodyworldpacker.com you can see how they put their childs bed under the parents bed. Creating an awesome little cubby just for him. See the post on building a caravan bunk bed here.
Other Set-ups
Minty
@rain_or_shine_with_minty are a family of 6, in just a 14ft caravan. So bunks beds were a must! Mum, dad and the youngest sleep on the lower bunk (a king size no less!), 2 children on the top, and one child on the couch bed.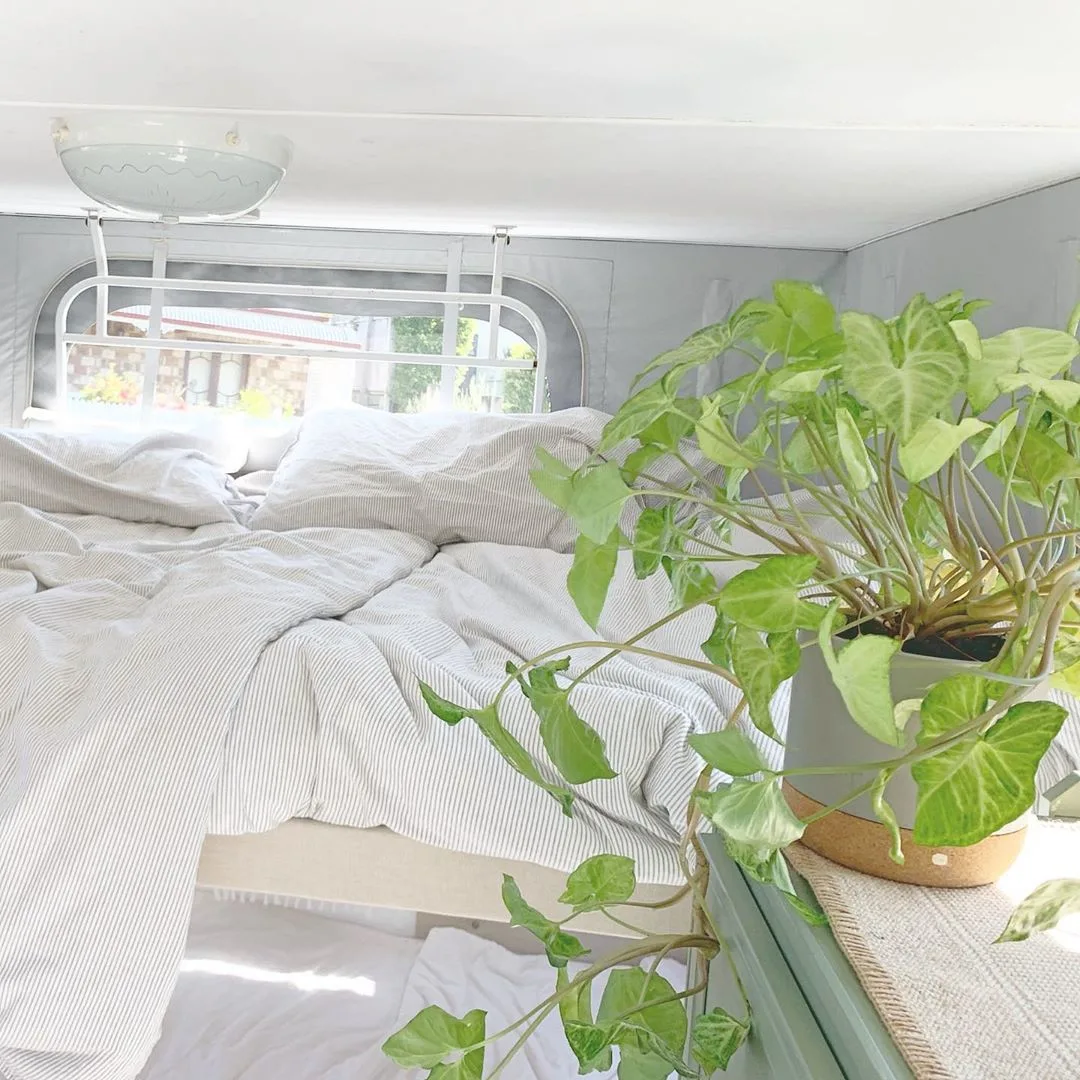 Caravan bunk bed ladder
I'm sure you will have seen plenty of wooden caravan bunk bed ladders affixed to the side of the bunk beds. Below are a couple of ladder ideas that stray a little bit from the 'norm' and may inspire you!
Millie
@fortheloveofmillie have created a rope ladder for their bunks.
Not only does this ladder look cool, it can be easily moved so that making the lower bed is much easier.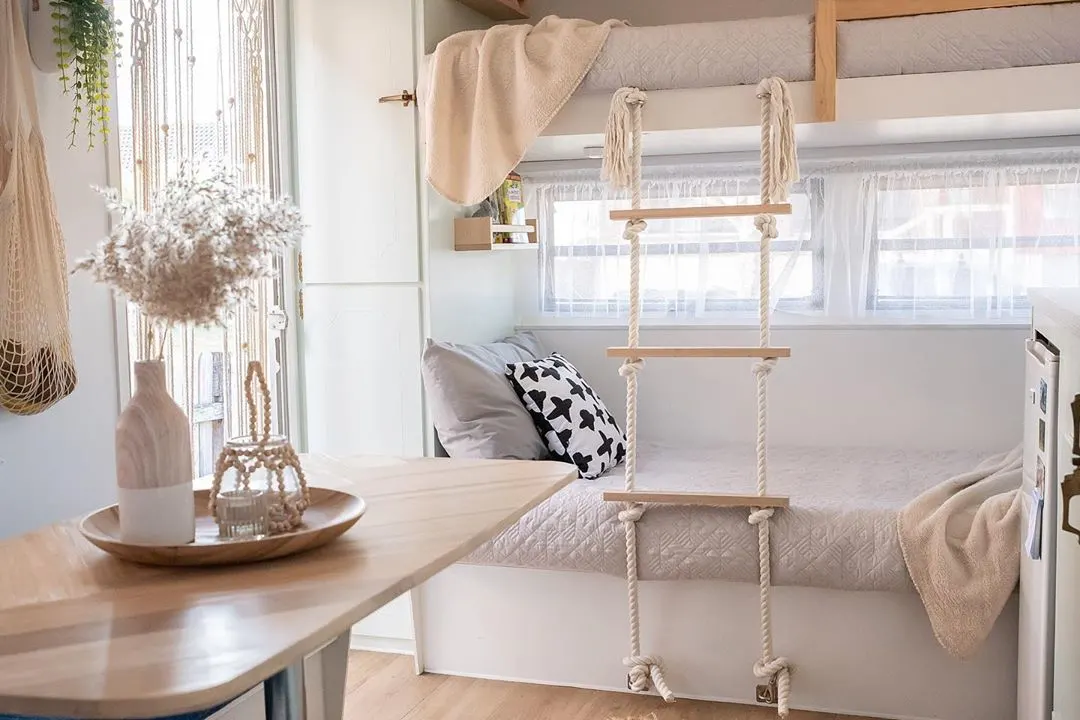 1976 Viscount Royal
@ourvintagecaravan have the space at the end of the beds to put the bunk ladder and it's integrated nicely into the frame of the bunks.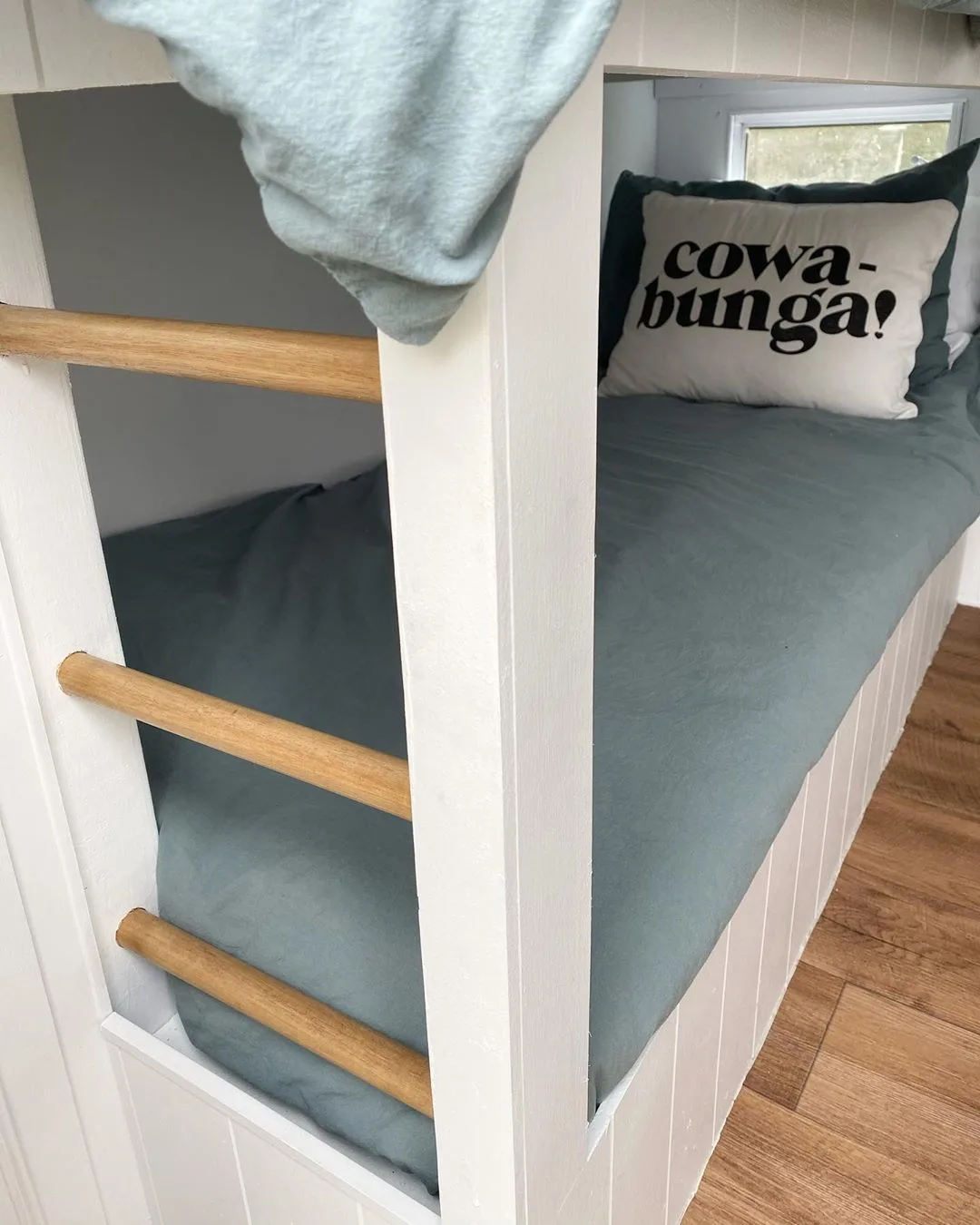 Mona
@monathemillard have also been able to incorporate the ladder into the frame at the foot of the bunks.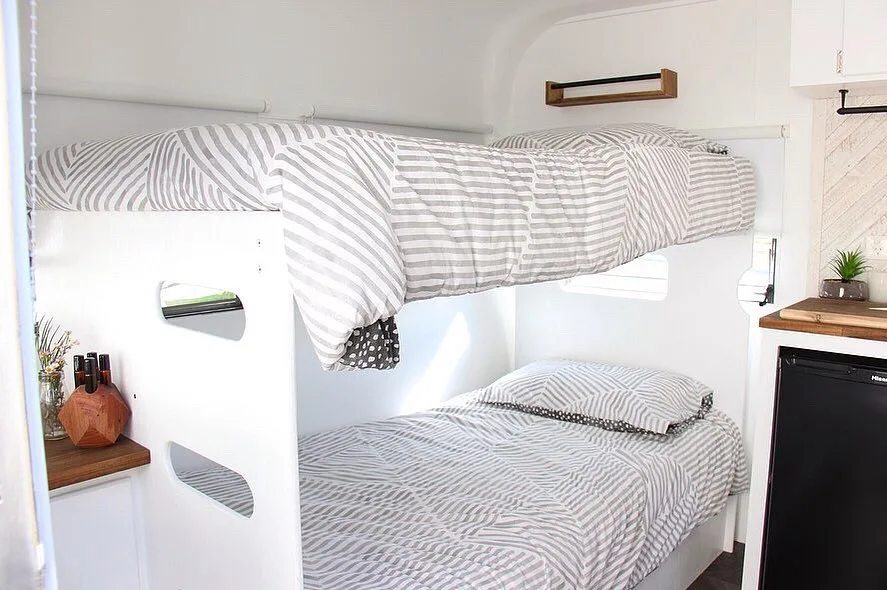 And there are also ladders that you can buy.  Like this aluminium ladder from OneX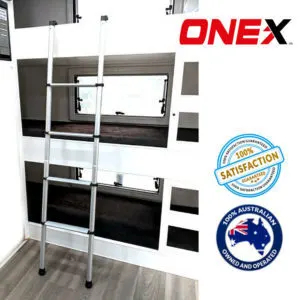 How do you make a bunk bed for a caravan?
The Touring Camper have written a detailed post on how they made the bunks in their vintage camper. Read their post here.
In this video Covet the Camper shows how he converted the dinette in his camper, into bunks. He is based in the USA and this dinette / bunk beds are in a slide out, but it may give you ideas for how you can do something like this in your own caravan.
Has that given you some ideas for what you can do for your own caravan bunk beds?
Save these Caravan Bunk Beds to Pinterest