Okay folks, we're gonna delve into the world of caravan kitchen renovations.
If you haven't already seen, we're doing a Caravan Renovation Series over the next few months. We're putting together a big list of all the caravan renovations we can find in Australia and New Zealand, to give you ideas and inspiration. And because we LOVE looking at them!
This is what we'll be covering:
Caravan Renovations by type/brand
Caravan renovation interiors

Bed
Kitchen (this post)
Dining/lounge
Bathroom

Caravan Renovations – exterior
Vintage Caravan Renovations
Oh gosh… we've got a loooong way to go! 🙂
This post is gonna be a big one, and you're probably gonna get bamboozled with too many ideas for your caravan kitchen renovation!
This post contains affiliate links. Please see our disclosure for more information.
So I've sectioned this off into different categories so that you can just go to the section where you need some ideas.

Paint
Painting your caravan kitchen is by far, the easiest and cheapest step you can take, and the one that will make the most difference in the least amount of time.
Look at the difference that white paint makes to Little Boho.
See more of Little Boho (she's delightful!) over on her Instagram @littleboho_trails  
You will find that the overwhelming majority of interior caravan paint jobs are white. Obviously it works. And it provides a clean slate from which to add other colours and finishes.
Here's another example, this time from @twodogs.avan.andus of how white paint changes to whole vibe of a caravan.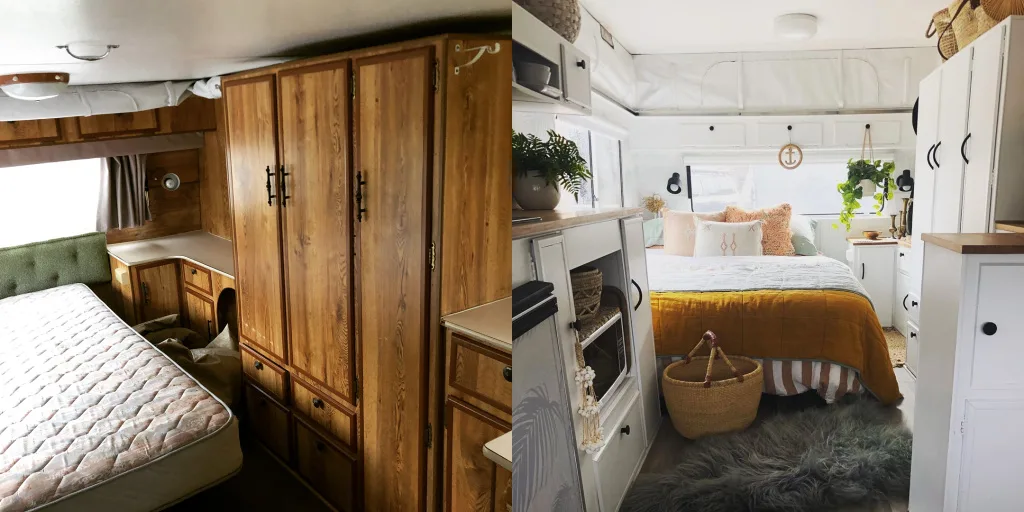 Many choose to paint the walls white and give the caravan kitchen cupboards an amazing pop of colour. Just like this minty goodness by @initforthelonghaul_oz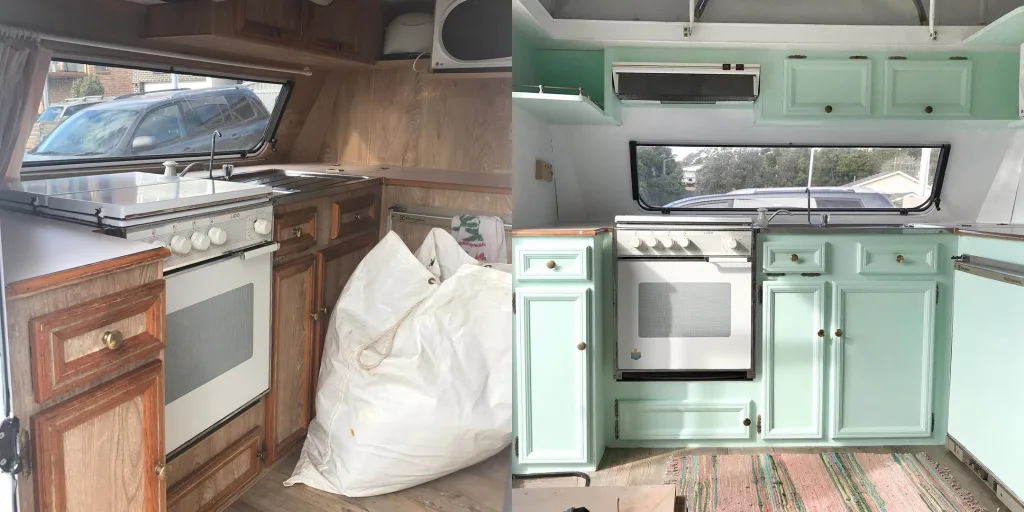 (BTW – you can hire this caravan for yourself on Camplify)
Caravan Kitchen Cupboards
If a new paint job isn't going to cut it for your cupboards, then new ones may be the answer.
@ruby_viscount_van had to make some modifications to these Kaboodle cabinets that they bought from Bunnings, but I think you'll agree, they came up a treat!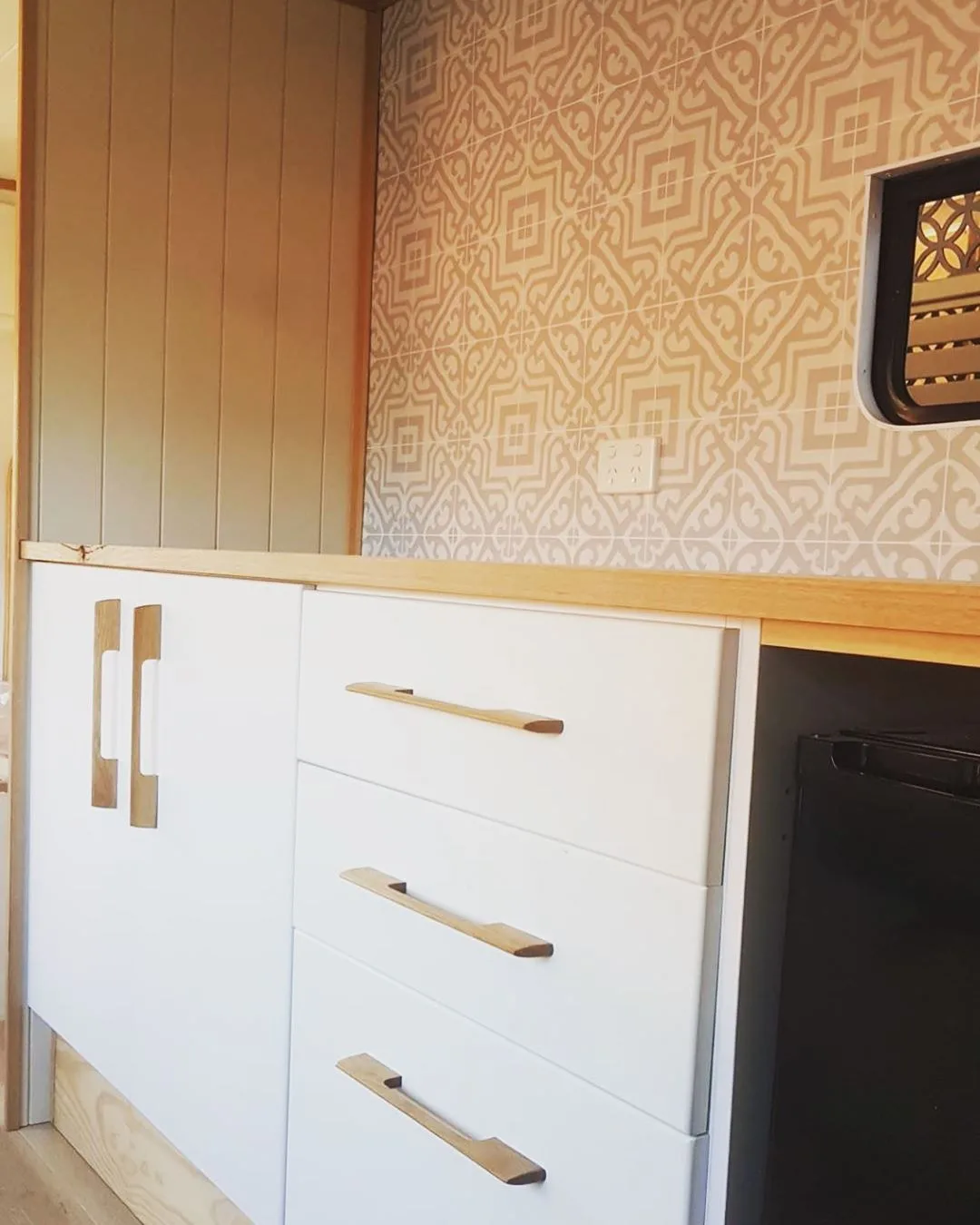 If you want to give it a go… you could make the caravan kitchen cabinets yourself. That's what @vintage_van_adventures did and they'd never done any cabinetry work before, so maybe you could too!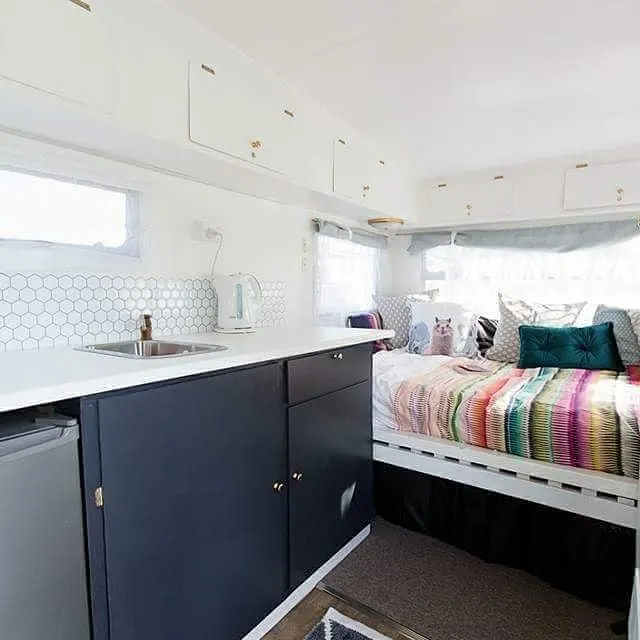 (To see the cabinet making process, here's a link to the post on @vintage_van_adventures Instagram.
Countertops
@oursandydays chose this Acacia Brown wood from Bunnings, and when you see it paired with their pressed tin splashback and vintage tap, it looks a treat.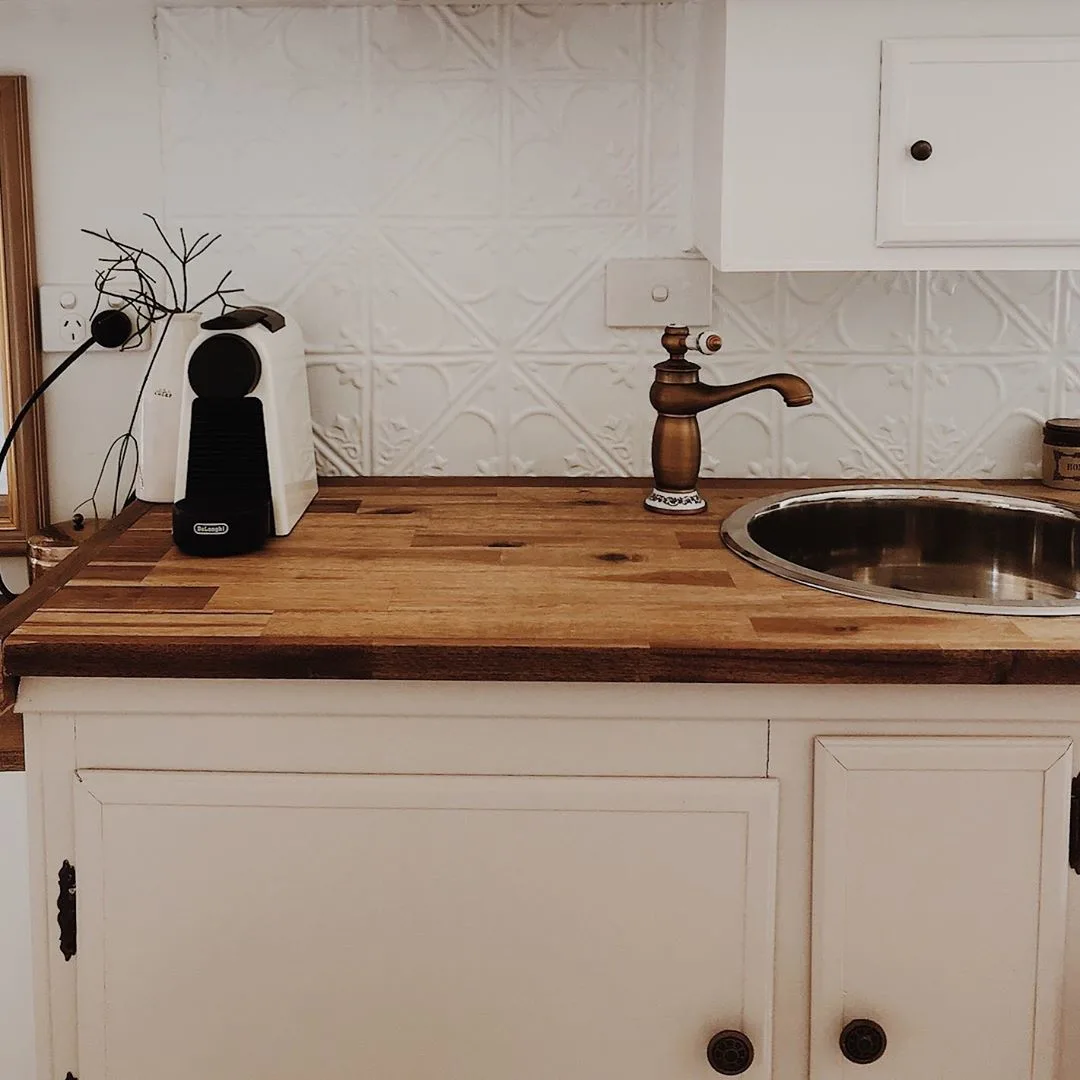 Here's a laminate bench top from @vintage_van_adventures which they got from @ikea_australia, and it works great with the stainless steel sink and tap, and the ever popular @tic_tac_tiles.
(@vintage_van_adventures are, by their own admission, serial caravan renovators, so you'll have so much to look through on their feed!)
@thisoldvan have also used a laminate benchtop, this one from @laminexau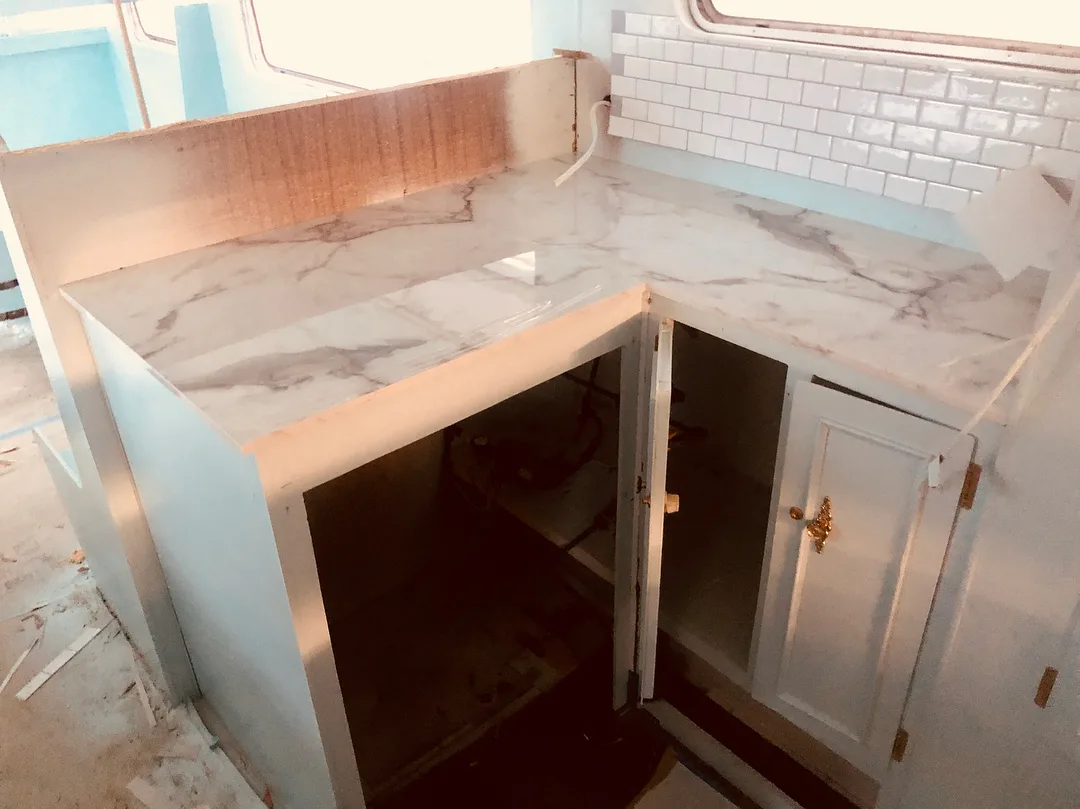 Caravan Sink / Taps
I never would have thought that something as simple (and essential!) as caravan kitchen sinks, could make such a difference to the overall look of a caravan.
I would have just gone with the conventional stainless steel sink and left it at that.
But these somewhat non-conventional sinks (and taps) below have totally changed my mind!
@oursandydays vintage tap from ebay (they're also in the pressed tin splashback section)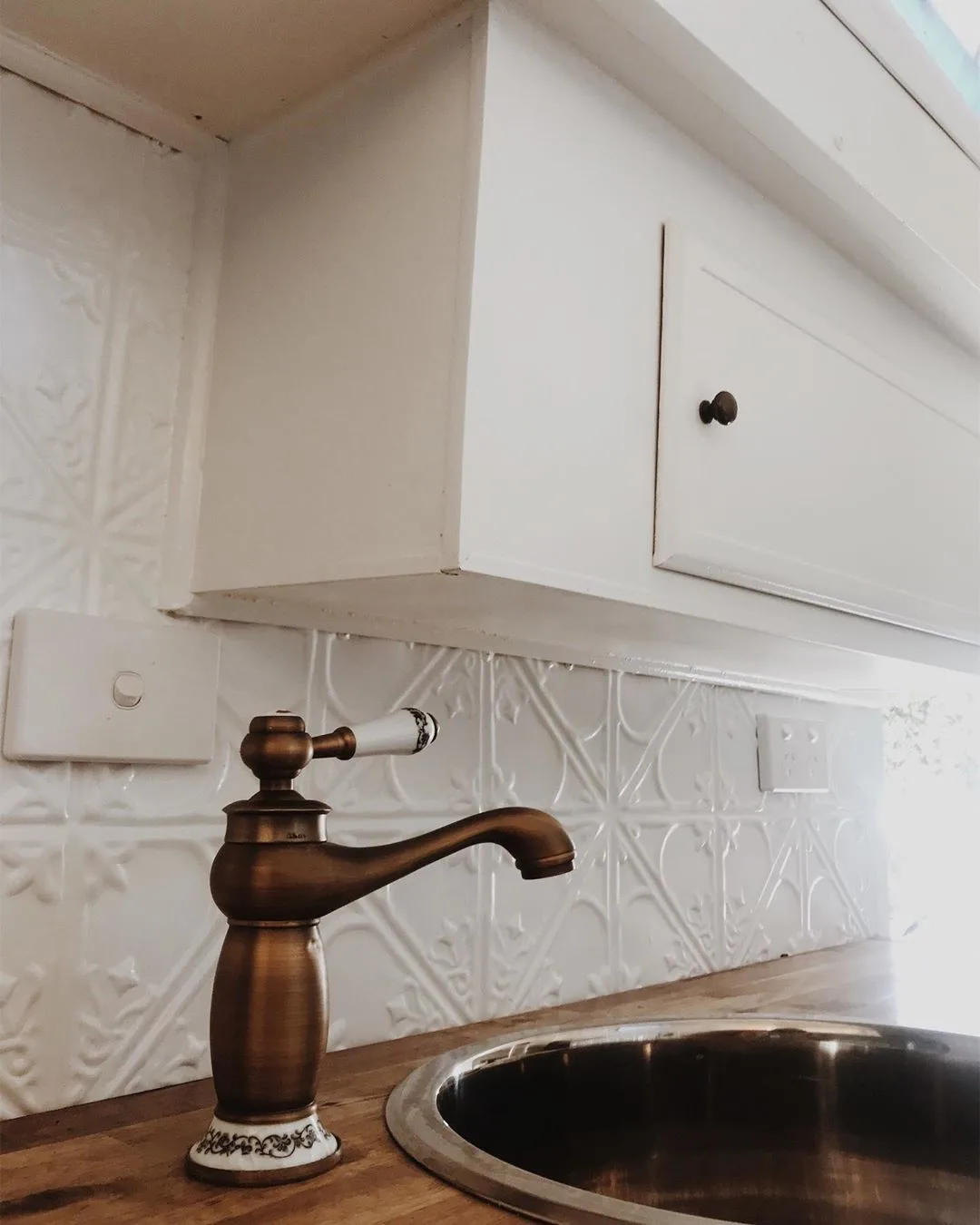 Not sure if the gold tap would work with their black sink, @ruby_viscount_van took a risk anyway, and it paid off!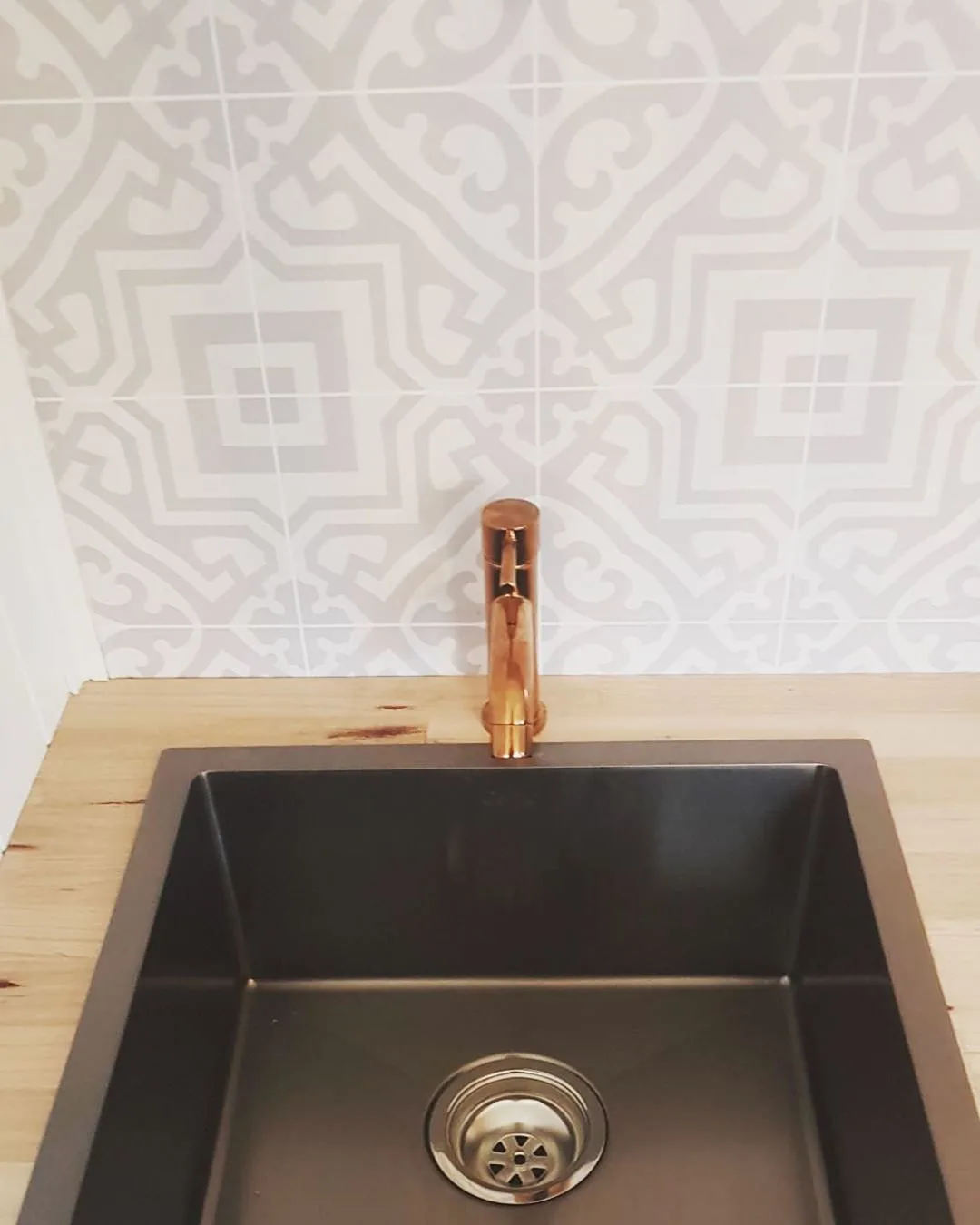 @themaggieproject put in this beautiful white stone sink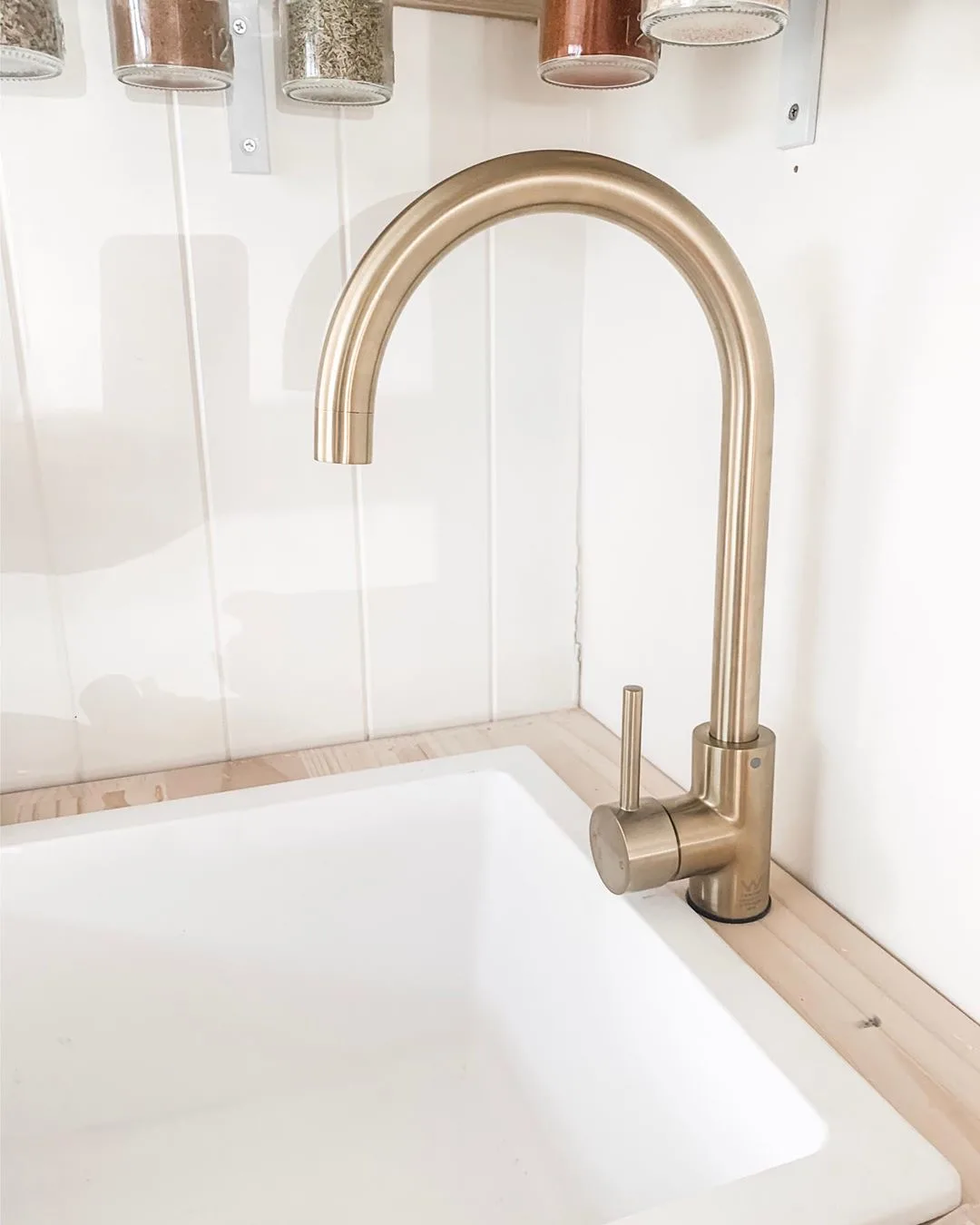 The sink can be found at Kogan (click here) and that schmick tap comes from @abiinteriors 
Gold tap and sink by @adventures_with_bessy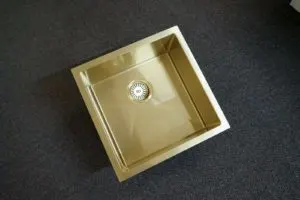 Caravan sinks and taps ended up being a much bigger topic than I realised! So if you're particularly interested in looking for ideas for a caravan sink/taps, then this next post might be the one for you.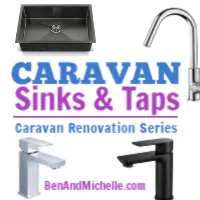 Splash back
Tic Tac Tiles
Stick on tiles are such a great option for a caravan kitchen as they're super light, easy to install (says she who's never done it) and they come in heaps of different colours and patterns.
@billiethevan used TicTac Tiles Australia for the splash back on their 2001 Regent Cruiser pop-top. It looks like it would be reasonably easy to install (well, easier than real tiles anyway), they're light, and they elevate the kitchen space in a great way.
And here a different pattern of tic tac tile that has been used by @our.happyvan.
The @the.gees.big.adventures have used the subway tic tac tiles in 'The Big Girl' and it makes their kitchen area just pop!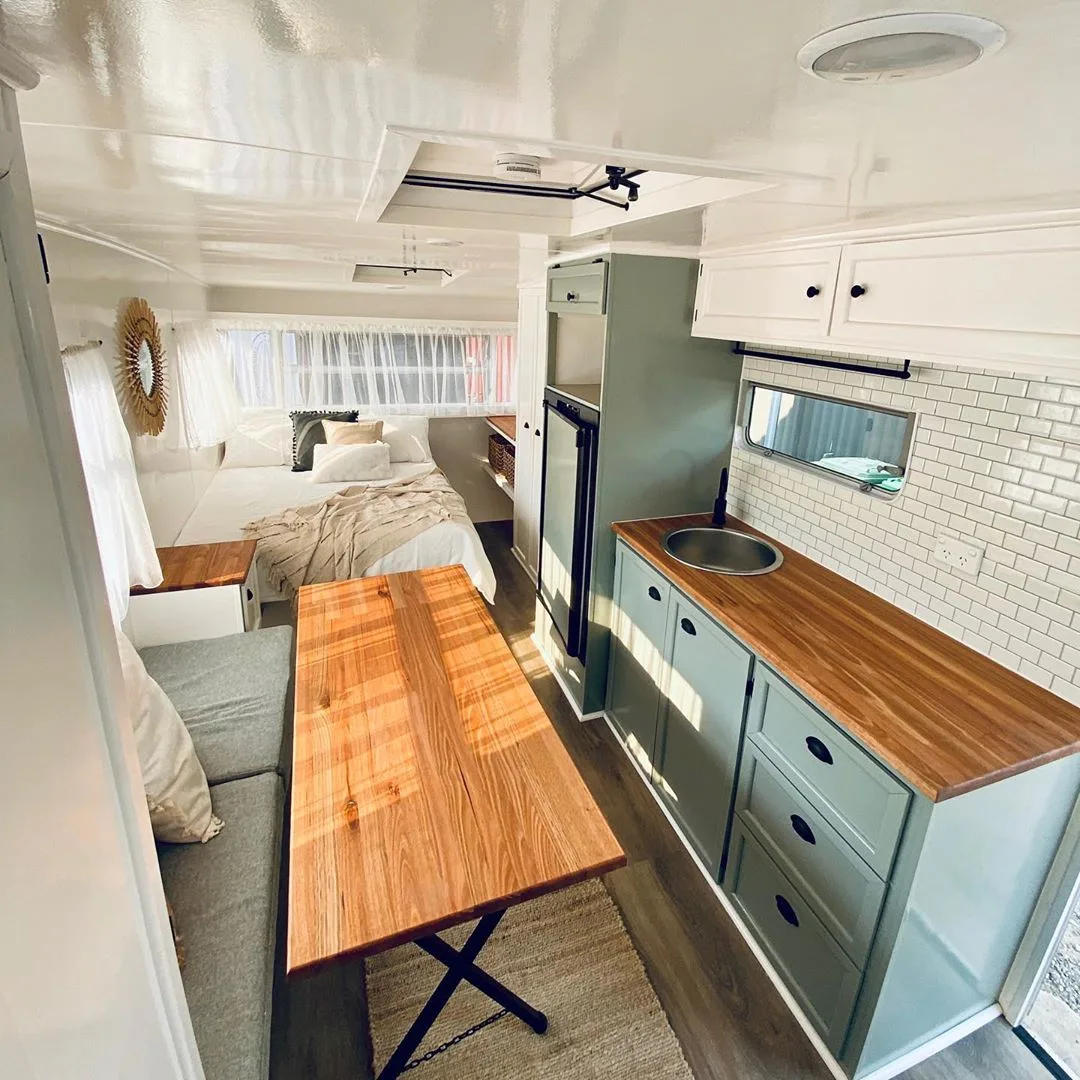 You can have a look at the full range of Tic Tac Tiles over on their website:  https://tictactiles.com.au/
Pressed tin 
There is so much awesomeness going on in this caravan kitchen renovations by @huddyandme, but at the moment, I'm just looking at that pressed tin splash back. Along with the vintage tap, wooden countertop and the panelling on the cabinet doors, it just adds to the olde world charm of this kitchen.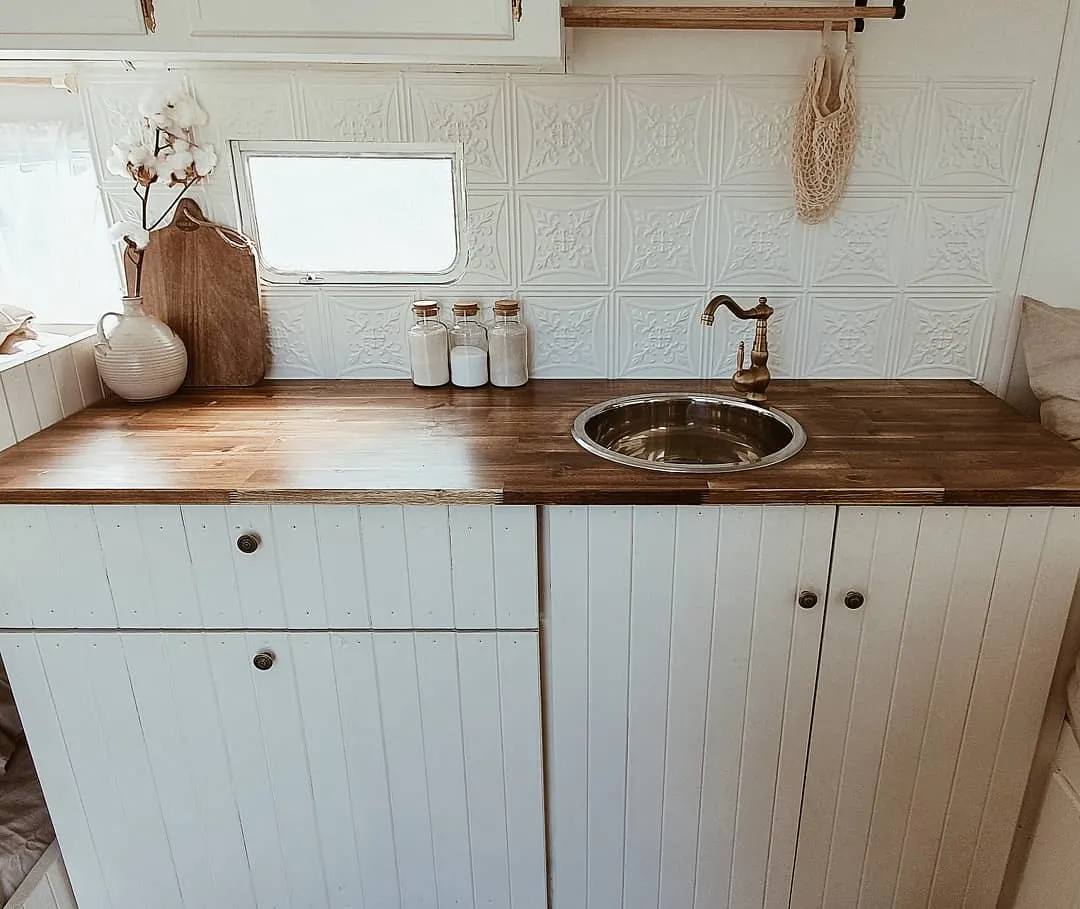 If you're looking for pressed tin, here's the supplier @huddyandme used: PanelTime 
And of course, there's always Bunnings
@oursandydays had some leftover pressed tin from their home renovation, and they work perfectly in their little Viscount pop-top.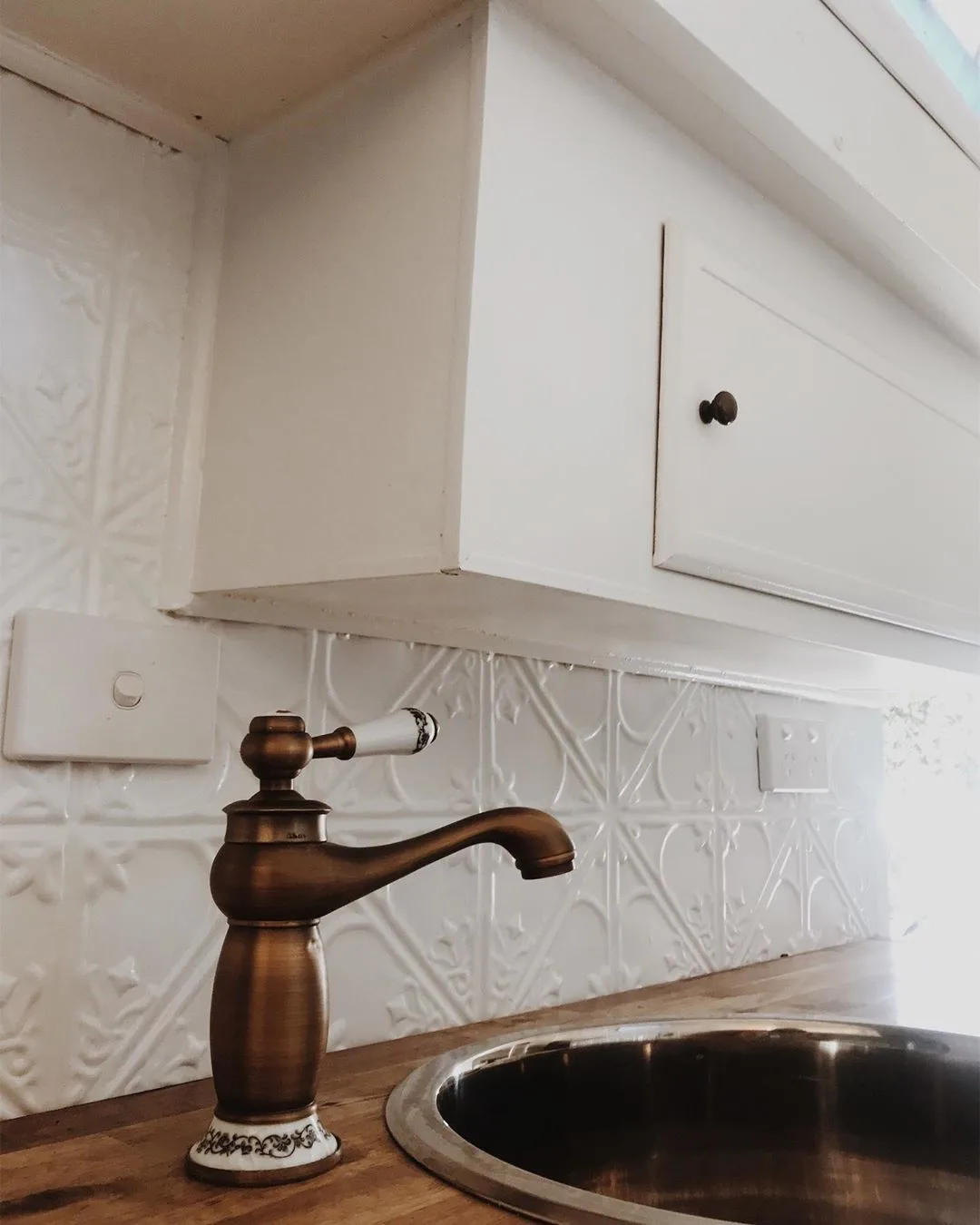 Vinyl Sticker
I am totally loving the look of this vinyl sticker backsplash by @vanwarro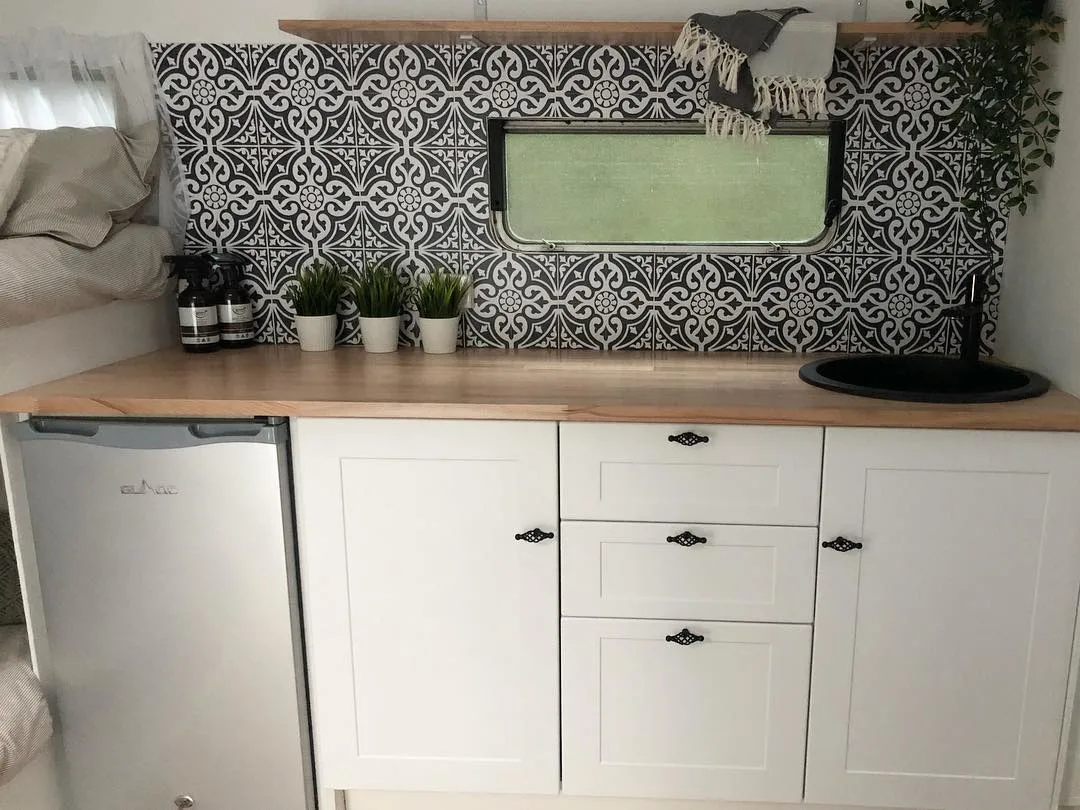 They got this from @snazzydecal, check out their Instagram feed for some bright and colourful options.
Or here's another beauty by @ruby_viscount_van where they've used @quadrostylestickers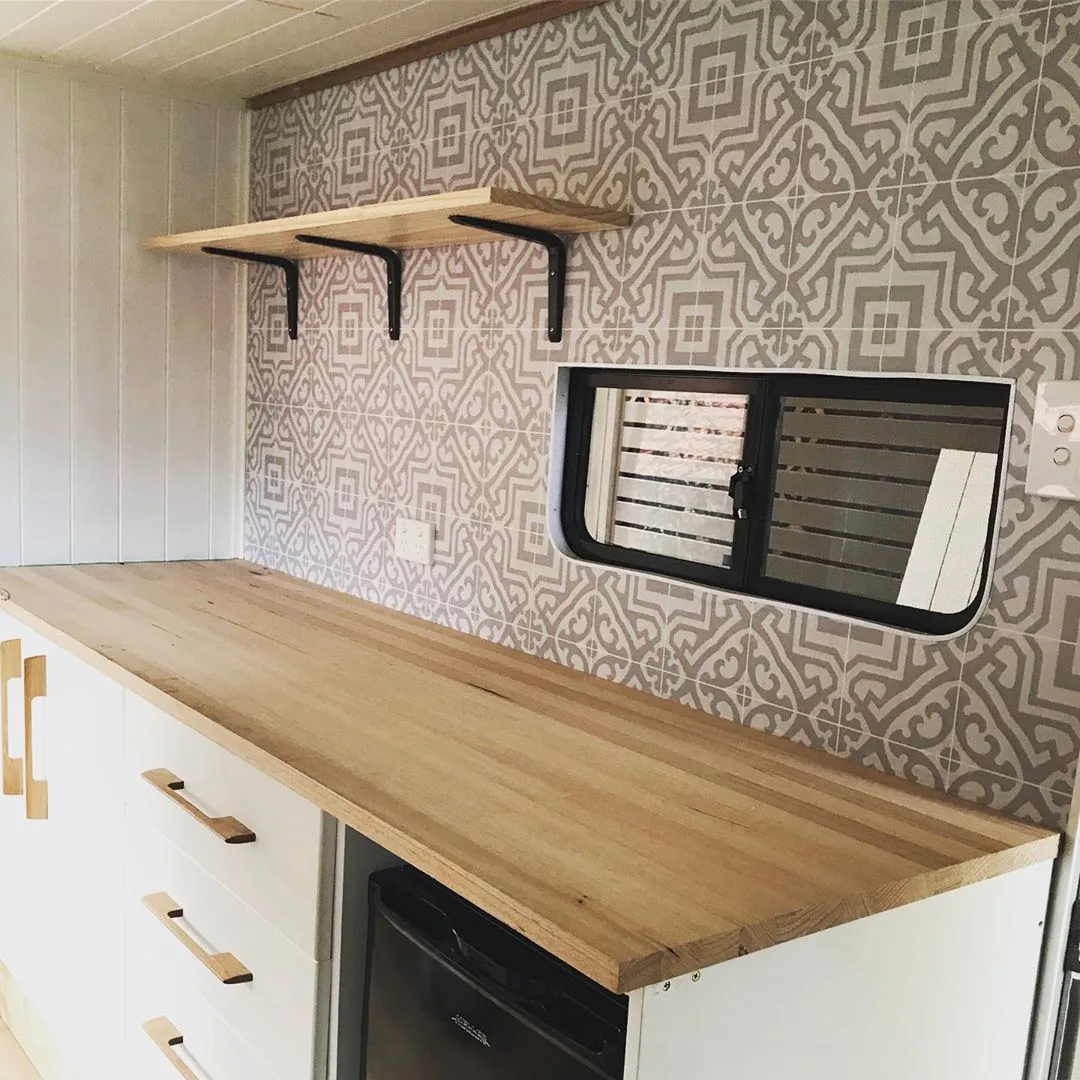 DIY
I find that I'm constantly amazed at the creativity of this community of caravan renovators… a perfect example is this wooden backsplash designed and created by @monathemillard. They took recycled pallets and created something totally unique and beautiful!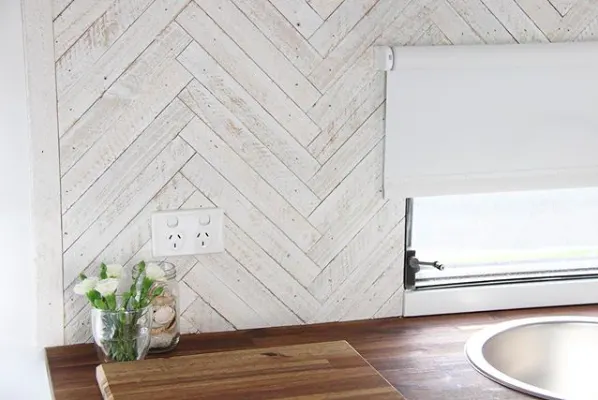 Some more great ideas…
I just want to share with you some of the fantastic, out-of-the-box but totally practical ideas that I've seen in this caravan kitchen renovations community…
Drop down shelf
This just makes so much sense! Sure, I suppose you could just sit the items on the counter and build a wall around it. But this looks really smart and tidy. Thanks @the_bridges_adventures, you guys are genius!
Open Shelving
In the US there seems to be a bit of a trend happening with renovated RVs, where they're incorporating open shelving into the kitchen area. With plenty of storage in other places (since their rigs are so huge) they have the space for open shelves to display their pretty items… not everything has to be purely practical.
Much as I LOVE the look of the open shelving, there are two problems I have with it: One, is obviously the fact that you have to take everything off the shelves each time you move. And Two, I don't have pretty things to show! It would just be a jumble of mismatched cups, snacks and oft used crockery (half of which is plastic).
But @themaggieproject have nailed the open shelving! Look at this!!! (I'm trying to contain my excitement at this idea…not doing very well) Maybe not everything can remain on top of the shelves, but all those cute jars can definitely stay while travelling. 
How do you like all those ideas!?
Certainly a stunning collection of caravan kitchen renovations. And now I'm totally stumped about what we're going to do with our own kitchen. Dang!
I've listed quite a number of retailers in this post, so here they all are:
Cabinets & Countertops
Bunnings – Kaboodle Cabinets
Bunnings – Countertop in Acacia Brown
@laminexau
Sinks & Taps
eBay – Black sink
@abiinteriors
eBay – White stone sink
eBay – Gold sink
Splashbacks
tictactiles.com.au
paneltime.com.au
Bunnings – splashbacks
@snazzydecal
@quadrostylestickers
For more caravan renovation inspiration, check out the rest of our posts in the Caravan Renovation Series…
Pin these Caravan Kitchen Renovations to Pinterest