As we continue our series on caravan renovations here in Australia (and any I can find in NZ) we are having a look at probably the most popular / prolific of the older Australian caravans… the Viscount.
With so many of them around, chances are good that you're looking for some inspiration for your own Viscount caravan makeover. 
If so, you're in the right place!
If you've got a Millard and particularly want to check out DIY reno's that have been completed on the Millard brand, then head on over to our post: Millard Caravans | Caravan Renovation Series.
Viscount History
With such prolific manufacturing of the Viscount brand particularly in the 60's and 70's, we find that there are still a lot of Viscount caravans sitting in back yards all around Australia.
The fact that they are still around, all these years later, is testament to the quality of build of these vintage caravans.
They are being bought up, and renovated and we have loads of examples here. 
If you'd like to read up on the history of the Viscount brand, and John and Maureen Carr, who started it all; Roam have a comprehensive article you may find interesting. https://www.timetoroam.com.au/viscount-caravans-history/
Viscount Caravan Renovations
If you have any questions about these specific caravans I've included links to each owners Instagram profile and, where applicable, their website. 
I've only included a selection of photos from each caravan, so head over to their Instagram profile to see more photos and information.
Some of them are even for hire, so that's a great way to really see how the renovations look!
Let's dig in!
Luna
Luna is the second iteration of this caravan renovation. She was previously named Tenalach, but now she's known as Luna, and is a luxurious home-away-from home for this young family of four.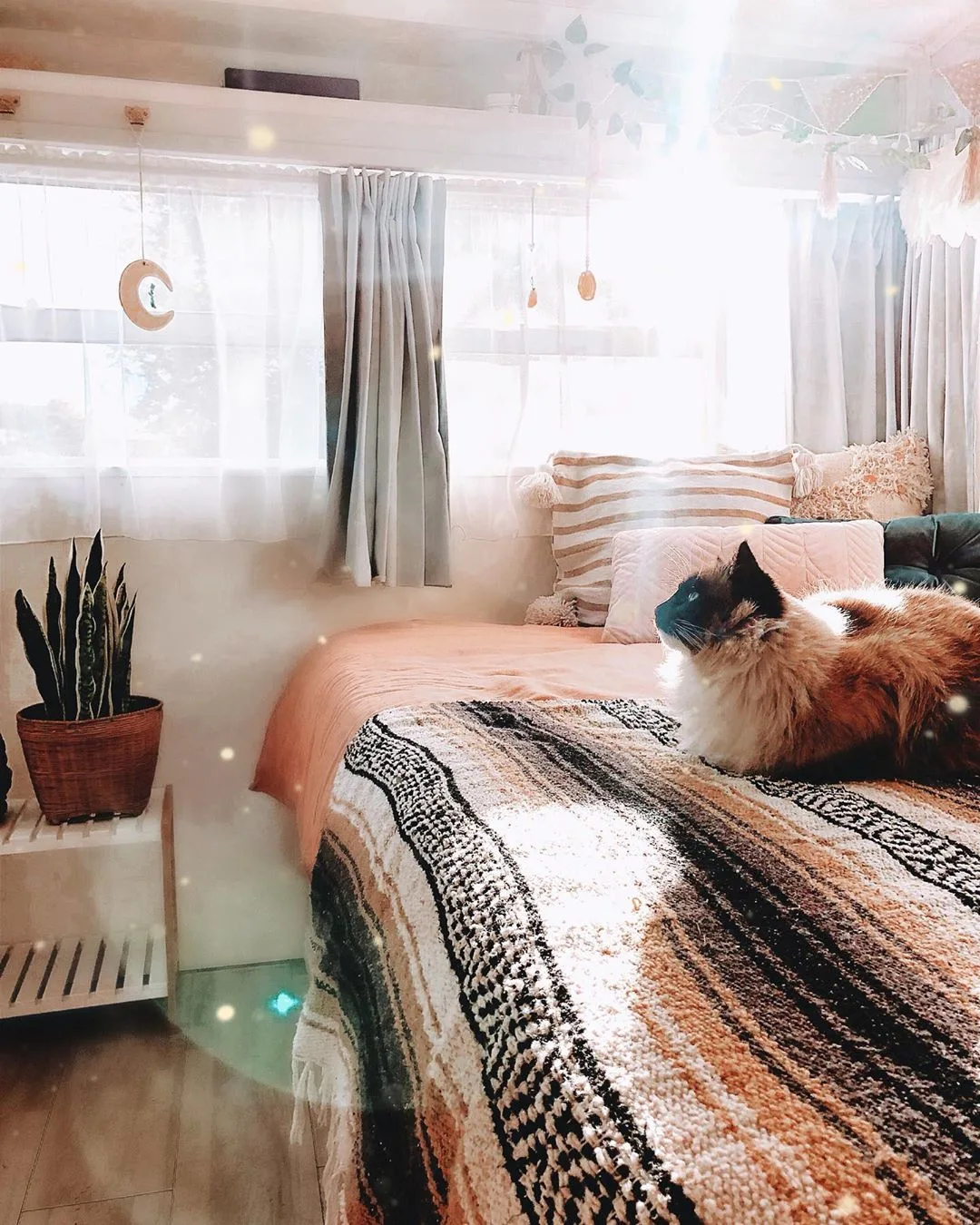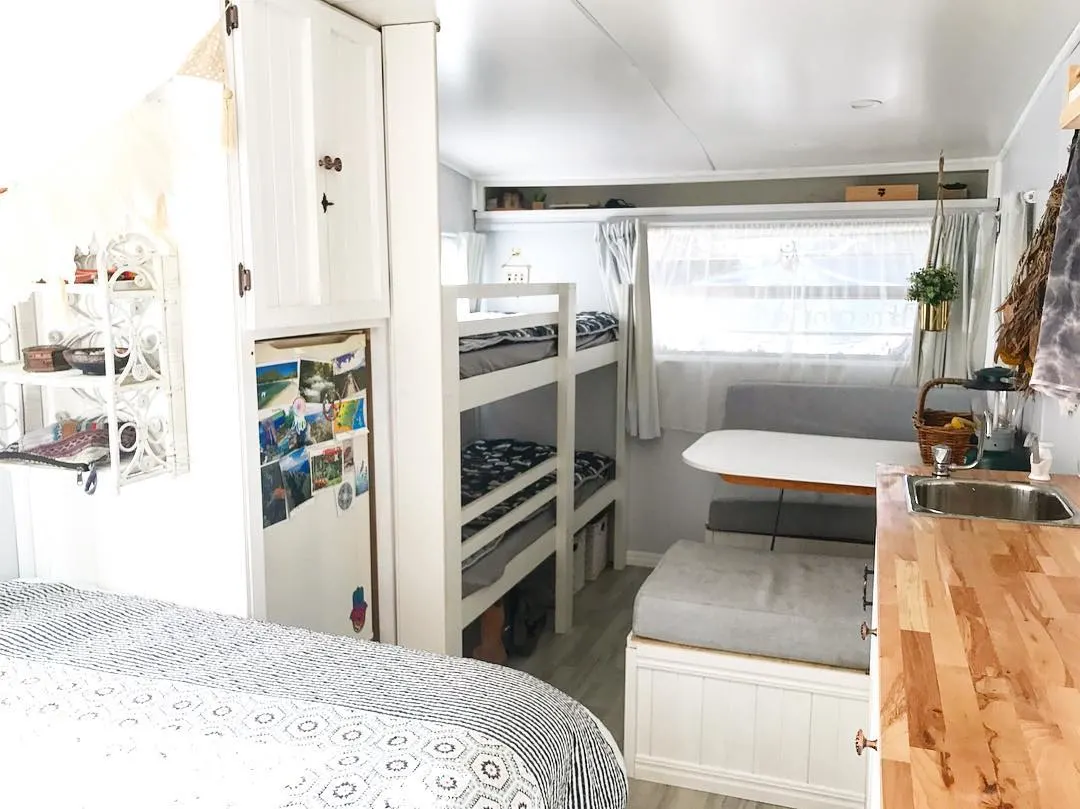 You can see more of Luna over at @theconniediaries on Instagram and you can read more about this renovation on Connies blog post here:  https://theconniediaries.com/2017/05/25/tenalach-take-two/
Sadie
Sadie is a 1971 Viscount Ambassador and when she first arrived (back in 2016) they just gave her exterior the new coat of paint she needed.
But this year, in preparation for a month long stint in Sadie, she was given an overhaul on the inside.
And look at her! A perfect little haven for this family of four.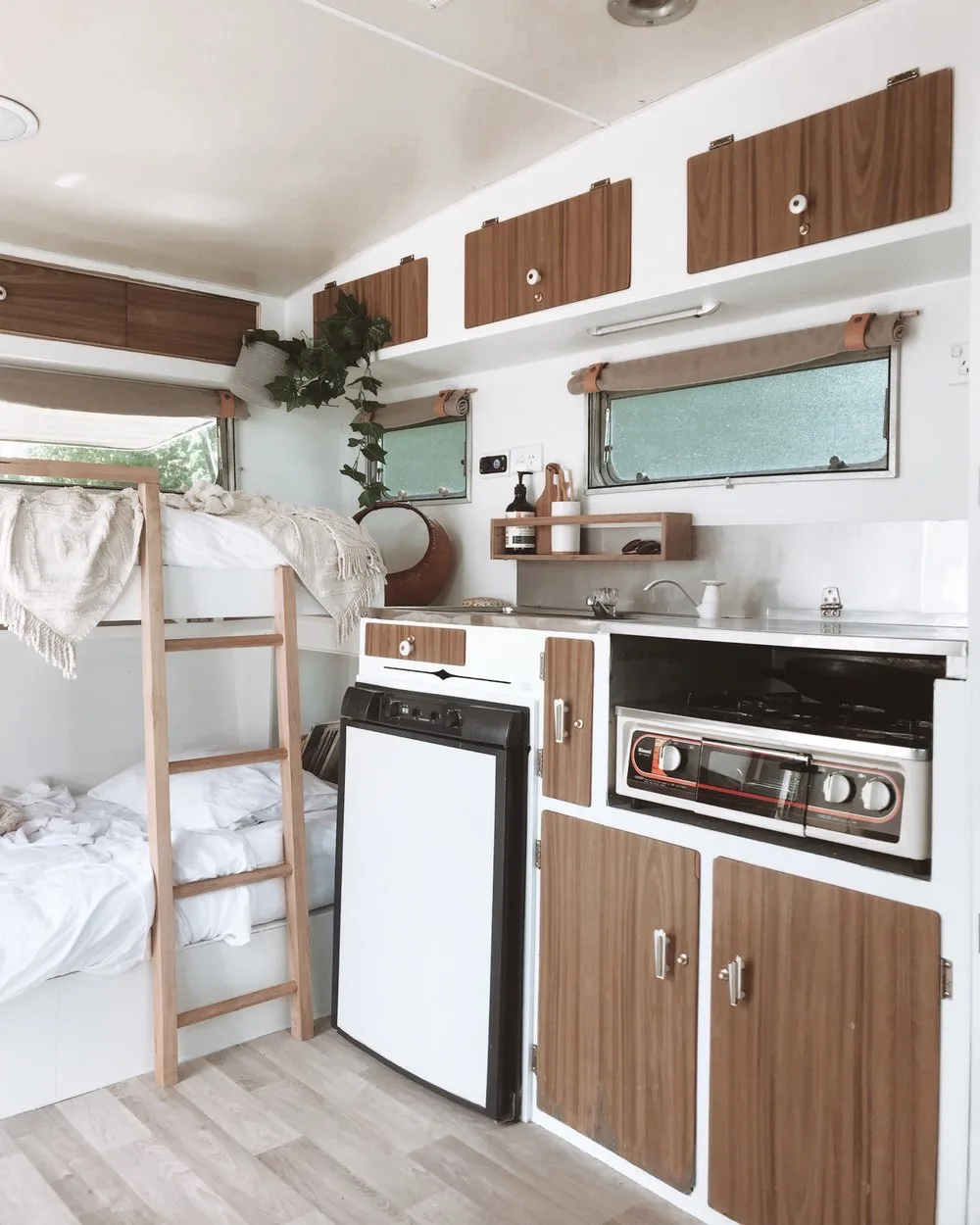 Her character and personality have not been lost, as she retains those cute cabinet doors and hardware, yet she's looking fresh and bright!
You can see more of Sadie over at @weekendswithsadie and check out the accompanying blog for more: Weekends with Sadie. 
Salty
Salty is another Viscount van that has been lovingly revamped into a perfect family holiday home. And guess what… you can hire her for YOUR family holiday!
Located at Tugun on the Gold Coast, she's been renovated with inspiration taken from the gorgeous coastal surrounds of the Gold Coast.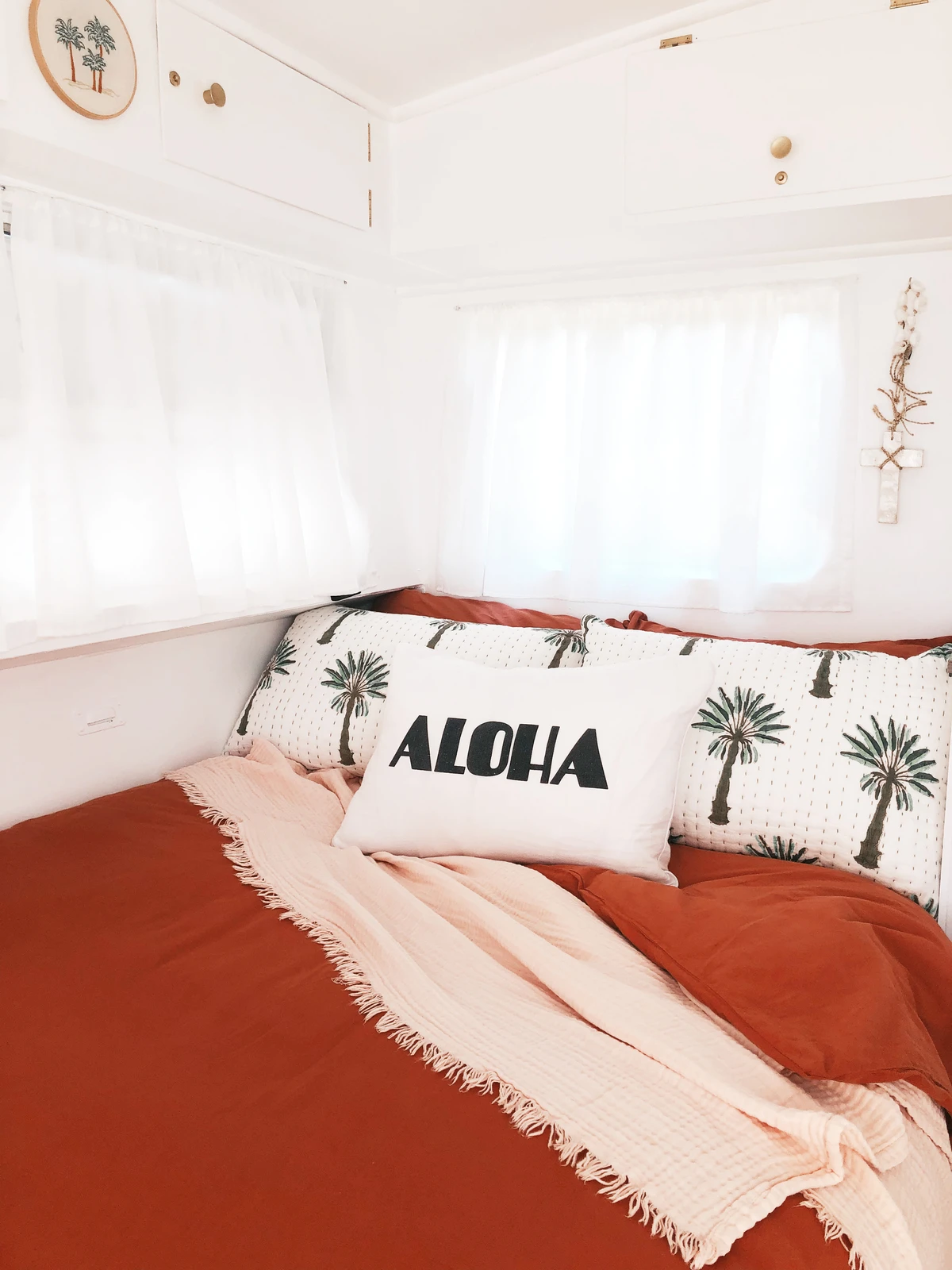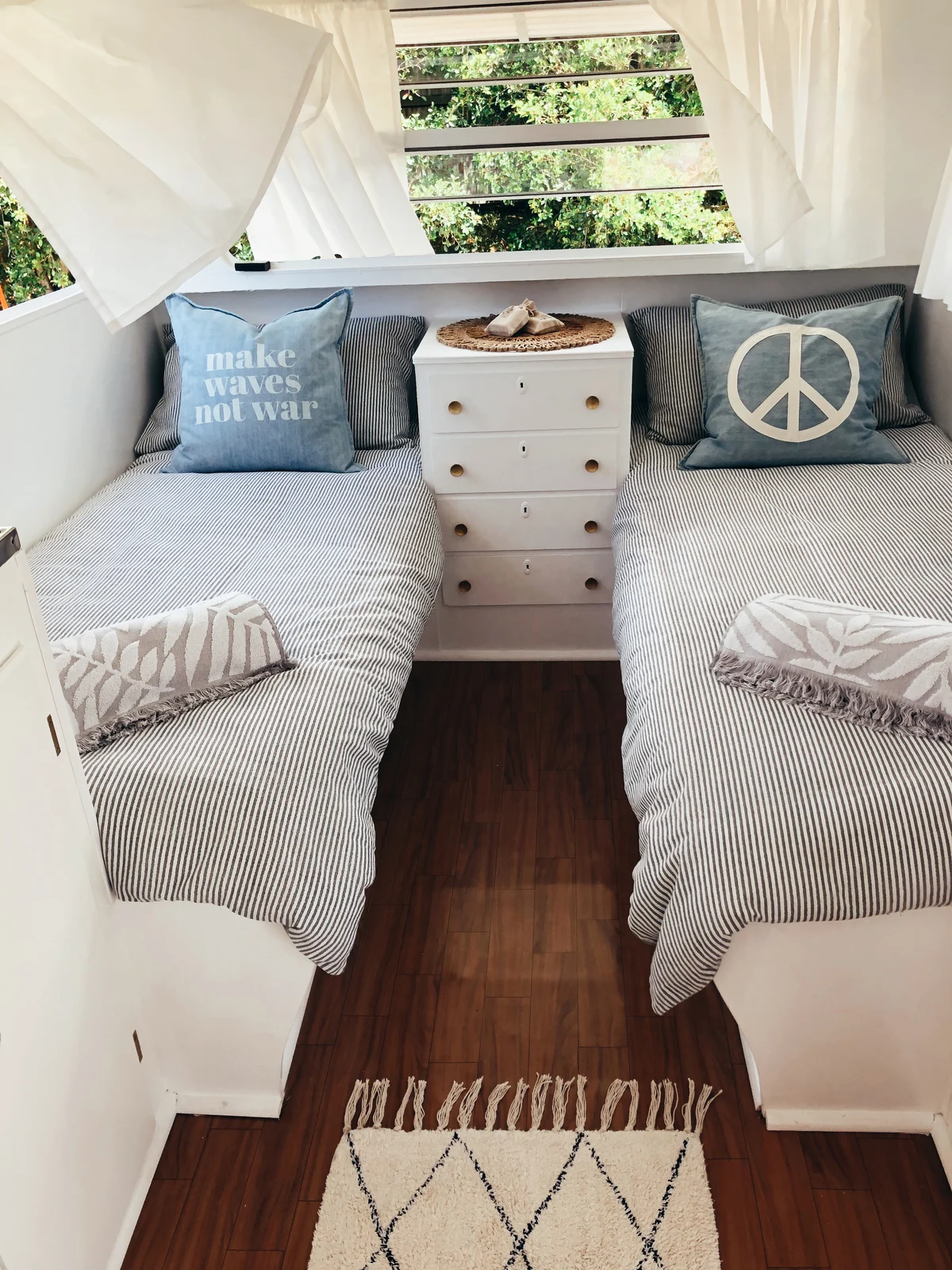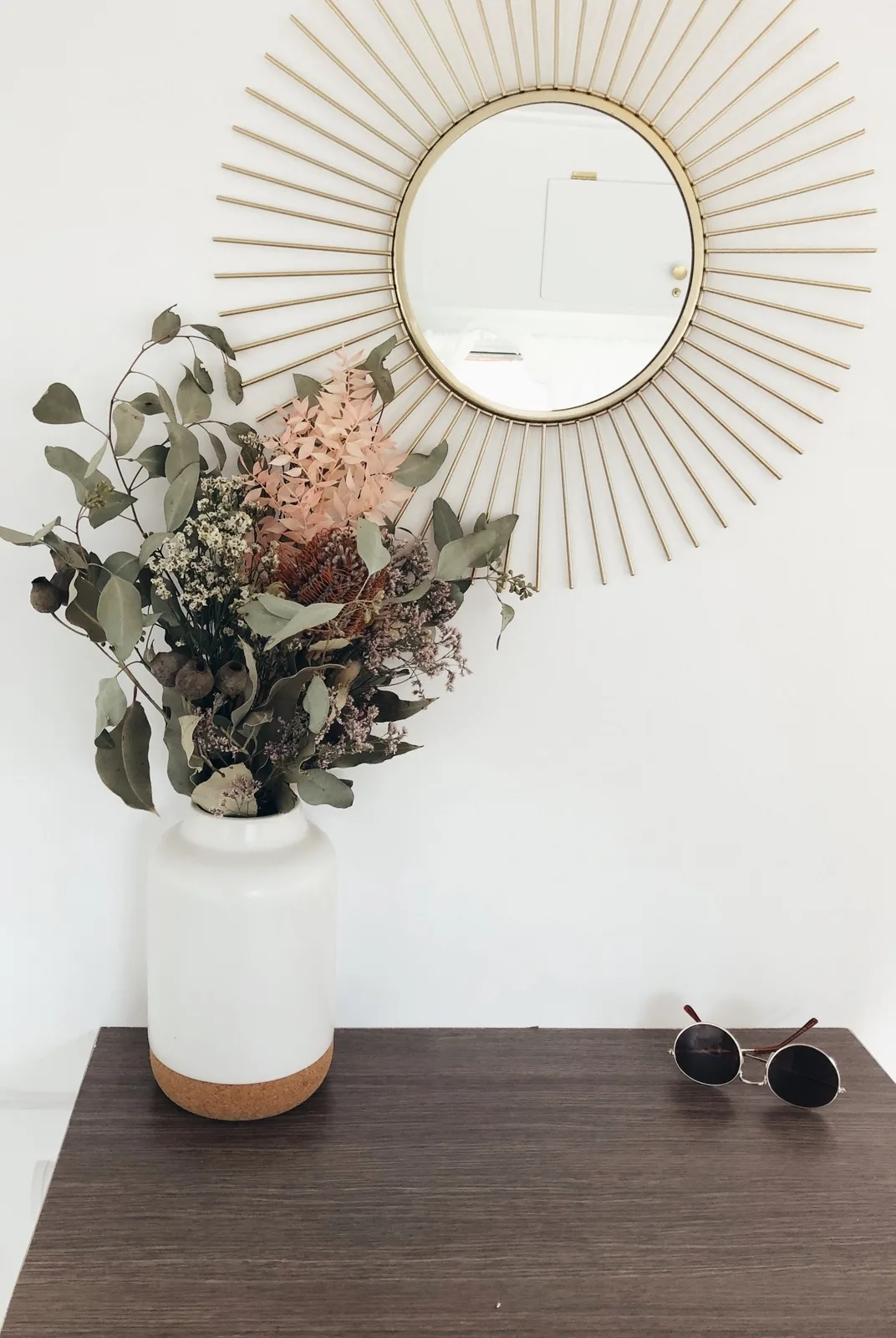 You can hire Salty for yourself over on Camplify (Click here to go straight to Salty's listing)
And see more pictures of her on her own Instagram @saltythecaravan
Sunny
Sunny is a 1974 Viscount that Dan & Pen have been renovating (as well as their house!) and she's almost done!
With her peachy tones, Dan and Pen have created a cozy den where they can take their family on holidays and create those special memories.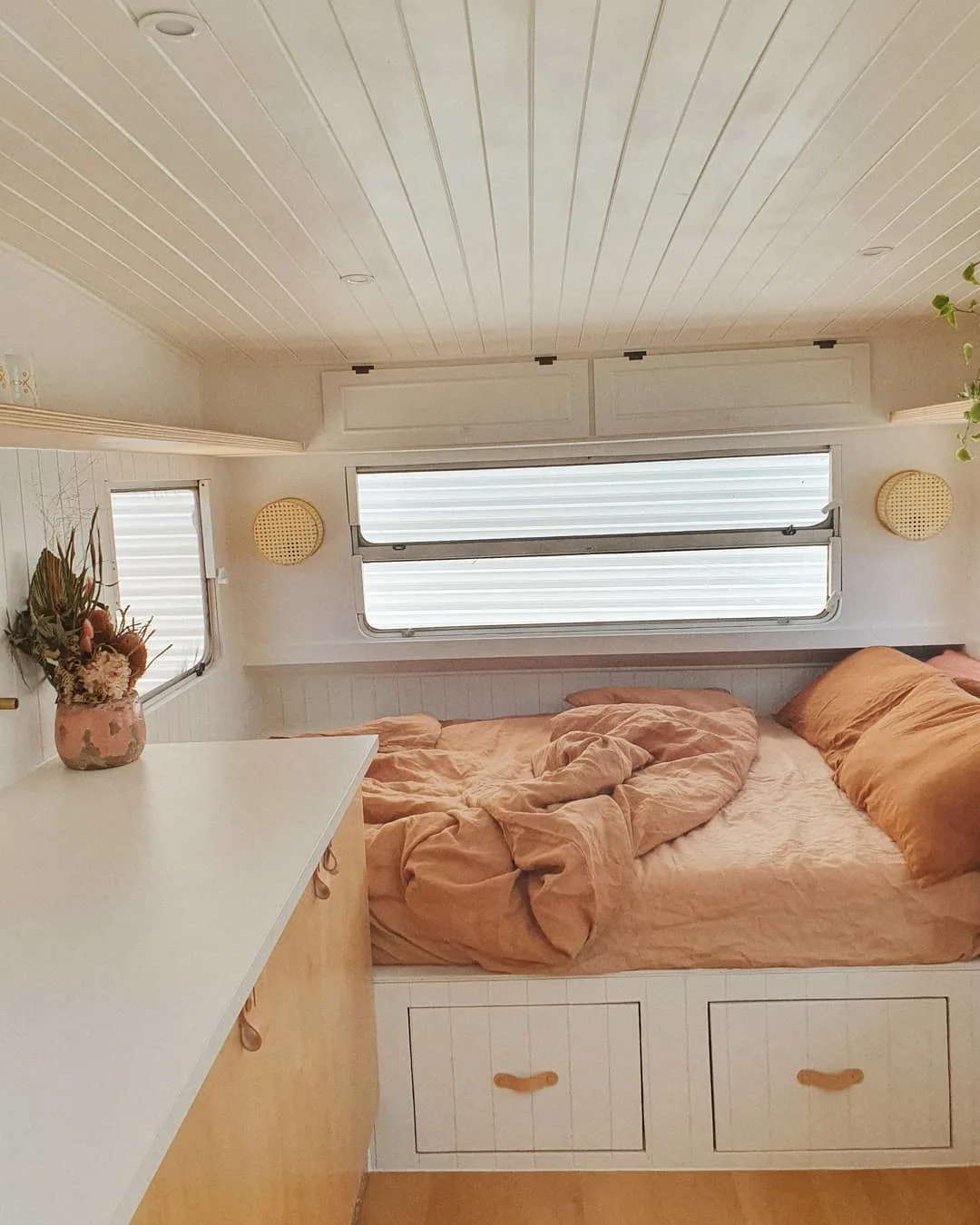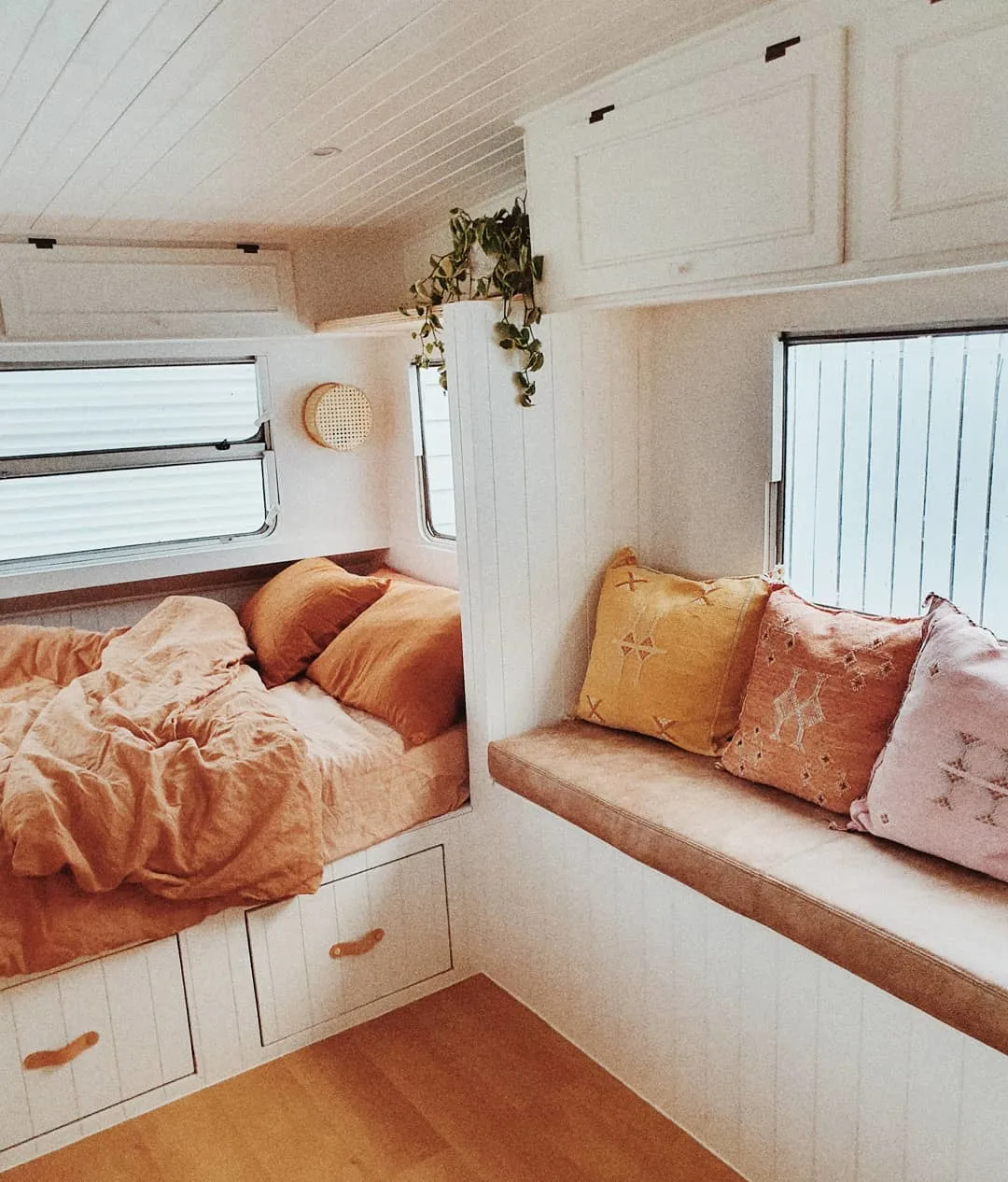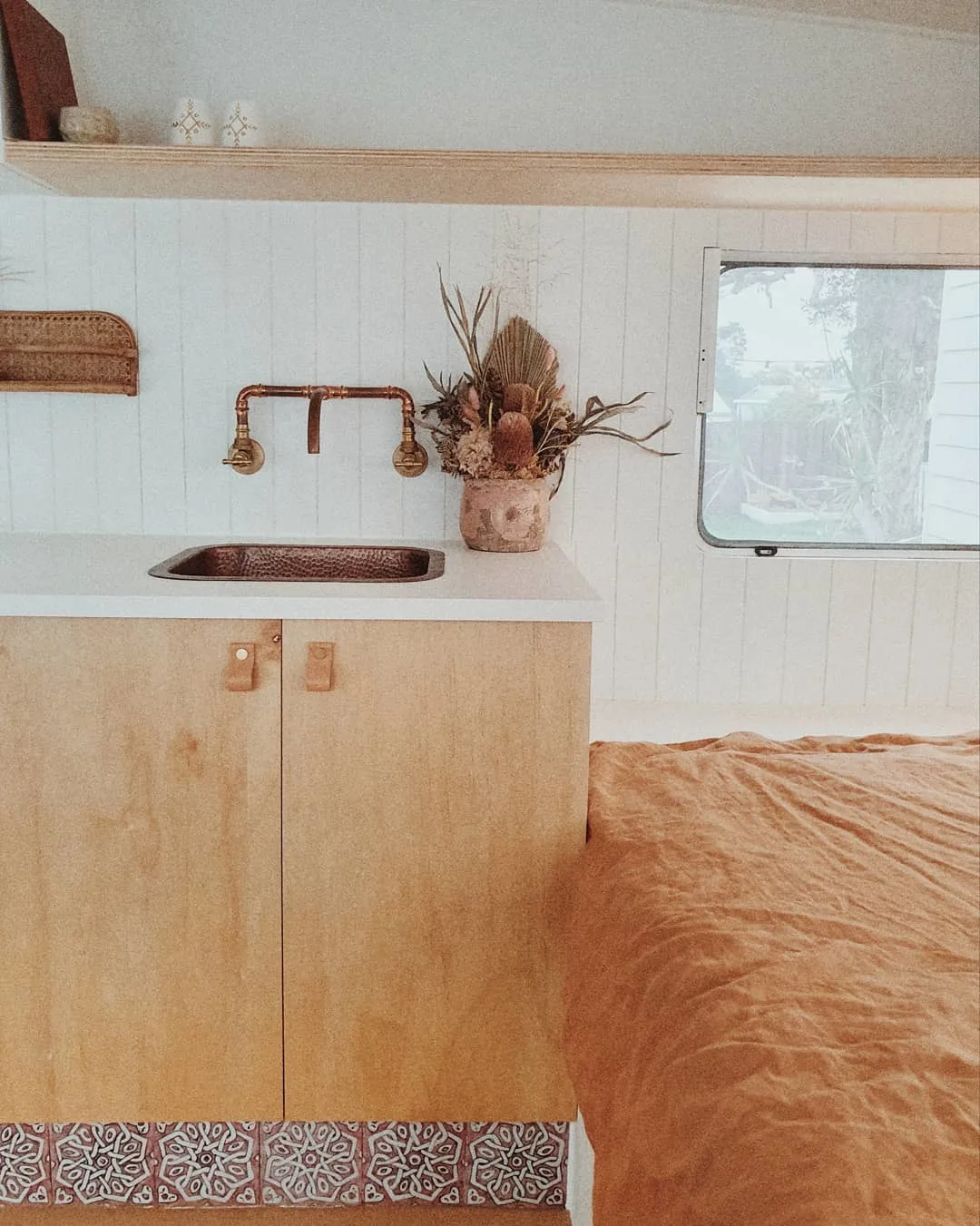 You can see more photos of Sunny over on Instagram @project.sixteen. 
Be sure to have a look at their stories as that's where you find a lot of before and during progress shots.
Our Vintage Caravan
You may remember @ourvintagecaravan from our post DIY Caravan Makeovers earlier in the year. That caravan was a Millard Capri and they did such a wonderful job! 
Well, they've been at it again, this time renovating a 1976 Viscount Royal.
Have a look at her clean lines and spacious feel!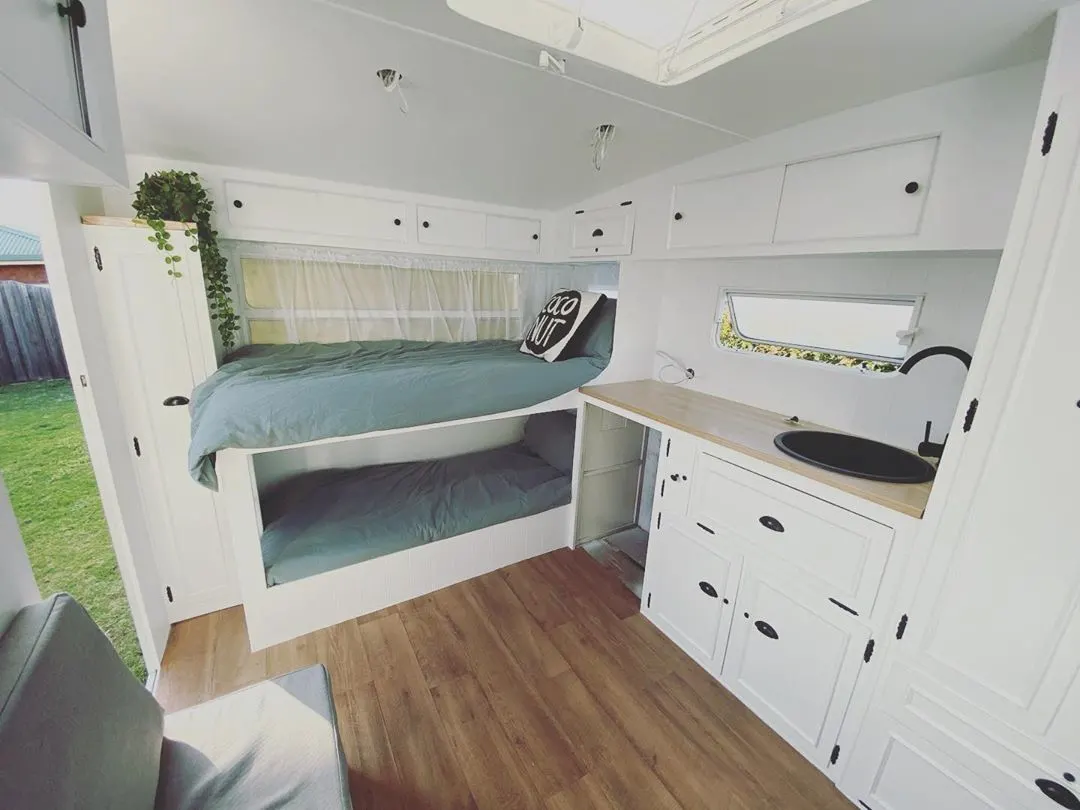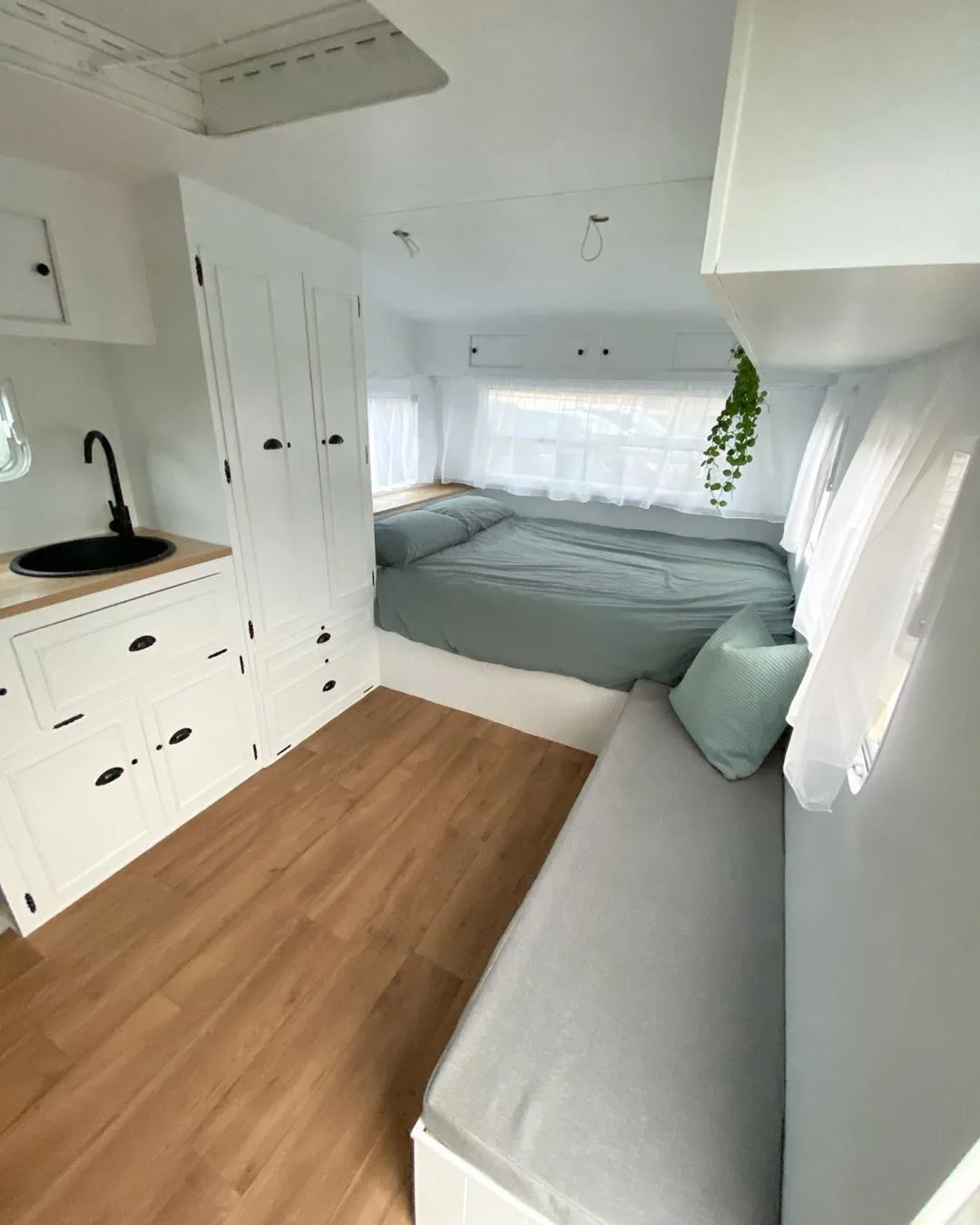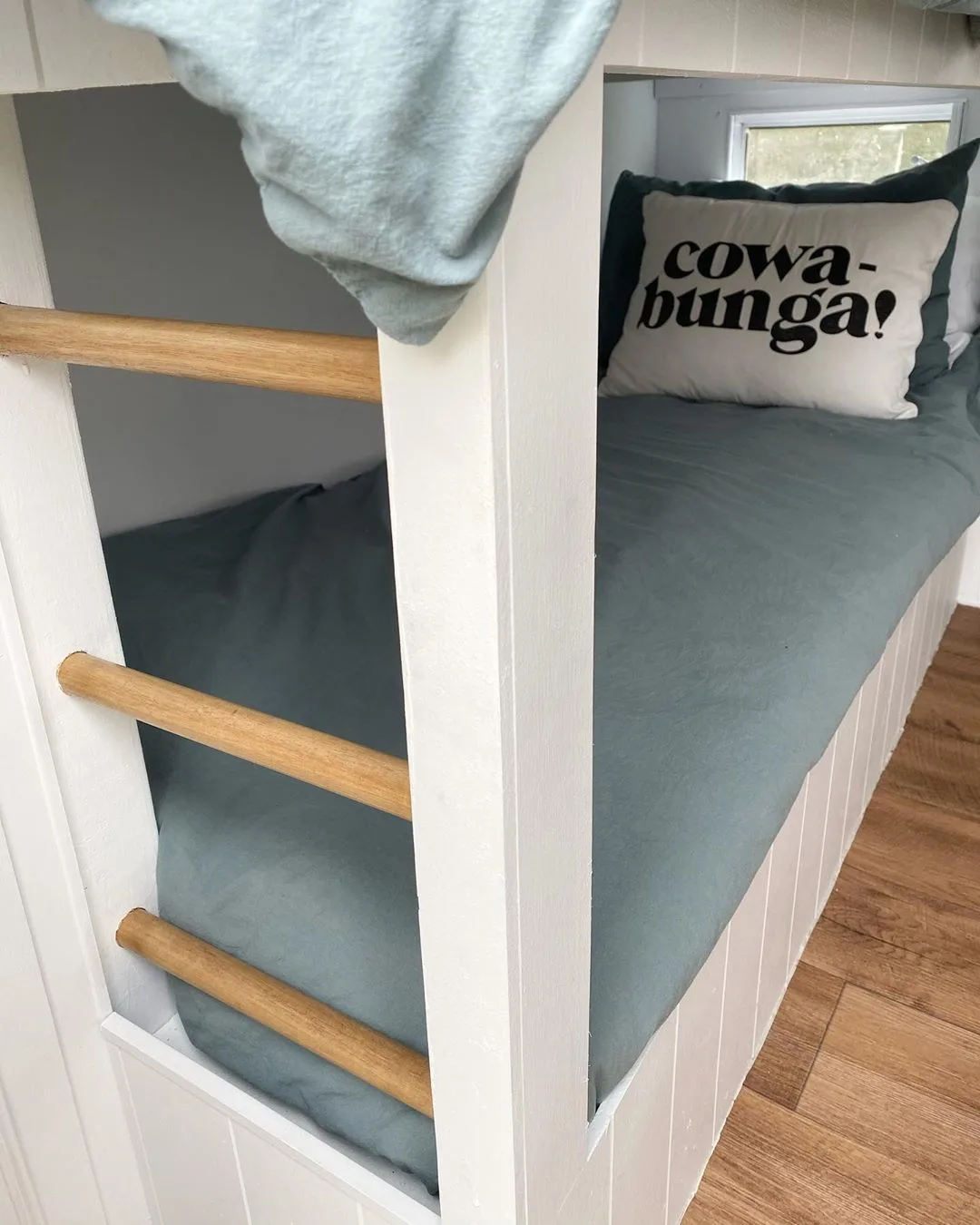 I don't know if they're planning on selling this van, like they did the first one, but I'm sure it'll give you loads of inspiration for doing a renovation of your own.
See more pictures of the Viscount over at @ourvintagecaravan 
Aloha
Aloha the Caravan is a 1986 Viscount Grand Tourer that has just undergone a fabulous renovation… just in time for Christmas holidays!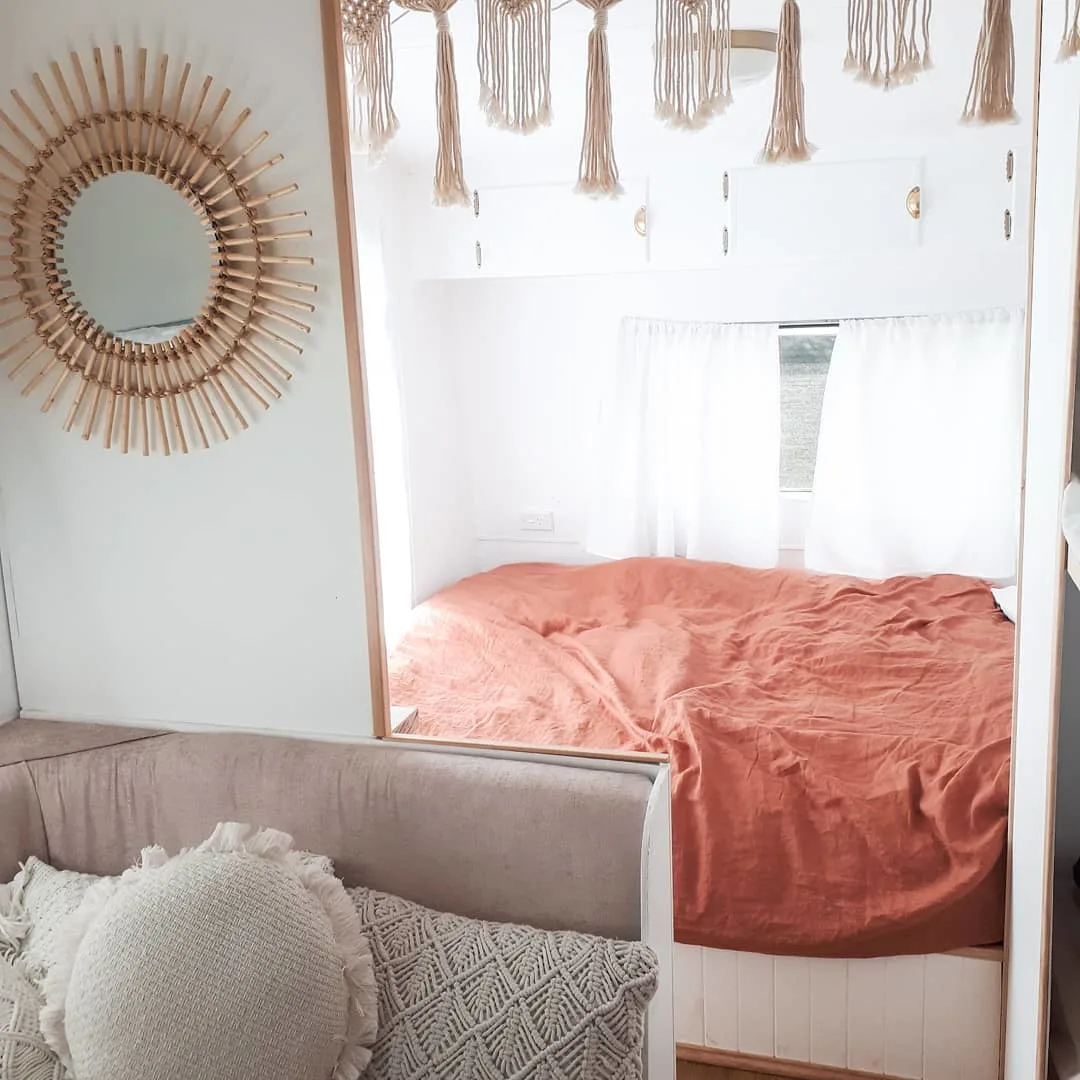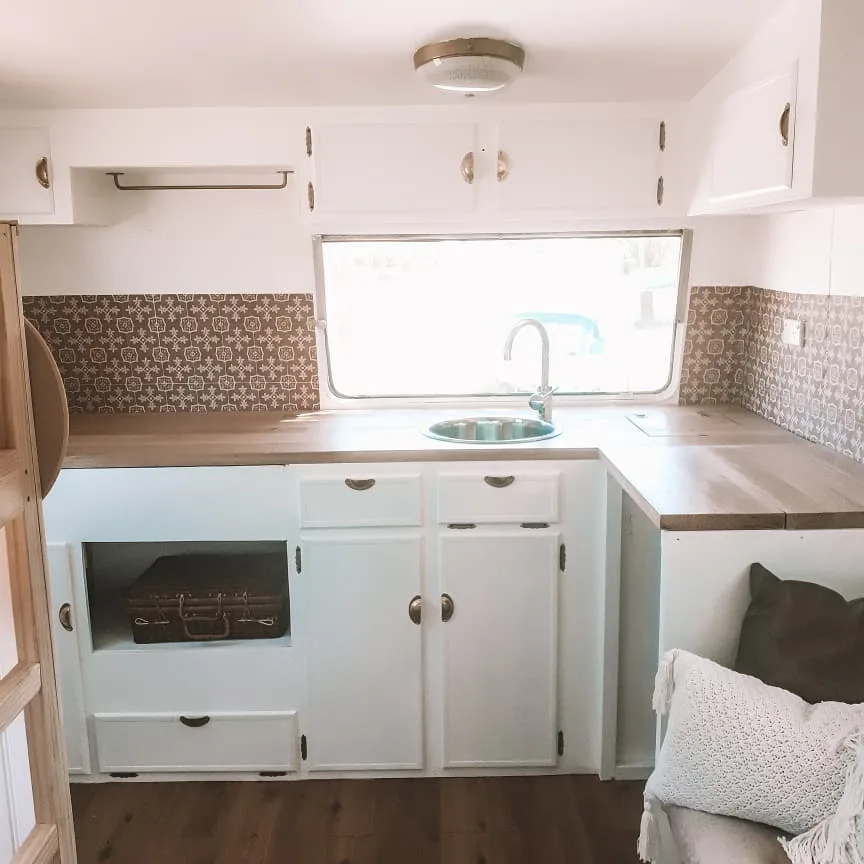 On their Instagram account @alohathecaravan they share a lot more photos on their feed and details in their story highlights.
Go and be inspired!
Penny
With her wooden window frames, Penny really stands out as something special. Don't you agree?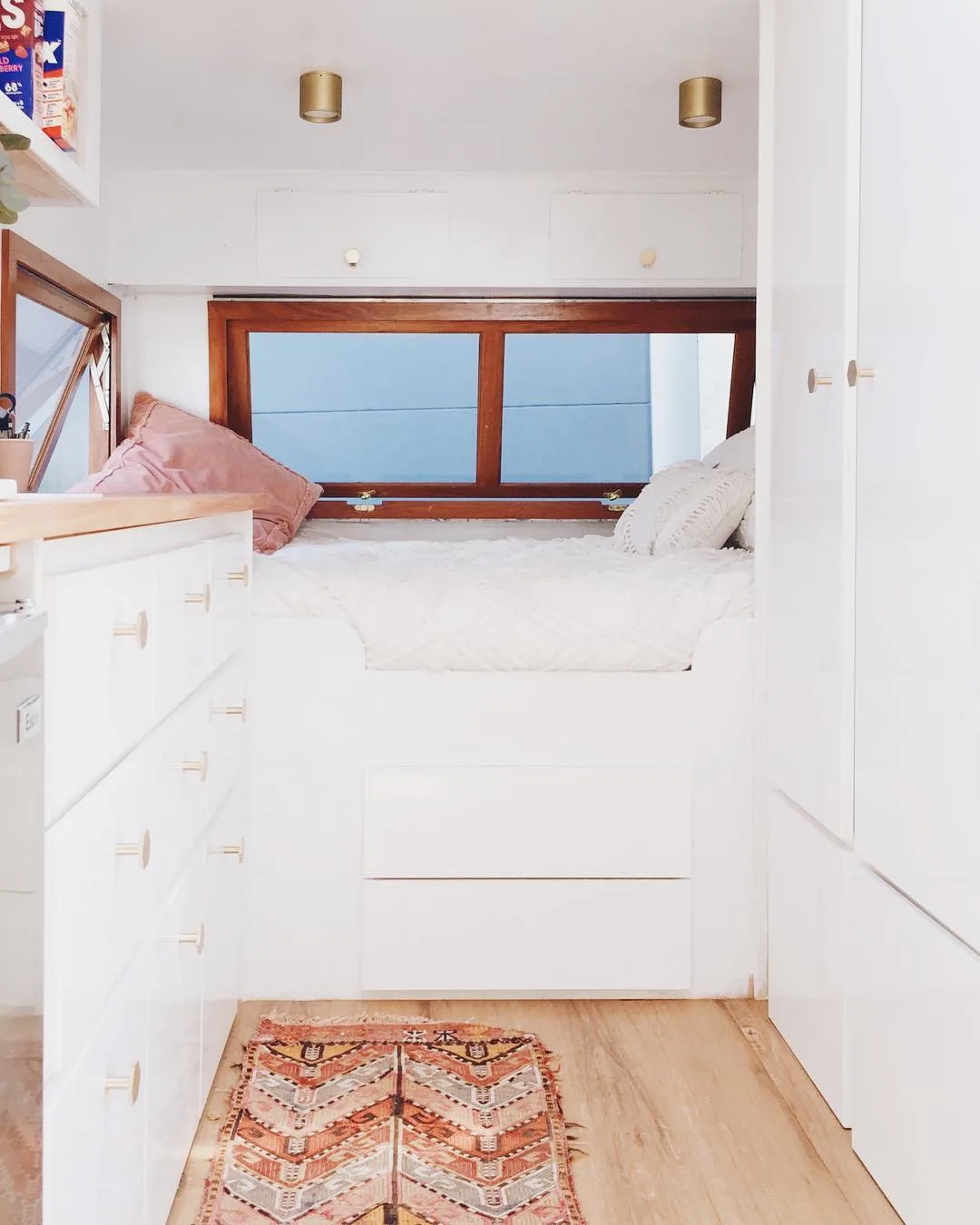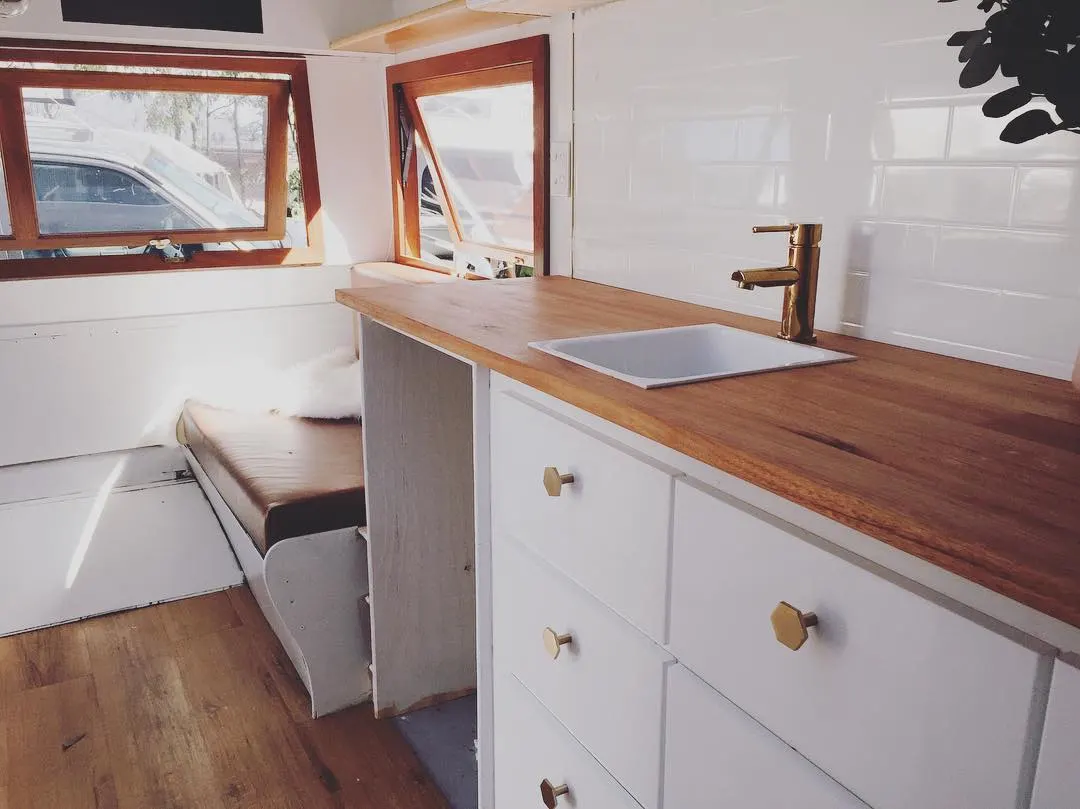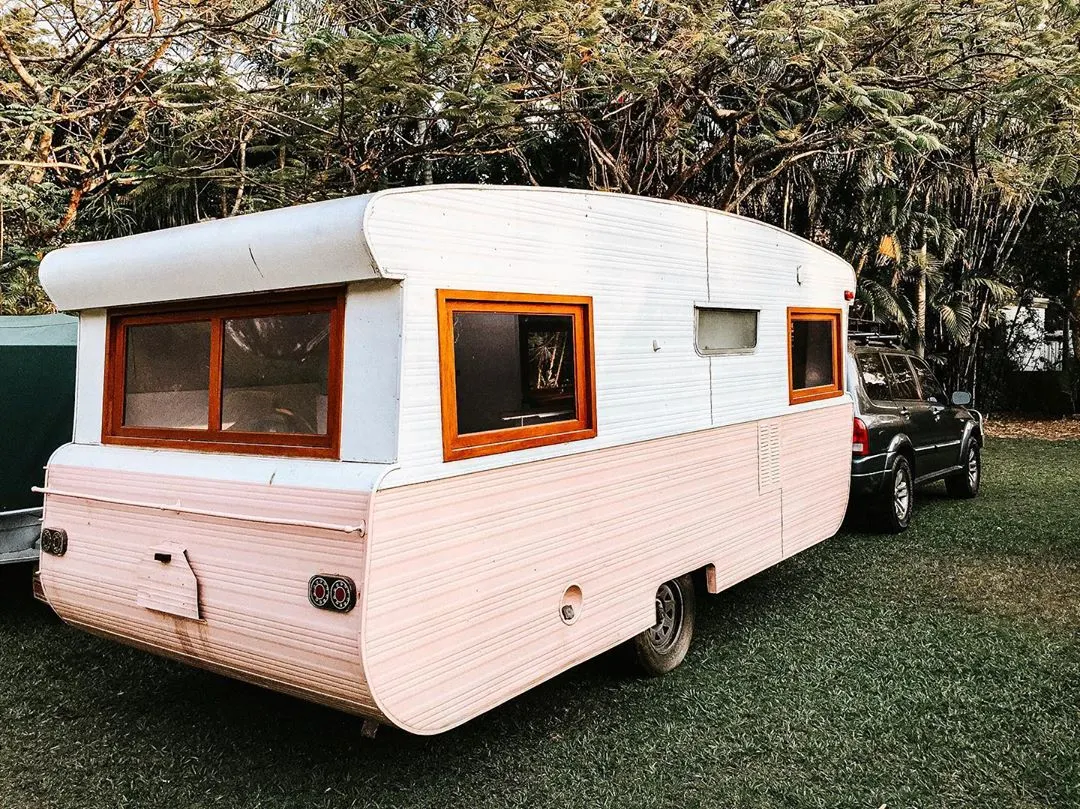 She's had a schmick exterior paint job, her insides have been completely gutted and redone, and now she looks smart and sexy. (Can you tell I'm in love?)
And she's for hire!! Contact the owners over on their Instagram @penny.caravan for all the details.
Jethro
Jethro the Viscount is a great example of how much difference you can achieve even when you're 'just' making cosmetic changes.
Jethro is a 1973 Viscount Royal, and though he looked pretty tired when he first arrived, he's now one smart looking dude!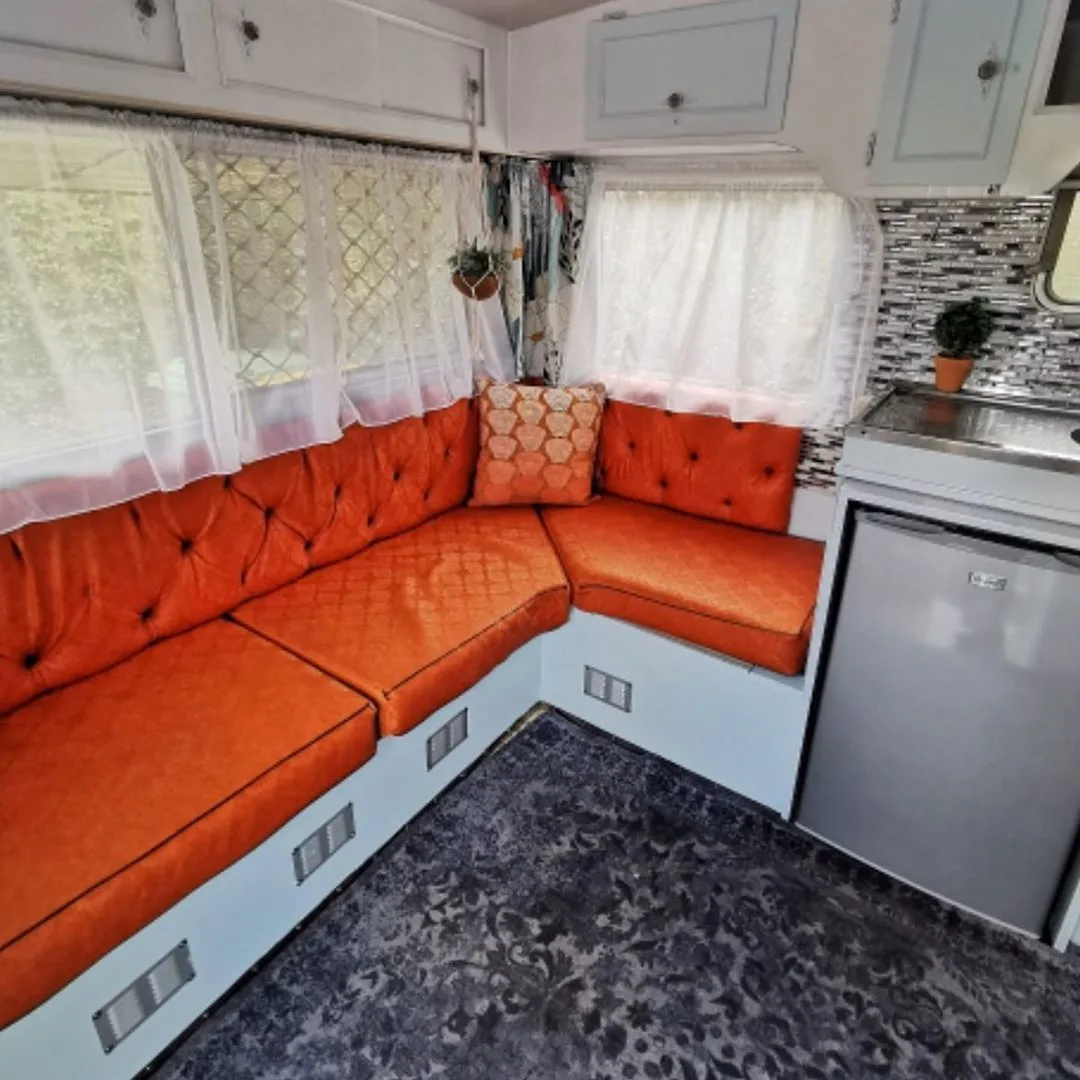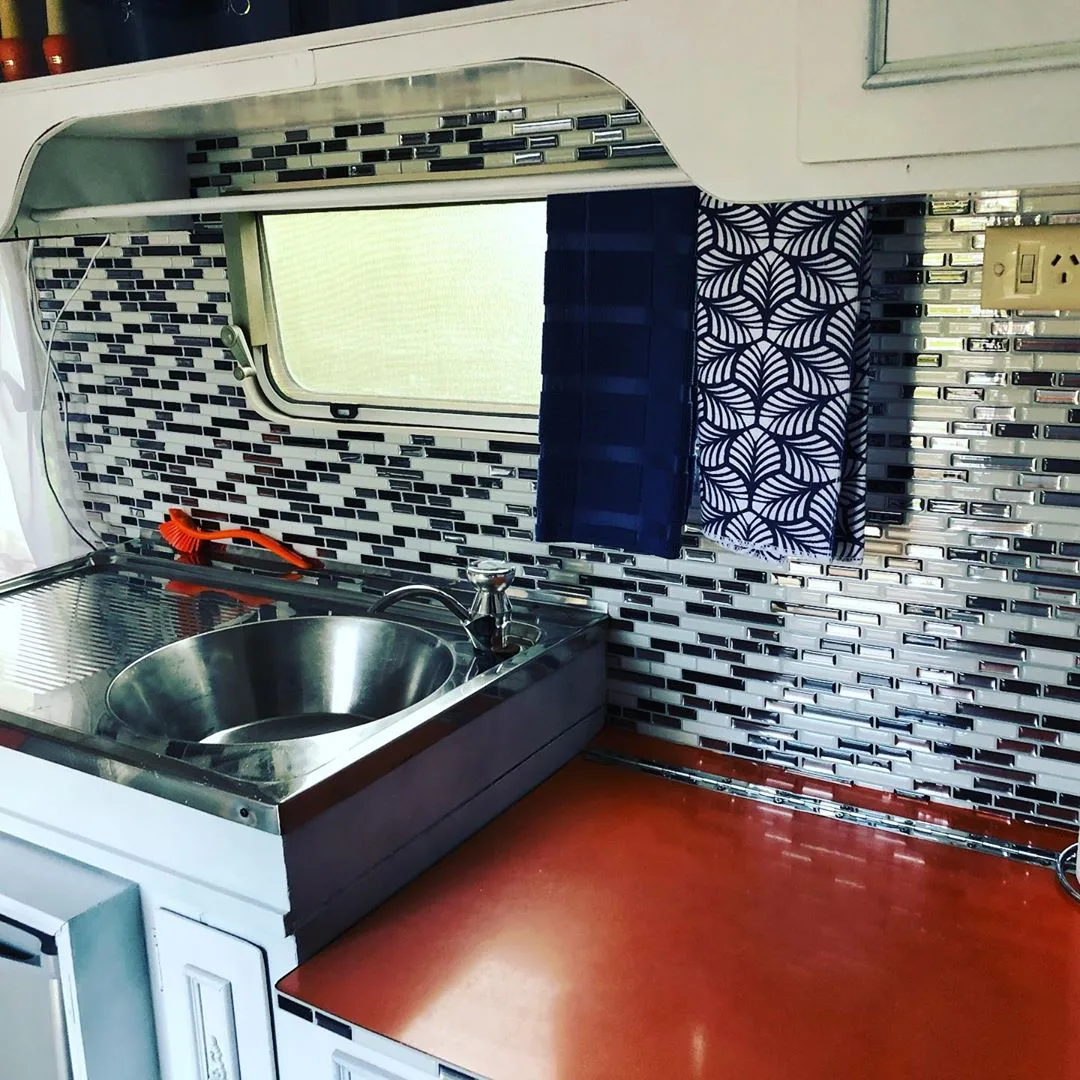 Follow Jethro's journeys over on @Jethro_the_Viscount on Instagram.
Violet
Violet is a 1977 Viscount Supreme 15ft, and while you can easily tell that's what she is from the outside… once you step into her, you'd think you were at some island resort and your private butler is about to bring in your arrival cocktails!
You could actually create that scenario in Violet though, because she's for hire!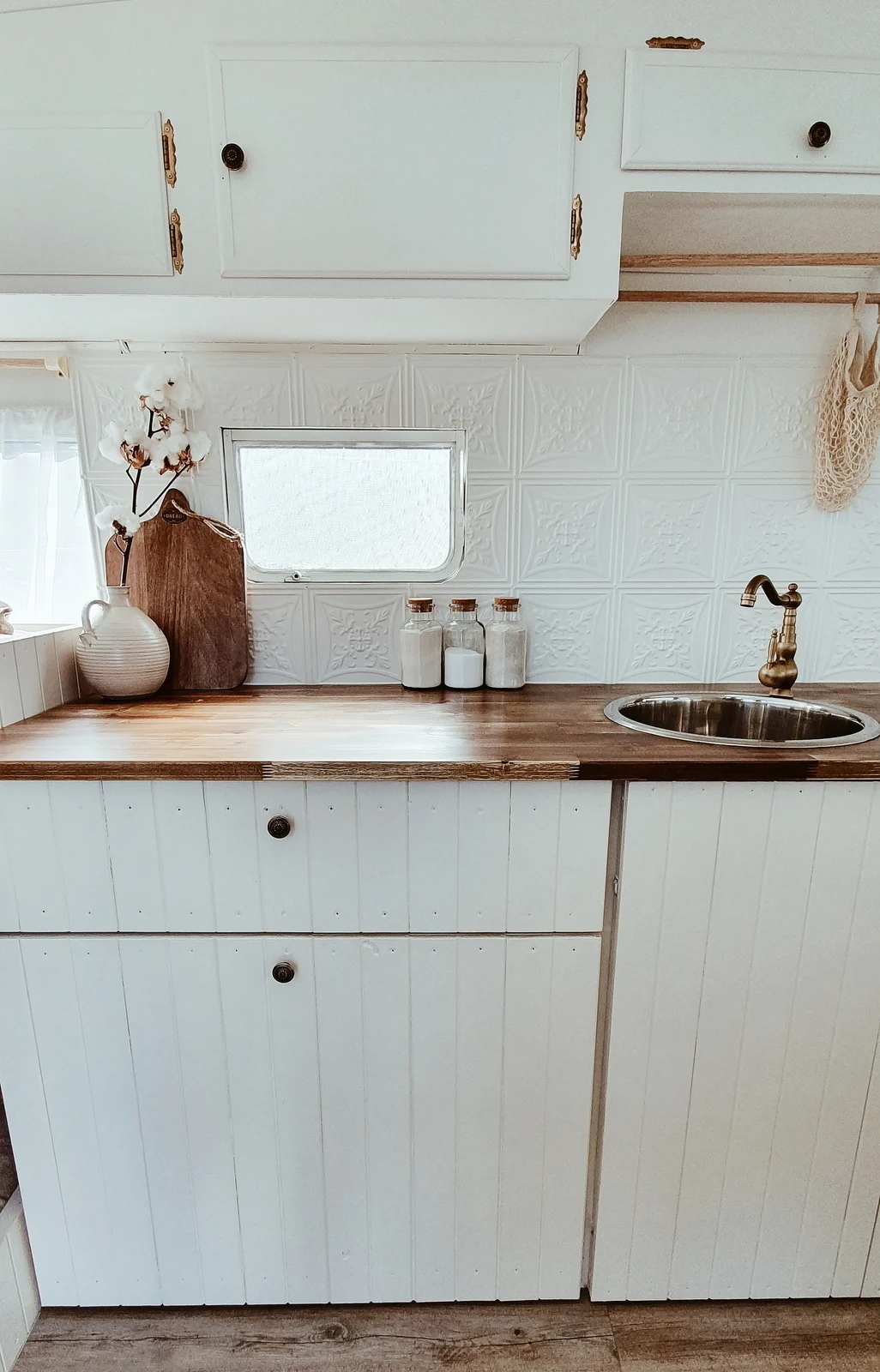 See more pictures of Violet on Instagram @huddyandme or just go straight to booking her on Camplify. 
And here are some of the Viscount caravan renovations we've featured in previous posts:
Wilde
Featured in our DIY Caravan Makeovers post, Wilde is a 1960's Viscount Ambassador that takes this family on some great little holidays.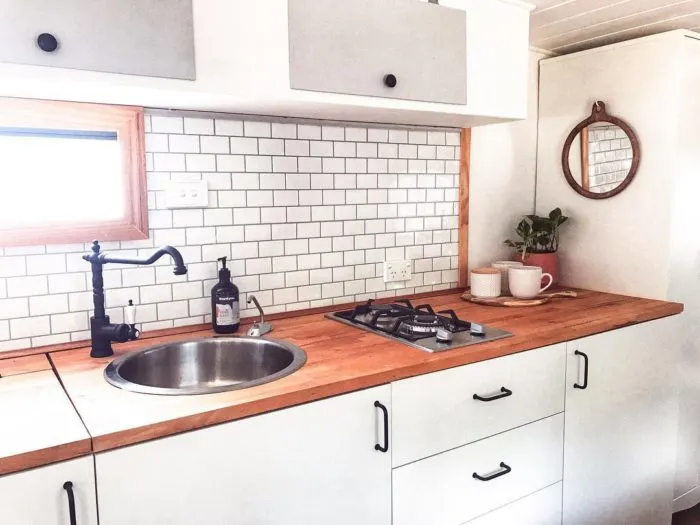 And soon… you'll be able to hire Wilde for your own holiday adventures! Keep an eye on Wilde's Instagram page for all the details: @the_wilde_life_
Velzy
Velzy has the great fortune of being owned by a young family that love getting away in her whenever they can. And mum, Naomi, makes Velzy's interior look so chic and inviting.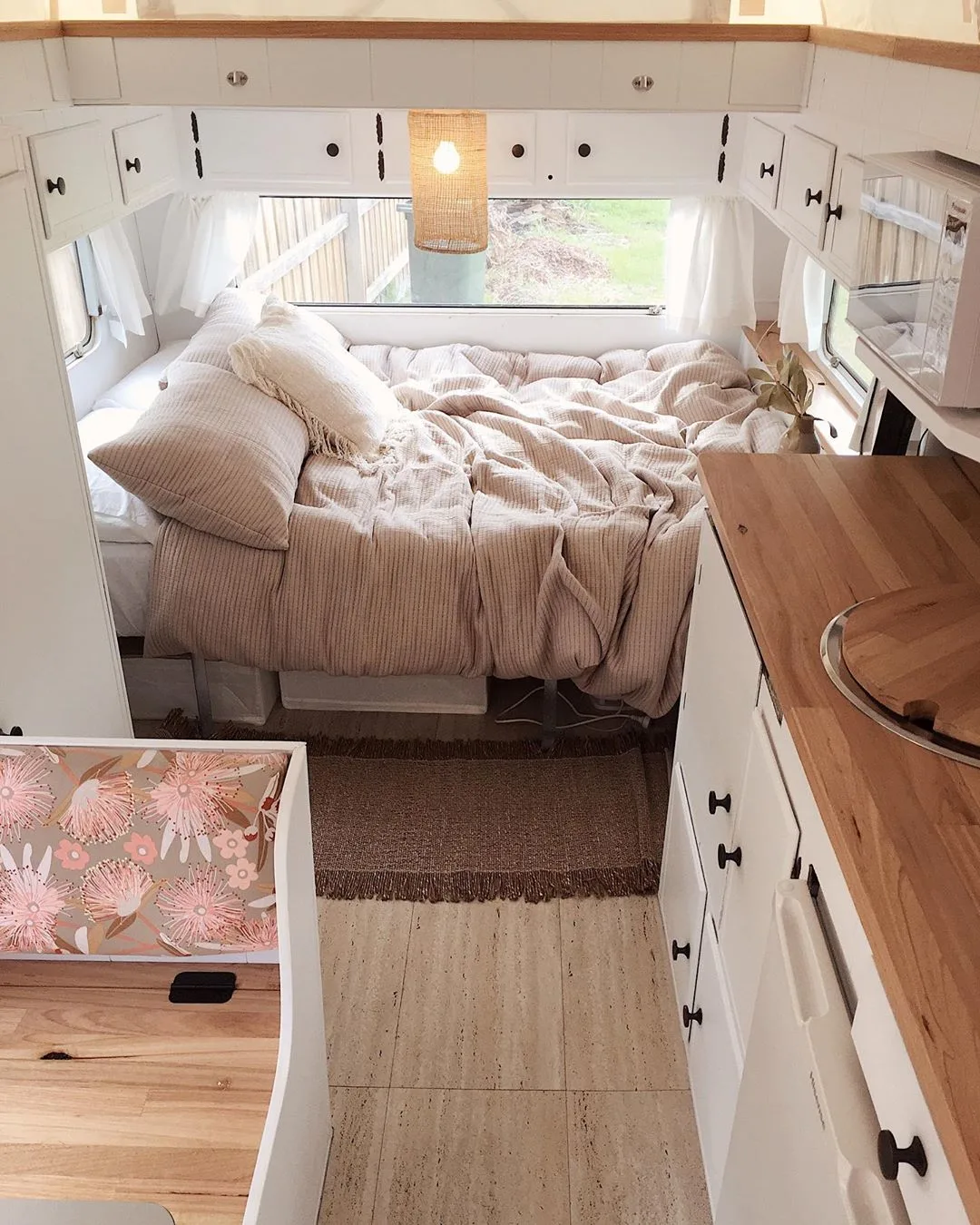 You can see more pictures on our post: DIY Caravan Renovations | More Aussie Gems.
Don't forget to see more of Velzy on Instagram: @velzyandsol
VanWarro
Another Viscount from our DIY Caravan Renovations post is VanWarro. Nikki is a dab-hand at interior decor and knocks it out of the park with Van Warro!
Give @VanWarro a follow over on Instagram.
Daisy
This sweet, little 1979 Viscount was also featured in our DIY Caravan Renovations post.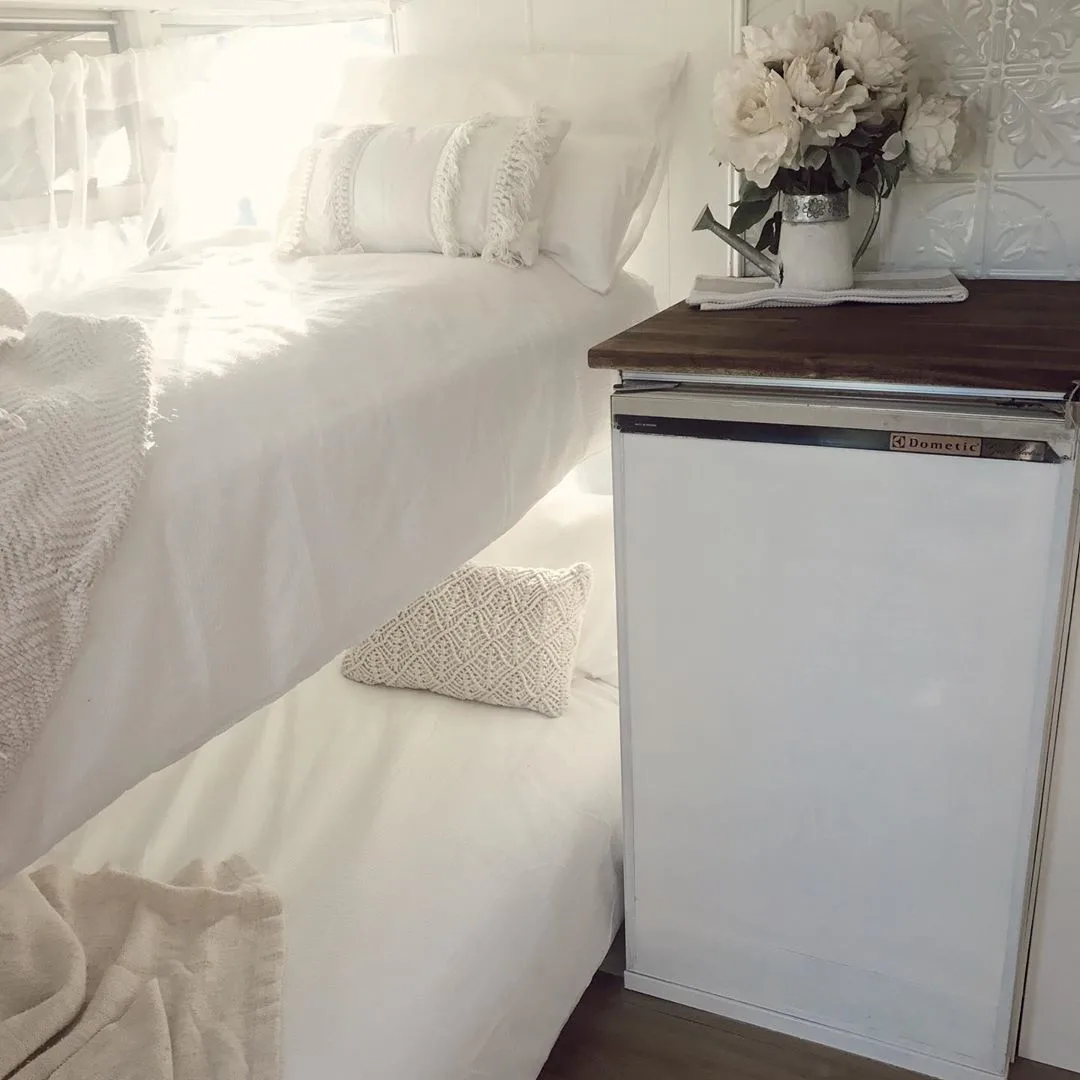 You can see more of Daisy and her family over on Instagram: @ourlittletribe_
Where to get your questions answered
One of the reasons I'm putting this caravan renovation series together, is to bring together a group of people that can help each other and so that you can find answers to some of those tricky questions.
Here are a couple of resources I've found useful…
Instagram
If you're embarking on your own Viscount caravan renovation then I think Instagram should be your first stop.
If you've never used Instagram before it can be a little daunting, thinking that all you're going to find is pictures of celebrities or models in their underwear.
But au contraire!
Use the Search feature to find relevant hashtags. You could start with #caravanrenovation and then get more specific to search things like: #viscountcaravan #vintagecaravan #vintagecaravanrenovation
Vintage Caravan Forums
And another place to try is forums. Sometimes the threads are a bit old, but they're still chock full of helpful information.
For example: http://vintagecaravans.proboards.com/thread/2038/viscount-caravans-fullarton-cabramatta-dandenong
Save these Viscount Caravan Renovations to Pinterest