So you've decided that you want to do a big lap, but now you're on the search to find the best vehicle to travel Australia.
There are SO MANY options, that it can be confusing and frustrating trying to figure out what you need and what you don't.
So in this article I hope to help you determine which is the best vehicle FOR YOU to travel around Australia in.
We'll look at all the available options, and then the things that you'll need to consider for your trip. Hopefully this will help you to narrow down the choices of what type of vehicle would be the most suitable for your travels.
Best way to travel around Australia
It has to be said first, but the best vehicle to travel around Australia in, is the one that you can afford!
So with the options listed below I've started with the most expensive and then moving on to the less expensive.
Note: this is a generalisation. You will find some camper trailers will cost more than a motorhome, but in general, they cost less.
In ordering this list, I haven't included the cost of a tow vehicle for the caravan or camper trailer. If you have to buy a caravan AND tow car, they could easily end up being the same cost as a motorhome.
Let's get on with looking at all the options!
Travelling around Australia in a motorhome
Motorhomes are self-contained homes on wheels, with everything including your sleeping, cooking, bathroom and relaxing facilities. There are lots of different types of motorhomes but as long as you have a budget over $20k minimum you should (hopefully) be able to find something that suits your needs. It will be old though.
If you're buying brand new, you'll need to think about a starting budget of at least $100k.
Benefits
All self-contained in one vehicle
Comfortable
Quick to set up (i.e almost no set-up) and pack-down each time you move
Limitations
Sight-seeing can be limited by where you can take and park your motorhome. Unless you decide to tow a smaller vehicle behind your motorhome
High fuel consumption
Require some skill to drive
Not many of them are suitable for driving off the bitumen (although some are)
Travelling around Australia in a caravan
This would undoubtedly be the most common option here in Australia. Caravan numbers far outweigh any of the other options by a huge margin.
The caravan generally offers the most comfort (and price) of the towed options, and in this caravan category I would include pop-top and expanda type of caravans.
Caravans for Couples  Pop top caravans Australia  Toy Hauler Caravans Australia
If you've got plenty of time to prepare, you may get inspired to buy an old caravan for cheap, and renovate it. That's a really popular option and becoming more and more so.
Benefits
You can set up camp and then use your tow vehicle for day trips
Generally quick to set up
New caravans are generally self contained (toilet, shower & water tanks) but many older caravans aren't
Prices vary wildly – from a few thousand for an old caravan, up to $100k for a new caravan with all the bells and whistles
May be able to be taken off-road depending on your rig
Limitations
Adds to the fuel consumption – the bigger and heavier you tow, the worse your fuel economy will be
May be limited in where you can park when you're passing through cities or towns with the full rig
Also consider fifth wheels – these are much like a caravan except that the tow hitch sits on the bed of your ute (so yes, you need a ute or truck). They are generally larger than caravans and have much the same benefits and limitations as a caravan.
Campervan around Australia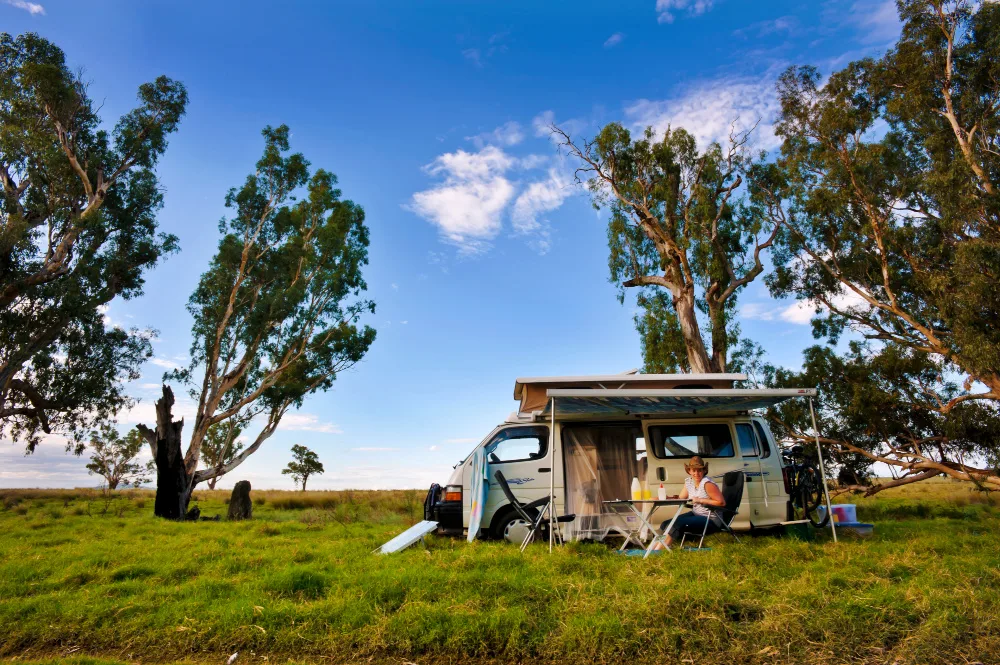 The campervan is a van size vehicle that has been converted into a small motorhome and seems to be the vehicle of choice for backpackers the world over.  They are generally more affordable (hence the popularity with backpackers) and small enough to be manoeuvrable.
Benefits
Many are fully self-contained (although this may be a porta-potty under the bed)
Small enough to fit into regular car spaces
Good fuel economy
Good for 1 or 2 people, maybe even 3 people depending how long you're going for and how comfortable you are with each other
Quick set-up and pack-down
Limitations
Can be cramped inside with limited living space
The dining/sitting area needs to be converted each night into a bed
May be limited in off-road options if it's not a 4×4
See our compilation of the best campervans available in Australia (these are brand new, so not on the cheaper end of the scale!)
Camper trailer around Australia

A camper trailer is basically a tent that folds out from a trailer. There is usually a kitchen built into the trailer that either opens out or slides out, but no bathroom facilities.
But then the camper trailer generally enables more off road type of travelling and has the benefit of being smaller and lighter.
Benefits
You can set up camp and then use your tow vehicle for day trips
They're light, small and generally a reasonably cheap option
May be able to be taken off-road depending on your rig
Limitations
Not self-contained
The camper trailer is more time consuming to set-up and pack-down
4WD with roof top tent
Add some roof racks to your 4WD and you can put a tent up there. You have everything you need contained in the one vehicle.
Benefits
Everything is contained in one vehicle
You're sleeping way off the ground away from bugs, reptiles and animals
Cost isn't massive (as long as you already have the 4WD)
You can go anywhere your 4WD would normally go (just have to take into consideration the little bit extra height)
Limitations
To use your vehicle for any sight seeing you need to pack up your tent
Time taken to set-up and pack-down
Everything is contained in one vehicle (yep, this is both a pro and a con)
Car with tent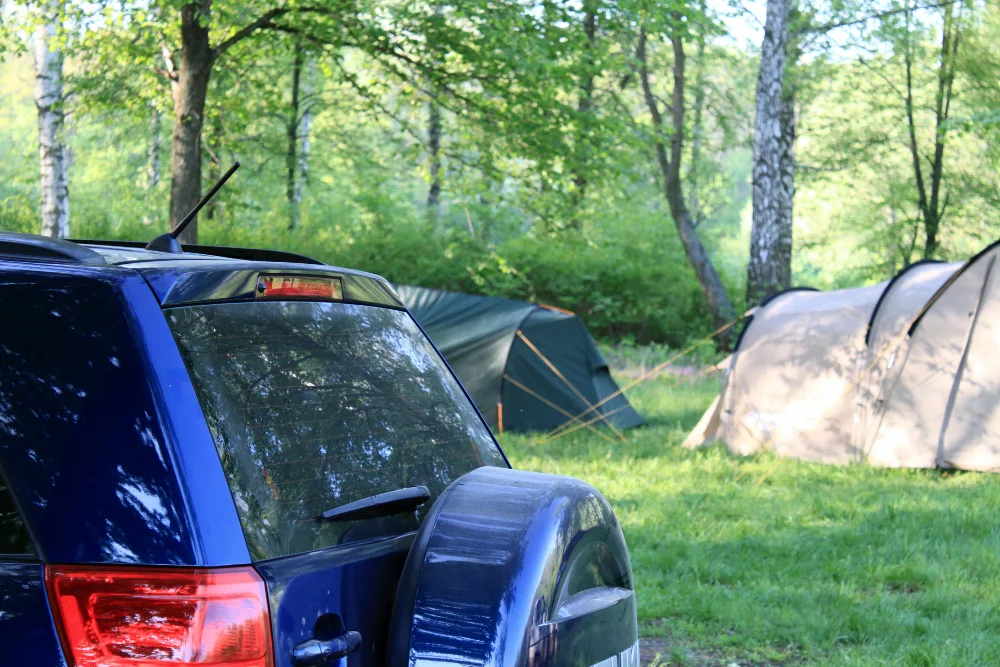 If you've already got a car, then you can just throw a tent in the boot, pack an esky and a camp stove, and hit the road!
This is an option that I think so many people don't give enough credit. If you don't have to spend anything on getting set up, then all your savings can be used on your trip!
Benefits
The least expensive option (which is a HUGE benefit IMO)
You can set up camp and leave the tent while you use your vehicle for sight seeing
Limitations
Everything needs to be set-up and packed-down every time you move.
All your gear needs to fit into your car
You won't have an inner spring mattress to sleep on each night but will probably be limited to an air mattress or one of the mats you roll up
You will be limited to camping options that have facilities
Won't be able to go off-road
Considerations
The following is a list of all the things you will need to take into consideration when deciding on the best vehicle for you to travel around Australia.
Some of the items on this list will be an easy decision for you, but some of them will force you to really prioritise what you need.
The idea is to at least narrow down your vehicle choices and even if you don't know exactly which is the right choice, then at least you know the benefits of doing things one way or another.
What is your budget?
This will be the number one consideration for most people.
For us, it was pointless going through all the deliberation about which was the best vehicle for us to travel around Australia, without first looking at our budget. We simply could not afford the self-contained caravan that would have been perfect for our trip.
So based on our budget, we immediately cut out motorhomes. We also cut out all but the cheapest (and oldest) of caravans.
So then we had to figure out which was the best option for us between a campervan, old caravan, camper trailer or tent.
You may find yourself in a similar situation.
How many of you will be travelling?
If you're just two people, then the world is your oyster! If you're a family of six… hmmm that limits your choices a bit. No campervan for you guys.
What type of travel do you like to do?
Are you keen to see the more remote areas of Australia? If so, a lot of them are down long gravel roads or even off-road. Are you prepared to take those long, uncomfortably corrugated roads. Will your vehicle hold up to those roads?
Or are you happy to limit yourself to only where you can go on sealed roads?
Where will you set up camp?
The main thing you will need to think about regarding where you camp, is whether or not you need to be self-contained.
If it's important to have a 10 minute hot shower, flush toilets and playgrounds for the kids, then you'll probably be most happy staying at caravan parks anyway. So don't bother with the expense of making sure your set up is self-contained.
But if you're determined to see the remote corners of this beautiful country and would rather camp for free, then you'll need to make sure that you are fully self-contained and have 4WD capabilities.
Does anyone have any special needs or considerations?
I'm talking about things like, if you're two small people will you be able to lift the roof on the pop-top?
Or if you're older, will you be comfortable clambering up and down the ladder of a roof-top tent?
How long are you going for?
If you're planning to be moving pretty quickly, staying only a night or two in each place; you're not going to want a campsite that takes ages to set up and pack down.
And since you'll be packing up everything most days anyway, a motorhome or campervan may be suitable for you rather than a caravan or camper trailer that would need to be unhitched each night.
What do you already have?
If you've already got an SUV that can tow 2500kg, is it vitally important for you to upgrade to a newer, bigger 4×4 with all the bells and whistles?
Or will you be better off finding a smaller caravan or camper trailer that can be towed by the vehicle you've already got.
Other things to consider
Try before you buy
If possible, try renting a motorhome, campervan or caravan for a week or so and see how you go.
Talk to others
Talk to friends or family (or strangers even) that have the type of vehicle or camping set up that you're thinking about.
Reach out to bloggers online and ask them what they found to be the benefits and limitations of their own set ups.
There are plenty of 4WD, RVing and camping groups on Facebook that are full of helpful people that are more than willing to give you their opinion (solicited or not!)
Where to from here
Now that you've figured out what is the best vehicle to travel Australia (what do you mean you didn't figure that out just from reading my post? :-O) you can also start thinking about all the other things you need to plan for your trip.
I've written a monster post about getting set up to travel around Australia which covers everything from what to pack, to how much it's going to cost. You can read it here –> The Ultimate Guide to Getting set Up for a Road Trip Around Australia
Save to Pinterest