If you're in the fortunate position to be in the market for the best camper trailer Australia… well, I'm more than a little envious! And this post is for you. There are quite a lot of excellent quality camper trailers Australia and designed to suit this climate, terrain and the Aussie way of travelling.
I thought it would be an interesting exercise to see what camper trailer brands are out there and to showcase some of the awesome designs and accessories now available.
For this list I decided to just look at tent top camper trailers, both soft and hard floor. Once you start looking at the hybrids it's easy to find yourself creeping up into the pop-tops and extendables and before you know it, you're pretending that a $120k off-road caravan with an ensuite is a camper trailer!
I think I got most of the big players here in Australia, but if I've missed any, please do let me know in the comments and I'll be happy to update this post.
I've linked through to the website or facebook page of each of these manufacturers, so please show them some love by clicking through and seeing what they have to offer. And if you find your perfect camper, let us know in the comments. We want to drool over your new purchase and shoot daggers of envy your way. 😉
Here we go, in alphabetical order:
Austrack Campers

Based in Queensland, Austrack Campers have a good range of both soft and hard floor camper trailer. Prices range from just $5k -$24k.
Check out Austrack Campers here.
Black Series Campers & Caravans

You may know them as GIC Camper Trailers, but their brand Black Series seems to be taking the camper trailer world by storm. With lots of options and quick delivery, these guys make shopping online for your perfect camper trailer pretty darn easy. They take pride that their range starts at just $6k-$20k.
Check out their packed website here.
Blue Tongue Campers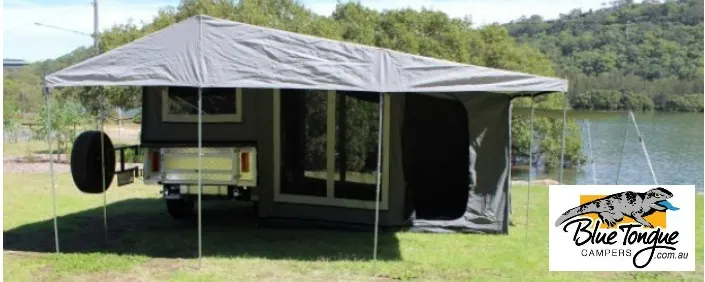 Blue Tongue Campers have been in the camper trailers business for over ten years now and are based in South Sydney. Their range includes both soft and hard floor campers and prices range from $8.5k-$25k.
See their website here.
Blue Water Campers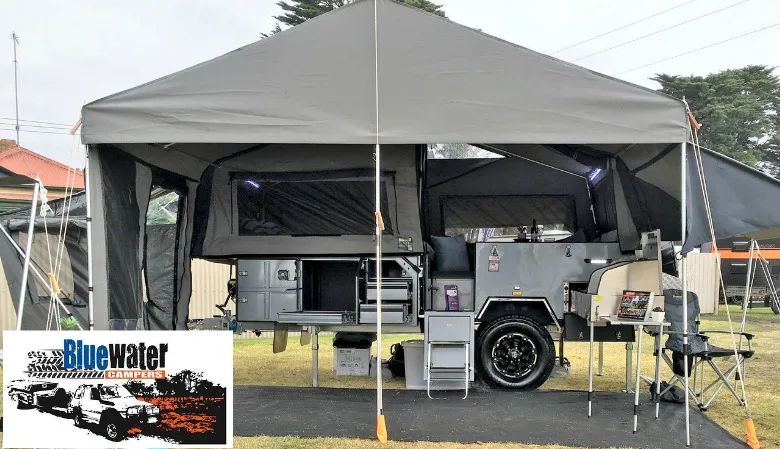 With their head office in Victoria, Blue Water Campers prides itself on building high quality, high spec campers with only the best components available Australia wide. Their range currently includes three hard floor campers, with their soft-floor camper currently being redesigned.
Click here for Blue Waters Campers website.
Castaway Campers
Producing a range of on and off road soft floor camper trailers, Castaway Campers are priced from $5k-$15k
Find out more on their website.
Cub Campers
Started in 1968, Cub Campers have now built over 20,000 camper trailers. All their units are built in Sydney, but they have sales offices all across Australia. Their extensive range of models are all hard floor and cater for couples, up to large families; and range in price from $10k – $45k+.
See the Cub Campers website here.
Mars Campers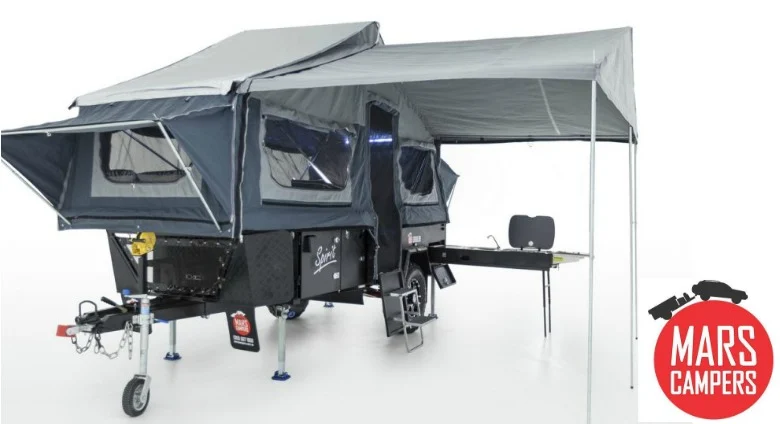 A relative new-comer to the camper trailer market scene in Australia, the Mars range of camper trailers are assembled in Australia from both imported and locally manufactured components. Their range include both soft and hard floor, and pricing ranges from $7k – $20k.
Click here for the Mars Campers website.
ModCon Campers

Based in Queensland, ModCon Campers take pride in the fact that they were the first to introduce the forward folding camper, which is now one of the most popular design choices. They have four models of forward folding camper trailers, with prices range from $20k-$60k.
The ModCon Campers website can be found here.
Patriot Campers

A mere baby in the camper trailer world, Patriot Campers launched onto the scene in late 2013. Clearly and quickly dominating the market with innovative design and rigorous testing, they have taken out the prestigious Camper Trailer of the Year award for three years in a row (2014, 2015 & 2016)!  These bad boys look hard core and bad ass. Priced from $25k+
See the Patriot Campers website here.
Pioneer Campers
With 20 years under their belt, the Pioneer team are producing some fantastic camper trailers and have just won Camper Trailer of the Year 2017 for their hybrid model, Mitchell.
Click here for the Pioneer Campers website.
Swag Camper Trailers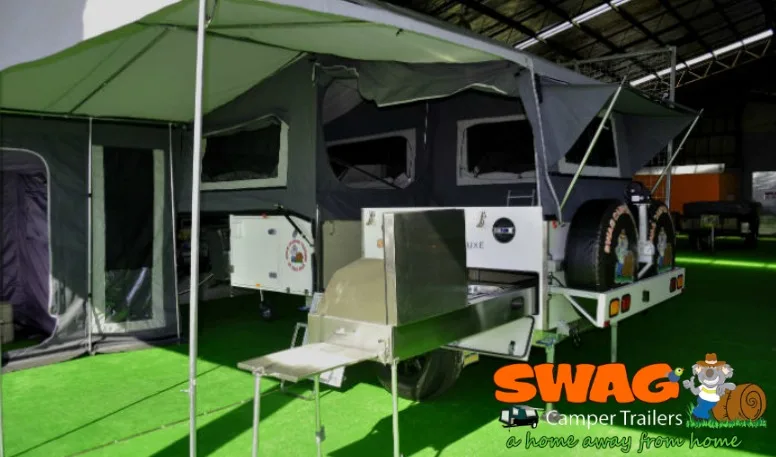 Based out of Brisbane QLD, Swag Camper Trailers have a great range of hard and soft floor campers, on and off road and loads of accessories. Priced at $6.5k-$24k.
Check out their website here.
Trackabout Offroad Campers
Trackabout is one of those manufacturers that seem to have everything that is important to me. Priced from $30k-$47k they're well out of my price range… but definitely in my 'ideal' range.
See what I'm talking about over on their website.
Travelander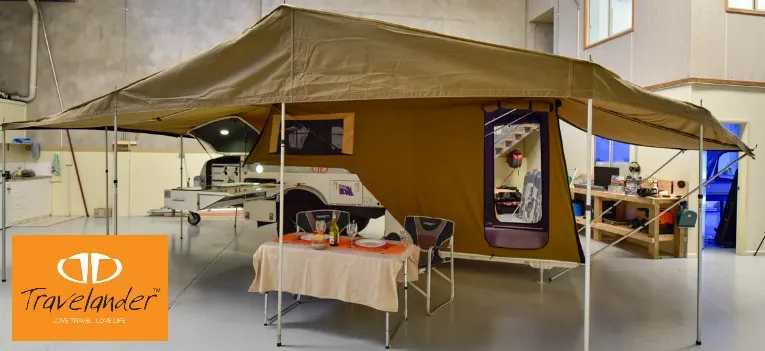 It really is amazing to see the number of innovative ideas that are coming out of all these camper trailer manufacturers. I love the design of the slide on camper that Travelander have designed, but they do also have two camper trailers that some awesome features. Priced at around $50k.
Click here for the Travelander website.
Conclusion
Phew! When I started this post I had no idea just how many camper trailer brands there were in Australia!! Half way through and I thought I'd never get to a 'Conclusion'.
The wonderful thing about having so many players in this market is that innovation, service and quality craftsmanship are the key factors that will differentiate one brand from all the others. As consumers this is fantastic for us, it means that we have a very large range to choose from (which can be good and bad, depending on your personality!) and at differing price points. Having now looked at so many of these brands I can't help but think how lucky we are in Australia to have such an array of high quality products to choose from.
The only problem is…
Oh my goodness, the green eyes of jealousy are positively fluorescent right now!
But even though we're not in the market for a brand new camper trailer, there are still plenty of good, used trailers on sites like caravancampingsales.com.au for us to choose from.
I take consolation in the fact that whether we're in a $65,000 Patriot hybrid camper trailer or a $300 Kathmandu tent, the sunset will still look the same, the campfire will still have the same warmth, my fellow campers will still be as enjoyable (or annoying), and my heart will still be as full.
(But I'm dang sure I'll sleep a lot more comfy in the hybrid. :-O)
Here's the set-up we ended up getting for our road trip around Australia.
Save these Camper Trailer brands in Australia to Pinterest