I love looking for the best small camper vans here in Australia, and imagining what it would be like to have one and to live in it.
I'd travel around Australia indefinitely, just going wherever the weather is not too hot or cold, and taking my whole house with me wherever I go.
While I do love small camper vans, I do feel like it wouldn't be great to live in it full-time as a couple.
But IF I were by myself, I think one of the smallest camper vans (but still with a bathroom!) would suit me just perfectly.
I'd have an electric bike on the back though, so I could head off to the shops or do a little bit of sightseeing, without having to pack everything up.
As a couple, I think a camper van would be great for just holidays, not to live in all the time.
So I've scoured the internet for campervan manufacturers here in Australia. I've been pleasantly surprised at just how many manufacturers there are.
I've collated the best ones in this list, and only included new camper vans that you could buy now.
No motorhomes or truck campers, and no one-off van conversions either.
Just to be clear, you may see camper vans referred to as a Class B. That's the North American phrasing, and it means the same thing.
Oh, and I've only included models that have a bathroom.
Let's get stuck in!
Wattle – by Horizon Motorhomes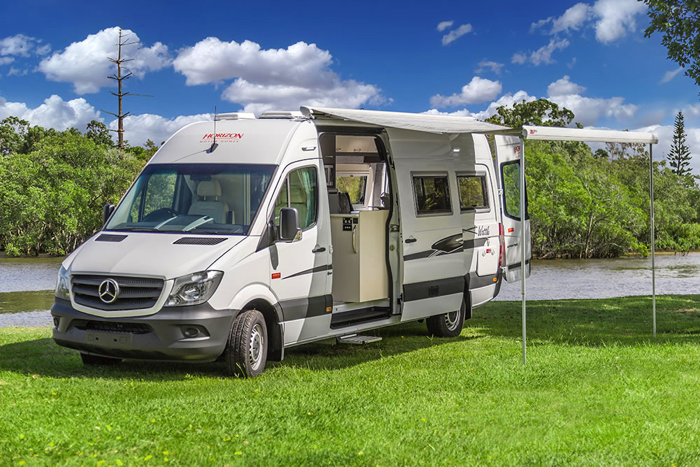 I follow the Horizon Instagram page, so I see the pictures that they show of Horizon camper van owners out and about in the Australian landscape, just enjoying all the beauty on offer.
It totally makes me want to be out there… preferably in one of their motorhome / camper vans!
This is a pretty comprehensive magazine review of the 2019 Wattle, that may be helpful to you.
You can see more of the Horizon Motorhomes Wattle camper van over on their website.
Conquest – by Jayco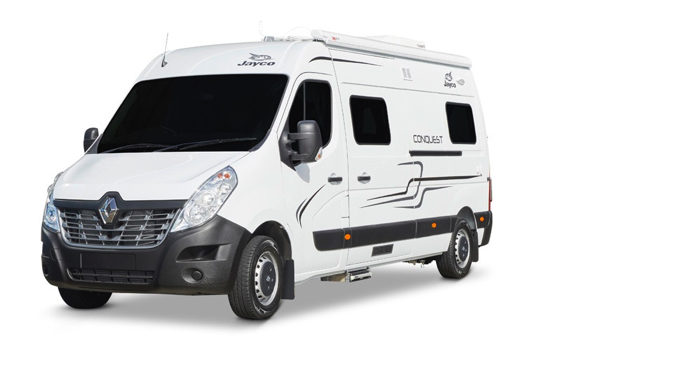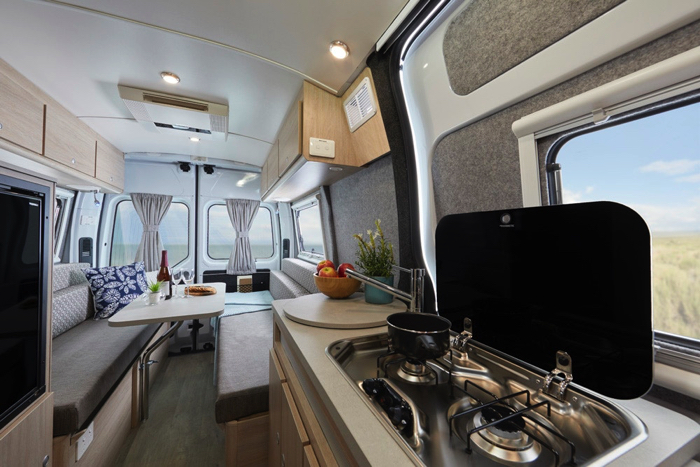 Jayco must be one of the biggest manufacturers of caravans here in Australia, but they're not nearly so well known for their motorhome and camper van range.
However, their popular name and huge dealer network for the caravans probably helps them these campers out there.
The only thing I'm not too keen on with this camper van is that when the bed is made, there is no seating within the living area. The front seats don't swivel around and the bed takes up the only other seats.
Click here to see more of the Jayco Conquest camper van.
Rialta – by Sunliner Motorhomes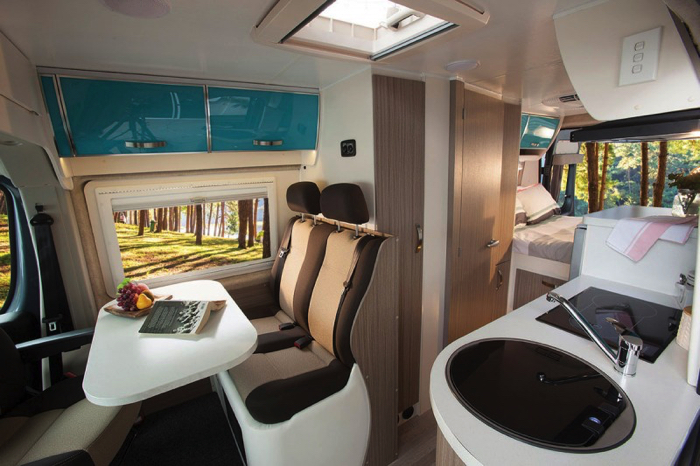 I've previously waxed lyrical over the Sunliner fifth-wheels, and I'm pretty enamoured with the camper vans in their range too.
Those aqua blue highlights on the cabinet fronts and the splash back, seem to be a Sunliner standard at the moment, so hopefully it's a colour you like!
This is the promo video by Sunliner themselves, but it's actually pretty good at showing you all the features of the Rialta.
Click here to see more of the Rialta by Sunliner Motorhomes on their website.
Spirit – by Avida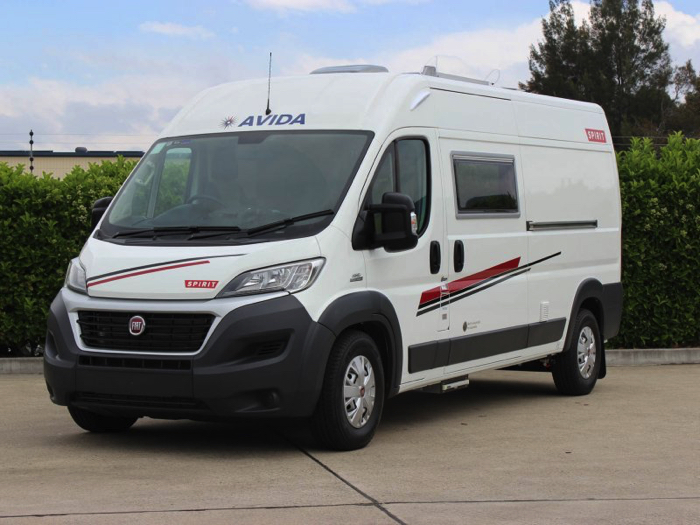 There may be no bells or whistles in the interior decor of this camper van, but form certainly doesn't overtake function.
With it's clean and simple lines, your biggest choice will be whether to have the single beds with plenty of seating, or the double bed with storage underneath.
This video walkthrough is one produced by a dealer, and it's a couple of years old, but you get the idea.
Check out their website for more on the Avida Spirit. 
Jabiru – by Trakka
It's so refreshing to come across a camper van that has some unique features, that no one else has… yet.
The Trakka range of campervans is exactly that.
In this Jabiru they've got a really nice twin bed setup, a second fridge that swivels to the outside, a workbench that can be attached to the outside of the sliding door, and other neat tricks.
Totally worth checking out if you're after something luxury AND unique.
Below is their promo video, but it shows all the cool features that can be a bit hard to find on the website.
And this article by Roam Magazine is somewhat gushing… but I think this particular camper van is worthy of it. You can read the article on Time to Roam here.
I totally recommend checking out their website. Even if you're not actually in the market for a camper van. But you just love looking at RVs that have some new and innovative ideas. Click here for the Trakka Jabiru website.
Bondi – by Winnebago
I didn't realise that Winnebago have their own manufacturing plant here in Australia. And so we're producing our own camper vans with model names based on some of our iconic beaches (like Bondi).
The Winnebago Bondi looks pretty similar to many other camper vans available here in Australia. Except with Winnebago, it's backed by that very well-known brand name and decades of experience.
Once again, this video is a promo video showing all the features on this van.
But there is also a 3D of the van on their website, so go and check out the Winnebago Bondi here.
Applause – by Avan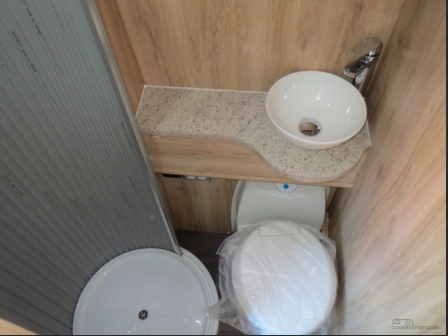 The main thing I like about the Applause by Avan, is the rather nice bathroom. I have to admit that the shower does look a bit squishy, but the bathroom isn't all practical, with no style.
Other than that, the Avan looks like a good standard camper van layout. I certainly have a preference for these layouts where you don't have to choose between a seat or a bed, so this one fits the bill.
Click here to see more of the Avan Applause.
Oasis – by Paradise Luxury Motorhomes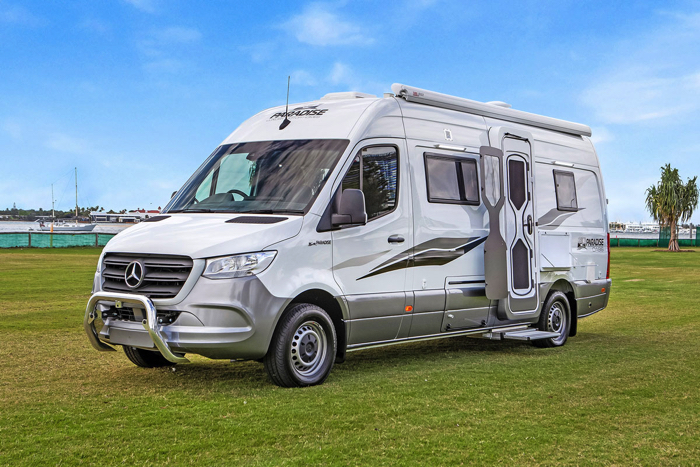 I've left this one till last as I don't know if it really fits into what most people would class as a camper van.
TBH, I don't think even I would class this as a camper van since it's so long, and the defining feature is that it doesn't have a sliding door.
However, I've decided to include it as an example of what motorhome and camper van manufacturers can achieve when they have just a little bit more length, and a choice about where to put the door.
Slides don't hurt either. (Although, I'm wary of slides simply because that means another piece of machinery that could fail.)
Check out the Paradise Motorhomes Oasis here.
If you're looking for the best small RV campers in North America and Europe, you can see find them over here on RVObsession.com
If this post has convinced you that a camper van is not your thing (!) then I've put together posts on small caravans, fifth wheels and a small motorhome which may be the type of RV that is better suited to you.
What do you think of these small camper vans?
Would travel around Australia in one of these small RV campers, or do you need something a little bit bigger? Tell us in the comments…
Save these best small camper vans to Pinterest