When it comes to purchasing a caravan, finding the best caravan for couples is tough! We're in the "tell him he's dreaming" stage at the moment. And while we're in that stage, the world of caravans for couples is totally open to us, and nothing is off limits!
But finding 'the perfect' caravan for us is a little bit harder than I had thought. Yes, I've written about a fantastic little caravan that I think would be perfect for us, however, there are a few other features that I'd now like (i.e. I changed my mind) so I thought I'd go on the hunt for caravans for couples, and see exactly what is out there.
As you can imagine, there are gazillions of caravans to choose from, so I'm going to narrow the criteria down to the things that are important to us; and list out all the caravans I find that suit the criteria with the pros, cons and price.
If you're in the market for the best caravan for couples, maybe this list will help broaden (or narrow!) your search.
The criteria
Size and weight
To be as small as possible – both size and weight
Single axle – don't really have a reason for this, just that single axle seems to be used for small caravans
Can be pop-top
Minimum internal height of 1.9m
Bed configuration
Double bed minimum – not single beds
Ideally north/south facing – so I don't have to climb over Ben to get in or out of bed (but will certainly consider east/west as it saves a tonne of room)
Bathroom
Toilet and bathroom – don't have to be seperate but that would be nice
Kitchen
Inside kitchen
At least 95L fridge
Gas cooker
Other
Able to have solar panels
Air con
Awning on the side
What we don't need
(but is cool if it comes with these)
Off-road
Any other beds – e.g. don't need the dinnette to convert to bed
Washing machine
BBQ
Oven
TV antenna
Wardrobe
And I'm just going to look at brand new caravans, but don't forget there's a world of used caravans for sale on gumtree.com.au and caravancampingsales.com.au.
A Couple of Notes
I've gathered as much information as I can about each of these caravans for couples, but some of the information can be quite hard to find. For each caravan I've made sure to include a link to the manufacturers website so please do go and check them out and contact them or your nearest dealership for any specific questions.
Prices noted are based on what I could find online and may (or may not) include optional extras. They are approximate costs only and I've put them in as a tool for comparison only.
Please be mindful that each caravan has different inclusions and, of course, that affects the price. A more expensive van may include a gas bayonet, bike racks on the rear, an external shower and a tool box on the A-frame. If you were to add these options onto one of the cheaper caravans then it may well bring the price up to the same as the expensive caravan anyway. To do a true comparison, I think you would need to pick your top 3 caravans and list out all the inclusions and options. Then you would be able to get a much more accurate comparison.
Best Caravan for Couples
So in no particular order, let's look at the caravans I've found that fulfil the criteria I've listed:
New Age Caravans – 15FT Wallaby Ensuite
I really love the New Age caravans, they're practical and have all the bits that make life more comfortable, and they also have a large range, from caravans for couples, right through to big family friendly vans.
What I like about the Wallaby, is that it's the shortest van in their range that has the north/south bed.
You'll see as we look through the different caravans, that the layouts are all pretty much the same. I suppose it's a layout that works, so why change if if it ain't broke, huh.
See all the photos and different layouts on their website.
Safari X-Trak 1710
This little number from Safari started appearing on my facebook feed and I just couldn't ignore it. It looks pretty schmick inside and it's off-road. There is hardly any specifications info on the internet so I'm not sure it's under 17ft, but at just single axle and with the same layout as all the others, I'm presuming it's around about the 17ft mark.
There's no floor plan I can show you, but head over to the Safari website or Trounce Caravans to see all the photos and make contact with the manufacturer/dealer for more information.
Jayco Starcraft – 16.67-5
Jayco are big players in this market, and it's reflected in the huge range of caravans they have on offer. And when you're working with such big economies of scale, it's easier to be really competitive on pricing too.
Even if you were to take the pricing out of the equation (but who would, right!?) the Starcraft has all the features that we want, and in a pretty light package.
Go to the Jayco website to see all the photos of the Starcraft.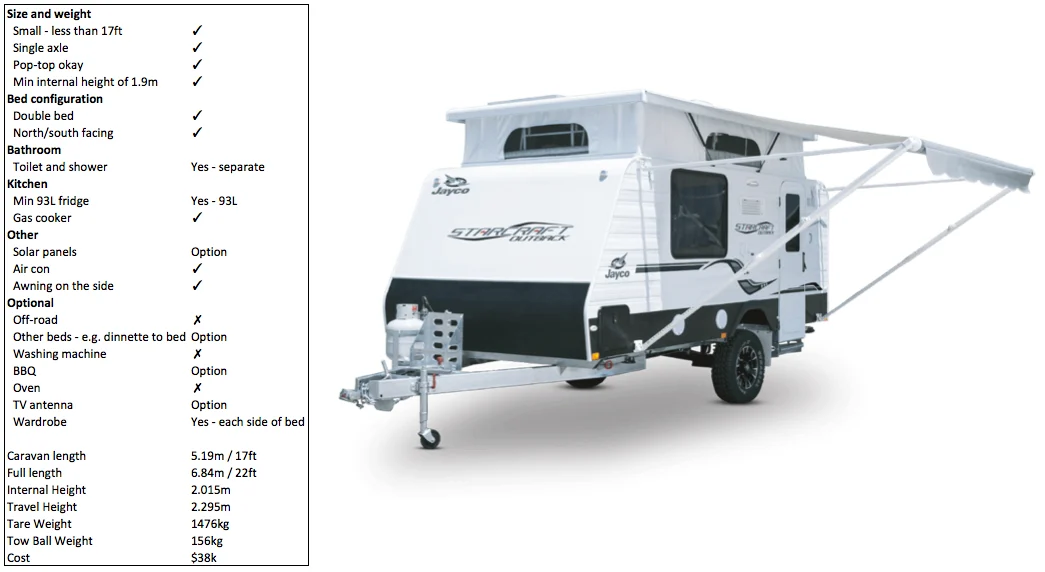 Market Direct Campers – XT15-HR Off Road Caravan
Now I've got to admit, this van has my (current) favourite layout of all the caravans for couples. It's small, has the north/south bed and doesn't waste any space. But it is pretty heavy and I'm not sure what the internal height is.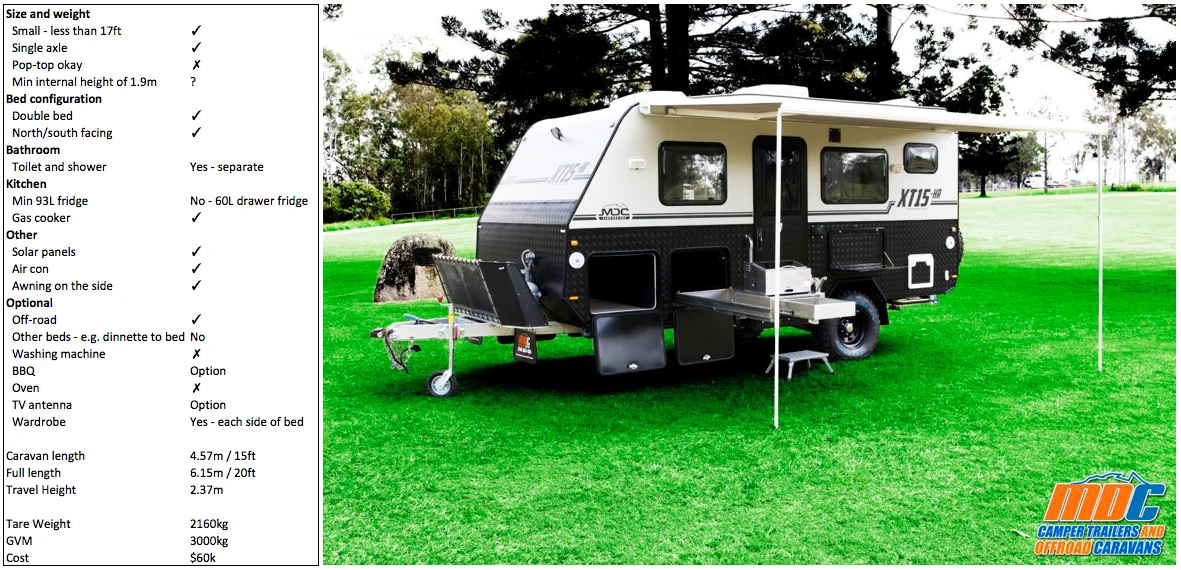 Although I don't have a floor plan to show you, I think you'll see from the pictures on the MDC website, that even though the bed is a north/south, it doesn't 'waste' any space by having it be a walk-around bed. On one side of the bed, the foot is hard up against the back of the dinette and that saves at least a foot in length. This makes a lot of sense to me personally, as I don't have any problem climbing into bed from the foot. It might make bed-making a little bit more tricky, but in our house that only happens about once a fortnight anyway. :-O
It is one of the heaviest vans in this list (along with the Safari) but I presume that's because  both of them are off-road?
About the off-road feature: we thought we'd be doing lots of off-road adventuring, but now that we're here, we realise we don't have the required recovery equipment, we don't have friends to tag along with (not yet, anyway) and, most importantly, we don't have any experience so would just end up being a menace to ourselves and others.

Having said that, we do like the idea of an off-road rig for those times where we find ourselves kinda in the wrong place and having a good, sturdy off-road capable caravan is a good thing.

Like that time we did the Savannah Way and hadn't cottoned on to the fact that Apple Maps kept trying to route us away from that road because it's not a main road. At all. It's a badly corrugated (at the time we went) road that goes through some really remote places. It was totally fine with our camper trailer, but I don't know if a normal caravan would survive all those corrugations.

If you want to know more about off-road caravans and what they should have in order to be called 'off-road', here are a couple of good articles (here and here) which have some really helpful info.
The Little Caravan Company – Optimiser
Ah, now here's a little bit of innovation! A 12ft caravan that extends out to 15ft.
So how about this for a little bit of a different layout to what everyone else has. The bathroom is a compact wet bath and the kitchen is kinda split up on two different walls, but of course the main feature is the fact that the bed is on a slide that increases the interior space by 900mm / 3ft.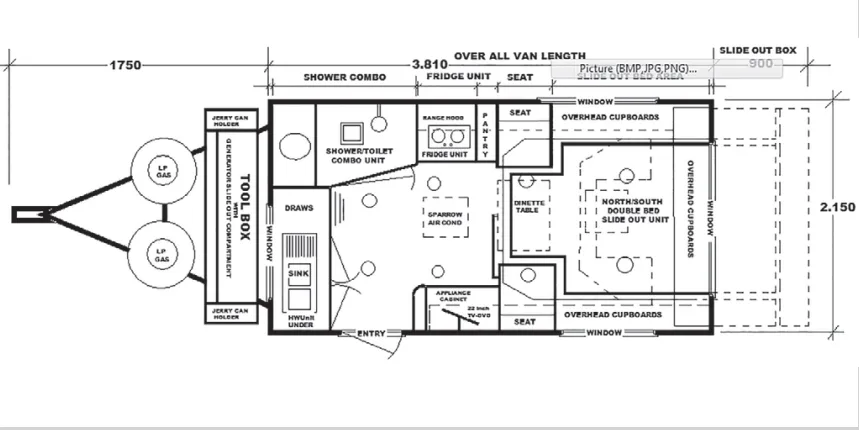 About that kitchen… I don't know how well that would work having the cook top away from the sink and main bench space. I would have thought it would make more sense to put the cooker and sink on the same bench? I dunno, but I'm sure there's a perfectly good reason it's on the other bench.
Anyway, check out the pictures for yourself (there's not many!) on the review by Caravan World.
Jurgens – Sungazer Caravan
And here's another one with a layout that's not the same as all the rest.
The Sungazer is a light caravan with a tare of only 1330kg, but with an ATM of 1650kg that means you only have 320kg of payload… umm, that doesn't seem like very much to me? Fill up the 80L water tank and the two 4.5kg and you've just about used up a third of your payload. I think you'd need to be pretty careful about your load.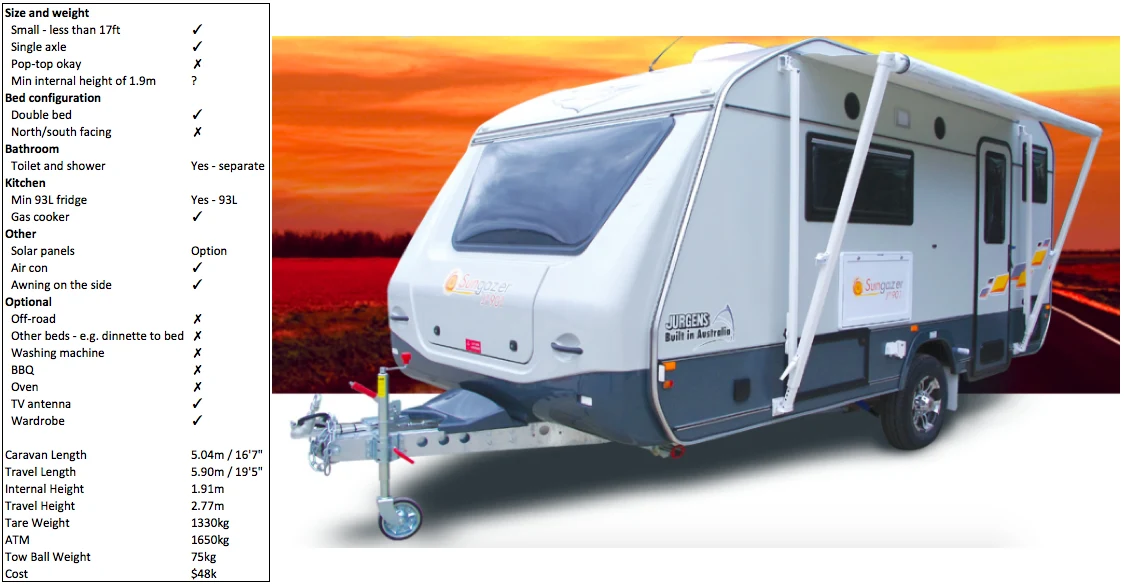 It's nice to see someone doing a slight different layout, but I'm not totally sure I'd be up for making that bed every day, that could get tiresome very quickly.
Other caravans for couples to check out:
You know what, there are a lot of caravans that follow a very similar layout of the New Age Wallaby, Jayco Starcraft et al, all with varying levels of luxuriousness and off-road-ness. You may want to check these out and see if they would suit you better:
Concept Caravans – Innovation 530
Coromal – Appeal
Majestic Caravans – Navigator
JB Caravans – Gator
AusRV – Titan
Special Mention – New Age Caravans 11ft Pop Top Shower
While I have previously talked of my love for the 11ft Gecko Pop Top Shower, there are two features that I hadn't previously thought too much about:
The bed – now that we've been in our camper trailer for 3 months it's become kinda annoying having to climb over Ben to get in or out of bed. Part of the problem for us is that there's quite a drop from the bed down to the floor so I have to balance on the edge of the bed and find the step with one foot while clutching on to Ben in case I miss the step. Probably not really a problem in the Gecko, but one I'm still conscious of.
No air conditioning! 🙁 I didn't realise this before (and I wrote about the Gecko BEFORE we'd been up north or into the outback) and if we're going to spend this much money on a caravan, we're going to make sure it has air con.
What other factors do you need to consider in caravans for couples?
In this post I've just talked about the features of the caravan that I'd like. But we (and also, you) need to consider other things such as:
Capabilities of your tow vehicle – this is a big one!
What type of travel you like to do – will you stick mostly to the black top with the occasional gravel road; or will you be doing lots of 4WD or lengthy corrugated roads?
Do you prefer to stay in a caravan park / campground, or do you like to get away from it all and stay in National Parks or other places that will require you to be self-sufficient?
Will you be moving frequently, or settling in for a bit in each location?
Money – yes, I know this will be at the top of the list for most people (including us), but I like to dream for a little while that it's not actually THE most important factor.
After doing all this research, I gotta tell ya, I'm no closer to deciding which caravan we'll buy. But when we're ready to buy, I know this will give us a good grounding in what is available on the market at the moment and what features are important to us.
I hope you've found this list helpful!
I LOVE little RVs, and if you're in the market for something small, but not sure if it should be a motorhome, a fifth wheel or a camper van…  I've written about small fifth wheels here, and small camper vans here
And if you want to go really small (and are not fussed about having a bathroom) I've compiled a list of Aussie made tear drop campers and Aussie made camper trailers as well!
Hopefully they'll help you to find what is gonna work best for you.
Let us know in the comments if there are any other caravans for couples (that fit the criteria I stated at the start) that you think we should consider.
Which caravan for couples would suit you and your partner the best?
Pin this to Pinterest