Toy Hauler Caravans that are available in Australia
Are you looking for a toy hauler caravan for your road trip around Australia, so that you can take some of those big boy and girl 'toys' with you and make the trip even more about fun and enjoyment?
Buying a toy hauler caravan means that you could take some motorbikes, or quad bike, or mountain bikes (that you don't want to store outside the caravan, cos sheesh those things are expensive!).
What is a toy hauler caravan?
A toy hauler caravan looks like a conventional caravan, except the (usually) the back wall of the caravan can be lowered down to create a ramp into the caravan.
The ramp leads to a section of the caravan that can be used for transporting 'toys' like motorbikes, quad bikes, bicycles, kayaks etc.
The floor of the garage area is a more resilient material so that it can withstand heavy and dirty things being pulled in and out, and it can be washed down when needed. It will also have tie down points so that you can secure those expensive toys during transit.
Most toy hauler garages are designed to be multi-purpose. So they'll often have beds or bunks that fold down from the walls, or lower from the roof, and other options like an entertainment unit or fold out sofa.
You don't have to be limited to using the space to haul toys either; the garage space of a toy hauler caravan could also be used for other things like a workshop, office or craft room.
Toy Hauler Caravans Australia Price
A few people have commented that they want to see the prices of caravans in these posts. So I've included prices for these toy hauler caravans in AUD.
BUT… you really need to be careful to compare apples to apples.
Where the manufacturer lists a base price I've included it; but where they haven't, I"ve looked up the price of that model online.
A base price may not (probably won't) include all the extras that a caravan that is already for sale at a dealer does.
So take these prices with a grain of salt, and be sure to do your own research.
We've had a hunt for what toy hauler caravans are available here in Australia. Check them out below.
Goldstar RV Toy Hauler
I feel like we're starting off with a bang here. Have you heard of Gold Star RV before? They're a direct-to-the-public caravan manufacturer; so they don't sell at shows or through a dealer network. And they batch manufacture their caravans so that they can keep prices as low as possible.
Anyway, their toy hauler has a rear wall that opens up or down (you can choose) to reveal a huge garage for the toys. There are four bunk beds on the wall which makes this toy hauler super versatile.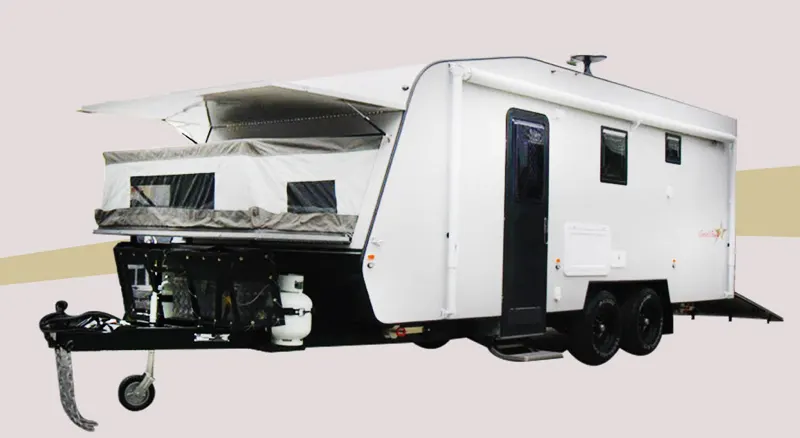 Base Price: $64,990
Jayco Toy Hauler Base Station
We all know that Jayco are one of the big guns in the caravan manufacturer world in Australia, so you've probably already seen their toy hauler range. They've got the 'Base Station' and the 'Work N Play', so let's have a quick look at the Base Station.
The Base Station has the garage with four fold-down bunks beds, and a fold down rear ramp.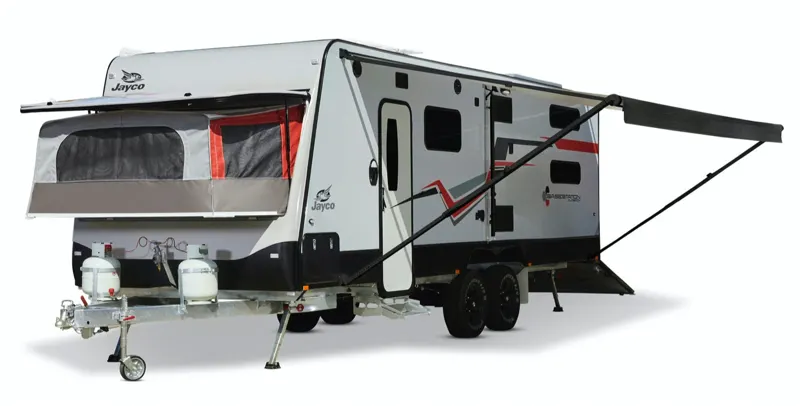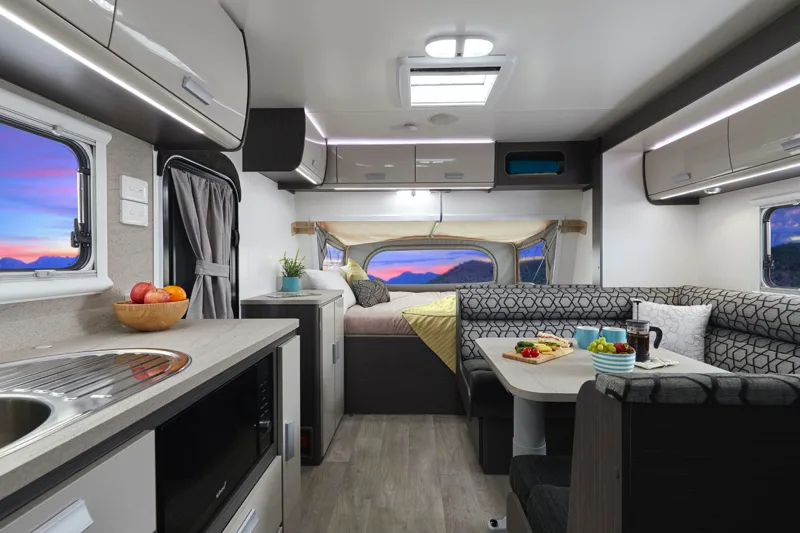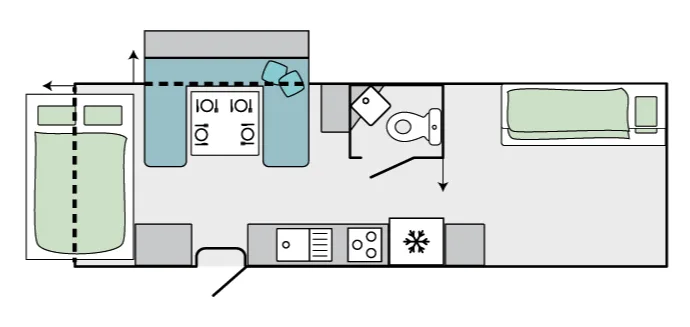 Base price: $89,390
Jayco also have the much more compact Work'n'Play where the garage space can be used for hauling toys, a twin bedroom, or dining area. Very multi-functional. Check it out the Jayco Work'n'Play here.
New Age Toy Hauler
https://newagecaravans.com.au/
New Age Caravans have the XU, a toy hauler that has the same basic layout. A garage at the back with a rear ramp to get the toys in there. And four fold down bunk beds. Take a look below.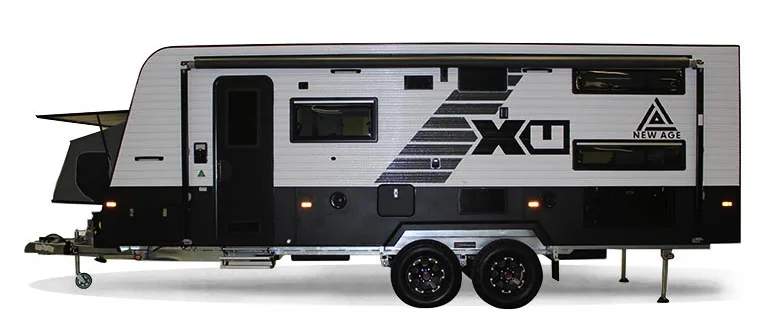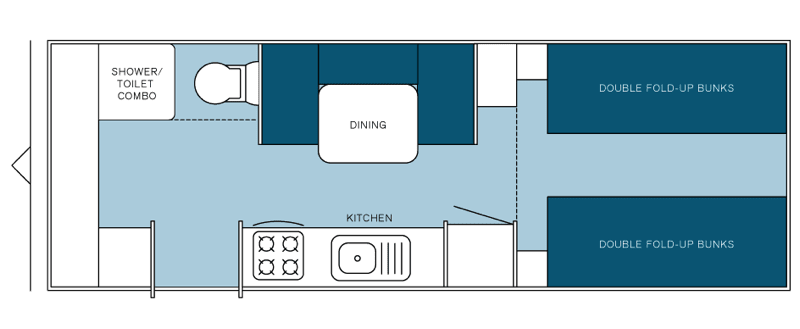 Price: $90,990
Paramount Caravans Tuff Mudda Toy Hauler Caravan
https://www.paramountcaravans.com.au/
Paramount Caravans have a few different layouts in their Tuff Mudda range of toy hauler caravans. This is the TM2 – 18'6 which has the garage access from the side of the van with two bunk beds, and the main bed on a fold out section at the front of the caravan.
Price: $111,000-ish
Austar Toy Hauler
https://www.austartoyhauler.com.au/
Here's an Australian caravan manufacturer that specialises in toy haulers only. So they've got a good range of layouts and types. The one below is their 3Style model.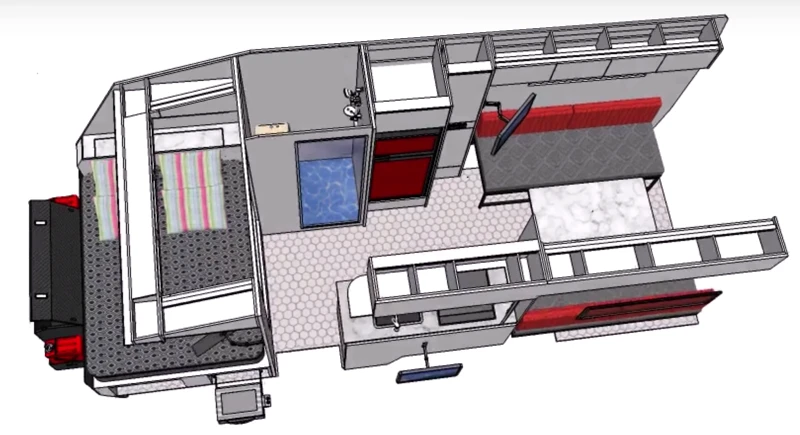 Price: $62,900
Dreamseeker Caravans F-14 Tomcat
https://www.dreamseekercaravans.com.au/
Here's something a little different from all the other toy haulers we have listed here!
Instead of the four bunk beds in the garage area, this toy hauler includes an entertainment unit and lounge (which can be a bed too). This toy hauler isn't trying to appeal to the families, but couples who want to have all the fun and adventures during the day and relax with plenty of space in the evening. I love it!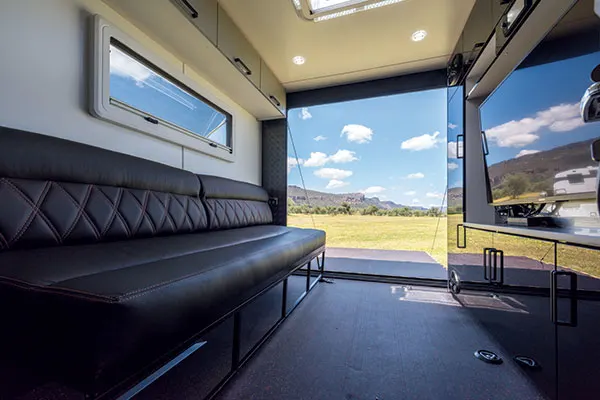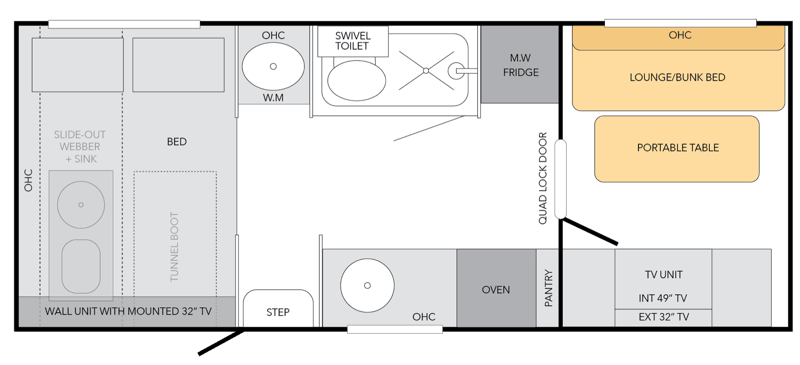 Price: $120,000+-ish
Evolution Caravans Toy Hauler
http://evolutioncaravans.com.au/
Evolution Caravans specialise in custom built caravans, but their toy hauler model starts with a great base and you customise everything that you want.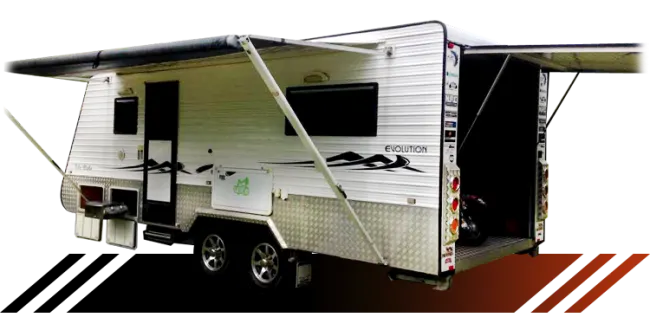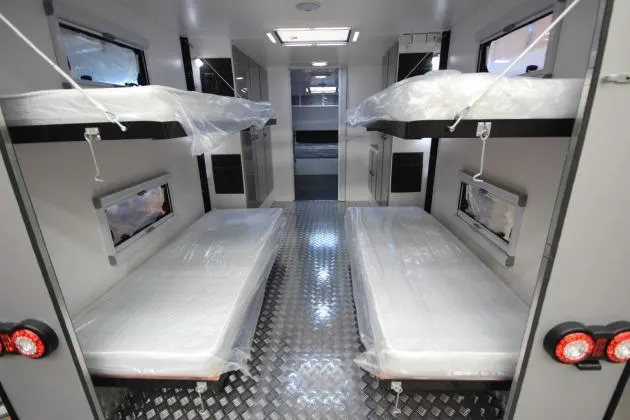 Price from: $95,490
More toy haulers in Australia
There are more toy hauler vehicles in Australia like camper trailers and caravans with an extended platform, or the ability to haul toys above the camper or caravan. You could check out:
Patriot Campers
https://www.patriotcampers.com.au/
Royal Flair Caravans Raptor
https://www.royalflair.com.au/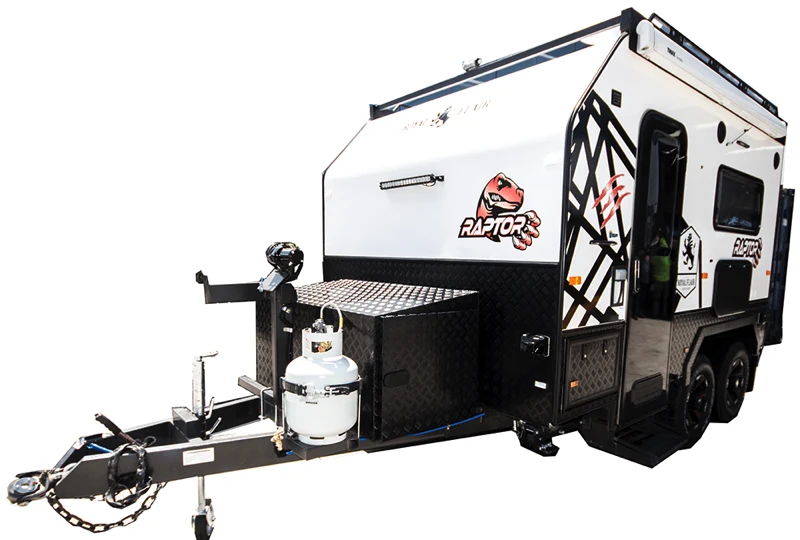 Tactical Tourers Xpedition Toy Hauler
https://tacticaltourers.com.au/xpedition-hauler-xh7-3/
EquiVan
And there are horse float caravans like the EquiVan that could just as easily be used for toys or horses. Now that's what I call multi-functional!
Final thoughts on toy hauler caravans Australia
After seeing this selection of toy hauler caravans that are available here in Australia, do you think it's something that you would make the use of? Or has it made you realise that a 'conventional' caravan is more suitable for you?
If you're not sure that the toy hauler is right for you, we've compiled lists of other types of RVs that are available here in Australia. These might be more suitable for you?
Or has it made your realise that an off-road camper trailer is what you need, with the ability to carry the toys either above the camper or on an extended trailer?
I'd love to hear what you think about these toy haulers Australia.