Caravanning Australia full-time with My Rig Adventures | Interview Series
Are you a family that wants to travel Australia giving the kids an adventure and an amazing education all at the same time?
Well, you're not alone. 
Today we're interviewing the Rig Family who have now been caravanning Australia since 2016. I love how their story starts with them hitting the road with only a tiny bit of cash, but they have done lots of different things to keep themselves on the road.
You can check out these interviews with other full-time travellers here:
Living in a motorhome| Indefinite Leave
Worldschooling while travelling full-time | Cake and Eat it 3
RVeeThereYet share their caravanning experience
Budget Travel Around Australia | Our Wayfaring Life
Caravanning and camping around Australia | All Around Oz
Allan, Emma, Dominic & Indi – My Rig Adventures
Why did you hit the road full-time?  
Basically, we were fed up with the daily grind of the rat race.  
You know how it goes… school drop-offs, work, mowing the lawns and maintaining a house.  We were bored with life and the mundane seemed rather pointless.  
We dreamed of hitching up a caravan and taking off into the sunset.  A little less 'adulting' and a lot more fun and adventure.
Who are you travelling with? 
Allan (36), Emma (35), Dominic (12) and Indii (10).
What's your set-up?  
We've been travelling around in a 2005 Nissan Patrol (4.8L petrol), towing our 2015 Jayco Starcraft behind.  
We opted for a van with a full ensuite with washing machine, double bunks for the kids, internal kitchen and dinette with island Queen bed.  
Before hitting the road we upgraded the solar system so that we can live for as long as we like off-grid – it's paid for itself 100 times over!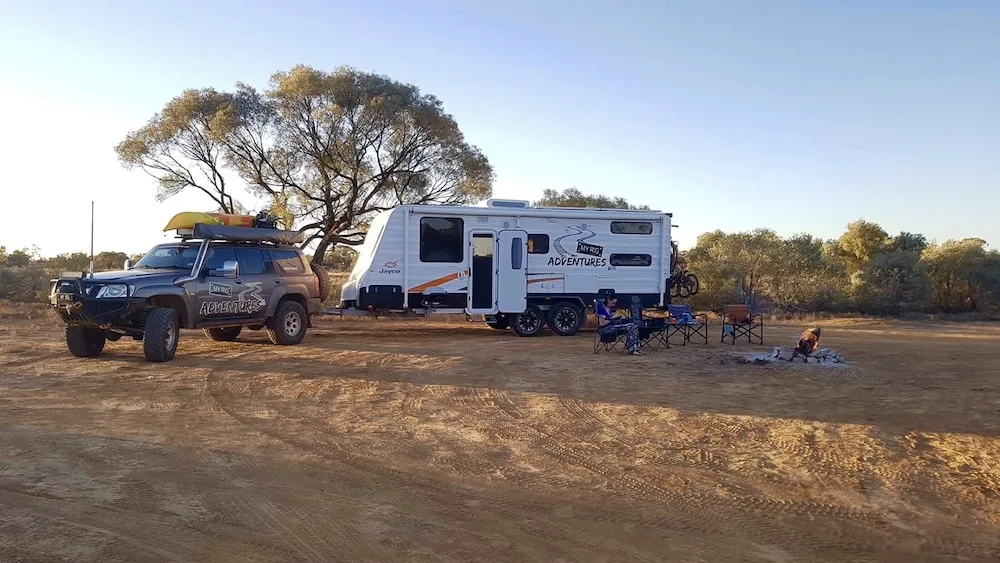 What did you do with your belongings? 
We opted to sell our house to fund our set-up so that we could be debt-free.  Anything that didn't come in the van or car with us was sold/ given away.  
In fact, we actually managed to sell the house partly furnished.  That worked out great as we were able to still use many of our items right up until the end.
How have you funded your lifestyle?
We hit the road with only a tiny amount of savings as it was always the plan to stop and work along the way.  
Just 6 weeks into the journey we found ourselves 'living' in The Gemfields (Central QLD) as Allan had picked up work in nearby Emerald; he is a Truck Driver/ Excavator Operator and has had no trouble finding work through Gumtree, Facebook, Seek, Indeed etc.  
Generally 3 months worth of work would cover the next 3 months of travels.  I also make money through blogging, which certainly hasn't been an easy (or overnight) process, but these days is actually providing us with an additional income.  
Note from Michelle:  Emma has written a very helpful article for anyone trying to figure out how you can fund a life on the road. Emma gives us some really practical ideas on how to make money here in Australia, as well as tips for saving money.
Read the post here: How to Make Money While Travelling Australia

What's your favourite thing about living on the road?  
Freedom! Yep, freedom has been the best thing about living on the road.  
Sure, we have had to stop and work here and there (which feels a little frustrating at times), but ultimately, we've been free to come and go as we please and spend our days as we wish.  
Also, the reduced cost of bills has been fantastic.
Least favourite thing about living on the road?  
Being on the move more often than we want to at times (especially down the East Coast where the free & low cost camps are few and far between). 
Only having 3-5 days worth of space in the toilet – and that's being frugal sometimes!
Would we recommend travelling this way for others?  
Living and working on the road has been the most fantastic experience.  We've 'lived' in a bunch of places we would never have otherwise.  
Travelling slowly allows you to really check out places in a more thorough way than if you were shooting through on holidays or with time constraints.  
In saying that, if we could have saved the money to do a Big Lap in 12 months, we would have preferred that.  
Stopping so frequently has been really frustrating at times.  As with everything in life, there are pros and cons to both sides of the coin.  
Although we have no regrets about selling our house to travel, I don't think I'd recommend it unless you were 100% sure it's what you wanted to do.  
Having somewhere to come back to would be ideal for most people.
More from MY RIG Adventures
Thanks to the Rig family for sharing more of their story.
Emma shares a huge amount of helpful information on their blog, MY RIG Adventures. There you'll find information on destinations and camping spots, travelling with kids, setting up your rig for free camping, as well as planning and preparing for hitting the road.
Travel Planning Kit
They have put together a great Travel Planning Kit, a bundle of resources to help you get started. You can buy the bundle here. 

Blog – MY RIG Adventures
Facebook – @myrigadventures 
Instagram – @myrig_adventures   
YouTube – @myrigadventures 
Pinterest – @myrigadventures 
Pin 'Caravanning Australia Full-time with MY RIG Adventures' to Pinterest