Are you fascinated with micro caravans Australia too? Or is it just me?!
On this blog I've made no secret of my love for small RVs. Whether it's small pop-tops, small fifth wheels, small caravans, small campervans, or even small teardrop campers.
But today, I'm going as small as you can possibly go, and taking a look at micro caravans available here in Australia.
In this search, I will still maintain MY criteria for an RV, that it:
be able to sleep at least 2 people,
have a toilet and shower inside (wet bath is fine), and
an internal kitchen.
Since this post is all about tiny caravans Australia, I'm only looking at those small caravans that are 3.96m (13ft) or shorter. Most of these are caravans under 1200 kgs, with a couple of caravans under 1000kg. So they're small and light.
Are there any mini caravans out there in Australia that will fulfil that criteria?
---
Small caravans in Australia
Before we get into the post about micro caravans, we've created a spreadsheet of all the 'small' caravans that are available in Australia. It is a list of 90 caravan manufacturers (and a couple of importers) with almost 500 different models.
It's perfect for those that are looking for a small caravan, and want to see all the options here in Australia. You can buy the spreadsheet for $9 here.
The spreadsheet includes all the caravan models that are either: body length of less than 5m (approx. 16ft) or total length of less than 7m.
We've included the Make, Model, Length, Width, Height, Weights, Number of people it sleeps, whether it has a bathroom or not, the battery set-up, aircon, tow hitch, roof type and Base Price; and the URL so you can go and check it out for yourself.
Click here to buy the Small Caravans spreadsheet.
---
Back to micro caravans…
Micro Caravans | Australia
A few caveats before we really get into things…
When I've been able to find them, I've noted the length, weight (tare and ATM) and price of each of these compact caravans.
Take these with a big grain of salt and do your own due diligence.
Everybody measures their caravans differently (from tow ball to rear bumper / exterior body length / interior length) so just be aware of that.
Same goes with weight, except sometimes a manufacturer will just say 'weight' and not specify whether it's tare, ATM or what!
Prices will vary greatly, some prices include all the 'extras', while some are just for the very basic model.
Enough of the caveats, on to the list!
You can check out what your loan repayments are with Money.com.au's Caravan Loan Calculator here.
Ezytrail – Winton 10
I'm sure that Ezytrail are better known for their camper trailers, but I think they've really hit it out of the park with this little caravan.
The lounge converts to a double bed, giving you that versatility of being able to lounge inside the van when the weather prevents you from being outside.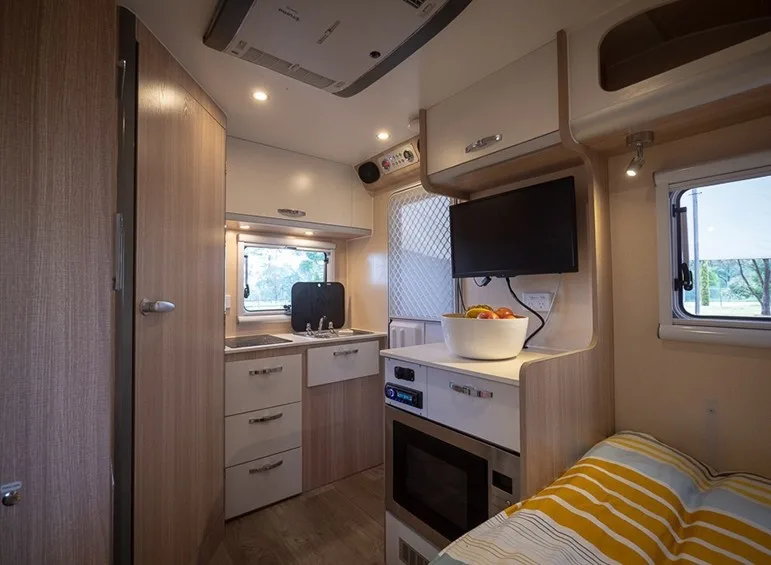 Length: 3.2m (just over 10ft)
Tare Weight: 1,080kg (ATM 1,500kg)
Price: $31,990
Find out more details on the Winton 10 on the Ezytrail website.
The Little Caravan Company – X-Scape
The Little Caravan Company obviously have it down pat! They've got 2 models that are a tiny 12ft in length. The X-Scape and N-Deavour come in either on-road or off-road versions and each of them has a combined shower & toilet onboard and both inside and outside kitchens. The X-Scape has a double bed and the N-Deavour 2 singles.
Length: 3.65m (12ft)
Weight: 1520kg
The Little Caravan Company website.
Crusader Caravans – Chameleon
The Chameleon comes as both an on-road (Action SV) version and an off-road (Liberty SV) version.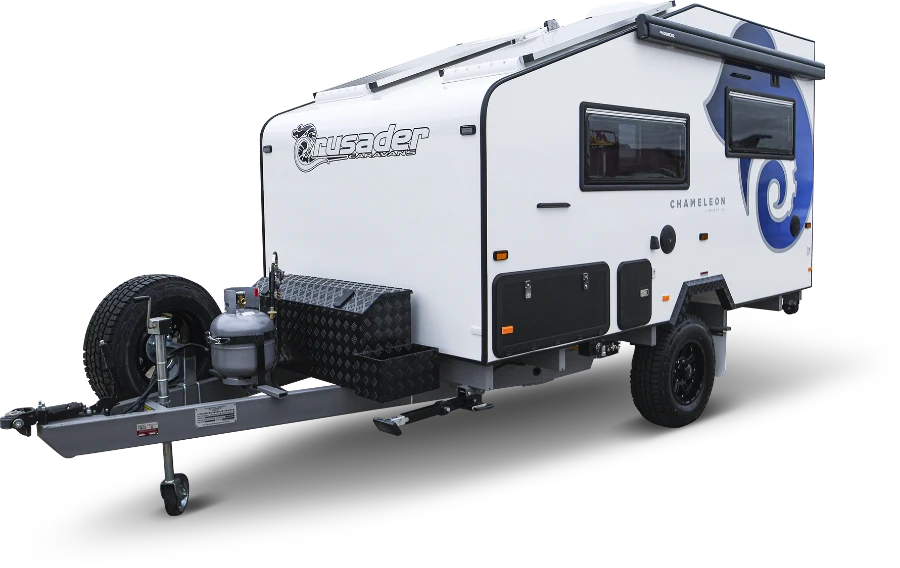 Length: 3.817m
Weight: 1414kg (off-road model)
See all the details over at: Crusader Caravans
Silversun Caravans – Pluto
And here's another little cutey!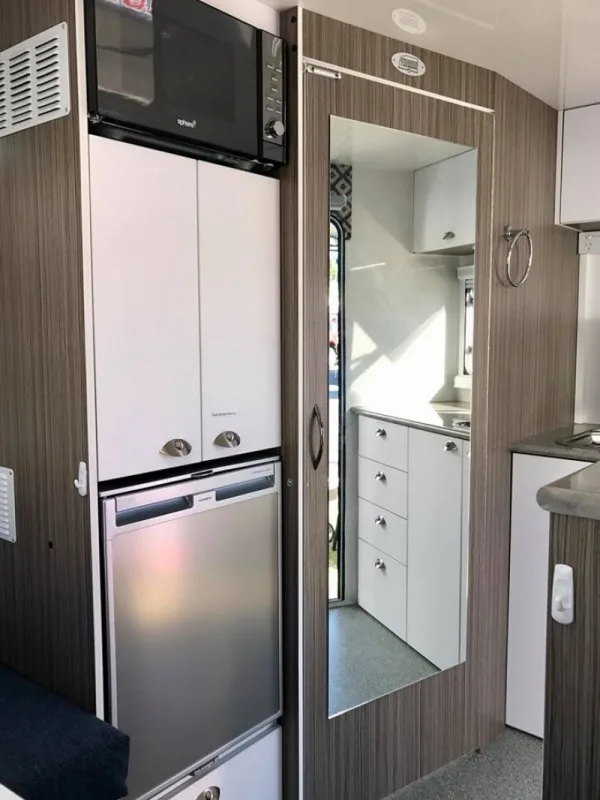 Length: 3.3m (just under 11ft)
Tare Weight: 960kg (1,200kg ATM)
Price: $47,990
Find out more about the Pluto over on the Silversun Caravans website.
Golf – Maxxi 390 PT
The fold out bedroom area of the Golf Maxxi really expands the internal space while still keeping your towing size down to a minimum.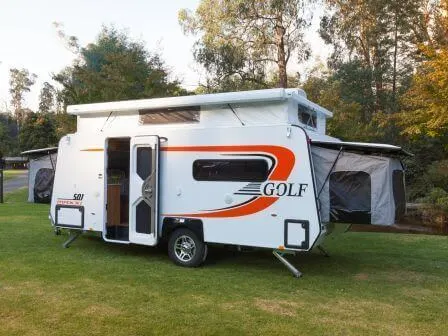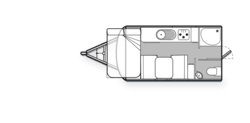 Length: 3.9m
Tare Weight: 1,300kg
Find out more about the Maxxi range over on the Golf website.
Century Camper Trailers – Venus11
Century Trailers specialise in trailers, but they've got a small range of caravans that they also produce. The Venus11 is the middle size option (yes, they go even smaller with a little teardrop camper available too) and even though it's just 11ft long, it fits in everything you need.

Length: 3.35m
Tare Weight: 972kg (1,500kg ATM)
Price from: $32,000
You can find all the details about the Venus11 caravan on the Century Trailers website.
Royal Flair Caravans – Raptor Tandem 11'5-2 Shower
And here's something a little different.
The Raptor's are actually a toy hauler, but the toy hauler section is a fold up tray; so you can have a small caravan while still having the option of a longer toy hauler whenever you need it.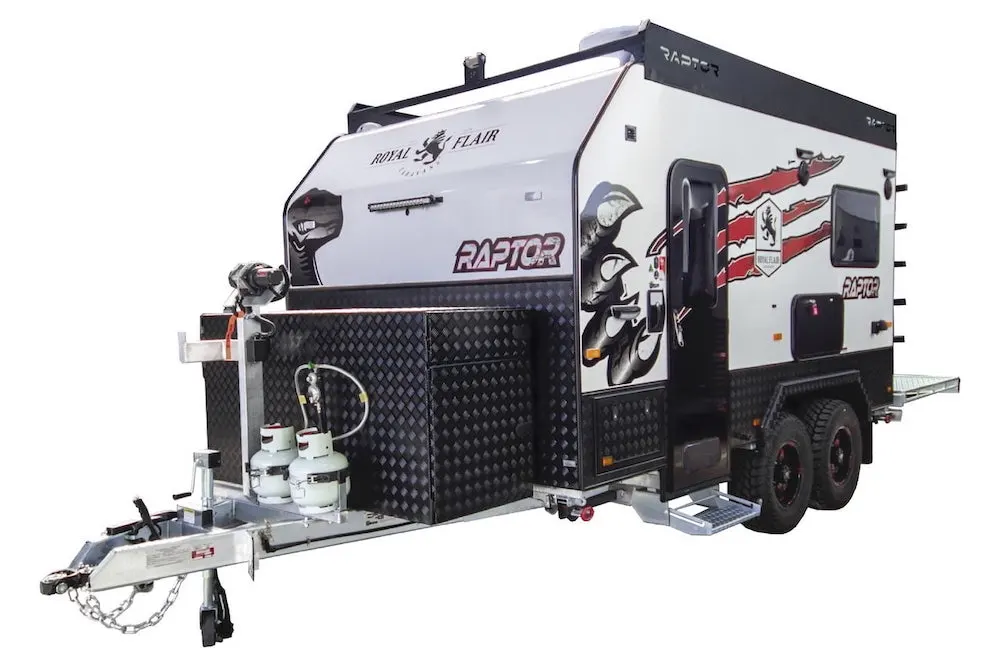 Length: 3.48m
Tare Weight: 2,263kg (3,063kg ATM)
Find out more about the Raptor toy hauler range over on the Royal Flair Caravans website.
Boss Adventure – XA11+
You'll find that quite a few of the hybrid caravans will fit into this 'micro' category, like this XA11+ by Boss Adventure.
I love the hybrids because they have all the features of the bigger caravans, but in a small package. You do need to be careful though… as they're built to be off-road, you'll find that they can still be quite heavy.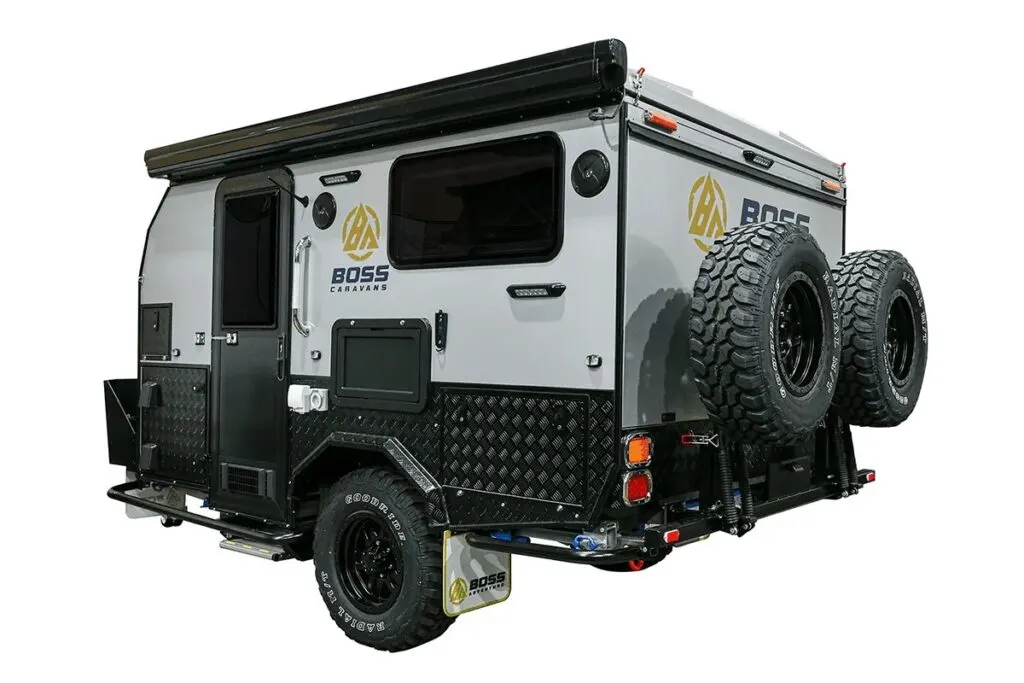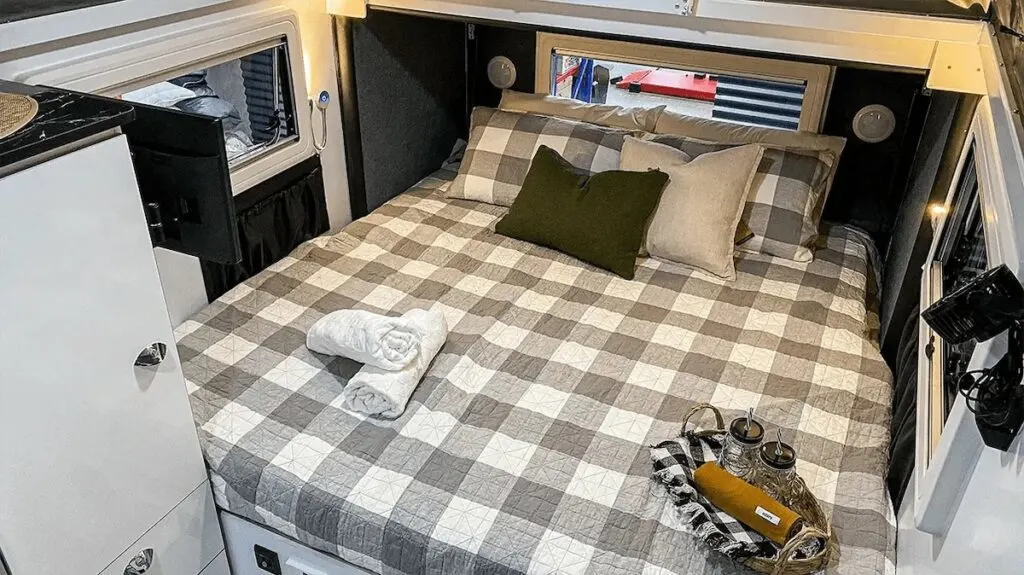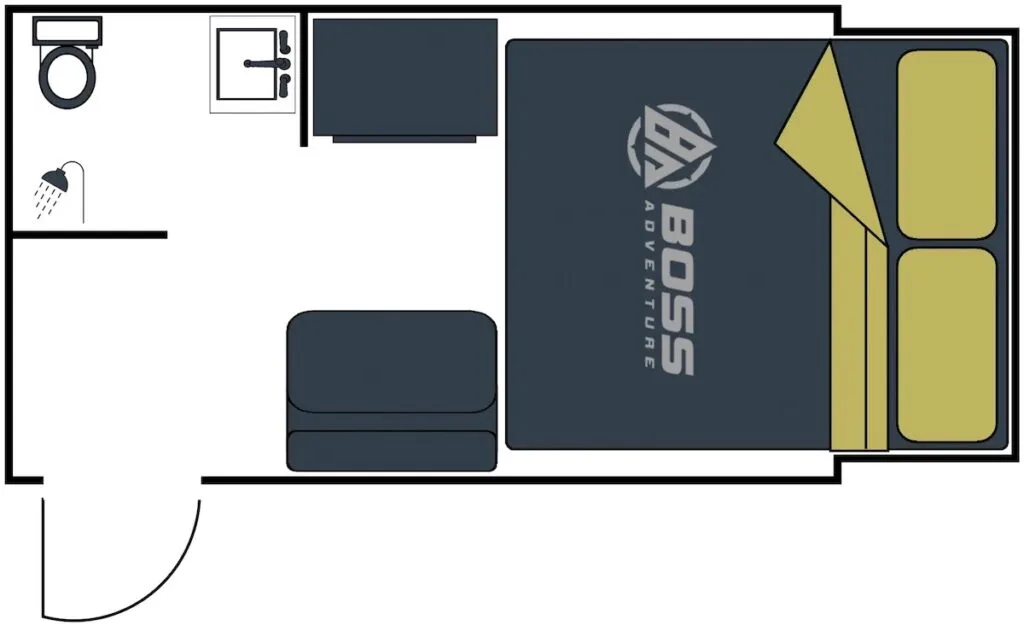 Length: 3.35m
Tare Weight: 1,850kg (2,750kg ATM)
Price from: $49,990
You can find all the details about the XA11+ on the Boss Adventure website.
Wild Boar – Road Trotter
The Road Trotter is a great little off road beast. With internal kitchen, combined shower & toilet and a dining area that converts to a double bed, it would make a great option for a couple doing a Big Lap.
Length: 3.5m
Tare Weight: 1,090kg (1,500kg ATM)
You can find all the details about the Road Trotter on the Wild Boar website.
More European Caravans in Australia
Euro Caravans – Glider
How about this little beauty! Everything you need, and nothing you don't.
I've been one of these, and there's no doubt it's small. I saw someone describe it as perfect for one, cozy for two.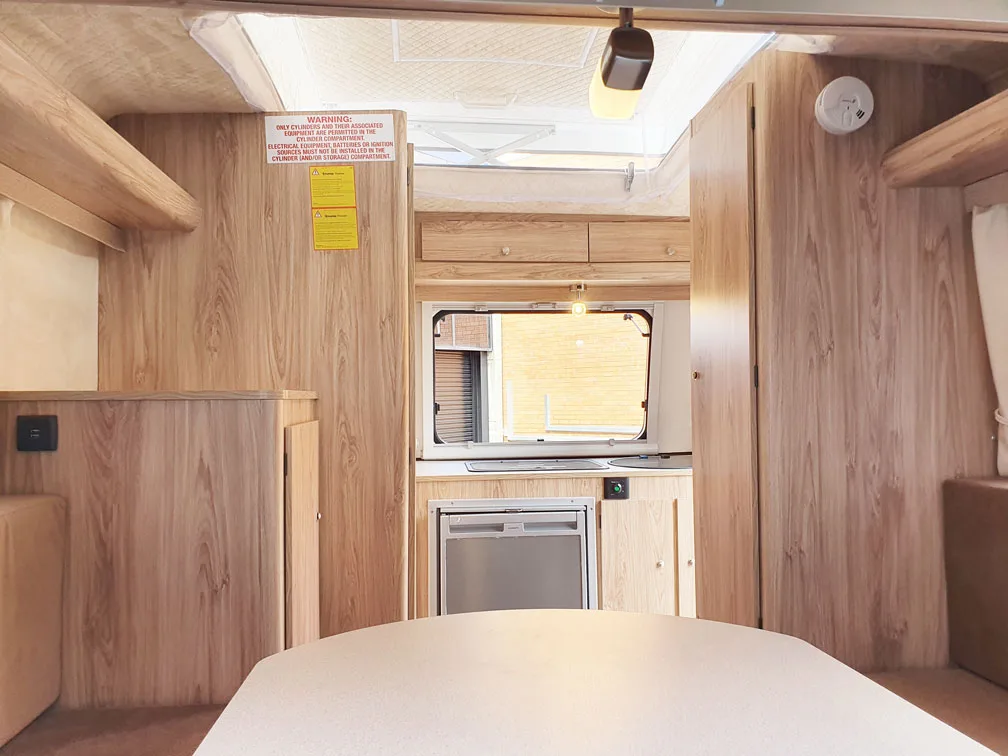 Length: 4m
Tare Weight: 560kg (850kg ATM)
Price: $37,800
Euro Caravans also have another micro caravan in their range called the Hobby. You can see both of them over on the Euro Caravans Australia website.
Adria – Action
At 4m (a smidge over 13ft) I think the Action caravan from Adria Mobil will still fit into many peoples wish lists, as it does mine! So I've opted to include it in the lineup.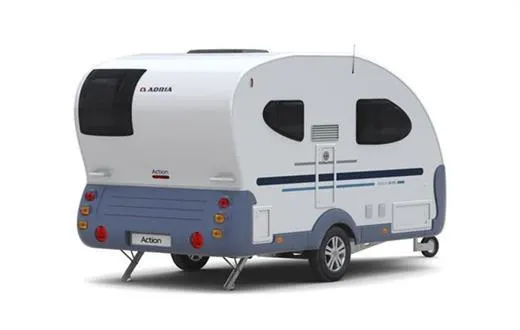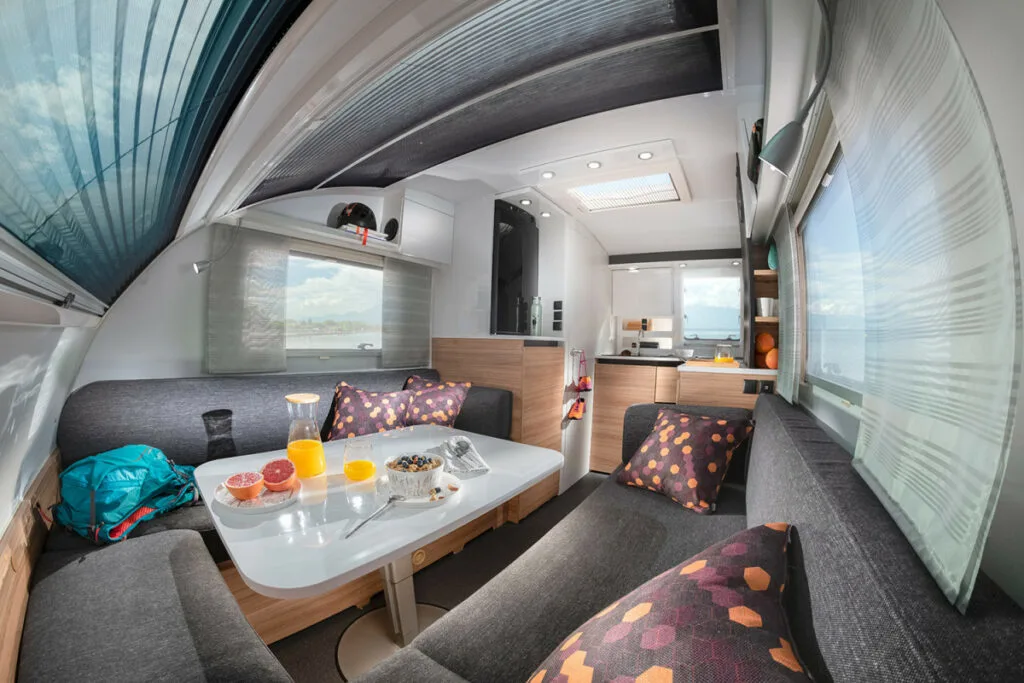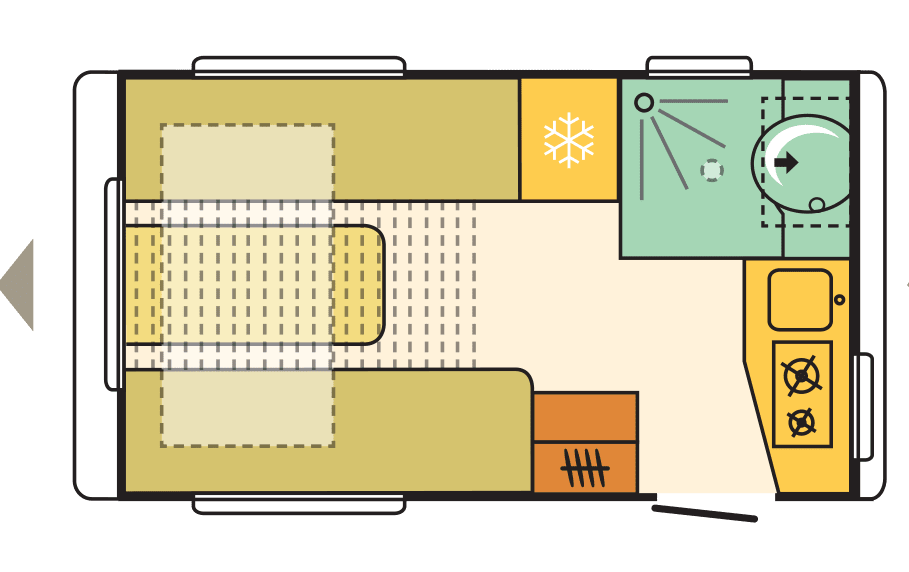 Length: 4m (a smidge over 13ft)
Weight: 932kg
Price: $44,990
Find out more about the Adria Action over on their website.
Swift Caravans Australia – Basecamp
I've left this one till last, because even though I'm loving the look of this tiny caravan, finding information online about this mini is surprisingly difficult.
With a rear facing door, a tent/annex can be attached to the rear of the caravan, greatly increasing its space. But even without it, this little caravan fits our criteria of sleeping at least 2 people, an internal shower, toilet and kitchen.
You can see the promo video and download a brochure on the Australian Swift website.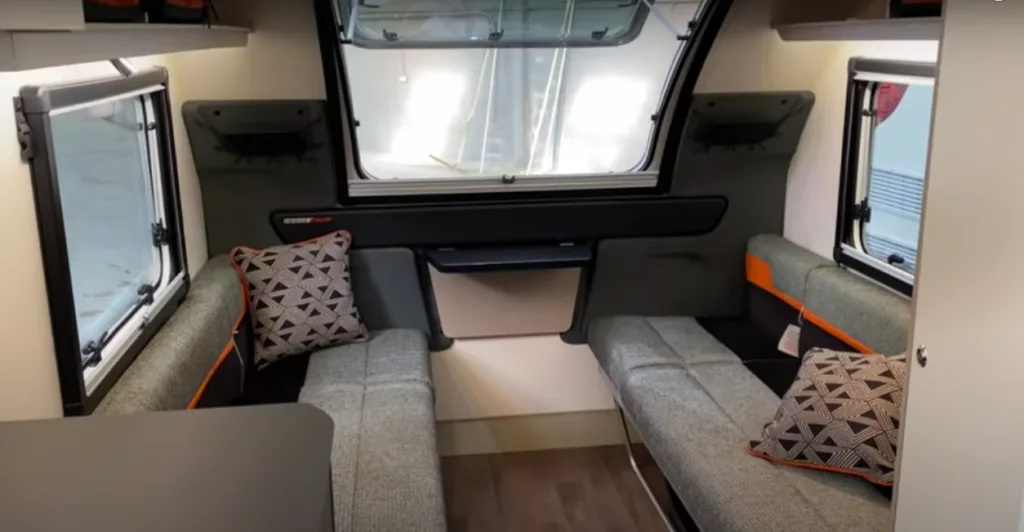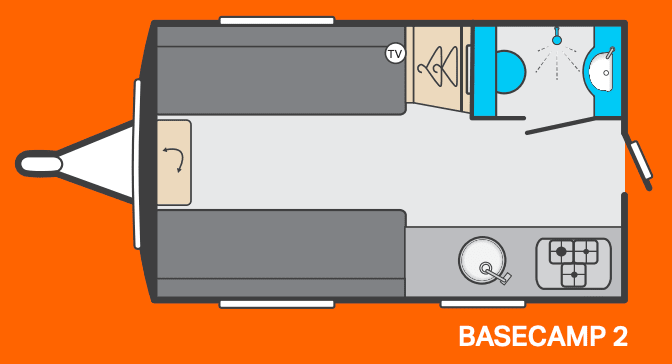 ---
It's not a massive list of tiny caravans to choose from, and it's clear that the Europeans love their mini RVs (and we love importing them), so we're left with just a couple of questions still to be answered:
What is the smallest caravan you can buy?
The smallest caravan in Australia (with an internal toilet, shower and kitchen) is the Winton 10 by Ezytrail campers (the first one on this list, actually). At just 10ft, it sure does pack a lot into its diminutive dimensions.
What is the best small caravan?
The one that's sitting behind your car! There is no 'best', except for the 'best-one-for-you'. So use this list as a guide to find the best small caravan for you!
What are the lightest caravans?
The lightest caravan we've found here in Australia (that includes the requisite internal kitchen, toilet and shower) is the Glider by Euro Caravans.
As light as possible…?
One of the great appeals of a micro caravan (to me) is that a small/light caravan can be towed by many more vehicles than a large, heavy caravan can. 
But this does not mean that ANY car can be used. 
As we see more and more accidents involving caravans on our roads, it must be said again, that you MUST have a car and caravan combo that is safe and, obviously, within the legal limits. 
My preference is that I'm well within the legal limits. Hence the fascination with small and light caravans.
All that to say, you must do your due diligence. Don't buy a micro caravan just cos you think your Nissan Micra could tow it. :-O
Has this list of teeny tiny caravans made you think that it might be the best type of caravan for you?
Almost 500 Small Caravans on a Spreadsheet
Don't forget, if you want to see our spreadsheet with almost small caravan models, you can buy the spreadsheet here.