Since we've been at this show grounds, I've seen a lot more both large and small fifth wheel trailers than I ever did in caravan parks as we travelled around Australia.
I'm presuming it's because there is no size limits here at the show grounds, you don't have to squeeze into an allocated spot, you just find a spare pole with power and water and hook up. So those much larger RVs, like fifth wheels, buses and massive motorhomes, can easily come in and find a spot.
Like small RVs? We've also written about small camper vans, micro caravans and even teardrop campers.
Heck, you wouldn't even have to reverse into a spot here, just drive straight up to your spot and unhook.
It's seeing these fifth wheel trailers that has reignited my like ('lust' might actually be the more accurate word) for these trailers as I'm eyeing up how spacious and comfortable they look.
Most of the fifth wheel campers I've seen online have been those in the USA where they are HUGE.
I mean, 40ft is not uncommon, at all, over there. (40ft = 12 metres!!)
Though I would reeeeeally like to have a fifth wheeler, I would still like to be as small as possible, while still having all the things I need/want.
So I've been on the search for small lightweight fifth wheel campers that are manufactured here in Australia.
What's so good about fifth wheel trailers?
One of the reasons you might be looking for a fifth wheel is that your tow vehicle can tow a bigger, heavier rig if the load is centred on the bed of your ute or truck as in a fifth wheel, compared to the weight being on the tow bar like a caravan.
So it may seem counter-intuitive to have a small RV as a fifth wheel. I mean, if it's small, you may as well just have a caravan, right? But there are other reasons to consider a small fifth wheel, such as more stability (less sway) while travelling at speed, and a bit easier to back.
Since the word 'small' is a bit subjective, I'm limiting this search of mine to anything under 25ft/7.6 m and includes a toilet and shower.
So if you are also in the same situation, where you like the idea of a fifth wheel trailer, but are not keen on anything too large, this post is for you!
Australian Fifth Wheel Trailers
Sunliner Northshore
A couple of the Sunliner Northshore model fifth wheels fit into my criteria of 25ft or less. A 7m & a 7.8m version (23' & 25'5").
I like the layout of their shortest model (5N461) as the slide out makes it quite spacious. Whenever looking at RVs with slides, I also consider whether everything could still be used even if, for some reason, you're not able to extend out the slide. And in this one, you could.
There's no sofa/couch, but we're okay with that.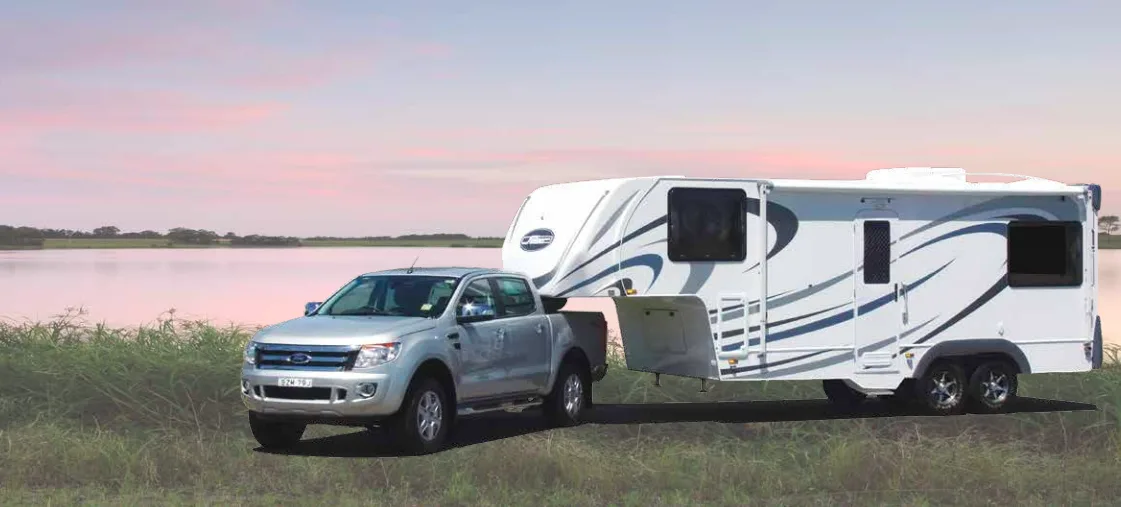 And thankfully, the decor it light and bright. Maybe not to everyone's taste, but at least it's not brown.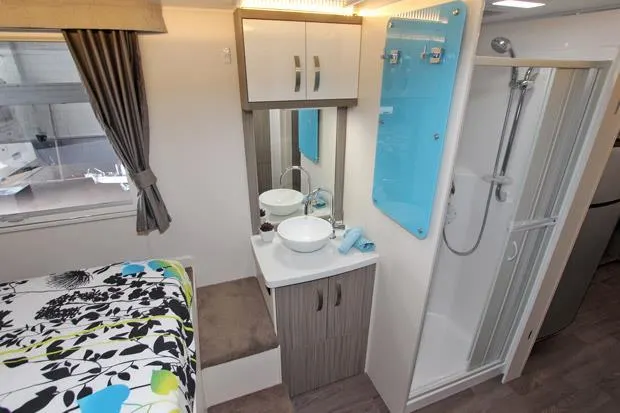 https://www.sunliner.com.au/5th-wheelers/northshore
Travelhome Macquarie
There are a couple of Travelhome Fifth Wheels here at the moment (it might be because we're in the Newcastle region, where they are made) and they look really nice overall. The ones' here are the 29ft, but they do come in shorter lengths. The Travelhome Macquarie can be either 23ft or 25ft, both have the same basic layout, but the shorter one has the bathroom vanity inside the bathroom whereas it's outside the bathroom on the longer version.
Though the layout shows single beds, they can actually be converted to a queen bed.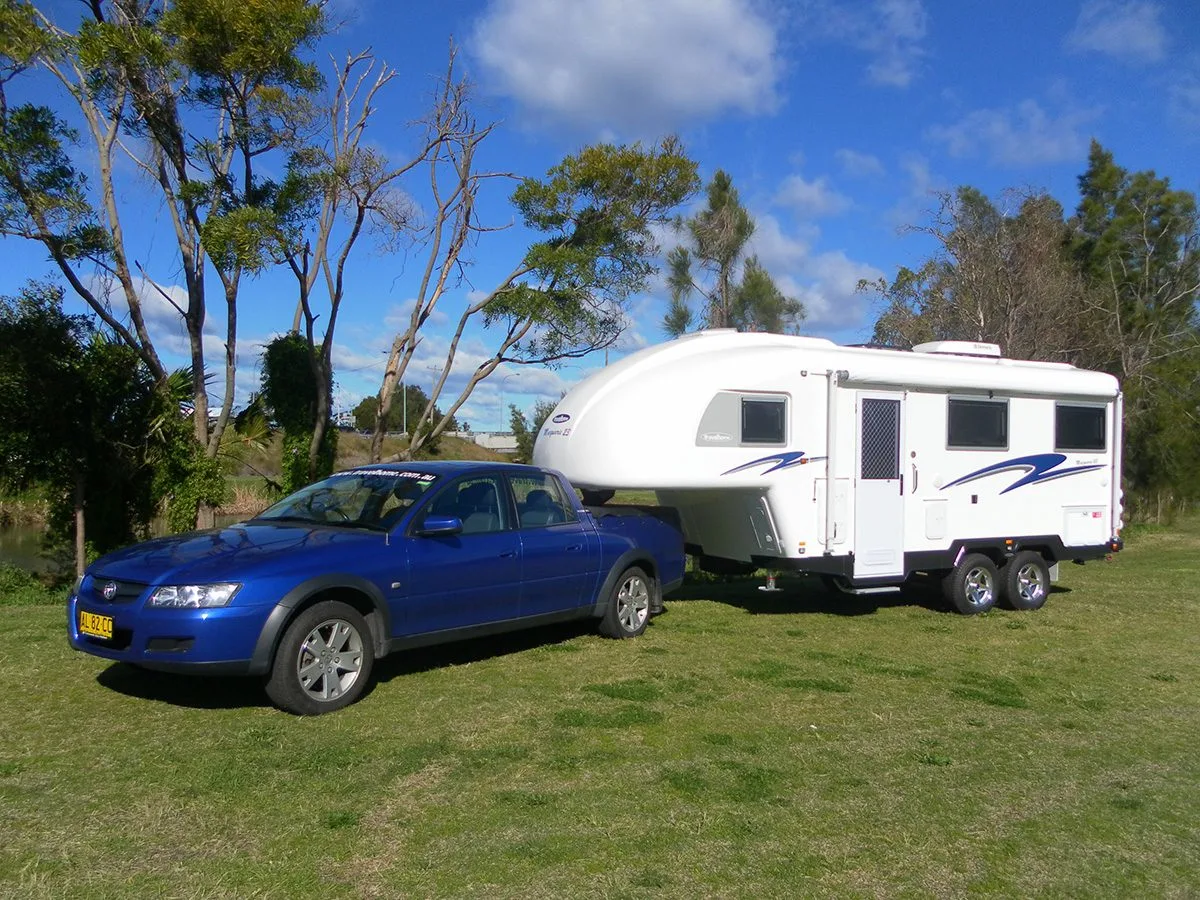 I notice that all the Aussie fifth wheels don't have a high roof over the bedroom area (like most of the American ones do), so it's more like a sleeping space as opposed to a bedroom I s'pose.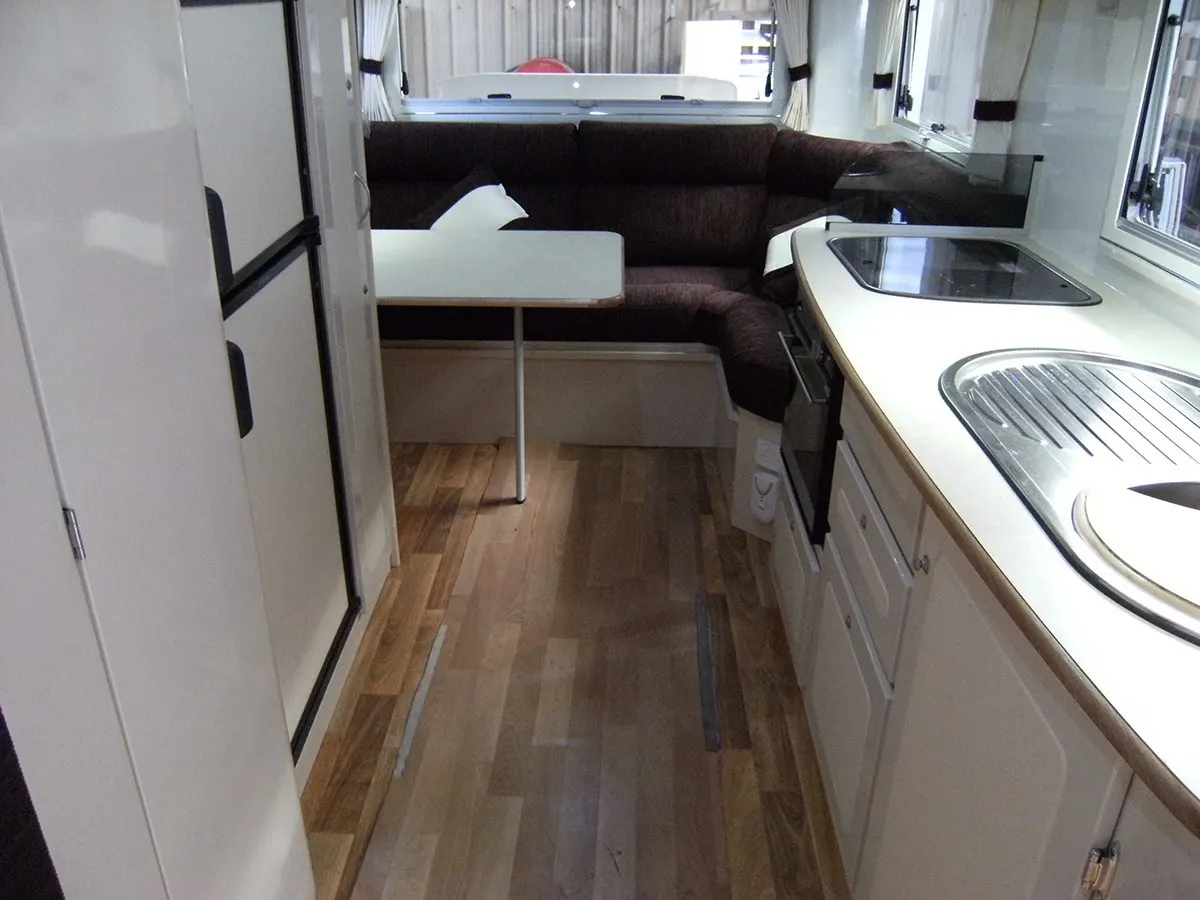 I'm liking the decor too. It's a bit bland (which is good, because you can jazz it up however you want) but it's certainly not ugly!
http://www.travelhome.com.au/portfolio-items/travelhome-macquarie-23ft/
Winjana Strzelecki
Winjana have 4 fifth wheels and they're all under 26' but the one I want to look at is their smallest one at just 19'5". They don't have a layout plan, and limited photos, but I'm guessing the bathroom is a small wet bath.
But look at this little cutey!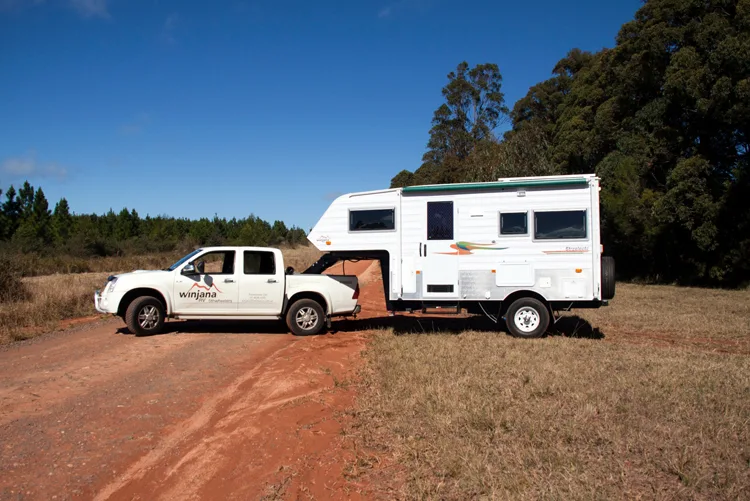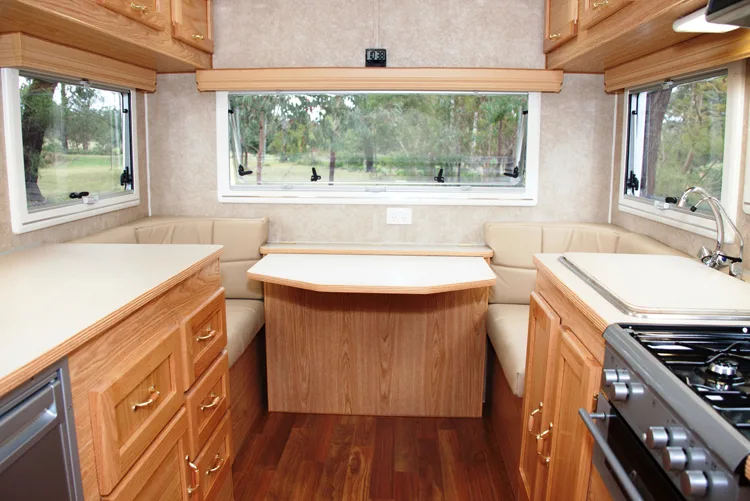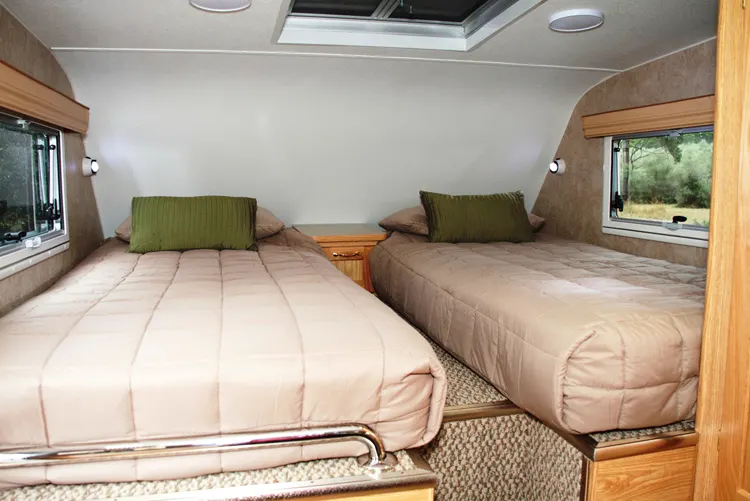 https://www.winjana5thwheelers.com.au/strzelecki-550/
What is the smallest fifth wheel trailer?
With only a small selection of Australian-made fifth wheelers to choose from, we can see that the Winjana Strzelecki is the smallest of them all. At only 19'5" it's the smallest one out there. 
Fifth Wheelers Australia
There are more fifth wheel Australia manufacturers that do make fifth wheelers that are longer than 25ft (which was the criteria for my list of SMALL fifth wheel trailers).
Here are a couple of other Australia fifth wheel manufacturers and importers you may want to check out.
Fifth Wheelers Australia
At Fifth Wheelers Australia, they specialise in the conversion of American 5th wheelers to Australian standards. You can see their current stock of new and used fifth wheelers on their website: http://5thwheelers.com.au/product-category/fifthwheelers/
Aussie Roadrunner RVs
Based out of Brisbane this company doesn't have a website loaded with different models… because they custom build for you! Designed on your specifications and requirements. Check them out here: http://www.aussieroadrunner.com.au/fifth-wheelers/
Trailblazers RV
These guys have some pretty awesome looking fifth wheelers. They look tough and modern, and they are completely custom built. Check out Trailblazers RV here: https://trailblazersrv.com/
Spectrum RV
One of the models they manufacture (they say it's designed in Australia and built by an Australian company in the USA) is the Sands model. Check out the Spectrum RV Sands model here.
Just a heads up about Spectrum RV… it seemed a bit odd to me that this company proclaims to be Australian made but in the USA, and they didn't have the regular 'About Us' information, and that the photos all appear (to my untrained eye) to be photoshopped. A google maps search shows that their address is the Mitre 10 in Burleigh Heads(!), however, next door appears to be an RV holding yard … or something.
British Fifth Wheel Trailer
Fifth Wheel Co Dreamseeker
I've included this Dreamseeker by the British brand the Fifth Wheel Co just as a comparison to what we have available here in Australia. And since we import a lot of caravan from the UK it may be possible to import this one if it really takes your fancy.
The Dreamseeker is a petite 24'11" and manages to fit in a full (walkthrough) bath and a sofa as well as the dining area. That slide sure does open up the space in there.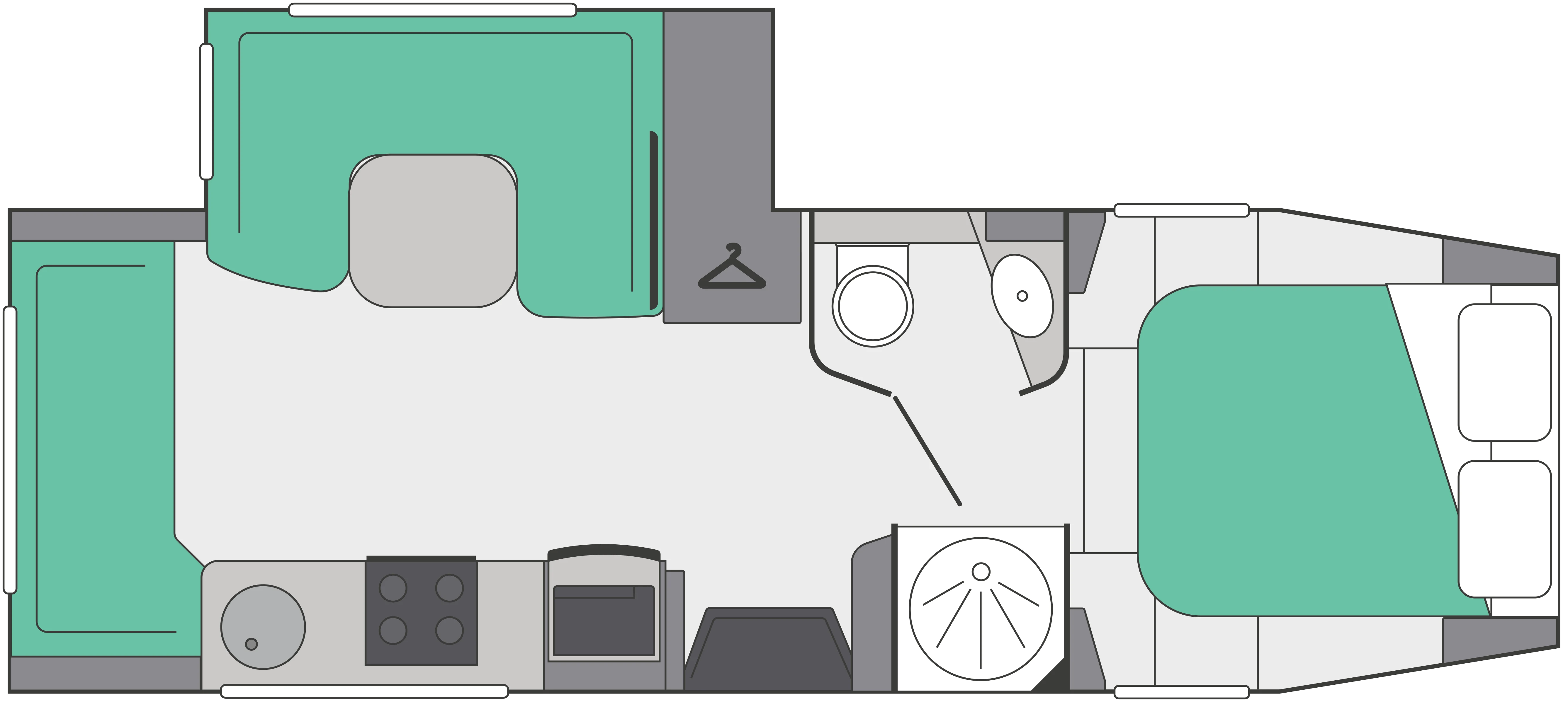 http://fifthwheelco.com/dream-seeker/
North American Small Fifth Wheel Campers
I was only able to find 3 fifth wheel trailers from North America that fit into my small category (but there are bajillions of fifth wheel models over 30ft) so I've included them below if you wanted to check them out.
I'm also being a bit 'tongue in cheek' here, adding them simply so you can compare the interior decor of these brand new fifth wheelers with the interior decor of what you can get here in Australia.
I have to say, even though we may not always like what our Australian manufacturers decide is nice design, it is a far sight better than what they get in most North American trailers.
90% of brand new RVs coming off the lot have awful browns and swirls that come straight out of the 90's. Some of them look hideous!
The Escape 5.0TA
This 21'2" fibreglass fifth wheel from Canadian company Escape Trailer Industries.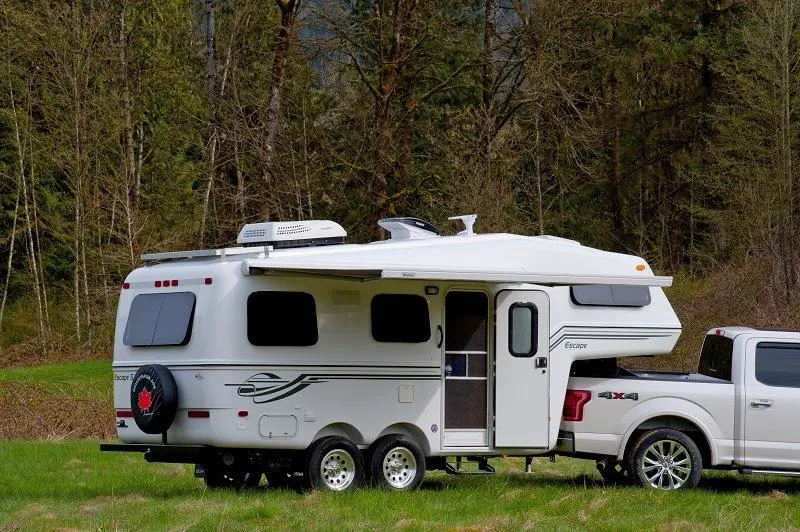 The layout packs a punch with everything that they fit in there, and while it's not my favourite layout, it does have everything you need… as long as you're cool with a wet bath, of course.
A brown interior though. <sigh>
http://escapetrailer.com/trailers/the-5-0-escape/
KZ Sportsmen
This is the 'smidge over 25ft' fifth wheel from KZ which comes in at 25′ 3″. It's the smallest of their fifth wheel range but has all the bells and whistles that we have all come to expect from the much larger rigs.
I really like the layout with the kitchen on the back wall, it makes the most of the entry being straight into the kitchen, rather than having a separate entry area. This rig fits in everything I could want in a home, and nothing more, keeping it short and probably light.
But it makes my poor heart sore with sorrow to see all that brown decor. I hate it with a bit of a passion and it seems such a waste when it's a brand new RV though. I'm pretty sure I'm preaching to the converted here, so I'll try not to go on too much about it. #istillhateitthough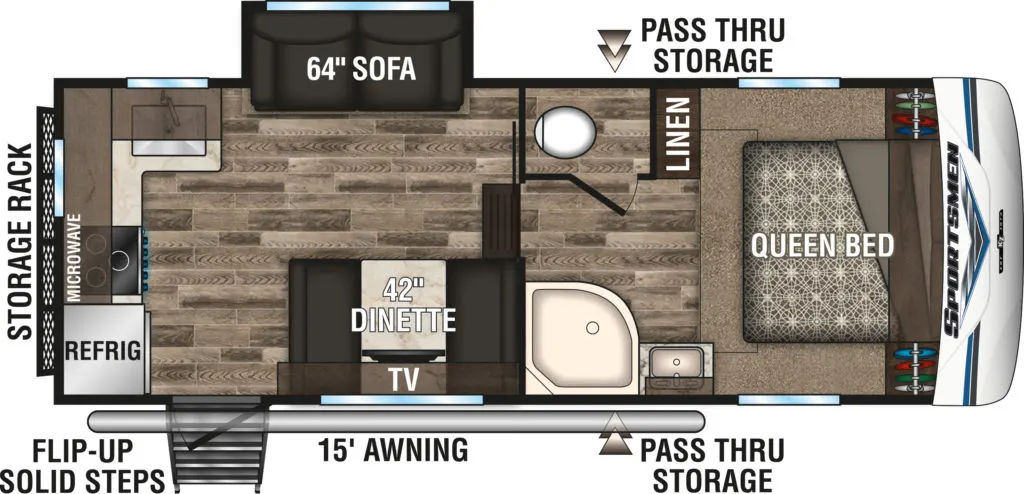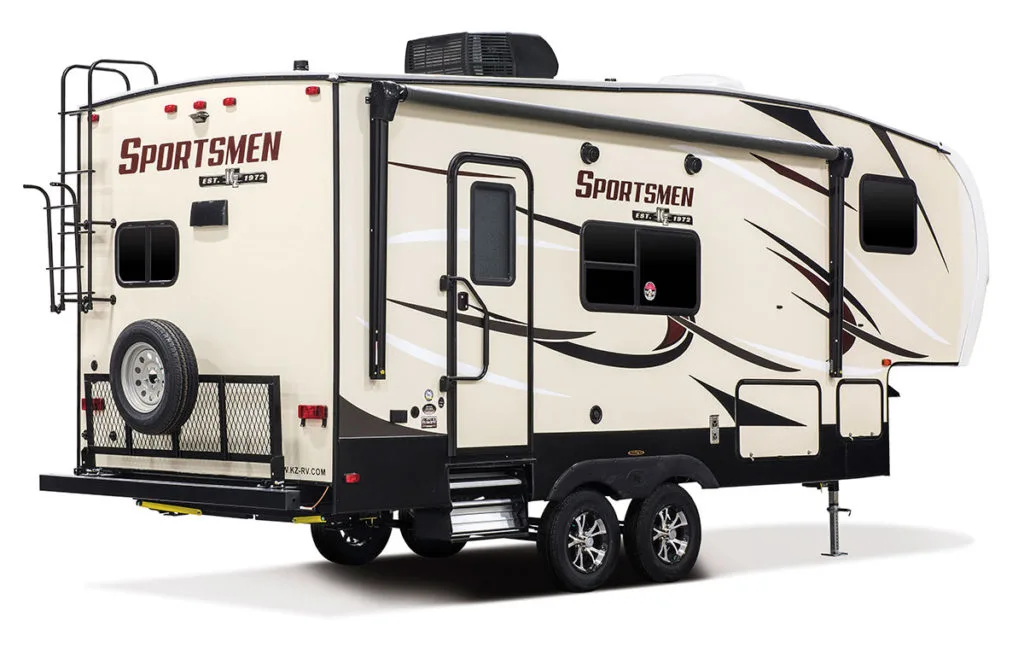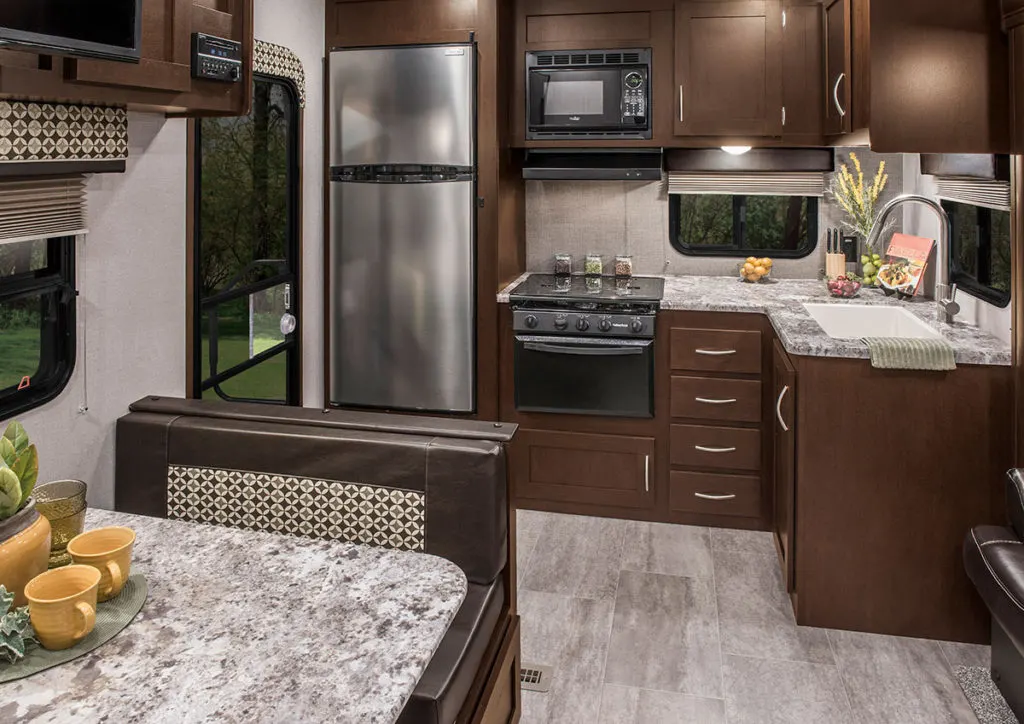 https://www.kz-rv.com/products/sportsmen-fifth-wheels/
Scamp
You know we couldn't go past this one, right? Another fibreglass fifth wheel, the Scamp already has the 'small, light' niche covered.
At just 19', it is the smallest of the small fifth wheel campers; but thankfully, it still manages to fit in a small wet bath.
Everything is downsized, as you would expect, but that's what you get when you want small.
But… boy is she ugly! I know that beauty is in the eye of the beholder, but… just look at her! There's something about the shape, and the uneven roof and the sticking out awning, that just make it look unbalanced and, well, odd.
And I gotta admit, the interior ain't much better either. More brown, but at least it's a lighter brown?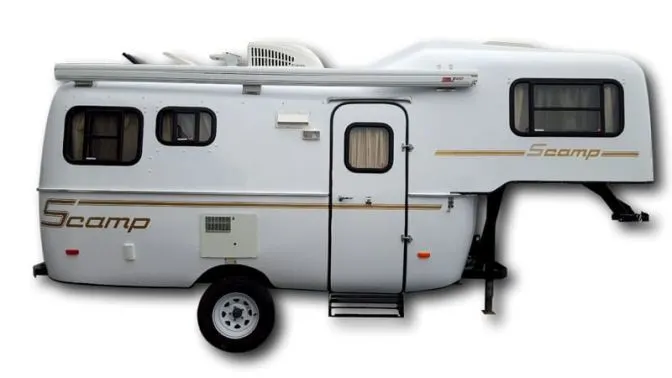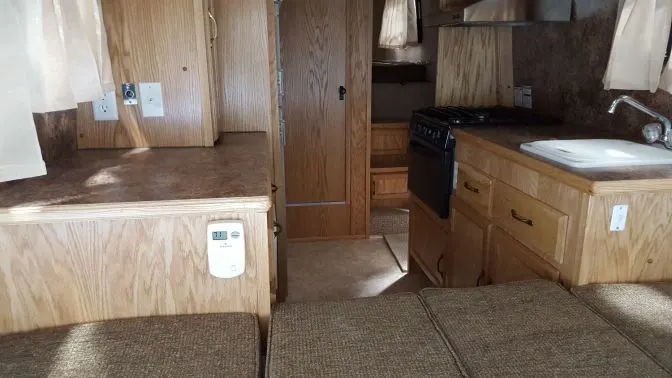 https://www.scamptrailers.com/showroom/19-deluxe-trailers/19-deluxe-trailer-layout-a.html
Australia is the land of the caravan, but it's not too much of a leap to go to a fifth wheeler.
What do you think? Is a small fifth wheel trailer something that you would consider for travelling around Australia?
Save these small fifth wheel campers to Pinterest