Whenever you see all these people travelling around Australia, living a life of travel and freedom, surely the number one question that comes to mind is: how can these people afford to live like this?
And how can I do the same?
It was certainly the most important question at the top of my mind.
Sure, I love looking for the perfect caravan or camper van for our travels.
And there's lots of helpful information about how to fit out your rig comfortably.
And it's so exciting to research all the places that we would visit in our new life of travel and adventure.
But none of that matters if you don't know how you're going to pay for a life on the road.
When we set off to travel Australia, we saved up enough to pay for our car and camper trailer; and enough to cover our living expenses for about 6 months.
That's what most people seem to do.
But what if you want to go for longer than just six months?
Is it feasible to save up, say, 2 years worth of living expenses?
Or do you need to make money while you're travelling?
For us, making money while we travelled was the only way we were going to make this lifestyle work.
Stopping to work
For the first 2 years (2018-2019) we needed to stop for work. To be honest, when our savings ran out after the first 5 months, we basically just worked for 2 years. One year in Dubbo and then another year in Maitland (NSW).
We worked in the areas that we already had experience. That included office admin work for me, and truck driving for Ben.
If you think that stopping to get work is what you'd like to do, our friends over at All Around Oz have a comprehensive post on How to find work when travelling Australia. 
Online Income
But our goal has always been to earn an income online. 
Initially we just wanted to be able to work from home, but as we found this caravanning lifestyle, it became more and more about being free to travel wherever and whenever we wanted, while still earning an income.
We've been pursing lots of different online businesses for years (!) but this is how we've finally found some success:
Virtual Assistant work – I (Michelle) offered my office admin experience as a virtual assistant. I highly recommend this avenue for anyone that has some admin/computer experience. It's the quickest way to get into generating an income online. I've written about how I got started and tips for anyone else wanting to get into virtual assistant work.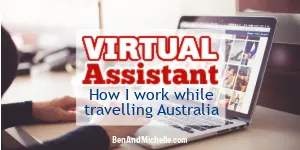 Blogging/Content sites – now our blogs (or more accurately, content sites) have grown to the point where they are generating enough income to enable us to be on the road full-time and travel wherever we want.
If you would also like to pursue blogging as a way to make money, I'm happy to share our experience.
As a first step, I recommend that you read our post on starting your own blog
How OTHERS make money
We've interviewed other bloggers who are travelling around Australia in their motorhomes/caravans about how they fund their nomadic lifestyle: