Why AirBnB on a road trip around Australia?
The appeal of travelling around Australia in a caravan or motorhome has been very strong in both Ben and I, for years. 
We couldn't afford the caravan that we would really have loved to get, but we didn't wait until we could; we bought a camper trailer, and hit the road in that.
We loved road tripping around Australia so much that we decided to 'upgrade' to a caravan. (Not much of an upgrade TBH… it was a 40 year old pop-top.)
Then COVID hit, and living in a 14ft caravan with no bathroom, became quite unappealing.
We looked at upgrading our caravan, but getting something with a bathroom, and large enough for us to both comfortably work at our computers every day, was getting pretty pricey.
So we thought we'd treat ourselves to a month in an AirBnB.
Our first AirBnB was awesome, with two bedrooms, plus a loft, newly renovated kitchen; and a bathroom, where we didn't have to put shoes and a jacket on to get to!
We loved it, and decided to give caravan life a rest for a little while. At least until this virus stuff was over, anyway.
We'll go back to it, but I'm thinking of a campervan next… so that it's easy to park at AirBnBs!!
The biggest question about travelling around Australia and staying in AirBnBs
How can we afford to live in holiday homes full-time?
Of course, this lifestyle is only possible if  you work online (us), or are independently wealthy (definitely NOT us).
We've written about how we make money online here, so you can check that out if you're interested.
Cost of living in AirBnBs
So let's first talk about the costs of this lifestyle, as I'm sure it's the number one reason why more people don't do it.
We have set a budget for ourselves of $2,000 per month (4 weeks). Our preference is definitely to come as far under that as possible, but we will go higher if we think it's worth it.
In the 8 months that we've been staying in AirBnB's our costs have been:
Month 1: $1,200
Month 2: $1,200
Month 3: $1,750
Month 4: $1,650
Month 5: $3,000 !!
Month 6: $2,600
Month 7: $1,600
Month 8: $1,500
All have been at least one bedroom (no studio stays yet) with a full kitchen and a washing machine. We only stay in places where we have the entire place to ourselves.
We always try and stay in places for at least 4 weeks as this is when massive discounts come into play.
And I mean massive.
It's not unusual for there to be a 40% discount for stays over a month. Stays over a week are often discounted by 10% or so.
$500 / week in rent is not too bad, in my opinion.
If you're from Sydney, you'll probably agree. If you're only paying $200 rent, then you probably think we're crazy. 
But here's the other things that we don't have to pay for, that you probably do:
Bond
Electricity (so we use that air-con or heater as much as we need)
Furniture
Appliances – and getting them fixed when they break
Wi-fi
Food costs remain the same – we always get places with a full kitchen so we eat the same as we always have, and cook at home 90% of the time. The only thing I can't really do, is take advantage of buying in bulk.
We never pay for double accommodation – this one is a biggie IMO. When most people go on holiday, they have to pay for their holiday accommodation, while still paying their rent at home.
We're only ever paying for one place at a time.
So while it may seem that staying in AirBnB's is expensive at first, it's actually quite cost effective for us.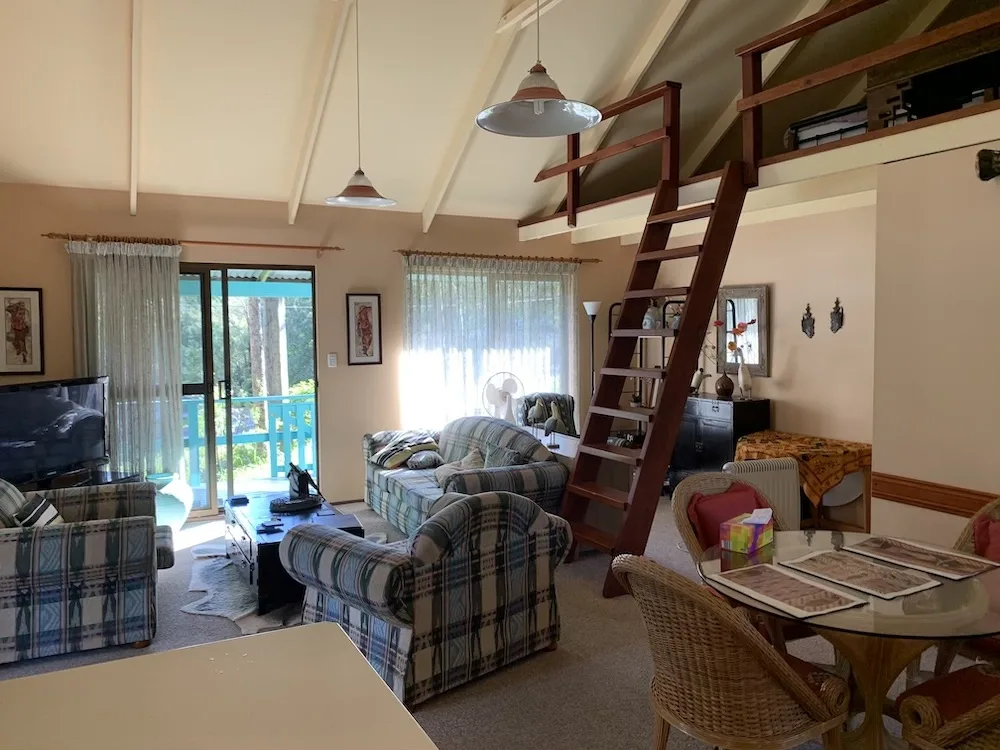 Availability
There are loads of AirBnBs in Australia. I admit, we've only been on the East Coast so far, but a quick search on the site shows us there's lots around Australia, mostly centred around the cities, of course.
There's just two of us, so that makes it easy. Availability for larger groups could make this more difficult.
You'll find that in the cities there is a) a lot more availability and options, and b) it's cheaper.
Smaller towns have been priced (surprisingly, to me) a bit more expensively.
Holiday towns are great value in the off-season. We avoid them like the plague virus, during peak.
We found a couple of the holiday towns didn't have much availability on AirBnB, which was surprising. But then realised that these places had lots of availability on other holiday accommodation sites, like stayz.com.au and local real estate agents.
We don't limit ourselves to just AirBnB, we'll do a google search to see where we can find the best value.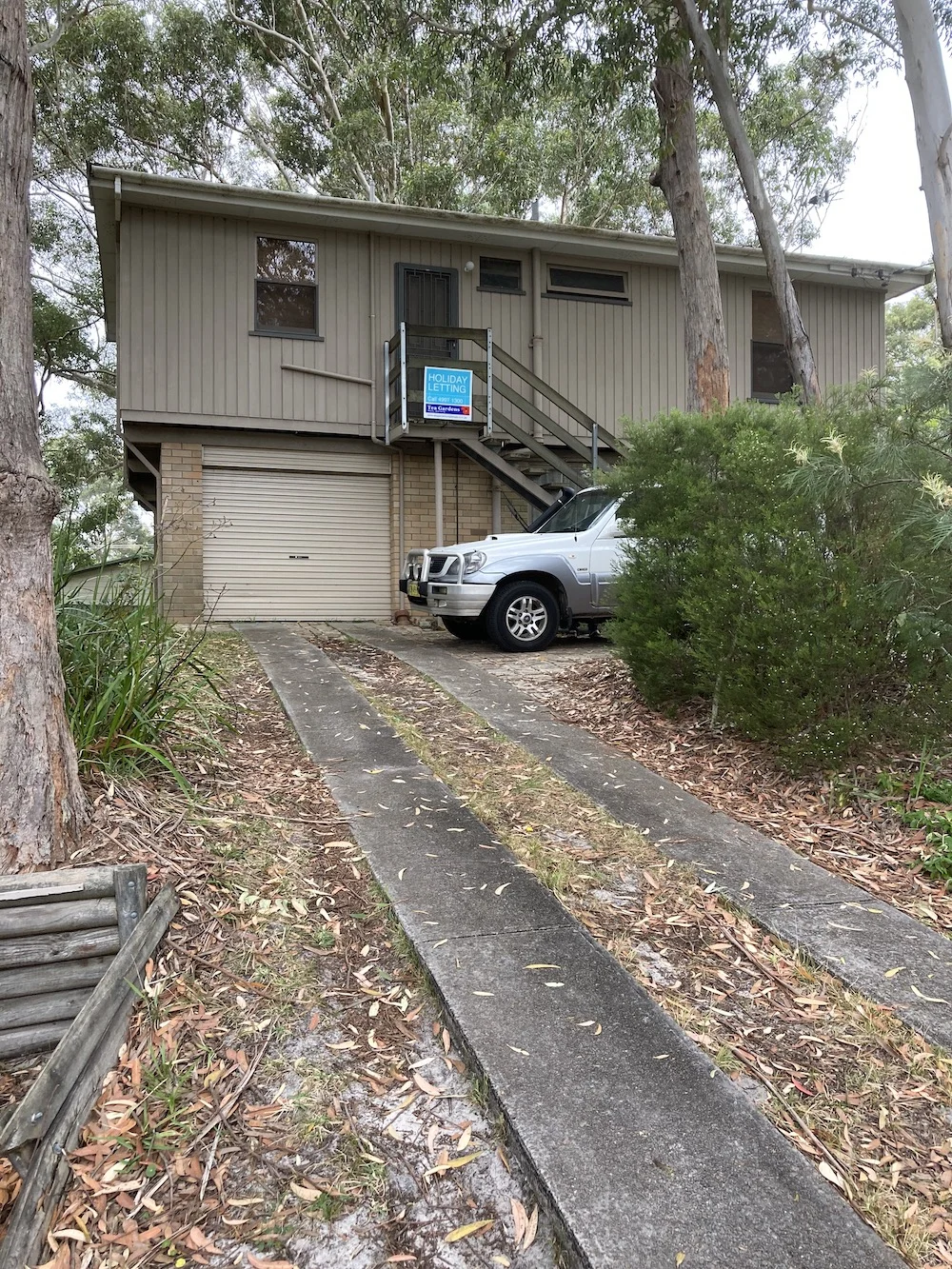 Amenities
What we love about staying in AirBnBs, above any other type of temporary / holiday accommodation, is the ammenities that they have.
Rather than just a hotel or motel room, you get a full house or apartment.
Here are the things we like to filter for our selection:
Must have the entire place
Parking
Full kitchen
Washing machine
Internet – we don't need free wifi (but it's nice), however we've gotta have good Telstra reception so that we can work.
This one is a little hard to determine as it's hardly ever stated on the listing; but we do read all the reviews to see if anyone has mentioned poor reception. 
Air-con in the summer months
We'll always look for listings that say no pets, no smoking and no parties.
Packing
With this type of lifestyle, you do have to be a bit flexible.
You don't always know if the pillows are gonna be too fat, they don't have a decent frying pan, or they haven't provided a dish cloth.
So we have a selection of household items that we pack. We already had all this stuff, so we didn't buy anything new, we just brought them from our caravan.
It includes linen, kitchen utensils and pantry items. If you love organised packing, I'm writing up a post about it now, and will have it linked here when it's published.
You probably don't NEED all these things, and could just turn up with our suitcase each. But having them means that we don't need to spend any extra on having linen supplied and we can cook at home any time.
For personal items, we have one suitcase each with all our clothes, and a box of all our shoes.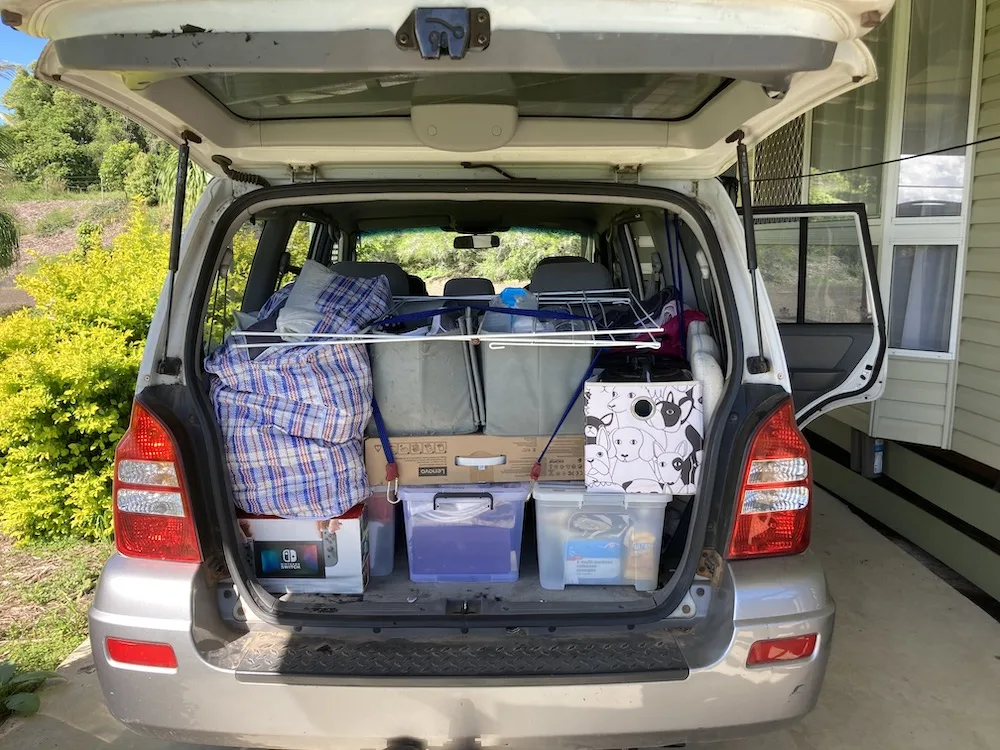 The UPSIDES of travelling Australia staying in AirBnBs
And here's some more of the benefits of living this way:
Some of the places we've stayed have left us a welcome prezzie. We've had bottles of wine, chocolate and bags of sweets.
We get a perfectly clean house every month (we do clean while we're there, but not like the big clean that gets done between guests)
Don't ever have to do lawns or gardening
Don't ever have to fix anything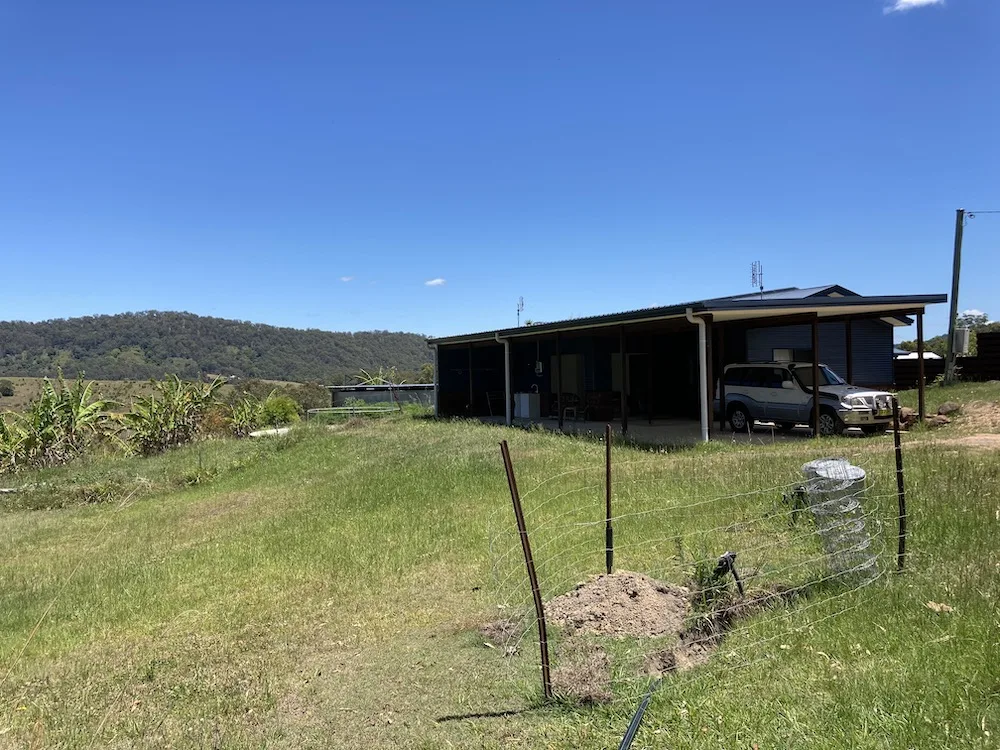 The DOWNSIDES of AirBnB'ing
Let's be realistic, there are some downsides…
The AirBnB refund policy is stupid. 
Cancel before 2:00 PM on your arrival day and get a full refund, minus the first 30 days and the service fee.
Which means that you get ZERO refund. Unless of course, you book and pay for more than 30 days.
But who does that?
You're at the mercy of the AirBnB owner. They can cancel your booking at the last minute and sure, you'll get your money back, but then you've got to scramble to find accommodation at the last minute.
I've seen this mentioned by others, but it hasn't happened to us. 
I'm hoping that booking a month at a time makes it very appealing for the owner, and they're less likely to cancel our booking.
Sure, they're renting it out at a discount, but they've got 100% occupancy for that month and they don't have to clean or restock anything for the entire month.
Internet
Not every place has wi-fi, so we're reliant on our phones for internet. We do have pretty big data plans now (200Gb per month between us and then it's slowed down) but we do need to be conscientious of our usage.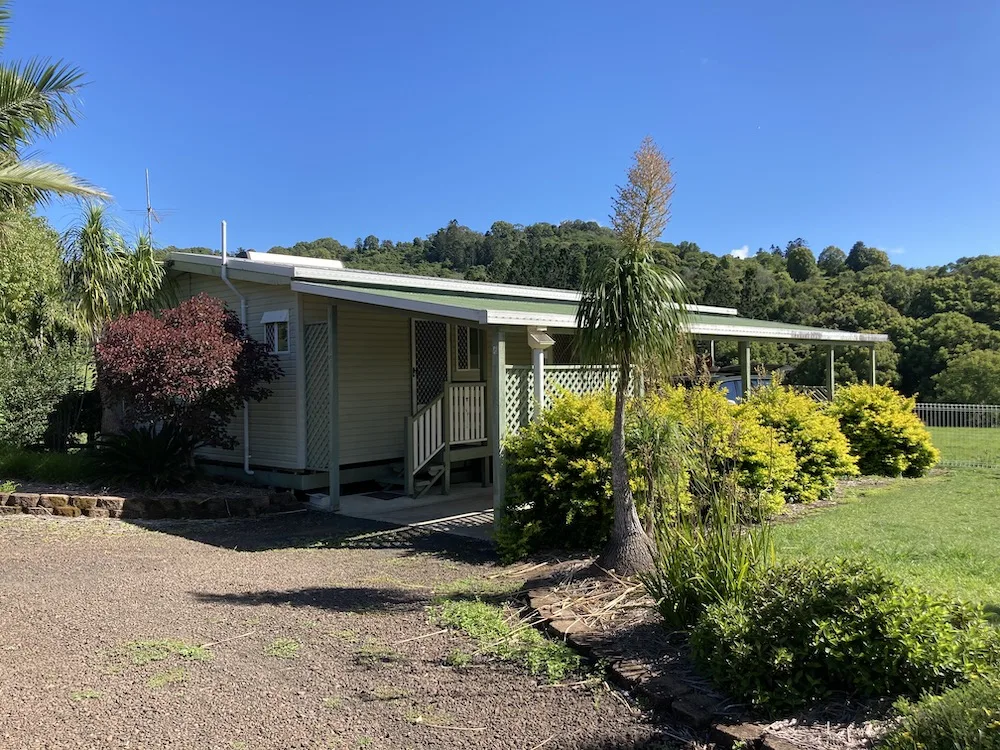 Storage
There's no where to store extra stuff ; everything we own fits in our car so we have to be conscientious about all our possessions and purchases.
There is no room for things we think we might want to keep; and sentimental items are minimal.
When we first moved from our caravan to staying in AirBnBs, our car was packed to the gunnels! But we've refined our possessions over the months and we now think that we're mostly only carrying the things we need. (I'm sure we could cull more, but it's Ben's stuff that I'd cull, not my own!)
How we can afford to travel Australia full-time
I don't think that living in AirBnBs is more expensive than paying rent. And from out costs section above you'll see that we don't have to pay all those other expenses of life like electricity.
But another factor that helps to keep our costs down is that trendy new phenomenon called 'minimalism'.
We only have the things that are useful and important to us. We cannot get suckered into the spiral of consumerism, nor can we indulge in retail therapy.
We spend less on 'stuff', than we used to. 
Of course, living this way is only possible if you don't have a 'normal' job where you have to turn up to a specific place 5 days a week.
We've been creating an online business for a couple of years now, and it's starting to generate a good income for us. If you're interested in what we do, I've written a post about how we make money while travelling Australia here.
How can you live in AirBnBs around Australia too?
As long as you don't have to go to a regular job, you should be able to do this too.
I think one good thing to come out of this whole covid situation, is that many businesses now appreciate how possible it is to have their employees work remotely.  
If you're in that situation, I think that's your biggest hurdle (income) overcome.
Of course, this isn't right for everyone. You may have family or other commitments that keep you in one place.
But if you're wanting to hit the road and travel around Australia, but don't want to do it in a motorhome or RV, this may be the solution for you?
If you want to give AirBnB a try, you can get up to AUD$90 off your first booking.
Save 'Travel around Australia AirBnB' to Pinterest