Last year I wrote a post explaining how we make money in Australia while travelling in a caravan.
I thought it might be time to give an update on how we're funding our travels … mainly so you get a clear picture of what this lifestyle is like for us.
It's certainly not the Instagram-perfect lifestyle that others seem to be able to achieve. But that's okay. This is our story.
They say that when you write a blog you should write about the things that people want to know about the most.
The question I see most often is, "how can you afford to live like this?" or some variation of that.
(Side note: NO ONE asks US that exact question, because we don't live lives that others aspire to. I mean, we live in a teeny tiny caravan that's 40 years old and has no bathroom!)
But the point is, people want to know how they could up-sticks, buy a caravan, and spend the next few years travelling Australia.
If you've retired rich, are independently wealthy, or a trust fund baby, this post isn't for you.
For everyone else that's wondering how other people are funding their travels, here's how we're sorta doing it.
How we fund our lifestyle
First up, what is this lifestyle that we speak of?
Our ideal lifestyle is to:
Be able to travel around Australia with our caravan whenever we want,
Travel internationally for extended periods of time, and
Have a home base somewhere in Australia or NZ (yup, we still don't know where),
For us to be able to travel (number 1 & 2 above), it's imperative that we have an income for ourselves that is not reliant on us working at a job in one place. i.e. an online or passive income
We don't have a home base yet, so number 3 will be something we work towards after we've got 1 & 2 sorted.
So while we're working on generating online income, this is how we make money…
Ben works at a real job
Ben's a truck driver and has a casual job delivering building supplies all over the countryside. It's casual, but full-time, and he usually does more than 40 hours per week.
Michelle works at a real job… sorta
I (Michelle ) am the after-hours caretaker at the show ground where we're staying. Basically it just means that I register anyone that wants to camp here but arrives after the office has shut.
We get free rent plus a little bit extra (a very little bit), but the main perk is that we can stay in our spot behind the maintenance sheds all the time. We don't have to move when there are special events on, and we can even stay here when the whole park is closed to camping.
It's a great convenience for us and probably the biggest perk of the job.
Online Income
Building our online income is our current priority.
Sure, we'd love to not have to work at all, but until that time, we're building our online income through:
Blogging
We have two blogs that we try to post to regularly. This one, and RVObsession.com.
RVObsession has ads on it and *affiliate links. It currently earns us approx. US$400-500 per month.
Once I get enough traffic to BenAndMichelle.com, I'll also be adding ads here to try and bring in some income.
*Affiliate links are links to products, if you buy anything from that retailer then I get a (very) small commission from that sale, but at no extra cost to you.
Virtual Assistant Work
I currently have 2 clients that I do work for.
A blogger in the USA who is actually in the same niche as me. I look after her Instagram account and it's now at 65K followers. I was doing 20 hours a month for her, but we've scaled back the Instagram recently until she figures out exactly what direction we should take it.
View this post on Instagram
Being in the same niche makes it easy because it's obviously a topic I'm obsessed with! 🙂
And I also do some work for a motorhome manufacturer here in Australia. I write articles for them and also run their Pinterest account.
Secret squirrel way we're trying to make money online
There is one more way that Ben and I are attempting to make money online.
I'm not gonna talk about it yet because we're still in the learning stage. We've sunk maybe a couple of grand into this venture so far, and if it pans out I'll write about it and post a link here. (Nothing to report yet…!)
So at the moment we're certainly not making enough money to cover all our expenses; that's why we have to stop and take regular jobs.
We save up for 9 months and travel for as many months as that lasts.
As our online income grows, we can use less and less of our savings to fund our life, and spend more and more time on the road.
Well, that's the plan anyway.
Do we reckon you could make money in Australia doing the same thing?
Yes.
Of course you can do this too! But you'll likely find different (and better!) ways of making money. This is just what we're doing, so we can only comment on these.
Blogging
Blogging is a great way to create an online income, if you love producing content.
And I mean LOVE producing content.
'Producing content' is things like writing posts (lots and lost of posts) making videos, creating graphics for social media and Pinterest, writing email sequences, creating products tor opt-ins, writing courses, doing podcasts and so much more.
And you have to do all this work with no clear expectation of when your blog will be making money, nor how much.
But, once your blog is established, it is possible to step back from it a bit if you need or want to, while it still generates income. Or you could employ other people to produce the content for you.
For me, it was also the way that I was able to get noticed by others in my niche and now I work for them as a virtual assistant.
Virtual Assistant
If you want to hit the road soon, and you really need to get an online income sorted out pretty quickly. Then I would highly recommend working as a virtual assistant.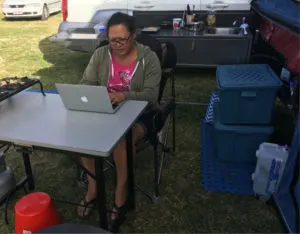 Virtual assistants do almost anything.
As I mentioned earlier, I look after one bloggers Instagram account, a motorhome manufacturers Pinterest account and I write some articles every month.
But it could be almost anything.
As long as you don't have to go in to a specific office to do your work, then consider providing it as a service as a virtual assistant.
If you're a bit stuck as to where to start, I recommend checking out VirtuallyYours.com.au. They have a plethora of information on there to get you started, explain the ins and outs, help you get clients and more. It's not all free, but A LOT of it is, and the paid options are well worth the money anyway, IMO.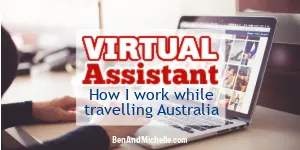 Next steps
The next steps for us are that we're going to hit the road again at the end of November. We've been saving up hard for the last 9 months, so we'll live off our savings plus the little bit of online income we already generate.
As we travel we'll continue to work on generating online income. The big focus for me is creating content for our two blogs to increase the ad revenue and affiliate income. Bens main focus will be on our secret squirrel plan. (I don't mean to be all coy about it. True. I just don't want to talk about it, or be judged about it, until we've proven it works for us first.)
If it all turns to custard and we still can't pull finger enough to generate a sufficient online income … no worries, we'll just stop somewhere and get jobs again.
What about you? What are your next steps?
Are you trying to figure out how to make money so you can travel Australia too?