This is the post where we talk about money.
I'm not gonna lie, it's an uncomfortable topic because, well, I don't want to be judged for how much money I do or don't have.
But there were a couple of people online that shared their numbers for travelling around Australia, and it gave me a really good idea of whether I was on the right track or not.
So in the spirit of helpfulness (?) I'm gonna show you what our budget looks like.
Our New Zealand departure date is scheduled for around mid-August and we're giving ourselves about two weeks to find ourselves a vehicle and a camper trailer. We'll be packing up our lives here in New Zealand, selling or giving away anything we can and dumping the rest. We rent so we don't have a house we need to get sorted or anything like that.
We need to factor in flights and campervan rental in Australia for the first two weeks so that we can get around and look at all the 4WDs and camper trailers that we'll have lined up.
Australia is expensive
For any international readers out there: if you haven't heard this already, Australia is expensive. Food, fuel and accommodation is EXPENSIVE. Well, according to international visitors it's expensive. New Zealand is no better, so thankfully for us, there's not going to be any sticker shock once we get back to Oz. But there's still no denying that Australia is expensive. Tours are expensive, eating or drinking out is expensive.
But… camping is not expensive, that's why so many of us do it. Here's some other things that aren't expensive:
• Million dollar views are free. FREE! And often uncrowded.
• Friendliness will cost you only a smile.
• Waking to the sound of the kookaburra's laughing is cheap camping… but may cost you a deflated air mattress and a sore hip.
• The confidence gained from solving a problem is (in my opinion) priceless, but may cost you the price of a tyre repair and 7 hours on the side of a quiet road.
• A cold bevy after setting up camp is super-cheap at about three dollars (if you buy it from the supermarket) and you don't have to get dressed up or even put on shoes!
Hopefully, by sharing our numbers you'll get a sense of what it costs here.
Enough wiffle waffle, here's the numbers all in Australian dollars: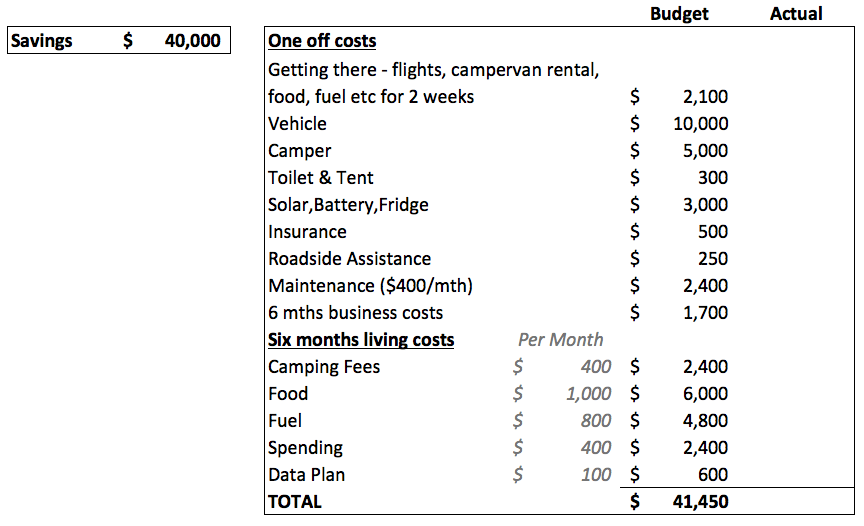 When we embark on this trip I'll come back and fill in the Actual numbers. I can't wait till I can do that bit!!! 🙂
This is for six months on the road, and I'm sure you'll note that what we have saved up, is less than what we'll need. So there's going to be a bit of compromising going on.
As I've mentioned in Our Ideal Set-Up post, we will go with less i.e. a cheaper vehicle, a tent instead of a camper trailer or an esky instead of a fridge, rather than eat into our six months of living expenses. The whole idea of this trip is to get us on the road for at least six months, if we have to do it in a beat up old Holden with a tent in the boot, then I will still be happy. As long as we hit the road and go on the adventure!
How To Set Up a Budget
I'm kinda lucky that I quite like doing budgets so we've got one for our everyday life that gets reviewed every month. All I did was to take our current monthly expenses and see which of them would still apply when we're on the road, and then brain storm for any others that would be new expenses to us.
Rent – would be camping fees instead. Consider whether you'll be mostly in caravan parks or trying to free (or cheap) camp as much as possible.
Food – we'll still eat the same amount as we do now so that shouldn't change too drastically. Having lived in Australia previously we know that the food prices are reasonably similar.
For any international readers, I would suggest taking the time to go through a regular weeks groceries and jumping on to an online shopping site like shop.coles.com.au to price each of the items. It's a time consuming exercise for sure, but it will give you a really good idea of  what you should budget for.
Fuel – it's gonna be a lot more, I mean we are driving around Australia. I guessed this one a bit but I did find a MUCH better way of calculating this and I'll link to it at the end of this section
Electricity – will now be zero as it's covered in the nightly rate at caravan parks, or our battery system with solar will cover our needs
Phone / Internet – I've read that Telstra has the best coverage Australia wide so I went to their website and looked up the costs for pre-paid mobile and data. I just chose the biggest plan which is only $50 per month… and I doubled it because, while we'll only have one phone, I think we're going to chomp through the data.
Spending – yeah, this one is a total guess. You'll need to think about what kind of travel you enjoy. While we love a good tour or attraction or night at the pub as much as the next person, we also get a lot of joy from a bundle of newspaper-wrapped fish and chips while sitting on the beach. If it happens to include a glass of Veuve Clicquot then you'll find me in a world of happiness!
You'll need to factor in museum or attraction visits or any of the we're-only-here-once-so-we'd-better-do-it visits. You know, things like swimming with whale sharks, a scenic flight over Uluru or a sunset cruise on Sydney Harbour. If there are must-dos on your list, then I would find out the price of each of those attractions and add them to the budget.
Other factors – Keep in mind that you will need to factor in other things like debt that you may need to keep paying, charitable giving or other expenses.
One of the best tools I've seen for figuring out your monthly expenses has been created by Steve over at Expedition Australia. It's an Excel spreadsheet that he's set up to re-calculate based on the variables that you enter. I found his site after I'd done our budget and I was pretty pleased to see that my estimate wasn't too far off his. Except for fuel, I had waaay under budgeted for that (we plan to travel slow… but at the budget I had, we would be barely moving!) Head on over to Steve's site and grab his spreadsheet and check out all the other great info on his site.
One-Off Costs
We figured out these one-off costs by researching the heck out of all the things that we think we'll need. I suggest that you'll need to do the same thing. Especially if you're on a limited budget like we are.
Vehicle $10,000 – Have a look at sites like carsales.com.au and gumtree.com.au to see what type of vehicles are available and what price range they are. While $10k is on the low side for a 4WD vehicle, there are options open to us and if we go for something like the Hyundai Terracan then we'll be able to get a more recent model.
Camper trailer $5,000 – We actually came to the figure of $5,000 because we'd seen a brand new camper trailer at a show here in NZ and it was brand new at $6,000. After lots of research we realised that it was only $6k because it was a really basic model. We'd like a few more bells and whistles for our set up so we will have to buy second hand to stay within our budget. The main places we've been looking is caravancampingsales.com.au and gumtree.com.au.
Maintenance $2,400 – Yep, I guessed this one. Based on $100 per week for 6 months…ish. Oil changes, punctured tyres, ummm other stuff?
Solar, Battery & Fridge $3,000 – I'm really, really hoping that it's not going to cost this much. With a bit of luck we'll get a vehicle or camper trailer that's already got a dual/portable battery system. Wouldn't it be awesome if it comes with solar panels! I haven't seen anything that includes a fridge so we'll have to buy that, but that's only $1,000 of this total. I got a lot of really helpful information on the Australian Direct website.
Toilet & Tent $300 – This is for one of those pop-up shower tents and a porta-potti.
Insurance $500 – I just used iSelect.com.au to figure out what insurance would cost if I purchased one of the cars I've been looking at.
Roadside Assistance $250 –  through NRMA
6 months business costs $1,700 – we're going to keep this amount in our NZ bank account to cover things like hosting, domain name renewals and other business costs.
I've got this niggling feeling that I've forgotten something important, but I can't think of anything that I've missed. (But if you see any glaring omissions, please let me know!)
Making Money Along The Way
We only have enough money for 6 months of expenses… but we definitely want this trip to be for longer than that. 12-24 months is more like what we would like to do.
So how do we make the trip last longer?
Of course we can stop and work along the way. Ben can do any labouring type of work and I'm hopeful that I could pick up some temping work (in administration) for a month or two here and there. We're happy to do seasonal work or whatever is available.
But… and here's the big BUT… we would rather build an online income so that we can work as we go. Building websites, consulting on pinterest, setting up a drop-shipping business, making affiliate sales through our blogs… these are all things that we're steadily working towards before we head out on our big trip. When we start making money this way, I will definitely let you know, so that you can follow our example and do the same if you want.
Update Nov 2019: We've provided an update on how we're making money as we try and pursue this lifestyle.
Emergency Money
We do have some emergency money that we can use should it all turn to custard. We have credit cards of course, but we also have shares that we can sell but that money really is for emergencies only. Our first preference would be to stop and work rather than having to use credit cards or sell shares and leave ourselves with nothing. The emergency money is for if we write off the vehicle and we're stuck in the middle of nowhere with no money, no transport and no family.
So what do you reckon, do you think our budget is silly and unrealistic? What's your budget like, is it similar? I'd love it if you share your experiences so that we can all learn; and chances are that your experience will help some other newbie to get out on the road and see this beautiful country too.
Update: Five weeks into our trip and I've done a tally of all our expenses so far. You can check them all out on this post and see if we have been able to stick to our budget.
Save this to Pinterest