A Toyota Coaster makes a wonderful motorhome conversion. 
It's a step up from a van, in regards to space, since it's longer and taller. But not such a huge step as to be driving a massive motorhome.
Today we're having a look at the 2002 Toyota Coaster that's undergone an amazing transformation by the talented Samantha and Herb.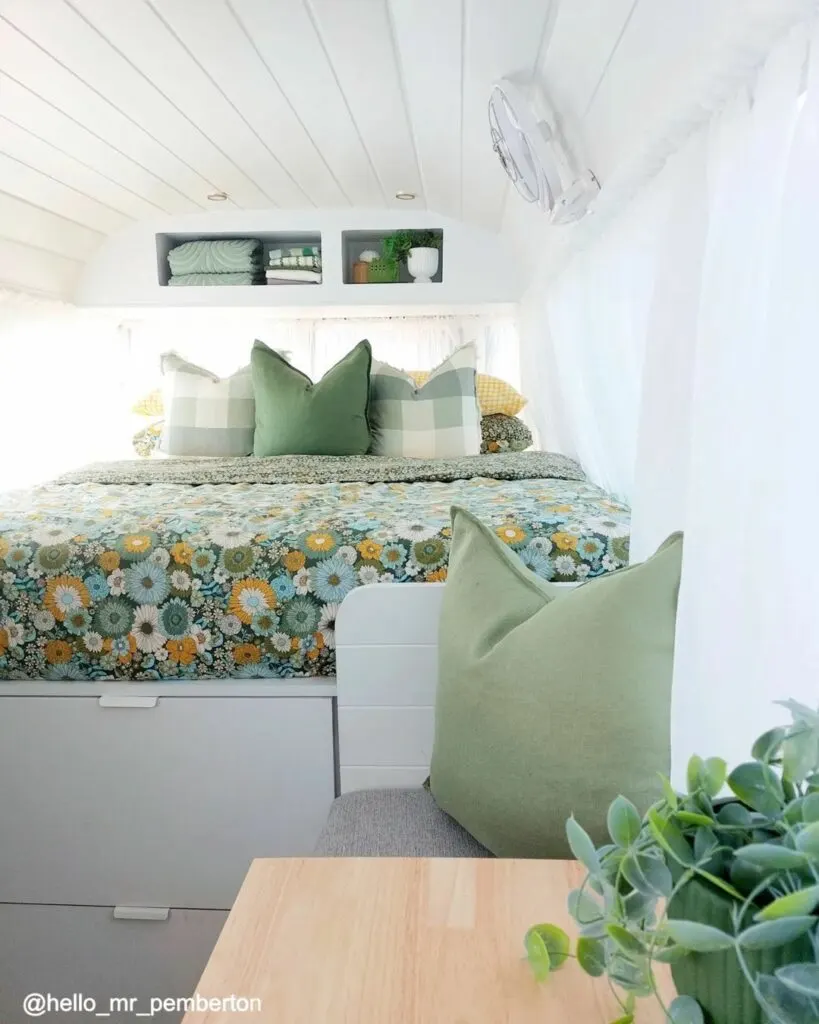 But before we get into that, let's look at why you would convert a Toyota Coaster in the first place?
Why would you convert a Toyota Coaster?
The Toyota Coaster is a 22 seater bus, but when you compare it to the size of a van, you can see that it's only a little bit bigger. 
But I think the factor that makes it so ideal for a motorhome conversion, is that it's more 'boxy' with straight/vertical walls. And with the driver sitting further forward, there's more internal space.
Below I've grabbed screen shots comparing the dimensions of a VW Crafter LWB to a Toyota coaster, and you can see that there's not that much difference between them.
Yet a Coaster just seems so much roomier.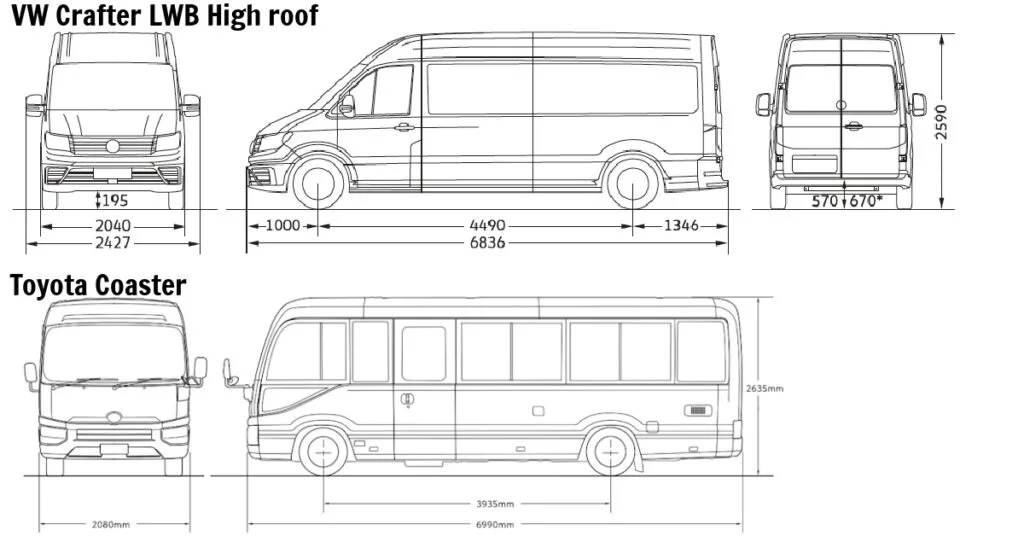 Also, I'm presuming that because the Toyota Coasters are typically used as buses, they're often on a good maintenance schedule, with good records.
And if you're after a light filled home on wheels, the Coaster has loads of windows!
I'd love to see a Coaster and a van side by side in real life, because the Coaster seems to have HEAPS more room, but the measurements are telling me that it's only a little bit bigger. I'd like to see it for real.
Makes and models similar to the Toyota Coaster 
In Australia, the only other small buses we have that are similar to the Toyota Coaster are the:
Mitsubishi Fuso Rosa
The Mitsubishi Fuso Rosa come in a 22 seater and a 25 seater version that looks very similar to the Coaster, but is longer at 7730mm.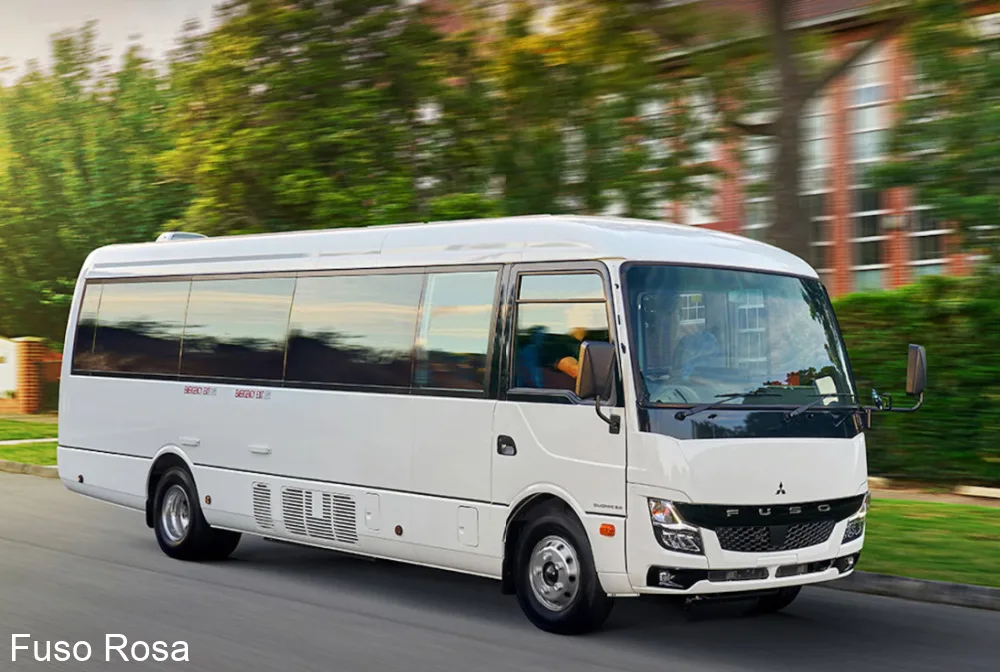 Iveco Daily Minibus E6
The Iveco Daily Minibus is also a 22 seater minibus, but again, it's longer (7515mm) than the Coaster. 
Introducing Mr Pemberton
Where have we seen Herb and Samantha before? 
You may remember one of the vintage caravan renovations I wrote about last year. We did a feature on Restoring Hunter, a 1973 16ft Viscount Royal, and I probably mooned over him a little bit (okay… a lot), but he just looked so amazing.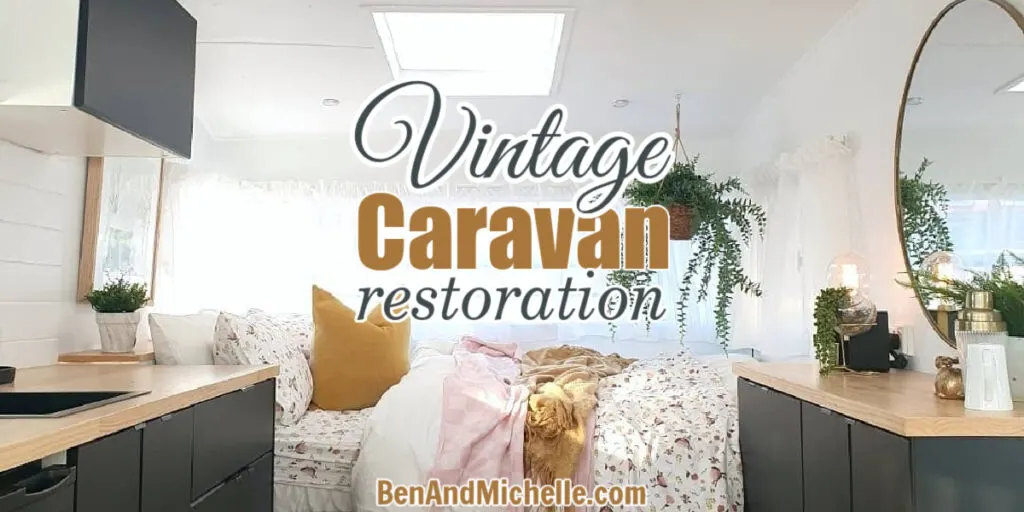 Well it was Herb and Samantha that created Hunter.
You can see from her work on Restoring Hunter and Mr Pemberton below that Samantha has a gorgeous sense of style and her interior decor is stunning. She seems to have this knack for a picking a colour palette that is easy on the eyes and pairing it with pops of colour and texture, all while being unique and different from the plethora of decor inspo all over Instagram and Pinterest.
So… enough of the words, you came here for the pictures, right?
Toyota Coaster Motorhome Conversion | Before and After Photos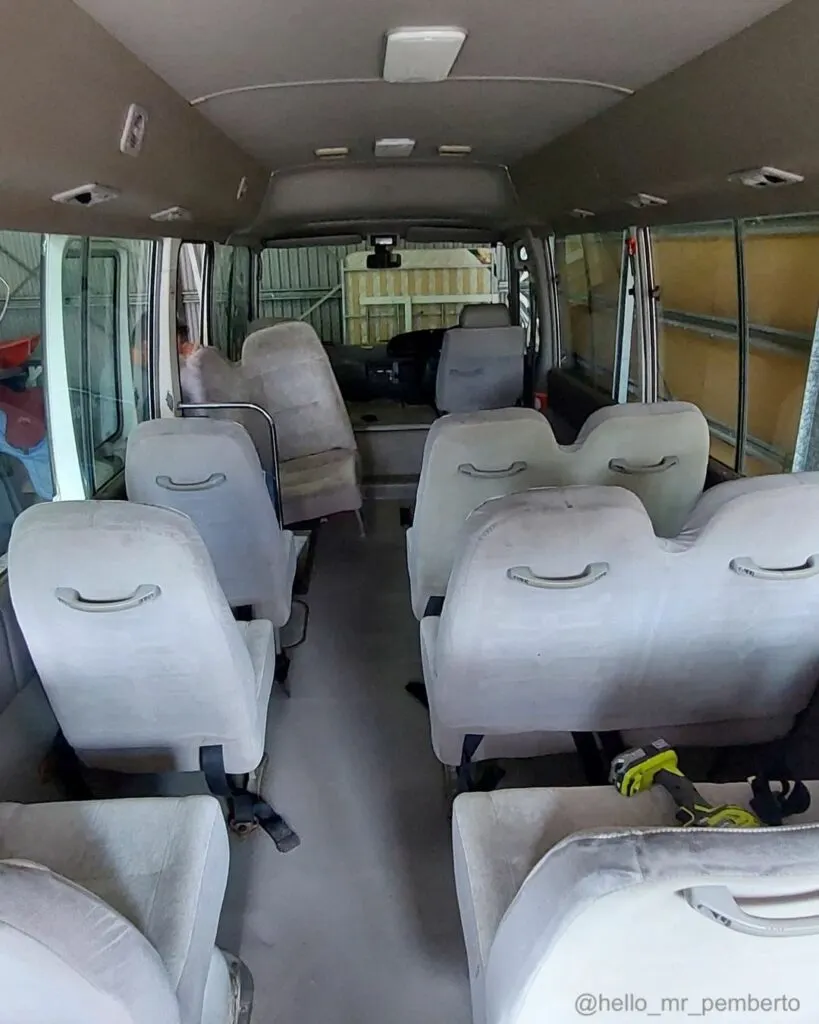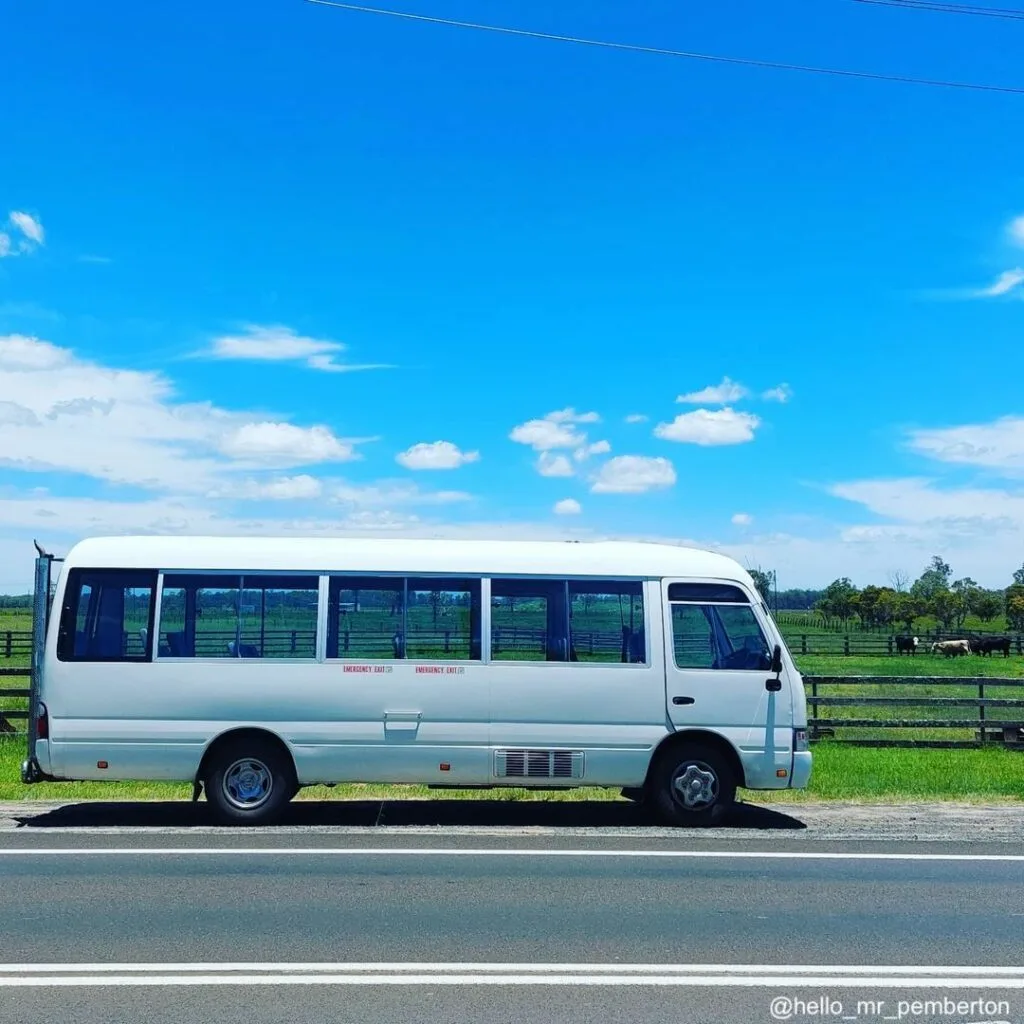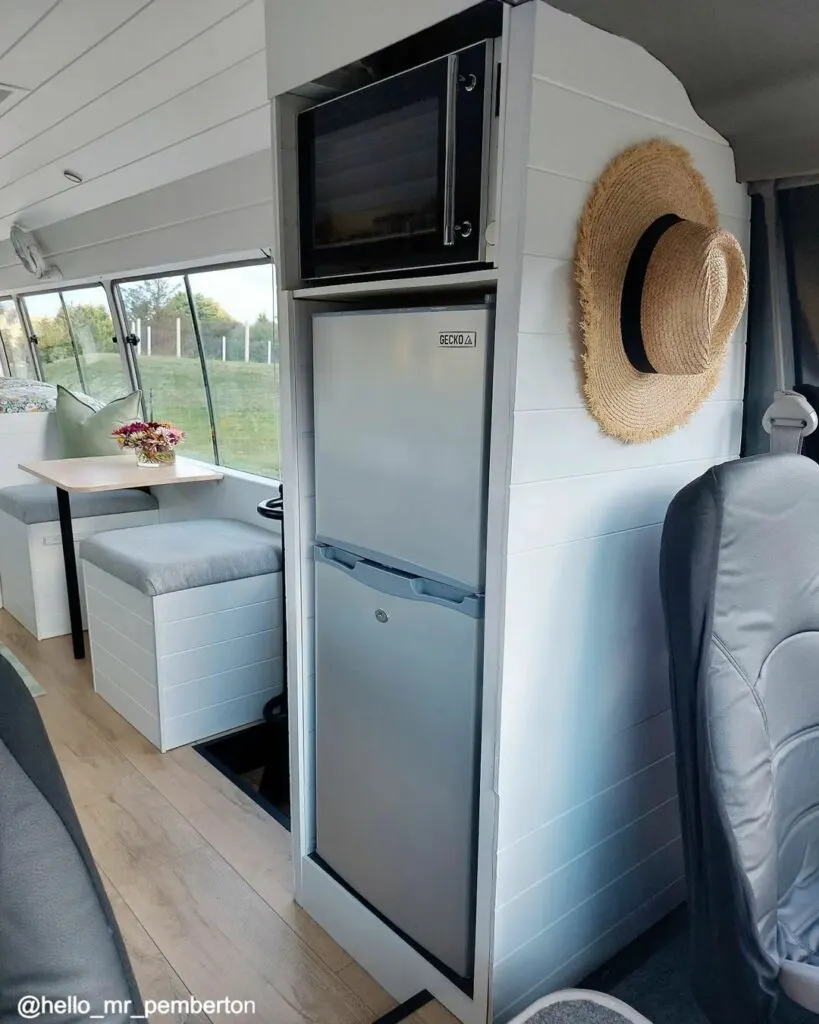 Toyota Coaster Motorhome Layout
You can see that Samantha and Herb have opted to not have an internal bathroom. This allows them to have an open and spacious interior layout. The only tall portions of the layout are the fridge which is situated between the drivers seat and the entrance into the motorhome; and their wardrobe which acts as a bit of a visual separation between the bed and the rest of the living space.
They haven't totally gone without ablutions though. There is a portable toilet tucked away under the seat that is closest to the entry door. And they have also added an outdoor shower.
As with many other Toyota Coaster conversions that I've seen, the bed is most practically situated at the rear of the bus. Some couples are able to place the bed across the back of the vehicle, but Mr Pemberton is only 1.8m wide inside, so they had to place the bed lengthwise to accommodate Herb's 6'4" height. That does allow for a nice wide bed and a large storage space underneath.
A large and long kitchen countertop adds to the sense of space inside Mr Pemberton.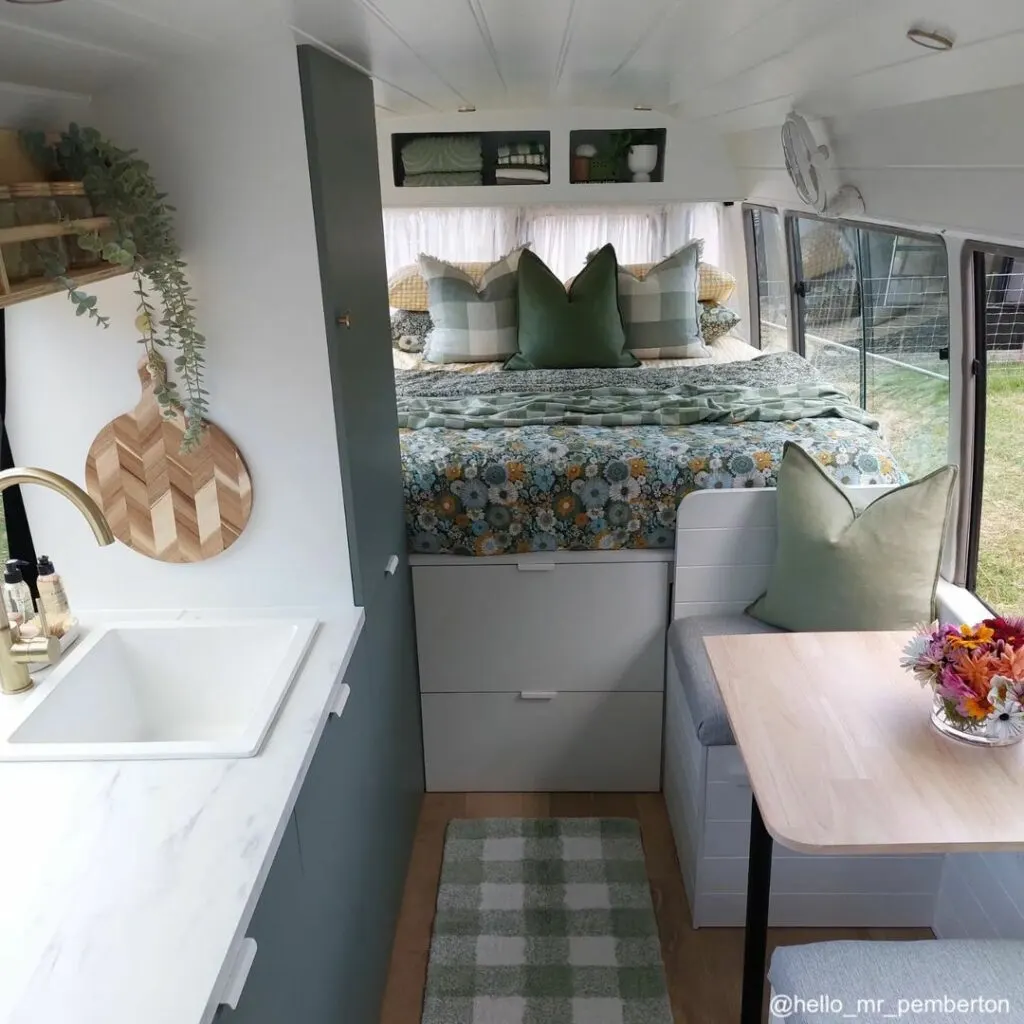 Samantha shares a lot more photos, videos and reels of Mr Pemberton over on their Instagram. https://www.instagram.com/hello_mr_pemberton/
And you can follow along on their journey as they embark on their travels around Australia.
Would you consider converting and travelling in a Toyota Coaster?