Restoring Hunter – a vintage caravan restoration story
Meet Hunter, a 1973 16ft Viscount Royal.
When Herb and Samantha first met Hunter, he was in a bad state of disrepair, but they were ready for a passion project as they neared their early retirement, and restoring Hunter would give them a unique and cozy home for their travels around the country.
As first time caravan renovators, they found out very quickly that Hunter needed A LOT of work.
 E v e r y t h i n g had to be removed, repaired, repainted or replaced. 
Even the floor!
They did most of the work themselves, but they employed help for those parts that they couldn't do. Like getting the windows and skylights made, and the entire electrical rewiring.
And they were willing to take advice from others. Whether it be fellow renovators on Instagram or the guys at Tyre Rite who recommended some new rims, rather than trying to restore the old ones.
The transformation of Hunter is just amazing.
But I'll let these before and afters tell the full story!
Vintage Caravan Restoration – Before and After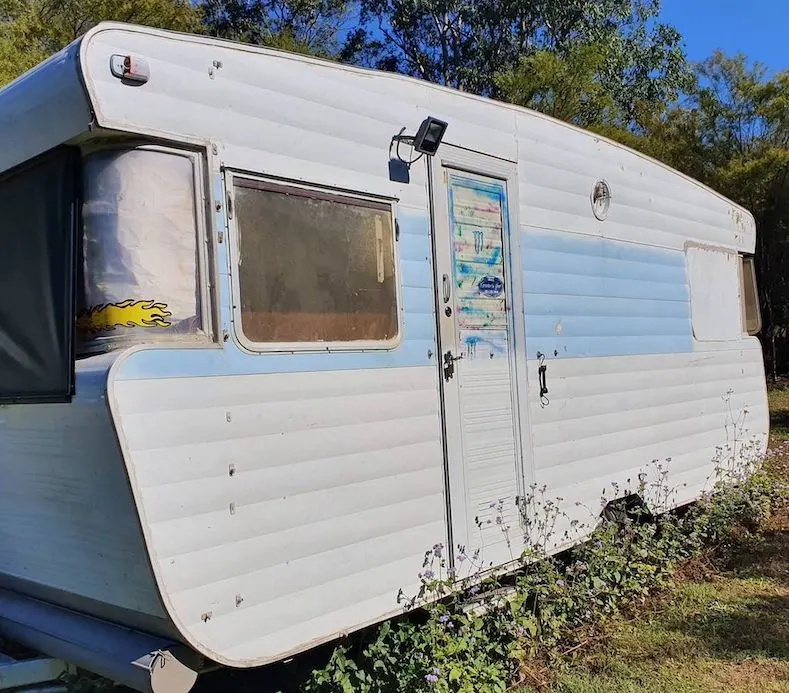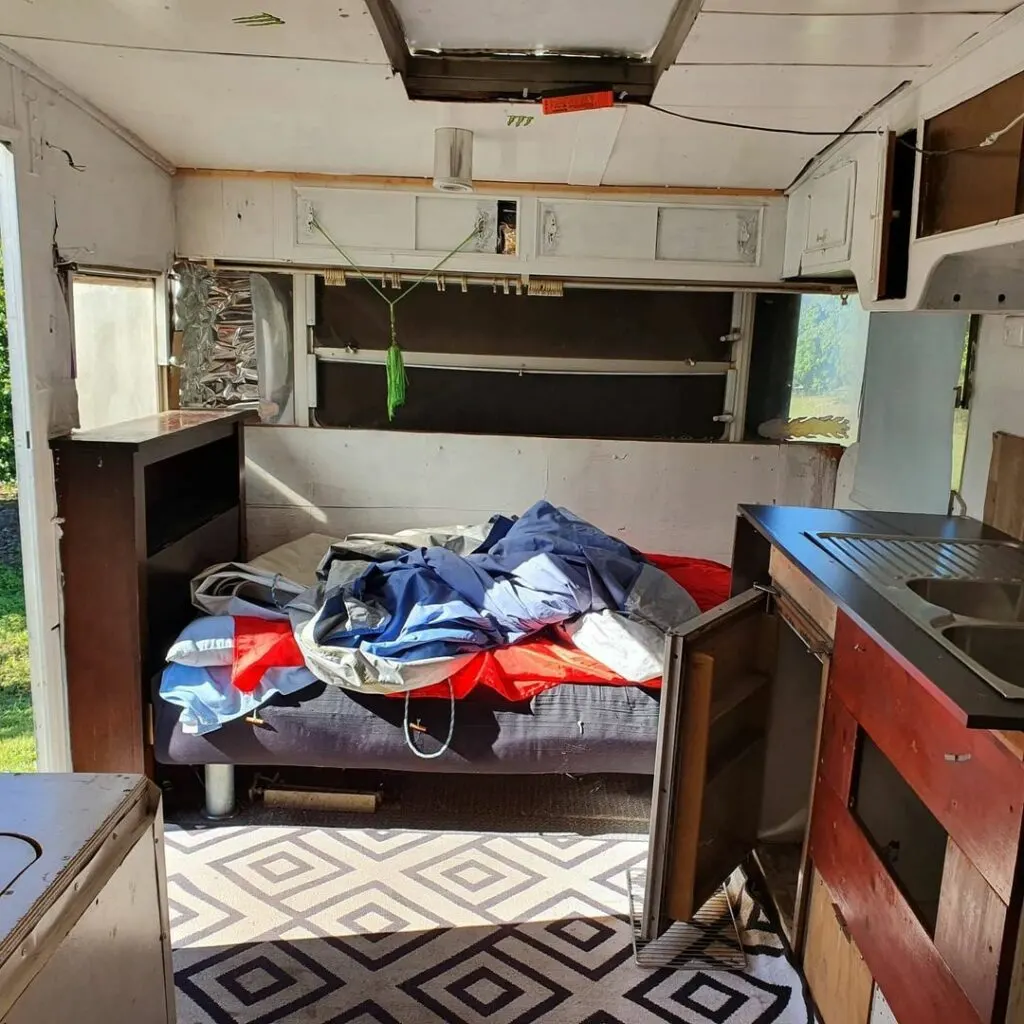 Styling a renovated vintage caravan
I think the most appealing thing about Hunter IMO, is just how cozy he looks while still being spacious and relaxing.
Interior styling is one of Samantha's strengths and it really shows!
Talking to her while putting this post together, she told me how she's a trained interior designer and she's worked as a property stylist and interior designer.
Ahhh, it's all beginning to make sense now!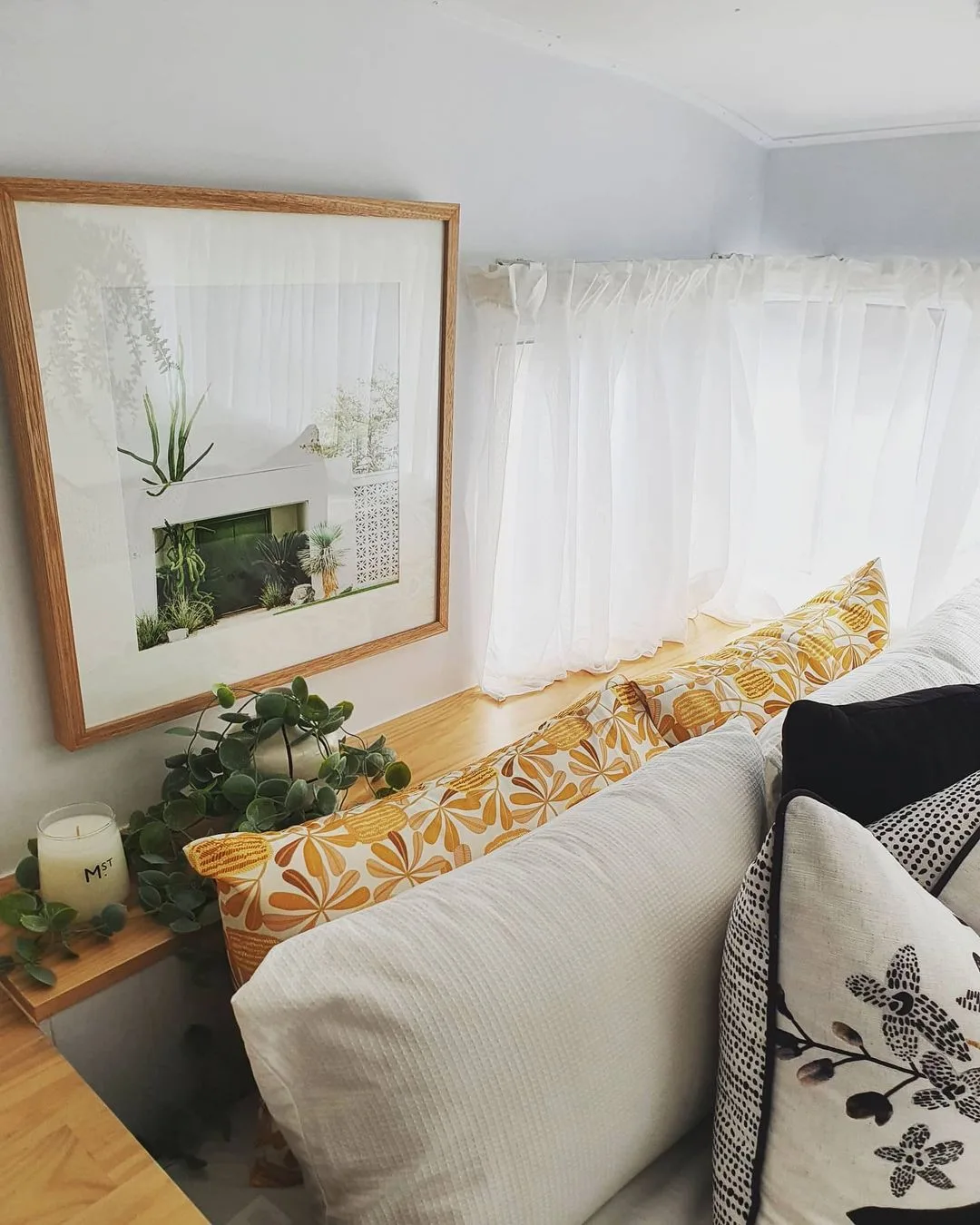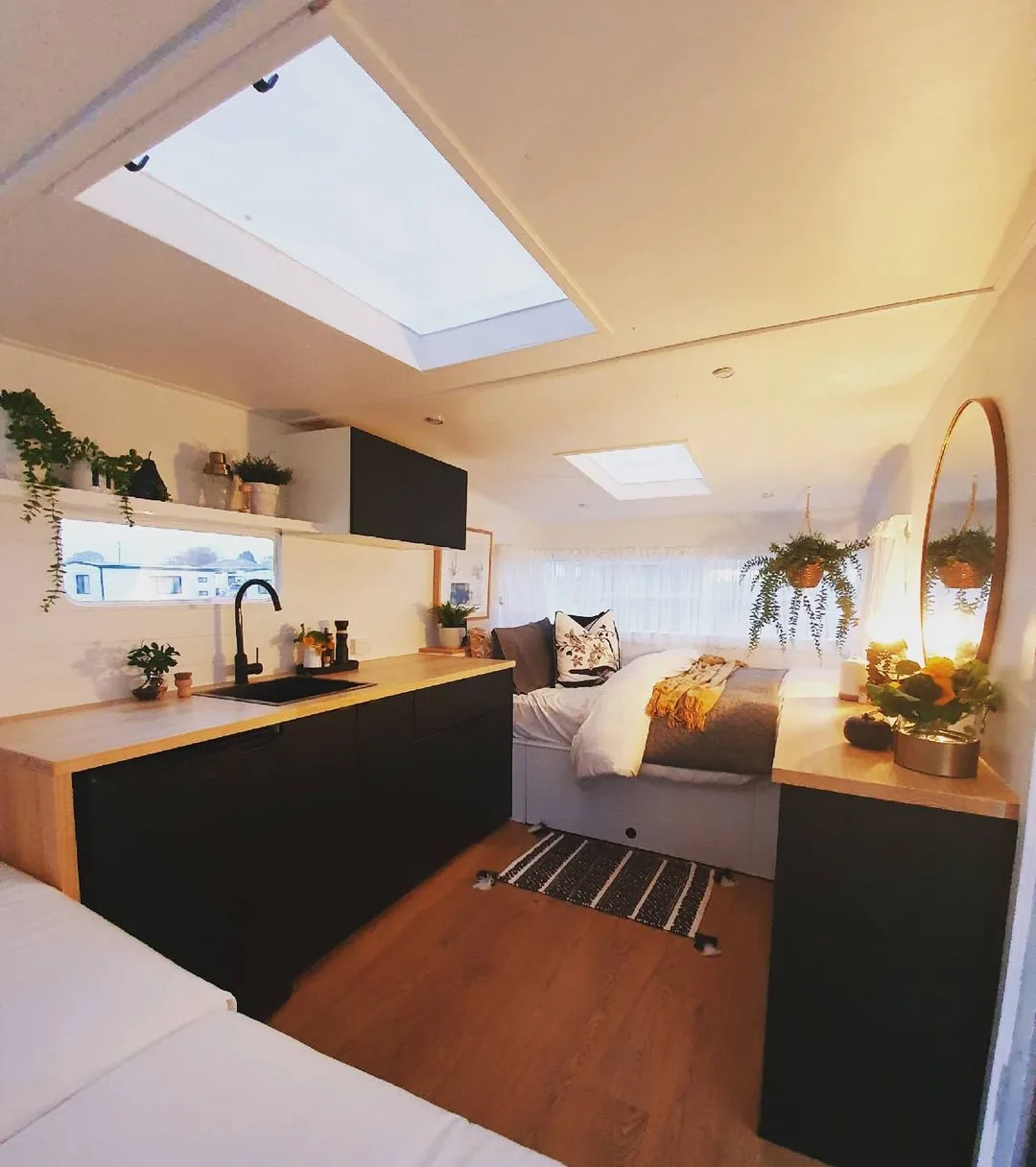 In such a small space, Samantha says that she likes to start with a neutral palette and invest in quality build and fixtures.
What about storage space in a vintage camper?
You'll notice that Hunter only has one overhead cabinet, so I asked Samantha if she missed the storage space. She replied:
This is something I am constantly asked. 
It was a very deliberate decision not to have overhead cupboards to a) open up the space, but b) so that Herb, who is 6 ft 4 in tall, did not render himself unconscious on a daily basis.  As it is, he can only stand fully upright in our skylight wells.  
Hence our beautiful outdoor awning which creates a whole other room, and where we do all our cooking.
We have storage under our Queen size bed and also under our sofa/day bed.  To be completely honest with you, they are only half full and we don't access them on a daily basis. 
Living tiny has given us the freedom to live with less and appreciate more.  We don't need anymore storage than we currently have, in fact we could have less.  
How much does it cost to renovate a vintage caravan?
Samantha recorded the full costs of the renovation and it clocks up to $17,647 … a full $7,647 OVER their original budget.
But that doesn't include labour.
At a rough estimate they've spent 1080 hours on this restoration (780 hours physical labour and 300 hours research… so not really a 'rough' estimate, it's more like a pretty accurate recording!). At just the minimum wage, that's over $25k in labour costs.
Even though they went over budget, it's still a relatively small investment in terms of housing. 
Yet they have a cute tiny home that can be decorated however they like, giving them a caravan that reflects their own personality and style.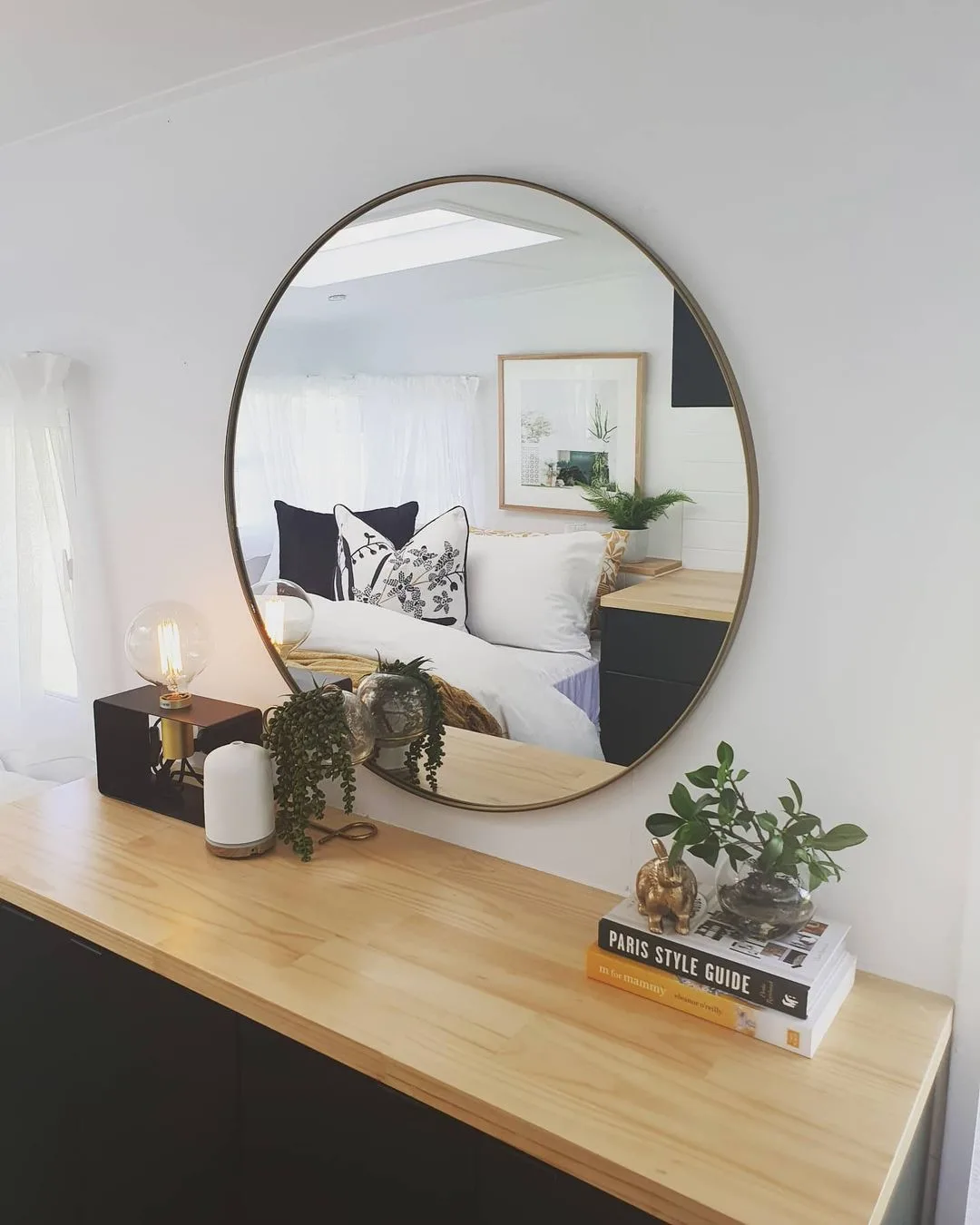 What about adding a bathroom to a restored vintage caravan?
I've seen that not many people opt to add a bathroom to an older caravan. (We do have one great example here on the blog though).
In our old Millard, not having a bathroom was the hardest part for me (Michelle), and our next caravan or camper van will definitely have one. 
But Samantha and Herb decided not to add a bathroom, as they just didn't  want to run the risk of any sort of leaks or water issues with having an indoor bathroom. 
All the Big 4 Caravan Parks they have stayed in have been so clean that Samantha prefers to do a 'commando roll over Herb' and use the communal bathrooms, rather than an icky porta potty!
And she enjoys a long hot shower with great pressure, something she's unlikely to get in a caravan!
A community of DIY caravan renovators
When renovating Hunter, Samantha found a community of vintage caravan renovators via Instagram. She found that people were willing to help with her questions, offer advice, point her in the right direction and share their own experiences restoring their own caravans.
And she now tries to give back to that same community by answering multiple cries for help every day.
It's how she met Kristy, who had renovated Poppy (another vintage Viscount caravan). With their shared passions for vintage caravans, yet differing skill sets, they combined their efforts into @VintageVanStudio.  
At Vintage Van Studio their aim is to create a community of vintage van renovators, and to provide help in the renovating process to others who need it.
More vintage renovations on the horizon?
Samantha joined forces with Kristy to renovate 2 more vintage beauty's, but at the moment her and Herb and enjoying their travels in Hunter.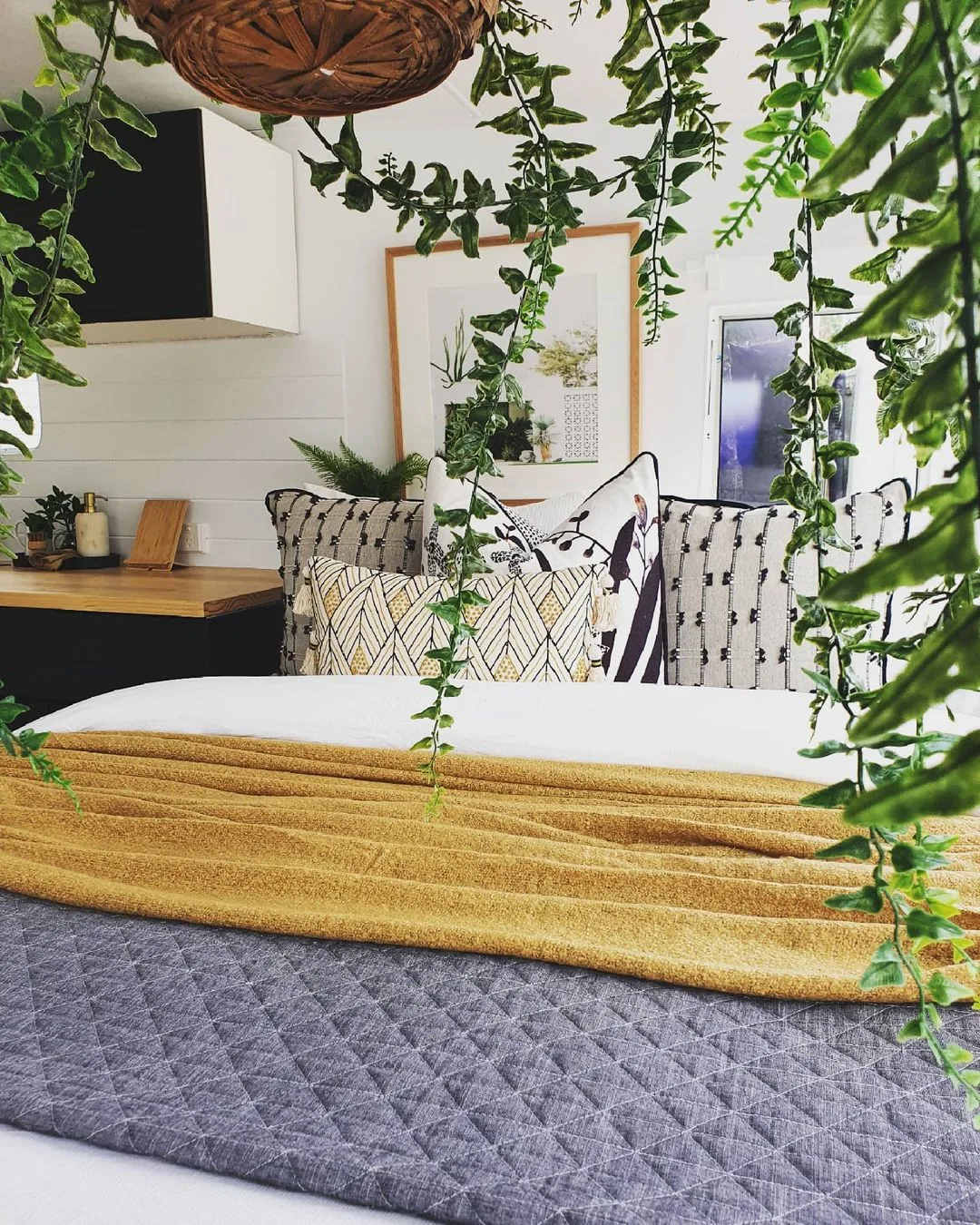 Head on over to @RestoringHunter on Instagram where you'll find a wealth of information on caravan renovation, great photos to inspire you, along with witty and entertaining captions to brighten even the dullest days.
Thank you Samantha for sharing how you and Herb have transformed Hunter. He's amazing!
Save this 'Vintage Caravan Restoration' to Pinterest