As you embark on your road trip, you may be wondering if free camping in Australia is really something that you'll be able to take advantage of, and if so, how is it done?
Without doing very much research we had thought we'd be able to find loads of free camp sites Australia-wide; that we'd be able to just rock up, set up our camper trailer, crack open a tinny and get a campfire started.
But it's actually not quite as simple as that.
There are some things we didn't realise about free camping in Australia and this stopped us from free camping sooner. 
So we'll start by answering the top 5 questions about free camping in Australia, hopefully this will ensure you're adequately prepared to free camp as soon as you hit the road, and enjoy all the benefits of free camping as you travel around Australia.
1. Why free camp in Australia?
Obviously, one of the major reasons why people free camp in Australia, is because it's free.
No surprises there.
But there are other reasons too.
Free camps are sometimes in the most remote AND most beautiful locations around Australia.
This makes them perfect places for people that want to get away from it all. Get away from people, and cars and society. Where it's just you and your family out in nature.
But don't be fooled into thinking that all free camps Australia wide are remote, deserted, beautiful and well looked after!
There are some downsides to free camping in Australia:
You'll find free camps on the side of the road next to a busy, noisy highway
You'll find them in remote locations, where everyone else wants to camp too!
You'll have occasions where other campers park right beside you when there's plenty of room to spread out
Sometimes others will run their generator full-time
Some will like to play their music loud enough for everyone in the camp to hear it
And there are plenty of free camping sites in Australia that have been abused and will have rubbish and toilet paper strewn all over the place
But that's enough talk about the bad stuff.
Free camping is not perfect, but there are still many wonderful free camps to enjoy around Australia.
2. Is free camping legal in Australia?
This is probably a good question to answer!
Yes, free camping is legal in Australia.
However it's not a free-for-all allowing you to park wherever you want. Many states, territories and councils have designated free or low cost camping areas, and these are usually signposted with an 'RV Friendly' sign.
You'll also find that some areas, in particular popular tourist spots will have 'No Overnight Camping' signs and wardens (or police) likely patrolling the area.
So before you set up camp for the night, it's important to take a look around and check for any signs regarding camping in the area.
3. Where can you camp for free in Australia?
There are loads of places where you can camp for free, but there's no blanket rule I can tell you about here.
So you'll need to find places when you're actually out on the road. Here are a couple of ways that you can find these places to camp for free:
WikiCamps
WikiCamps is my favourite way of finding free camps and with this app, I don't think you need any other methods. It's only $8 or so, and it's worth every penny.
Users will add free camps as they find them with details of what facilities are available (if any). Other campers will leave reviews about what the area is like and what to expect (like noise levels, insects, wild life etc).
You can filter your searches for just free camps, so that makes them easy to find and sort through.
Google
Good ole google maps has many free campsites in their search results, with photos and reviews.
Locals or other travellers
Ask the locals (like visitor information centres or petrol stations) or other travellers.
Bloggers
You'll find that as more and more people share their travels around Australia in either their motorhome, caravan or campervan, they are sharing their favourite free camping spots.
Here's a great list from Indefinite Leave, of all their favourite free camping sites around Australia.  Our 22 Best Free Camps in Australia
Whatever you do, be sure to check for any signposts for whether you're allowed to camp there or not.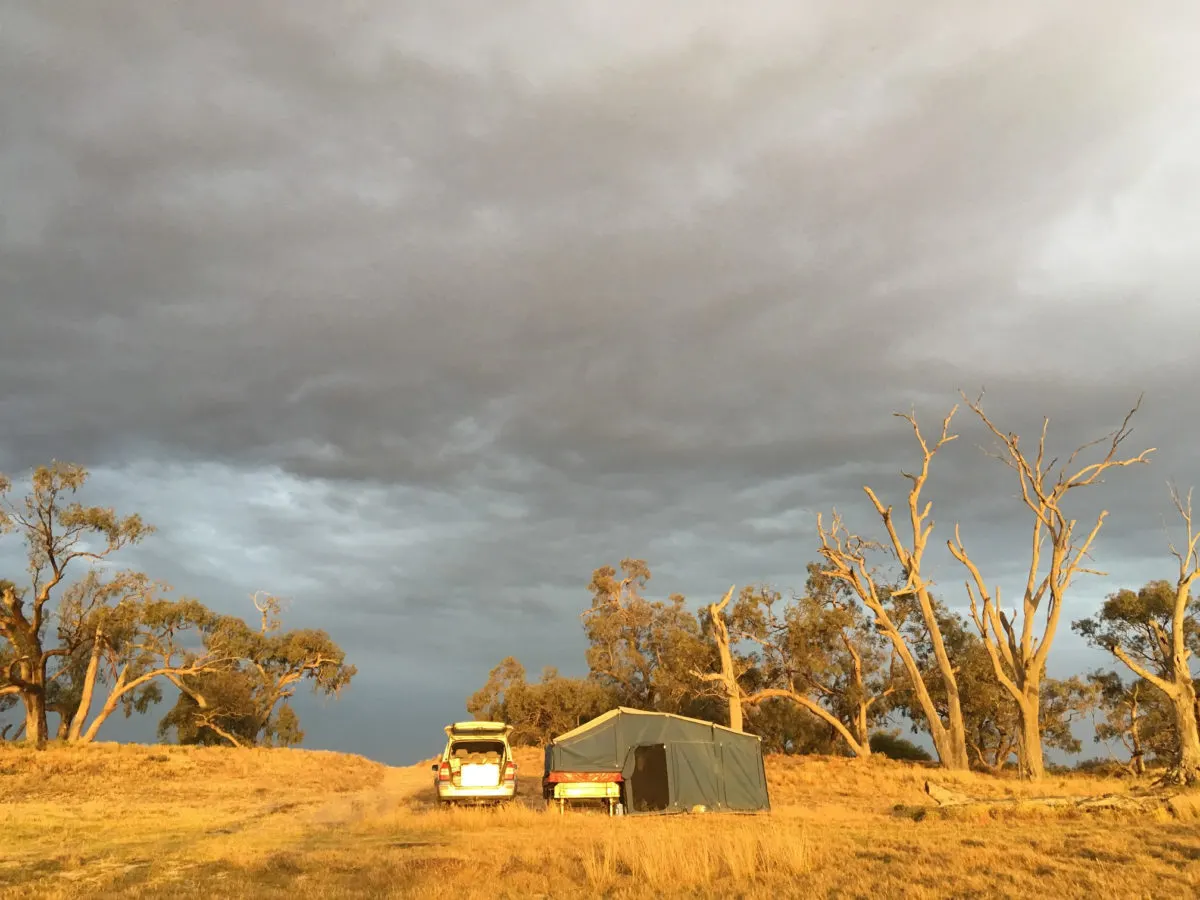 4. Can you camp on the side of the road in Australia?
The short answer is no, you can't just camp on the side of the road wherever you want.
There are lots of rest areas on the side of highways where you can camp, but as always, you should check for any signposts that prohibit camping.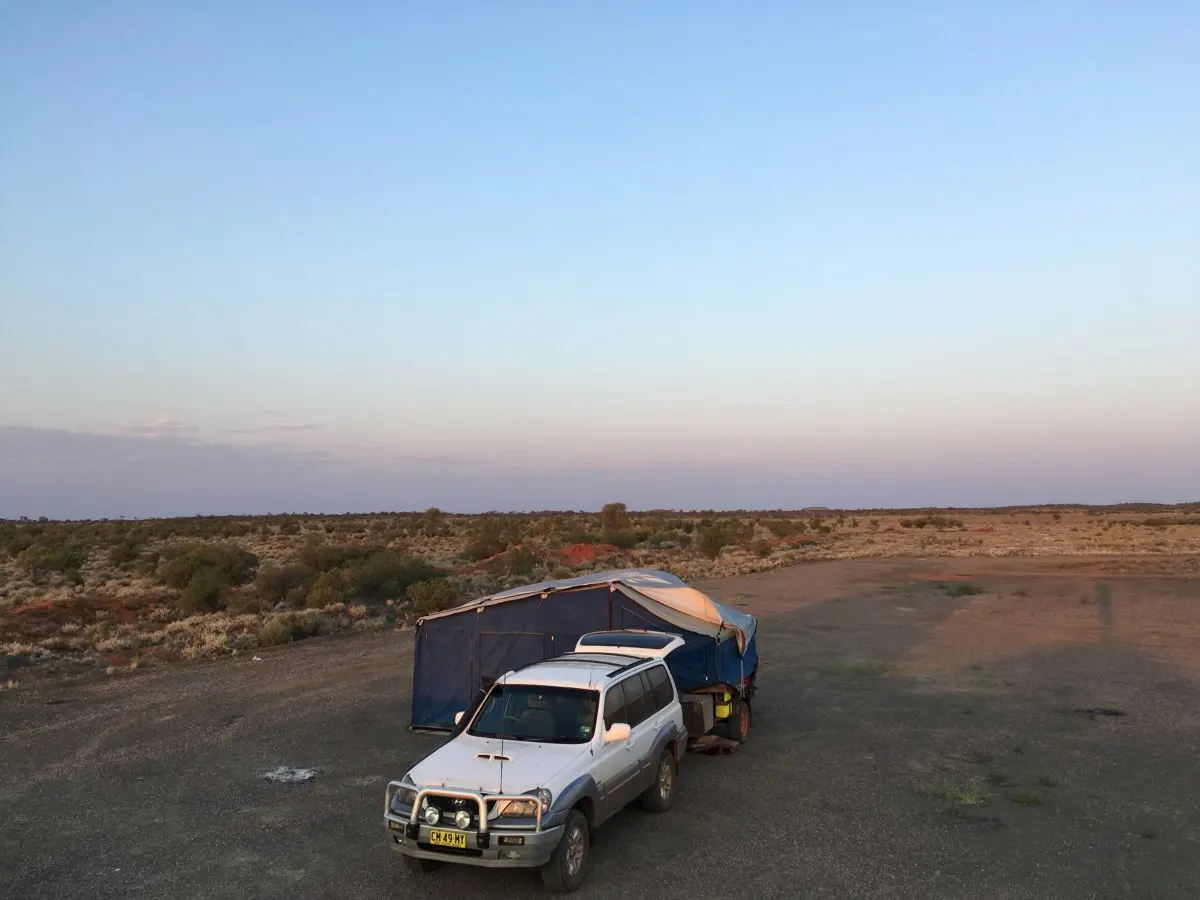 5. What do you need to have in order to free camp in Australia?
You don't strictly need anything specific to free camp in Australia. Except, I suppose, a car to get you there.
But there are some things you should have, in order to make your camping experience more enjoyable and hygienic (for you and others).
Many, or maybe most, free camps Australia wide, have only limited facilities, if they have any facilities at all.
A road side rest stop may have a long drop toilet and that's it. Or you might luck out and find a free camp with flush toilets, water and rubbish bins.
But then you will find plenty of free camps around Australia that have zero facilities.
In order to give yourself the most options for free camping, I highly recommend that you have a self-contained set up.
Self-contained camping
Being self-contained means not needing a campsite to provide you with power, water or waste removal. We've written a post all about self-contained camping, and what it means, here.
If you're just getting yourself set up for free camping, these are the most important things to get sorted, in order of priority…
Toilet
If you're in a caravan with an onboard bathroom, you've got this sorted. If you're in a camper trailer (as we were) then this can be as simple as buying a chemical toilet.
Sure – you can sometimes 'go bush' but this isn't always an appropriate option. If your free camp has lots of people around or there's no 'bush'.
By having a toilet with you, it means that you can camp at almost any free camp you want.
This is the big one, and the top priority for free camping.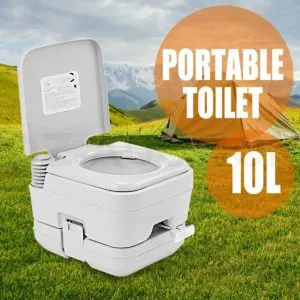 Waste
You need to be able to take all your waste out with you. This includes toilet waste, rubbish, and in some cases grey water as well.
For your rubbish, you can burn some in your campfire, but the rest needs to be carried out with you. Many campers have a dirty gear bag where they can carry the rubbish outside the car or caravan, and dispose of it when they get to a rubbish bin.
There are a few free camps that will now allow you to dispose of your grey water straight out on to the ground. So you need to be able to collect and transport it in someway.
If your caravan doesn't have grey water tanks, there are these portable grey water tanks that you set up under your outlet hose, and then you can transport them to dispose of the waste.
Water
If you're in a caravan or motorhome, chances are good that you have fresh water tanks onboard, so that's easy for you.
But if you don't have fresh water tanks, you can always carry water in with you. In jerry cans or even plastic drink bottles.
If you need to fill up your fresh water supplies, here's a very helpful article from My Rig Adventures with 13 Tips for finding water while travelling Australia
Power
If you need electricity you could run a portable generator or get yourself set up with a batteries & solar panels system.
If you want to set up a battery system, we've written an article that gives you the Basics of Battery Power for Camping. That should give you a good idea of what you may need.
If you're planning to free camp in the winter, and want to heat your caravan or motorhome. A diesel heater will keep you toasty warm.
Is free camping worth the hassle?
Free camping in Australia is a wonderful way to camp, you'll see some of the best sights around Australia (admittedly, you may also see some of the worst, if it's a popular free camp that has been abused) and you'll enjoy some fantastic locations.
You'll also enjoy the financial benefits of free camping, allowing you to either be on the road for longer, or have the money to do some more expensive activities.
Either way, free camping around Australia is great, and in my opinion, certainly worth far more than any hassle it takes to be set up properly and to find the free camps in Australia.
Save 'Free Camping in Australia' to Pinterest