Caravan diesel heaters – Australia
As the weather cools down, or you're planning some travels during winter; you'll want to think about how you're going to keep yourselves warm when the weather gets really chilly.
In this article we're going to look at heating your caravan, motorhome or campervan. In particular, with a diesel powered heater.
Are you currently in the heat of summer and can't imagine ever needing a heater? We've written all about portable air conditioners and tips for keeping your RV cool, which may be more important to you right now!
Why would you install a diesel heater in a caravan?
If you're in a caravan park and hooked up to power, then you can use your reverse-cycle air conditioner or any other portable electric heater to stay toasty warm. 
That's what we do; a cheap, little fan heater warms up our tiny caravan in mere minutes… and since power is included site fees, it doesn't cost any extra.But if you're planning on doing any off-grid camping, the two most common options for heating a caravan are a diesel heater, or a gas (LPG) heater.
Fuel source
Many caravans and motorhomes already run their cooking and hot water heaters on gas so adding another gas appliance makes sense. However, gas heaters require a licensed gas fitter to connect the heater and provide a compliance certificate.
You don't need a licensed person to install a diesel heater, so if you're handy, you may be able to do it yourself.
LPG prices can vary as you travel around the country, whereas diesel is readily available.
Heat
The benefit of choosing a diesel heater is that it produces a clean dry heat, whereas LPG heaters produce a 'wet heat' that creates humidity and condensation.
Also, when the temperature gets to 2 degrees and below, the butane in the LPG doesn't vaporise well and the heater burns only the propane. When all the propane is used up and you're left with only butane in the bottle, the heater won't work.
Cost
Ranging in price from $250 (cheap one from China) to $3,500+, diesel heaters are definitely more expensive than gas heaters. But with the cleaner, drier heat they produce, safety and ease of installation, a diesel heater may well be worth the extra investment.
Are caravan diesel heaters noisy?
Diesel heaters are more noisy than gas heaters, but I'm told that it's no more noisy than an air conditioner or electric fan heater.
How diesel heaters work & why you should have one in your caravan
Both diesel and gas heaters work in the same way…
For the combustion process, cold air is drawn from outside the caravan via an intake pipe, and mixed with the diesel or gas and ignited, this heats up the surface area of the heat-exchanger. This air is blown back outside the van through the exhaust pipe. (i.e. this air is not what's heated and blown into the caravan, it's just used for the heating process.)
The air in the caravan is warmed by the fan in the heater drawing cool cabin air across the heat exchanger, which gets warmed up and blown out into the cabin again.
Different types / brands of diesel heaters
What is the best diesel heater for a caravan?
This post contains affiliate links which means that if you decide to purchase I will earn a small commission at no extra cost to you. Please see our affiliate disclosure for more information.
Eberspacher
Eberspacher Airtronic AM2 Diesel Air Heater Kit – D4R, 12 Volt, Single Outlet with EasyStart Pro Controller
Description
One hot air outlet
Heating Performance (Watt) – 900 to 4,000
Heating-Air Throughput (kg/h) – 190 (Ø 90mm)
Guide Number** – Ø 75mm: 8; Ø 90mm: 15
Electrical Power Consumption Watt – 6 (min) to 65 (max)
Heater Operating Temperature °C – -40 to +70
Main Dimensions L x W x H mm – 371 x 140 x 150
Net weight 4.5 kg
Protection Rating*** – Heater: IP5K6K, IP5K9K
Interfaces – CAN, LIN (only 12V), S+
Price $3,500
Truma
Truma Combi D 6 Kit, Diesel Heater / Hot Water System with Black Cowl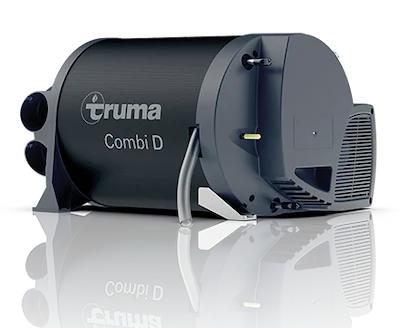 Description
Four hot air outlets
Height300 mm
Width525 mm
Depth450 mm
Weight16.2 Kg
Price $3,000
Webasto
Webasto 12v Diesel Heater Twin Outlet with Ducting & Digital Controller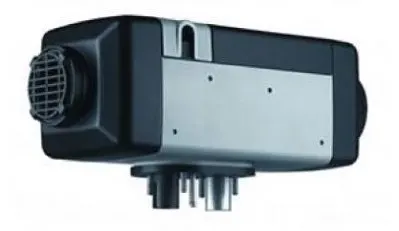 Description
Twin hot air outlets
2kW
Height (mm) 121
Width (mm) 120
Depth (mm) 317
Net Weight (kg) 2.6 Kg
Fuel Consumption 0.12-0.24 l/h
Price $1,840
Autoterm
AUTOTERM Diesel Air Heater 12volt 2kw Kit with Digital Controller. 2D12PU27
Description 
Price $1,300
Installation
Most diesel heaters are sold as a kit, with all the parts you need for installation, such as wiring, ducting and mounting. However, the diesel fuel tank and other optional pieces (like a silencer) are extra.
Where do you put a diesel heater in a caravan?
You'll need to find a space big enough for the heater and the associated pipework; and an area that isn't too far from where you're planning to put the intake / exhaust pipes. It will also need 12v power.
Many people find that putting the diesel heater under the bed makes the most sense, as there's plenty of room; but just keep in mind that a diesel heater is a bit noisier than a gas heater, and you might find that putting it at the other end of the caravan may be better.
How much does it cost to install a diesel heater in a caravan?
The main cost of installing a diesel heater in a caravan, is the cost of the heater itself. These range in price from about $250 (a cheap one from China) to $3,000+ for a top of the line European brand.
The installation itself can be done by a home handy-man and takes about a day.
Questions about diesel heaters
Are diesel heaters safe in caravans?
Diesel heaters are becoming more and more popular as a heat source in caravans and are considered to be very safe. The combustion unit is totally sealed from the van and all exhaust gasses go directly outside.
Are Chinese diesel heaters any good?
With such a huge price difference between some of the well known and respected brands of diesel heaters and the cheap Chinese diesel heaters ($249 compared to $1,500+) it's worth investigating whether any of the cheaper brands are suitable options.
I think that Marty over at RV DAILY has answered this question really well, with an in-depth and well-researched article on the pitfalls of cheap diesel heaters imported from China.
You can read the article here, but I'm sure you already know the answer.
Save these caravan diesel heaters to Pinterest