I feel the need to start every one of these 'Choosing the right set up' posts with a disclaimer:
I wouldn't have a clue what's the right vehicle or camper or power system or fridge or anything!
I have had no idea, that's why I've needed to research the heck out of these things, so that I could have at least a modicum of a clue as to what we would need to consider.
If you're trying to decide whether you're going to travel in an 8m Toyota Coaster Motorhome with full kitchen and bath, a Landcruiser Prado with all the off-road capabilities towing a hard-floor camper trailer, or a Nissan Tiida with a two-man tent, single burner and a coffee press, then this post is for you!
In all of this, I'm presuming that you're looking to do this trip as self-sufficiently as you can. So while there'll be an occasional night spent in a cabin, B&B or hotel, the majority of your trip will be in your own bed in your home away from home.
So let's start with looking at what your options are for vehicle and sleeping arrangements.
What are the options?
Motorhome
These are self-contained homes on wheels, with everything including your sleeping, cooking, bathroom and relaxing facilities. There are lots of different types of motorhomes but as long as you have a budget over $20k minimum you should (hopefully) be able to find something that suits your needs. If you're buying brand new, you'll need to think about a starting budget of at least $100k.
Benefits
All self-contained in one vehicle
Comfortable
Quick to set up (i.e almost no set-up) and pack-down each time you move
Limitations
Sight-seeing can be limited by where you can take and park your motorhome. Unless you decide to tow a smaller vehicle
High fuel consumption
Require some skill to drive
Not many of them are suitable for driving off the bitumen
Campervan
The campervan is a van size vehicle that has been converted into a small motorhome and seems to be the vehicle of choice for backpackers the world over.  They are generally more affordable (hence the popularity with backpackers) and small enough to be maneuverable.
Benefits
Many are fully self-contained (although this may be a porta-potty under the bed)
Small enough to fit into regular car spaces
Good fuel economy
Good for 1 or 2 people, maybe even 3 people depending how long you're going for and how comfortable you are with each other
Quick set-up and pack-down
Limitations
Can be cramped inside with limited living space (which is why the outdoors becomes your living room!)
The dining/sitting area needs to be converted each night into a bed
May be limited in off-road options if it's not a 4×4
Tow vehicle towing a caravan, pop-top or camper-trailer

These are three very different set-ups so I probably shouldn't have put them in the same group, but if I didn't start grouping things together this list would be bigger than Ben-Hur!
The caravan generally offers the most comfort (and price) moving down to the pop-top and expanda type of travel trailers, and through to the camper trailer which has the least facilities. But then the camper trailer generally enables more off road type of travelling and has the benefit of being smaller and lighter.
Benefits
You can set up camp and then use your tow vehicle for day trips
Caravans can be quick to set up – pop-top will take a bit longer
The caravan or pop-top may be self contained with a toilet and shower – the camper trailer won't be
May be able to be taken off-road depending on your rig
You can store your things in the caravan / trailer which makes it easier to use your tow vehicle for sight seeing
Limitations
Adds to the fuel consumption – the bigger and heavier you tow, the worse your fuel economy will be
The camper trailer is more time consuming to set-up and pack-down
May be limited in where you can park when you're passing through cities or towns with the full rig
Vehicle with roof top tent

Add some roof racks to your vehicle and you can put a tent up there. Ain't no crocodile or dingo gonna be bothering you on the roof of your car!
Benefits
Everything is contained in one vehicle
You're sleeping way off the ground away from bugs, reptiles and animals
Limitations
To use your vehicle for any sight seeing you need to pack up your tent
Everything is contained in one vehicle (yep, this is both a pro and a con)
Vehicle with tent
Benefits
The least expensive option
You can set up camp and leave the tent while you use your vehicle for sight seeing
Limitations
Everything needs to be set-up and packed-down every time you move. This could become annoying depending on the length of your trip
All your gear needs to fit into your car
You won't have an inner spring mattress to sleep on each night (which I'm hoping we will have in our camper trailer) but will probably be limited to an air mattress or one of the mats you roll up
Considerations
The following is a list of all the things you will probably need to consider when deciding on your set up. Some of the items on this list will be an easy decision for you, but some of them will force you to really consider what is important to you for this trip. But then there will be other areas where you just don't know. The idea is to at least narrow down your choices and even if you don't know exactly which is the right choice (you never will) then at least you know the benefits of doing things one way or another.
At the end of the list is budget… we all know that for most of us, that's the first (and sometimes, only) consideration.
How many of you?
First up, how many of you will be travelling. If you're just two people, then the world is your oyster! If you're a family of six… hmmm that limits your choices a bit. No Nissan Tiida with a tent for you guys.
What type of travel do you like to do?
Are you keen to see the more remote areas of Australia. If so, a lot of them are down long gravel roads or even off-road. Are you prepared to take those long, uncomfortably corrugated roads. Will your vehicle hold up to those roads?
Or are you happy to limit yourself to only where you can go on sealed roads? (It's not like you couldn't do your whole trip on sealed roads, of course you can, and you'll have a WONDERFUL time too, I'm sure!)
Where will you set up camp
Consider what level of comfort do you want/need in a home away from home.
Is a 10 minute hot shower a non-negotiable? Are flush toilets the bare minimum standard? Then you'll need to be staying in caravan parks for your whole trip. No free camping for you.
Or are you the type that is determined to see the remote corners of this beautiful country, prepared to dig a dunny and shower in the creek? Then you'll need to prepare yourself with a 4WD, water and power and food. And a spade.
Does anyone have any special needs or considerations
I'm talking about things like, if you're two small people will you be able to lift the roof on the pop-top, or if you're a tall guy, will the roof tent be big enough for you to stretch out comfortably
How long are you going for
If it's a three month sprint right around Australia, chances are you're not going to have very much time to get too far off the beaten track. You'll be on sealed roads most of the time, and you'll be setting up and packing up almost every day, so you're not going to want a campsite that takes 2 hours every day. You might be better to take the Tiida and stay in motels or cabins every where?
Whereas, if this is a 12 month journey you may need to think more about those rest days where everyone is going to be lounging around for the day. You probably won't be moving around quite so fast, so there will be more days of staying in one spot.
What do you already have
If you've already got a Grand Vitara 4×4, is it vitally important for you to upgrade to a newer, bigger 4×4 with all the bells and whistles? Or will the Grand Vitara be sufficient… by not having to fork out more money you'll be able to leave on your trip sooner rather than later. What's more important to you?
What is your budget
Ahh, the million dollar question. Or in our case, the ten thousand dollar question. :-/
How much money do you have to spend… or how much money will you have to spend by the time you want to go on your trip. As I said at the beginning of this post, this is the question that may trump everything.
We're in that position ourselves, where we know what we want (pretty much everything :-/) but we also know that we can't afford everything. So we'll get what we can afford, based on what our priorities are, and we'll have to just deal with not having the rest.
It's all about priorities
As with anything in life, it's all about what you prioritise.
For us, the priority is to get out there. We could get the 'ideal' set up if we stayed where we are and saved for another 12 months. But it's more important for us that we get out on the road sooner, rather than later.
We've said that we'll do this in a beat up old Holden and a tent if we have to. Truly. Sometimes I seriously consider it. The less we spend on our set-up (a car, camper trailer, fridge, cooker, battery power blah, blah, blah) the more money we will have for our day to day expenses. Which will mean that we can go for longer.
But then, if we don't get the right set up (i.e the ability to camp self-sufficiently) the more we'll have to spend on caravan parks and the more we'll have to stick to the bitumen; which detracts from the experience we're looking for, which is to get away from it all and see the more remote places.
So it's all about compromise and priorities and balancing out what you want with what you can afford.
And that's not easy. As if you hadn't figured that out already.
Other Things
Try before you buy
Ummm yeah… that would be good, but not a possibility for us since we'll be flying into the country and buying as soon as possible. But if you can, this is definitely good advice!
Talk to others
Talk to friends or family (or strangers even) that have the type of vehicle or camping set up that you're thinking about.
Reach out to other bloggers online and ask them what they found to be the benefits and limitations of their own set ups. If you're shy about reaching out to a blogger, don't be! If they're outgoing enough to be putting their lives on the internet for all and sundry to see, they're gonna be stoked that someone (other than their mum) is reading their blog and wanting to talk to them. (Believe me, I'm one of them!)
There are plenty of 4WD and camping forums full of helpful people that are more than willing to give you their opinion (solicited or not!)
What about hiring a campervan?
So this is our fall back solution.
If we can't find a vehicle and camper trailer or it's all just too expensive, we know that we can hire a Jucy camper and get on the road.  We could get a Jucy camper (which is based on the Toyota Previa) with a fridge and battery, cooker, sink, bed, water, all the basics you could need; and for six months it would cost about $12,000. Yeah, no one wants to spend that amount of money on a rental vehicle, of course. But it does mean that you're not forking out any extra for rego, repairs, insurance and road side assistance, and it already comes with all the bits that you need.
To me, it's a good and doable back up solution. In my world it's not ideal, but at least it gets you on the road.
****
Phew, so has all these questions helped in your quest to find what's right for you, or have I just completely bamboozled you and you're now a puddle of weeping confusion? Yeah, sorry about that.
***
If there are any experienced Aussie travellers out there, would you lend us your expertise and experience in the comments? Do you have anything to add that we would need to consider? Please feel free to comment below so that we may all learn from you. Cheers.
So after all that, do you wanna know what our idea set-up is? I've written all about it over here.
I've written a monster post about getting set up to travel around around Australia. You can read it here –> The Ultimate Guide to Getting set Up for a Road Trip Around Australia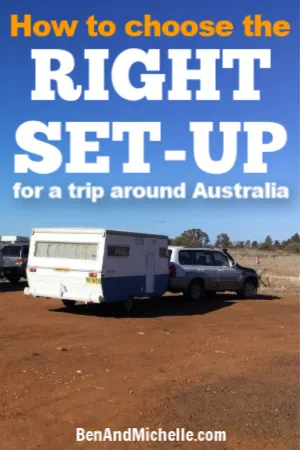 />