You'll already know that the caravan wardrobe storage space in any caravan or motorhome is very limited! And that's if you're lucky enough to have a wardrobe in the first place.
If you're struggling to figure out how to make the most of the space in your caravan closet, then I've got some ideas that may help.
But before I get into the tips, tricks and products that may be helpful, let's just address the elephant in the room first.
You can't take your full wardrobe with you in the caravan!
I know you know that.
But just remember, your wardrobe is likely to be about 2ft wide.
If that.
So my first tip for organising your caravan wardrobe space is to
Only take what you know you will wear!
And if it doesn't fit in to the space that you have allocated, then you need to cull your clothes until they do fit.
If you're hitting the road full-time or for an extended period of time, you may need to pack for more than one season, but those clothes can be stored under the bed and only brought out with the change of seasons.
This post contains affiliate links. Please see our disclosure for more information.
FYI – all the photos are links to Amazon (Australia) products, so if you see something you'd like more information about or to purchase, you can just click on the photo and you'll go to that product on Amazon.com.au.
But they're just ideas… you should shop around cos I'm sure you'll be able to find similar products (for much cheaper) at places like Bunnings or KMart.
Okay, so on to the storage solutions…
Hooks on the Inside of the Closet Door
This is a nice simple one; by adding hooks to the inside of your wardrobe door you can add the items that you use quite a lot so you don't want to have to keep putting them on and off a hanger.
If you have zero handy woman skills like me, you can use over the door hooks…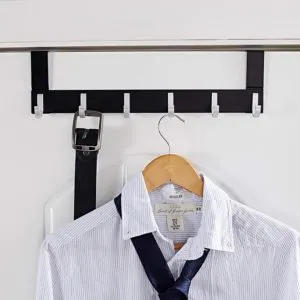 or these stick on hooks. But make sure you get the heavy duty ones.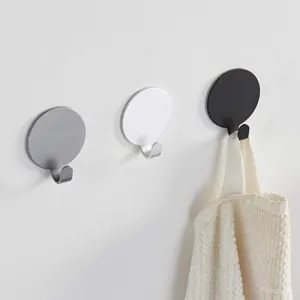 Shoe organiser on the inside of the wardrobe door
This can be used for shoes… but it doesn't have to be. It also provides a good space for undies, socks, scarves, beanies and gloves.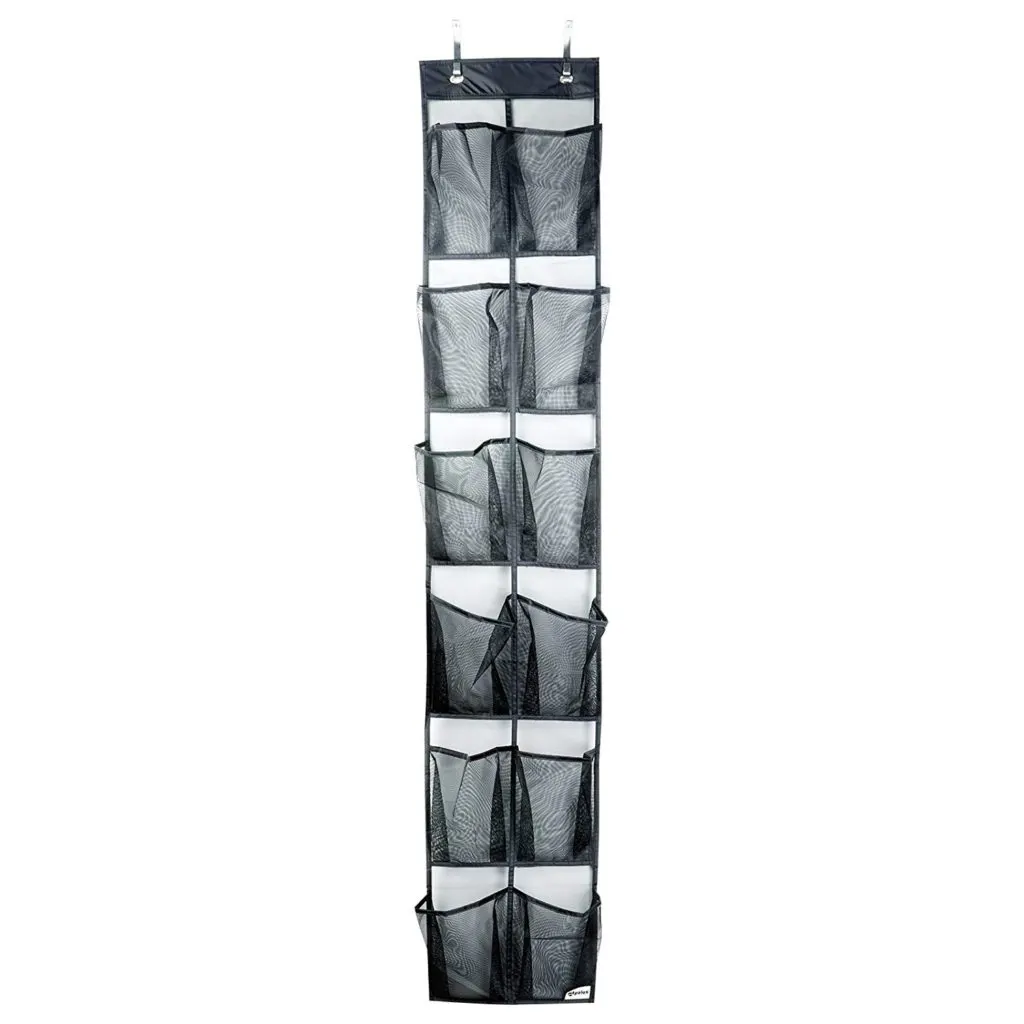 Fabric Cubbies on the inside of the door
Here's another option I found that has bigger pockets. You can hang this one on the bar, or over the door.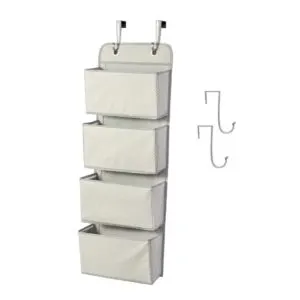 Hanging Storage Cubbies
We have one of these in our wardrobe and it works great. It takes up half the hanging space, but it still leaves enough room for the clothes that we do want to hang. (The one below is what I could find on amazon.com.au, but we got ours from Bunnings)
Wire Baskets Inside the Closet Door
By adding wire baskets to the inside of the wardrobes door you have a perfect space for all those small items that you use all the time. Like underwear and socks!
Use Space Saving Hangers
An easy fix for fitting more clothes in your wardrobe is to use these velvet hangers.  They are still strong and sturdy but they don't take up nearly as much space, and the velvety covering means that your clothes don't slip off like they do with normal metal hangers.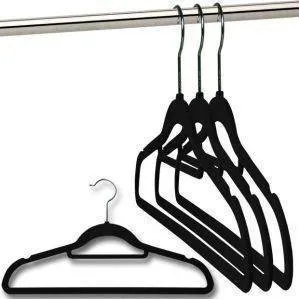 Or you might prefer this type of space saving hangers…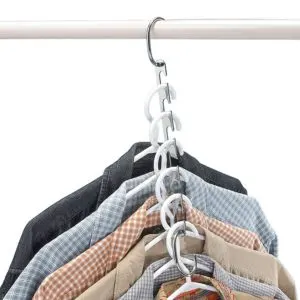 Organise caravan wardrobe with plastic drawers
If you've got a tall closet, adding plastic drawers that sit on the floor are a quick and easy way to give you more places to store your clothes. You have the benefit of drawers but you don't lose any hanging space. If you hang long dresses or coats in your wardrobe this may not work for you, though.
You can buy so many different types of light weight drawers. They don't have to be plastic, you can get them in fabric too. But make sure you measure your space first, to make sure the drawers are going to fit.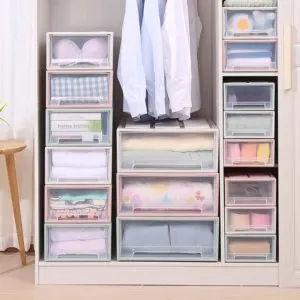 Stackable storage bins
If you don't want to be bothered with pulling drawers in and out, these storage bins are a great idea. And because they're stackable, you just add as many as you need for your wardrobe space.
You can get either plastic or wire baskets, both of which are light weight and easy to find.
If you don't actually need hanging space
This may require a little more handy man/woman skills, but if you don't actually need hanging space, it may be more practical for you to turn the wardrobe into a cupboard with shelves. This may be your only option if you aren't able to find plastic or wire drawers or baskets that fit into the space.
Whatever you decide to do to make the most of your caravan wardrobe storage space, my Number One tip is still to only take what you actually need.
If you've really stuffed up and don't have enough clothes you can always go on a shopping spree! If you're budget conscious (like me; I hate spending money on clothes) then you can buy cheap clothes from KMart or Target, or my favourite option: Op Shops.
But don't overload your caravan or motorhome with too many clothes.