Exceptional caravan interior design ideas
Any Google or Instagram search will bring up lots of examples of caravan interior design ideas, but every now and then you come across a caravan renovation that just stops you in your tracks.
Such is the case when I stumbled across this UK caravan renovation by @sarahemilyinteriors on Instagram.
It was actually this photo of their caravan bathroom that initially got my attention; look how bold this design is!
And as I kept on scrolling, I just fell in love with this caravan more and more!
So I reached out to Sarah and asked her if she'd be willing to share a little bit more about the renovation process.
But let's start with some before and after photos to really give us context: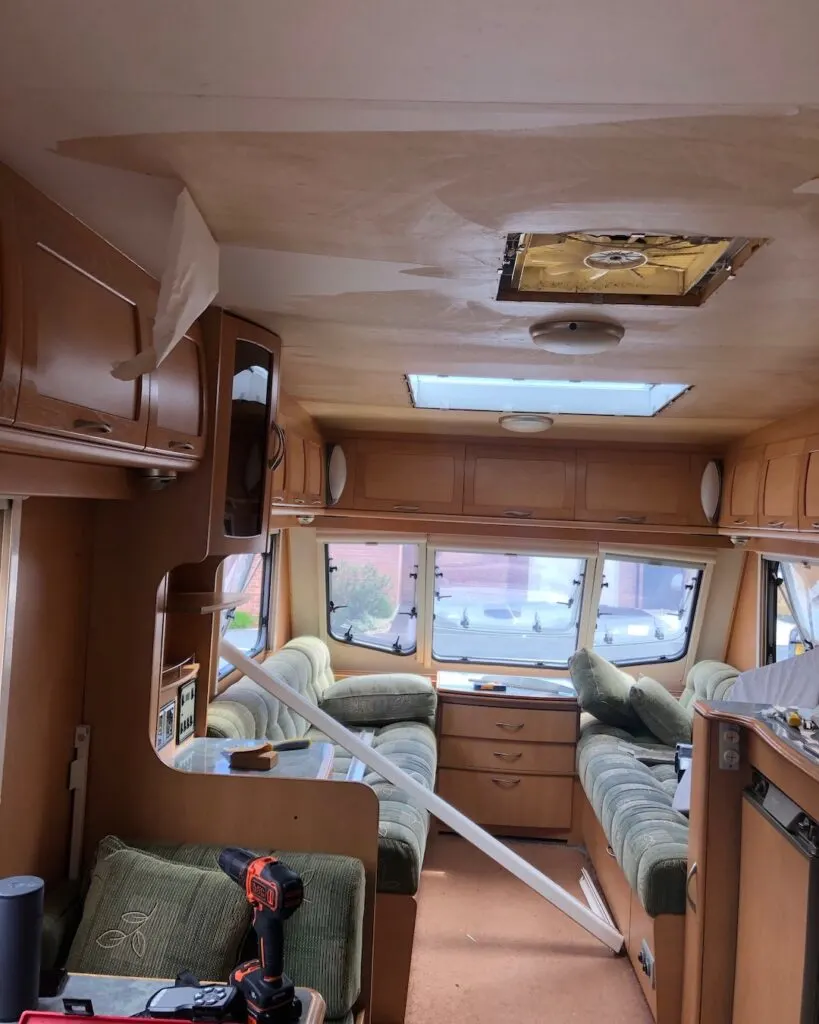 'Lexy' is a 2004 Lunar Lexon FB, 7.8m long with an internal length of 6.2m.
The renovation took Sarah and her husband 5-6 weeks to do the bulk of the work (a few little jobs were done later, when deliveries arrived).
She looked like she was in pretty good condition, but it wasn't till they started ripping things out that they found water damage.
That's a pretty tight timeline, but they wanted to get it done before Sarah started a new job, otherwise they knew it wouldn't get done before the summer holidays.
There's nothing quite like a deadline to get you moving, huh!
They did all the work themselves (except for laying the floor) including the damp repairs. Hubby did the strip out, all the structural repairs, panelling and plumbing; while Sarah took the lead role in the design, did the majority of the painting, *DC-fix on the countertops, stick on tiles and the floor tiles in the bathroom.
*DC-fix – an adhesive film you can put on the top of countertops. (In case anyone else didn't know what it is, like me.)
Professional interior design?
The interior decor in this caravan is so stunning and cohesive that I had just presumed that Sarah does interior design for a living.
Nope, not even close. She's a Business Account Director for a telecoms company.
But she's had a passion for interiors right from a young age, and doing these DIY projects helps to alleviate the stress from her high pressure work environment.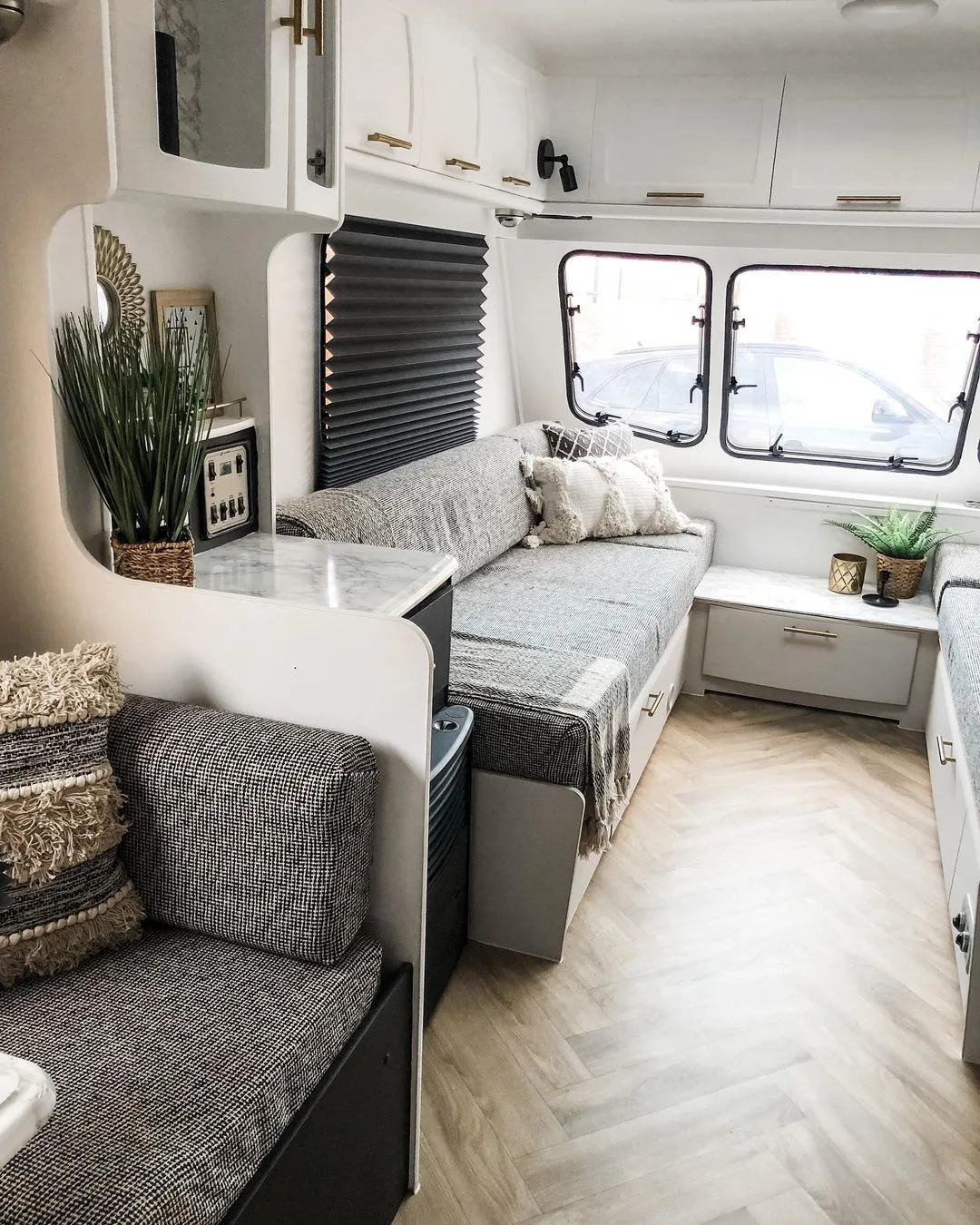 Caravan bunk beds
What makes this caravan so great for Sarah and her family, is the bunk beds that are perfect for her 2 little girls.
It's an unusual decorating combination, but dalmatian dot wall stickers, fake foliage headboard and some cool prints really make this space cool and cute for little girls.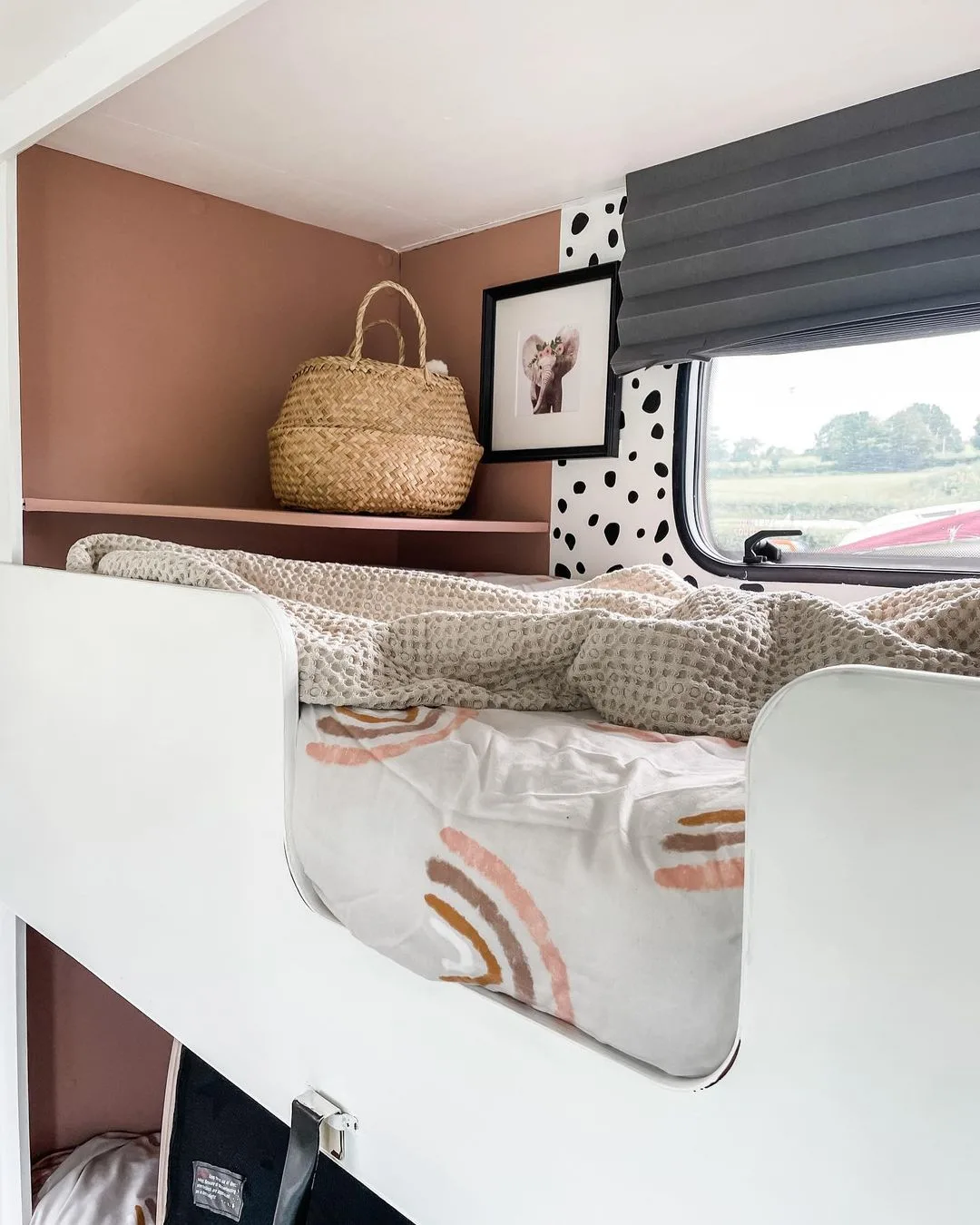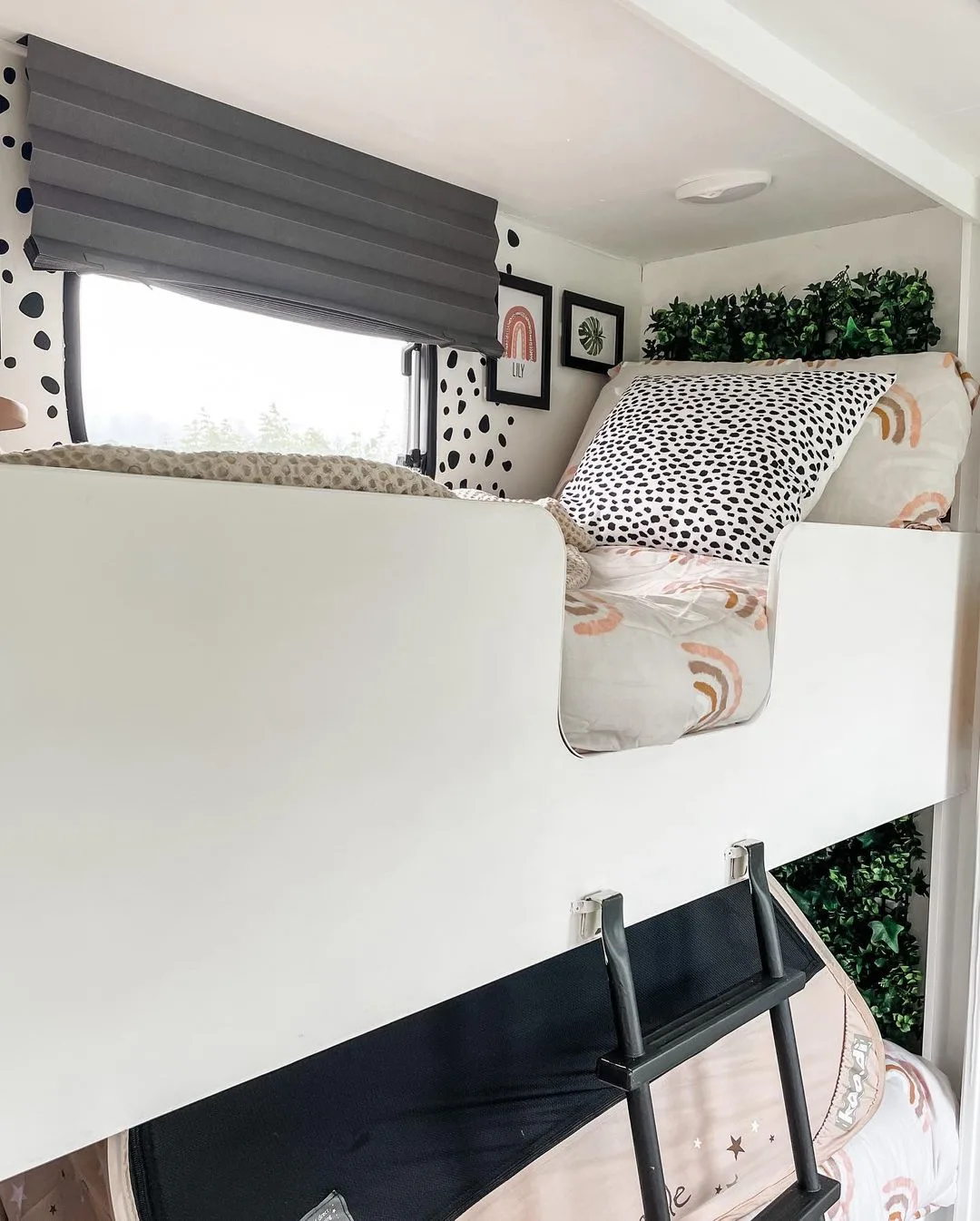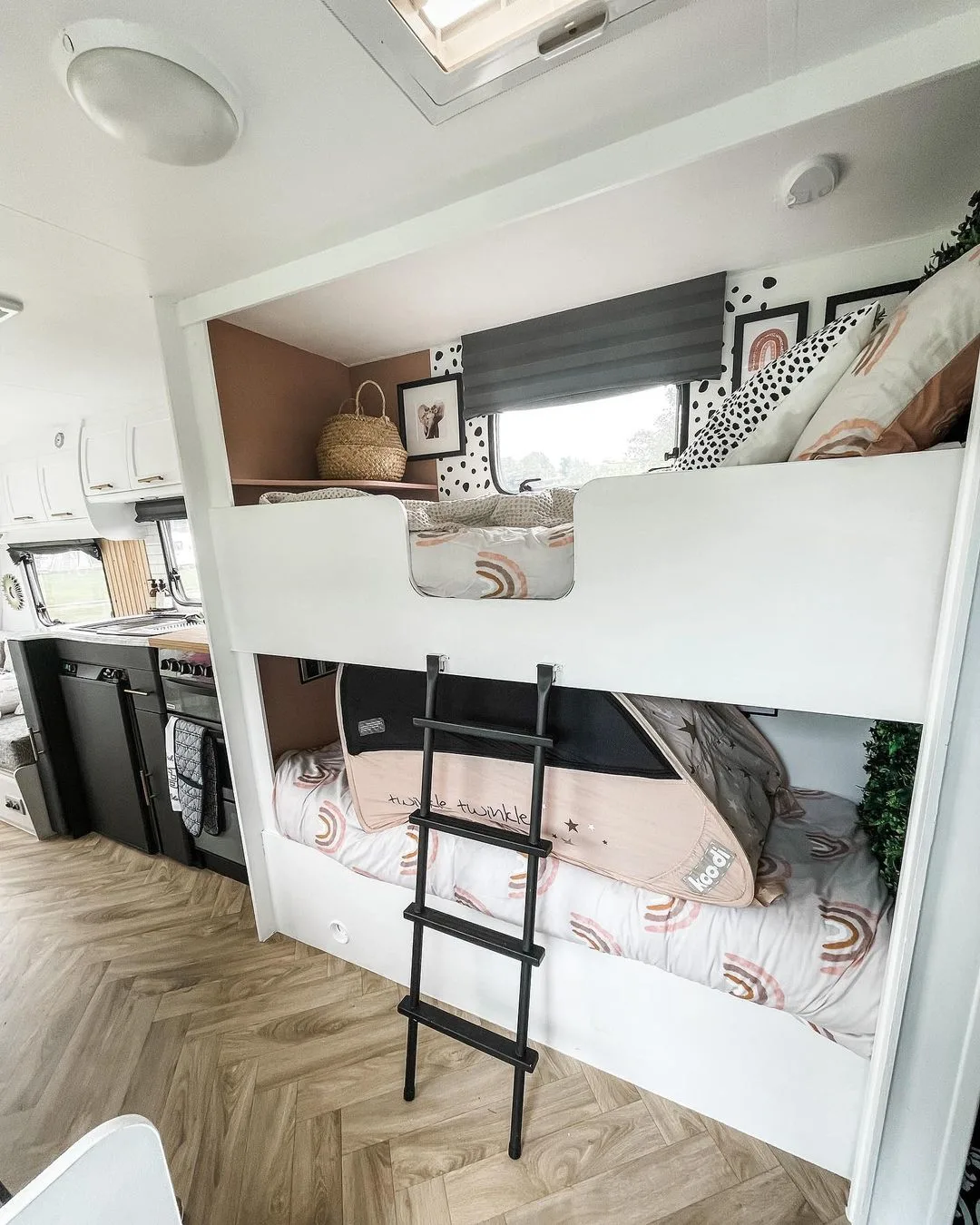 The girls have got permanent bunks, but mum and dads bed converts from the dining area at the front of the van.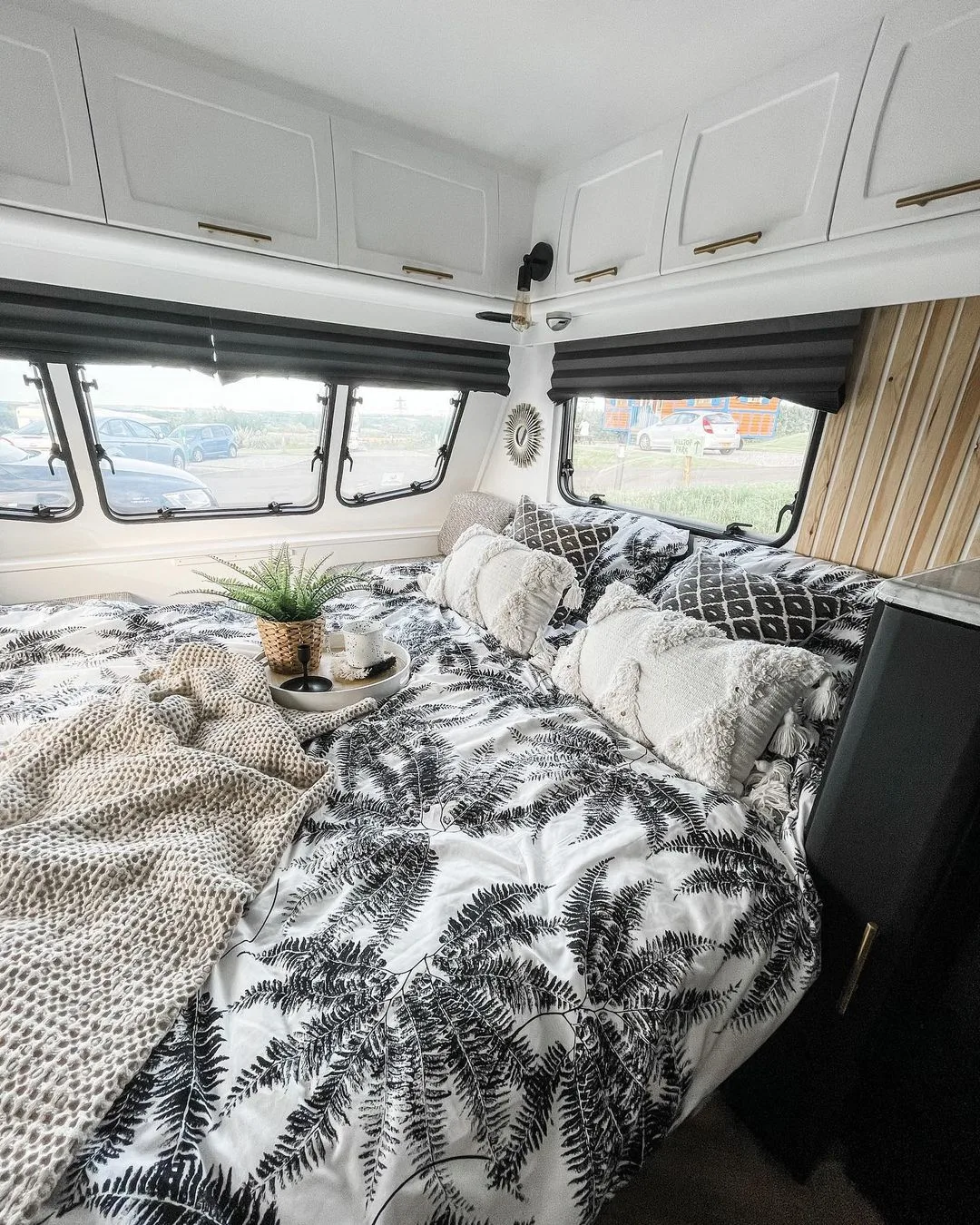 Cost to renovate a van – UK edition
If you're looking for costs to do a renovation like this, Sarah has included these in her 'Van Reno Cost' story highlights on Instagram. It's in pounds, but it will still be helpful.
| | |
| --- | --- |
| Caravan – 2004 Lunar Lexon FB | £4,200 |
| Paint – primer, frenchic, spray paint, brushes, tape etc | £390 |
| Bathroom – sink, taps, wall and floor tiles | £145 |
| Kitchen – tap, tiles, plumbing, microwave, dc fix | £185 |
| Bunks – lights, new mattresses, prints, stickers | £183 |
| Living area – handles, lights, upholstery, flooring | £420 |
| Building supplies – tools, wood treatment, glue, ply, pine panels | £295 |
| Miscellaneous – tow bar, rego,service, towing lesson, electric cables etc | £820 |
| Decor/soft furnishings – bedding, mattresses, plates, glasses, dishes, blinds etc | £800 |
| TOTAL | £7,438 |
Sarah and her family have had a brilliant english summer, Lexy enabled them to enjoy the UK, when normally they'd be heading off to an international destination.
They love the type of family holidays that Lexy has shown them, but it has made them realise she's not quite the right fit for this family.
So they're looking for another caravan and selling Lexy; if she were here in Australia, I know she'd get snapped up super quick!
Thanks so much to Sarah for sharing her caravan renovation with us.
I hope Lexy has inspired your own caravan interior design ideas!
You can see lots more photos of the caravan interior, as well as Sarah's other projects over on her Instagram @sarahemilyinteriors. Be sure to head there for more inspiration!
Save 'Caravan Interior Design' to Pinterest