Gladstone is hardly a tourist mecca, I'm not sure it's even much of a passing through town either as it's off the main highway. But you know what, it's been perfect for us.
After the campsite from hell, it was a joy to turn up to Gladstone and find this gem of a campground … but I'm getting ahead of myself.
This blog post covers 24th July to 30th July, from Fingal Head NSW to Gladstone QLD.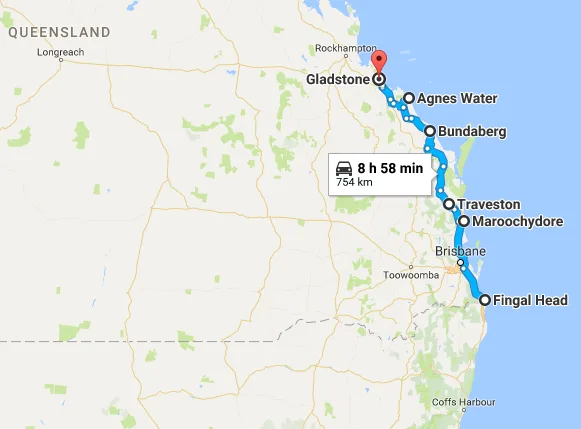 After four lovely days at Fingal Head, we packed up camp (I can't say we did it much quicker this time either) and drove up to Maroochydore. Ben had made contact with an online friend so we stopped in for a coffee.
Then it was just a 40 minutes drive to Traveston for our next stop for the night.
Noosa Hinterland
I think we found ourselves a little slice of heaven.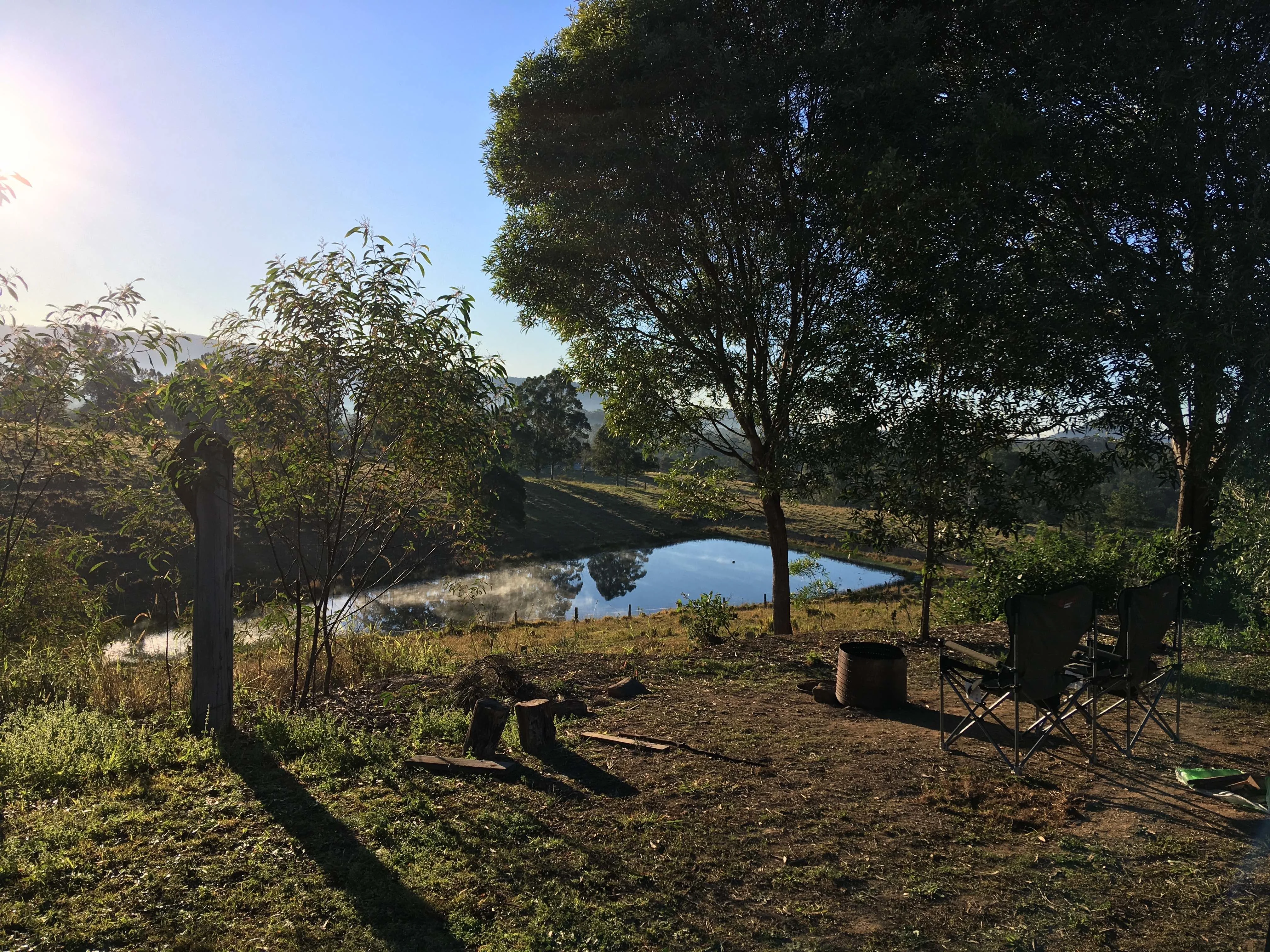 Warrigal Ridge Bush Camp is in the Noosa hinterland and it's a secluded little camp site run by the friendliest camp owner, John. He has a lovely property with beautiful country scenery, good toilet and shower, campfires with plenty of wood… and we're the only campers here.
We had more cloudless blue sky days and we lapped up the sunshine. It was just so nice to be there doing the stuff we'd been looking forward to. Campfires and toasting marshmallows, watching wallabies and listening to the cacophony of bird life.
Battery Problems
It wasn't all idyllic though. There's been endless 'challenges' (we're calling them challenges now, cos we thought it was a bit too negative to keep saying, "F*#k! What now!?!" :-O) and we're still having trouble keeping our batteries charged up. So we headed into Gympie and the local SuperCheap Auto shop where we got some much needed help and information from one of their managers. This has been a really surprising thing for us, all the sales people at SuperCheap Auto have been so helpful and patient with us. Yes, we've spent a lot of money in their store (about $2k) but that was in Port Macquarie, yet we've got help from Grafton, Tweed Heads, Gympie and Gladstone. For a big chain company their customer service has been pretty top notch. Okay, free advertising for SuperCheap Auto is now over.
We've now got our two batteries connected together giving us a 200 AmpHr battery bank and a cable so that we can charge our batteries via the car while we're driving. Hopefully that, and being topped up with the solar panels, will be enough to keep everything humming along.
Agnes Water and the Kangaroo Sanctuary
I had read some great reviews about the Horizons Kangaroo Sanctuary in Agnes Water. Agnes Water is right next door to 1770, the departure point for trips to Lady Musgrave Island. John, the owner of Warrigal Ridge Bush Camp highly recommended that we go to the island as it's at the southern end of the Great Barrier Reef. We were both excited at the prospect of camping on the island for a couple of days… until my research found that it was going to cost us $440 each to get to and from the island. That's an expense that our budget just can't withstand at this point in time. Even a day trip was going to cost $220 each, but with the seemingly never ending things that we need to buy, it's one of those things we have to pass up for now.
Anyway, back to the kangaroo sanctuary… I'd read reviews about it being a great place to stay. Away from the hustle and bustle of the touristy beach campgrounds in both Agnes Water and 1770, and with the added bonus of friendly kangaroos.
We decided to break our rule of only driving three hours to our next destination, and drove four hours to Agnes Water. The kangaroo sanctuary certainly was set in a beautiful location, up on a hill overlooking Agnes Water with lots of kangaroos who didn't run away when you approached. It seems that a lot of people have found this little haven and it was quite full. The nice owner did have an unpowered spot for us though, so we set up on a sandy slope with a magnificent view. We settled in to watch the kangaroos and even had one adolescent happily hop around us and in between our chairs.
But it never felt homely. There were lots of people about and we were squashed into a small space which made it feel very cramped. It wasn't till later that night though, when our neighbours all came home that it got really annoying. We had people parked within a metre of our tent, a campervan and a station wagon where the occupants spent the next couple of hours talking, organising their cutlery (!!) and opening and closing doors ad nauseam.
Then, when we woke up the next morning, we open the door to find two campers sitting right up against our tent admiring the sunrise. Now, I understand that camping is about sharing space to a certain extent, but come on, we need SOME personal space! The funny thing is, everyone around us was very courteous (it seemed like mostly young European backpackers) and were in no way obnoxious or anything; I really think it's a cultural thing (where Aussies and Kiwis demand some space around them and consider it to be their own space for the night since they've paid for it) whereas these young people felt it was all communal space and we'd just added our bedroom to the space. Or it could very well just be a personal thing that Ben and I crave space around us??
Anyway, it was pretty awful and uncomfortable for us, so we packed up early and left. And when I say early, I mean that we were driving out the gate at 7.30am! It was proof to us that we can do quick overnight stops if we need to.
It was just a 10 minute drive out to the point at 1770 where we made breakfast and enjoyed a spectacular view… with loads and LOADS of space around us!
Gladstone Showgrounds
I could see on the WikiCamps app that there weren't many caravan parks in Gladstone but that the showgrounds was available to camp at. We pulled up there and asked if we could stay and were directed to the far corner of the grounds. There were no defined sites, it was near the amenities block and there was power and water. We basically had the whole area to ourselves! It was ideal.
It's kinda comical to think that our ideal campsite was in the middle of a city, no views, no friendly wildlife but it did have oodles of the commodity we crave, space.
And here is our next video!
We will get more efficient at this blogging and vlogging thing (I hope!) but until then, please enjoy all our stuff ups as we learn how to travel, blog and vlog all at the same time. 🙂
Camping Info
Warrigal Ridge Bush Camp
24th-26th July
Unpowered site – $24 per night
Horizons Kangaroo Sanctuary
27th July
Unpowered site – $25 per night
Gladstone Showgrounds
28th-30th July
Powered site – $25 per night