Things are heating up around here… literally.
For the first time tonight we needed to keep some of the tent flaps open so that we could get some breeze flowing through the tent. It would be too easy to start whinging about hot it is, but I still haven't got the cold chill of a New Zealand winter out of my bones, so I'm loving the weather. And hearing reports of my friends and family still freezing their buns off back home, makes me grateful all over again.
This blog post covers 31st July to 6th August, from Gladstone to Molongle Beach QLD.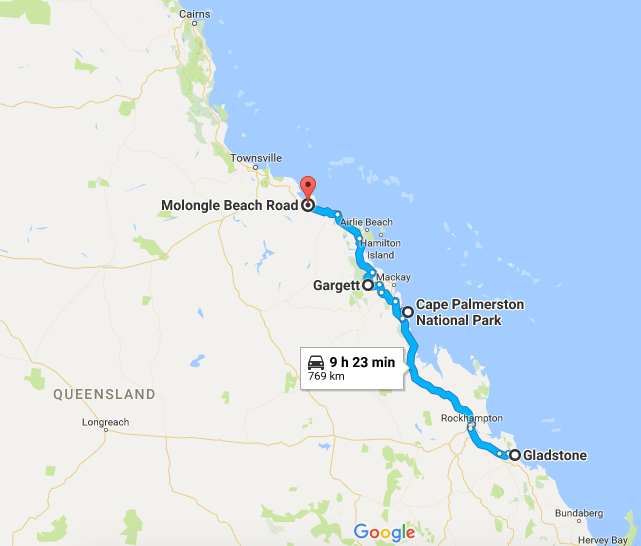 Gladstone has the last Aldi supermarket north, so before heading off again we stocked up on the necessities; you know: chippies, crackers, gorgonzola, brie, soda water, cranberry juice, biscuits. Like I said, the necessities. (And if I'd known that only NSW Aldi sell alcohol, before we left that state I would have stocked up on the delicious sparkling French wine at $8 a bottle. <Sigh>)
Cape Palmerston
We continued the trek north and drove four hours to Cape Palmerston. What a glorious place! Just 10kms off the main highway, the Cape Palmerston Holiday Park has a HUGE unpowered tent site, fantastic amenities block and just 100 metres walk to the beach.
Stunning sunsets, walks along the beach and bashing our way through the bush were the limits of what we got up to there. We'd have done some 4WD driving if we were set up for that, but we're not. No compressor (to re-inflate tyres), no recovery equipment, oh and no experience! The reason we bought a 4WD vehicle is so that we won't be too limited in where we can go and we would like to do some off-roading, especially to some of the more remote and free/cheap campsites, but it's not a huge priority. We're still just trying to get into the groove of this trip and sort out some of the lingering problems (looking at you annoying battery and solar panel!)
First Free Camp
We've found our first free camp and it's great. Lots and lots of space (you know we love that), public toilets are clean and the pub across the road does a good meal.
We were set in a big field with cane fields on two sides, and the small sugar cane train chugged past every couple of hours or so. Not too shabby… especially for free!
Still the Ideal Set-Up?
It was here though, that we also started to realise more of the limitations of our current set-up.
During the day we wanted to go and explore a little bit. But being a free camp, we had no idea how safe it would be to leave our camper trailer with all our stuff inside? No one would be interested in our clothes and bedding, but what about the solar panels that need to stay out in order to keep our batteries charged, or our food supply which is contained in two plastic storage boxes, or more importantly, our fridge which sits in our tent.
We certainly don't want to have to pack all that stuff up just so we can explore the area for a couple of hours, but we don't want to lose it all either! Sure we can (and probably should) chain the fridge and solar panels to trailer, but what about our camp chairs, table, food and everything else?
Another couple there had a caravan that they just locked up and went on their merry way. It looked so easy and secure and all they would need to do is have either a wheel clamp or coupling lock on the caravan. Others had campervans or roof-top tents that need to be packed up in order to move anyway. Either way, they looked a lot easier than the rigmarole we've got. It makes us wonder (again!) if this really is the ideal set-up for us?
The jury is still out on that one, but I also think it may be a little too early in our trip to be making that judgement call.
Camping Info
Gladstone Showgrounds
31st July
Powered site – $25 per night
Cape Palmerston Holiday Park
1st – 3rd August
Non-powered site – $27 per night
Gargett Rodeo Showgrounds
4th – 5th August
Non-powered site – FREE
Molongle Creek Holiday Park
6th August
Powered site – $25 per night
Deisel prices
Caltex Gladstone $1.229/L
BP Sarina  $1.259/L
Shell Ayr  $1.179/L