Escaping the heat is proving to be a little bit trickier than we had anticipated. Even though we drove for hours and hours (and hours), over hundreds and hundreds of kilometres, 1,501kms to be exact … it's still so hot!
This blog post covers 11th to 17th September, from Darwin to Alice Springs, NT.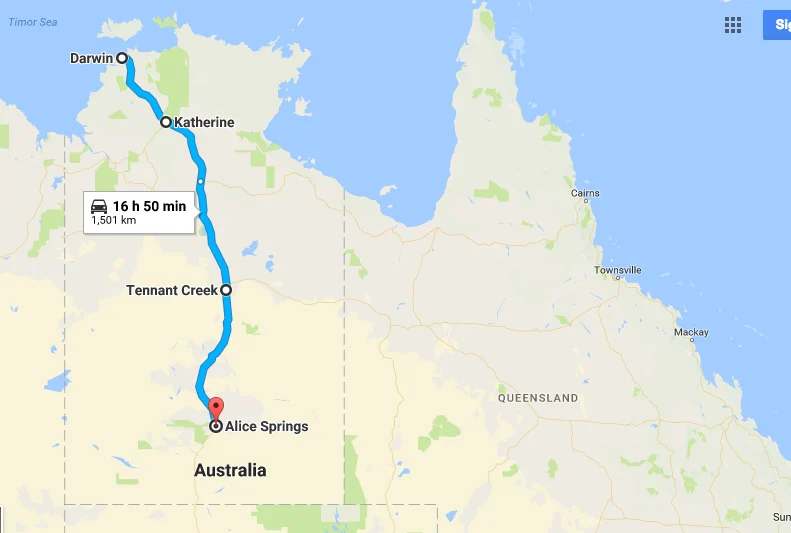 Darwin is hot. I mean, uncomfortably hot.
We had no shade at our camp site and the way our site was orientated it meant that our kitchen area was in the sun all day. To add injury to insult, even the shade from our tent fell on the neighbours site (duh!).
With this kind of set up it was just too uncomfortable to be spending any time in or near our tent.
But we did find three places that worked well for us:
the car – with it's lovely air con we had a couple of car picnic dinners at nice spots,
the pub – where we had lunch with cousins… sooo good, and
the library – yep, the library. Where the air con was so cold I needed a jacket and the wifi was fast, free and unlimited!
But we only lasted two nights in Darwin before hightailing it out of there.
We deliberated long and hard (i.e. approx. three minutes) about whether we would head south for Alice Springs, or continue westward towards Broome, WA. We decided on south… in the hope that south would mean cooler.
(If you've read any of our previous posts you may recall that at the beginning of our trip we were very keen to get to Cairns and the warmer weather that we knew it promised. Well, we certainly enjoyed that warmer weather but now I'm just too dang hot. So it's back south we go!)
Just three hours back to the same campsite in Katherine (the one with the shady spots and beautifully refreshing pool) for one night.
The BIG drive
And then we did the biggest drive of our trip.
679kms.
We didn't mean to drive for quite so long but we were both feeling fine (and shared the driving), we were covering ground we'd already driven just a few days before on our way up to Darwin, so we'd already stopped and seen some of the sights (Mataranka Hot Springs and Daly Waters) and it was a hot day so the air con car was a pretty comfortable place to be.
Just before sunset we rolled in to Tennant Creek. Almost 700kms, 3 fill ups and about 8-9 hours of driving.
Side note: did you know the open road speed limit in the Northern Territory is 130km/hr! Ummm, but we don't do that. In order to get good fuel economy we sit at a comfortable 100km/hr while we're towing; and even at that speed we overtake the odd caravan or road train.
While it was still hot in Tennant Creek, it was cooler than Katherine and there was a lovely breeze blowing.
Karlu Karlu
That lovely breeze from the night before turned into strong winds that had our tent flapping and heaving all night long! So it was a pretty quick pack up and hit the road south again.
I was pretty keen to stop at Karlu Karlu (also known as Devils Marbles) and what a stunning landscape it is. We wandered around the site for about an hour or so. But I'll let the photos speak for themselves. This place is too stunning for my words.
It was a 500km drive to Alice Springs, nothing dramatic to report… except the dramatic scenery of the Australian outback, of course.
For this kiwi girl, who'd never been to the outback, even after living in Sydney for 10 years, it was wonderful to see this beautiful, but harsh, landscape for myself. We were treated to a couple of lizards on the road (one of which I may have run over) and miles and miles of red dirt, yellow grass and small green-ish trees.
At Alice Springs we found that the Central Australian Transport Heritage Centre (two museums: one showing Kenworth trucks and the other of the Ghan railway) have camping for $25 for a powered site.
That'll do us just nicely… at least for a couple of days.
Camping Info
Discovery Parks Darwin
11th September
Powered site – $42 per night
Shady Lane Tourist Park
12th September
Powered site – $43 per night
Tennant Creek Caravans & Cabins
13th September
Powered site – $32 per night
Central Australian Transport Heritage Centre
14th – 17th September
Powered site – $25 per night
Diesel Prices
BP Darwin S1.259/L
BP Katherine $1.299/L
Highway Inn Daly Waters – oops, forgot to write it down
BP Tennant Creek $1.435/L
Caltex Ti Tree $1.75/L