Mobile internet in Australia
We're already a society that is unhealthily tethered to our mobile phones… yet as we travel around Australia in our caravan, we find that our phones have become even more important!
As you plan your own road trip around Australia you may also be trying to figure out what your best options for phone coverage and internet access are.
And if you're travelling here from outside Australia, this will give you an idea of what carriers you should look at when you land.
Note: some links in this post are affiliate links, please see our affiliate disclosure for more information.
Mobile phone carriers in Australia
There are a couple of large mobile phone providers in Australia like Telstra, Optus, Vodafone, Virgin as well as many smaller companies.
Mobile phone coverage Australia
The company with the best (widest) coverage around Australia is Telstra. They have the largest infrastructure network and therefore the largest coverage of Australia.
More recentlyI've been reading reports of Optus setting up cell towers in some remote towns making their coverage better in some of the smaller towns.
But at the moment, my recommendation is for Telstra.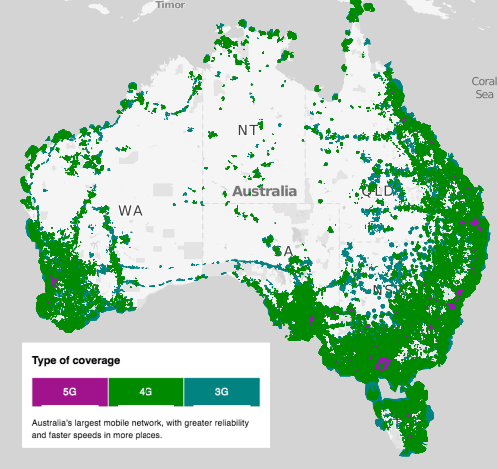 Telstra seem to have a bit of a reputation for not-that-great customer service, but our experience over the last few years hasn't been too bad. 
Like many businesses, Telstra use an AI chat robot thingy when you message them… it took a few go's of it not understanding my request before I got transferred to a human. But once I did, they were able to sort out my queries.
Also, Telstra is certainly not the cheapest, but with the coverage they have (in both cell service and customer service) they are my recommended choice.
Post-paid or Pre-paid mobile phones
If you live in Australia already, chances are you're already on a post-paid plan.
I'm glad to now be on a post-paid plan, simply because I can get more data cheaper than on pre-paid. 
With Telstra, I now have unlimited data.
What I mean is that once I have used up my monthly allocation of data, speeds are slowed down. But we've found that even on slower speeds, it's still fine for watching Netflix and Youtube. And I don't get any excess data charges.
If you're travelling to Australia from somewhere else, then you will probably only be able to get a prepaid service. The costs for prepaid is not too bad… but of course, it's more than a post-paid plan.
You'll need to check out each carrier when you need it, as their plans and prices change all the time.
Satellite Phones in Australia
Consider taking a satellite phone with you for emergencies.
You can either buy or hire a satellite phone, and though not as cheap as a mobile phone, they do mean that you can make calls even when you're out of cell phone coverage. 
Buy from Telstra – www.telstra.com.au/coverage-networks/mobile-satellite
or
Rent from SatPhone Shop – www.satphoneshop.com/rentals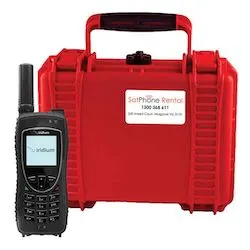 There are options for a messenger only phone, like the Spot X 2-way Messenger.

This allows you to receive and send text messages. You connect it up to your smart phone (via bluetooth); it's not as pricey as a regular satellite phone but you will still need to subscribe to Spot.
Internet around Australia
Ahh, the bane and blessing of every travellers existence!
Getting internet in Australia isn't too hard, especially if you don't need lots of gigs and you're not in a remote area. 
But if you need/want heavier internet usage, things get a little bit trickier, and a lot more expensive.
Here's how you're going to get internet in Australia:
Free Wi-Fi
Free Wi-Fi can be found in all the regular places: shopping malls, airports, McDonalds, hotels and libraries. 
Most often this will be capped and maybe slow, so we've only found this good for checking email, social media and browsing.
Hot spot from your phone
This is a popular, and easy solution. If you're with Telstra you'll be able to get internet most of the time. (Refer to the coverage maps above… Telstra, generally, still has the best and widest cell phone coverage)
When deciding how much data you'll need, just remember that you'll probably using more than you currently do.
The stuff that you would normally do on your home or work internet, now has to be done on your phone data. 
Things like: updating all your apps, downloading podcasts, audio books and movies, zoom calls and emails.
And you'll be using maps more, looking up camping and tourist details and researching your next destination.
Mobile Modem
I've seen many other travellers using a mobile modem; and they're a great option for families, as you can have multiple devices hooked up to them at the same time.
We looked at this option for ourselves, but for us, just having a phone each works for our internet.
You can buy these modems on a post-paid plan or on pre-paid from any of the mobile carriers.
Cell Boosters / Repeaters
This is a constantly changing area; but currently, mobile phone boosters are illegal in Australia.
Mobile phone repeaters are legal; however, they need to be approved by the mobile carrier whose network they are used on.
Cel-Fi is the only consumer mobile phone repeater that has been widely approved by all mobile carriers in Australia (at the time of writing).
I would recommend going through your carrier to purchase a repeater. That way, you know they're approved by that carrier. 
As an example, here's a link to Telstra's network coverage extension devices that they use on their network (Cel-Fi).
www.telstra.com.au/coverage-networks/network-coverage-extension-devices

Internet usage behaviour
If you're not on unlimited data, then please take note, you must change your internet habits!
We found that on the road we had to be a lot more conscientious of our internet usage. You can't watch whatever you like, whenever you like.
You've got to stop going down the rabbit hole of endless Facebook or Youtube videos and make the most of free wi-fi when you get it, buy cheap DVDs from the second-hand shop, or read a book. 
Seriously, you have to get off your laptop / devices for this trip. 
I think you'll find that it's not hard though, there's so much to see you'll be glad to see how much you don't need the internet!
Mobile Internet in Australia – save to Pinterest