Being organised is the key to making sure you make the most of your caravan kitchen storage space.
It's only by being organised  that your tiny caravan kitchen doesn't turn into a nightmare and being organised allows you to downsize and take only what you need, rather than having to take everything you think you might need.
This post contains affiliate links. Please see our disclosure for more information.
Here are the 5 keys to getting your caravan kitchen organised:
1. Everything has to have a place for travel
With a life on the road, everything obviously has to be stored safely for travel. I recommend finding a spot for everything, in a cupboard, drawer or even in an outside storage compartment.
Our caravan is so small that we have to put quite a bit of stuff on the bed when we move: the fan, the frying pan (yep, our caravan kitchen cupboards are so small that the frying pan doesn't fit in any of them), the odds & ends basket) so that means that every time we move, we have to move things backwards and forwards.
That's one of the limitations of our tiny caravan and the fact that we live in it full-time. If you have the space, I would definitely recommend making sure that everything can be put away, but that they can be pulled in out easily, especially if they're used a lot.
2. Compartments for everything
For all but the smallest of kitchen cupboards, it makes total sense to create compartments in your caravan kitchen cupboards.
This can be done with purpose made crockery holders, or simple cardboard or plastic boxes.
Plastic or cardboard boxes
You can buy any and every shape and size of box from places like Kmart and Bunnings, to perfectly fit the space that you've got.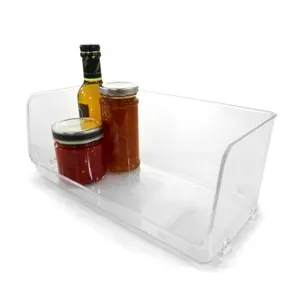 I've got a couple of plastic containers from The Reject Shop that hold stuff like our tea, coffee, sugar and vitamins in place, but I've also got sturdy cardboard boxes that fit perfectly and protect our glasses from the plates that are sitting next to it.
There's no perfect way to add compartments to your caravan kitchen cabinets, but they certainly make the biggest difference to making the most of your space, and protecting the things in the cabinets as you rumble down the road.
Drawer organiser
Obviously you don't need a fancy bamboo expandable one like this, a plastic one from any $2 store will do just as well!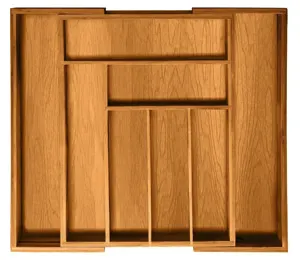 Utilise the space under the sink better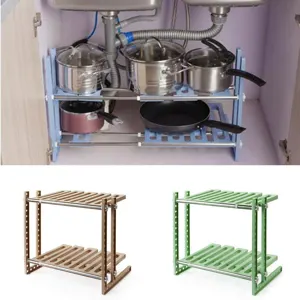 Compartments in the fridge too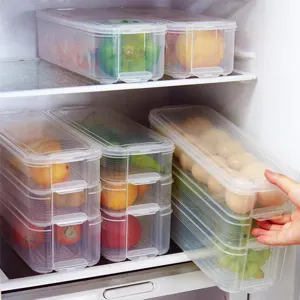 3. Use other means to free up cupboard and drawer space
Hooks and caddies on the inside of the cupboard doors
We've all used the myriad of stick on hooks that you can buy everywhere, but have you also thought about putting a caddy on the inside of the cupboard door over the door hooks (means you can hang heavier stuff)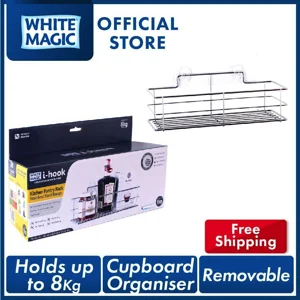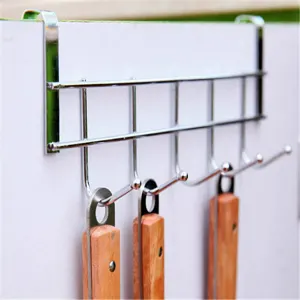 Lid holders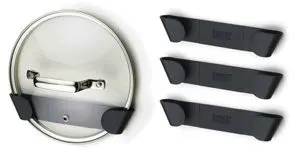 Hanging fruit basket
You'd probably want to take one of these down for when you're travelling though.

Caravan kitchen roll holder
Paper towels are the bain of my life. All because they unravel all the time, and because you need two (preferably clean) hands to tear one off.
So I hunted to find one that has really good reviews for NOT unravelling, and a ratchet system so that you can tear one sheet off with one hand. Finally!
Magnetic knife block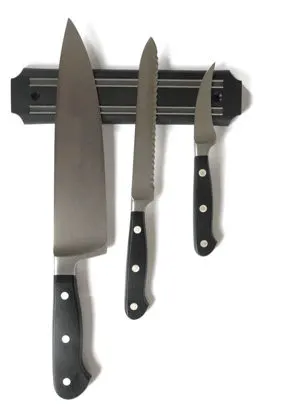 Magnetic spice rack

I have heard some people talk about how they LOVE their magnetic spice rack, and how it looks stylish as well as being practical. And I've heard others talk about how they found the magnets to be not strong enough, or they put it in the wrong place (like behind the stove where they were affected by the moisture.
So here's another option:
Spice rack on inside of cupboard door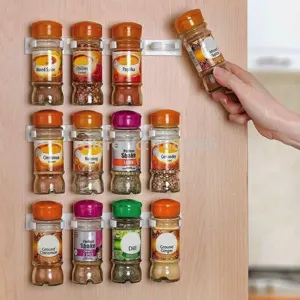 4. Select multipurpose kitchen items
Multipurpose items
If I can find kitchen items that serve a dual (or more) purpose, then that's what I try and do. Here are a couple of examples:
Glassware that can be a water tumbler or a wine glass
It's probably not the 'done' thing, but I love stemless wine glasses because I can have my wine in a proper wine glass, but also use that same glass for water, juice, fizzy or whatever!

Fruit bowl that can be a salad bowl too
I bought a clear plastic salad bowl from KMart that was perfect. We used it for a fruit bowl, but when I needed a nice looking salad bowl I had one. Unfortunately the one I bought was too cheap and flimsy and didn't last very long at all. Next time I'll get something like this:

Cookware that can be used to serve, and then to store
I love the glass pyrex dishes that you can put in the oven, and since they're glass, they look nice on the table, and then they come with a lid so you can just pop a lid on and put the leftovers in the fridge.
5. Select lightweight caravan kitchen accessories
Corelle dinnerware
I love this stuff. Corelle dinnerware means that I can have 'normal' plates, but they're thin and light, which makes them easy to store.
You can buy Corelle almost anywhere, including Woolies.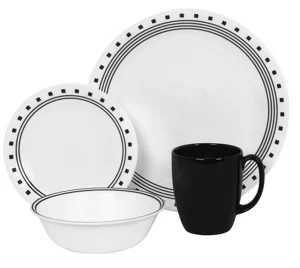 Small caravan kitchen appliances
With such limited bench space I like to keep my counter tops as clear as possible but if I am going to have appliances on the counter, I like them to be as slimline as possible.
Coffee machine
There are gazillions of coffee machines available, so you have to find one that suite your tastes. But I would recommend going as small as practicable.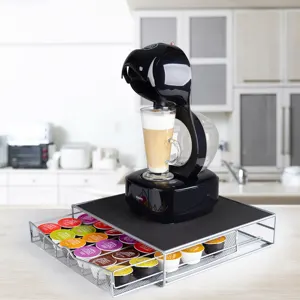 Blender
Rather than a full size blender, you may find that something like a mini blender or nutribullet is sufficient in your caravan.

Collapsible items made for caravan kitchens
Be cautious with this one. For some things I've found that a collapsible item actually takes up more room to store than a non-collapsible. For example, the collapsible food containers can be collapsed and sit on top of each other, actually take up more room than if I'd just bought normal ones and nested them inside each other. Just something to keep in mind.
Just because it's collapsible doesn't mean that it's useful for you. I sometimes get caught in the trap of thinking that just because it's nifty, I'll use it. If I don't use a colander now, I'm not going to use one just because it's now collapsible.
A note on weights
Having your caravan kitchen storage space organised may help you to fit more stuff into your caravan. But beware of your weight limits. The safety of yourselves and other road users is of waaay more importance than whether you can squeeze another gadget or another box of canned goods into your caravan.
Just because you can fit more, doesn't mean that you should.
Are you in the process of organising your caravan kitchen storage space? Do you have any more tips you'd like to share with us?
Save this article by pinning it to your Pinterest boards