We were really enjoying Alice Springs and being able to stay in a cheap, powered campsite ($25 per night). There were lots of things that we were going to do in Alice Springs, like go out to Desert Park and the MacDonnell ranges. But as the weather app forecast a bit of a heat wave later in the week, we thought we'd take the opportunity to keep on moving.
This blog post covers 18th to 23rd September, from Alice Springs NT to Port Augusta SA.
Who am I trying to kid.
The main reason we moved on from Alice Springs was that our peaceful and empty camp ground was shattered by the arrival back of a family of five. Now, just to be clear, we don't have any problem AT ALL with families when we're camping. Kids make noise but it's just kid noise.
The problem we had was that the family had gone away for the weekend, while they were gone the campground emptied out so we were the only ones there. When they came back from their weekend they parked RIGHT NEXT TO US.
In an empty campsite!
It's just annoying, to have all that space, and then have someone camp right beside you. So you can hear mum and dad having a tiff, the little girl whining all day about her older brothers picking on her and the kids whipping up dust on their bikes.
But truth be told… okay, getting honest here… the main issue we had was that WE hadn't spoken up when they first arrived.
We could have asked them to pick another spot.
We could have let them know that we were planning on staying for at least a couple of days more, or that we snore (loudly), that we like to get up really early (that's a lie), that we wanted to watch movies at night so would have the speaker up kinda loud or that our electric tap is really loud (it is, it's embarrassing. And I refuse to use it when we're camped near others just cos I think it's too loud).
But we didn't do any of that. We just seethed.
The next option (other than putting on my big girl pants BEFORE they had set up camp beside us) was to move our camp. But it's so much work packing up and setting up, that we figured we may as well keep moving if we're going to do that.
So we did.
We left Alice Springs after five days and headed off into the desert, straight to Uluru.
Side note: We both dither when it comes to having uncomfortable conversations with people. We needed to have the conversation BEFORE they'd already set up camp, not think about it for 20 minutes, realise we're annoyed and then decide to have the conversation. We gotta think, and move, faster than that. We're working on it.
Uluru
A few weeks ago a friend posted on facebook about her trip to Uluru and how much it had captured her heart. To be honest, I thought that maybe she was just saying the 'right' things, you know, how everyone loves Uluru so you've gotta say that you love it too? (Or maybe that's just me… you're learning a lot about me and my short comings in this post, huh)
Well… Uluru captured my heart! I fell…hard. That big ole rock in the middle of the dessert took me in and I was like a love struck teenager.
Ack.
But before we get there, there was Mt Conner to sucker me in first.
Apparently a few folk mistake Mt Conner for Uluru. You can see how, when you've been driving for hundreds of kilometres, you've taken the Lasseter Highway turn off towards Uluru so you start scanning the horizon for a big orange rock in the distance. And then you crest a small hill and there's Mt Conner in all its glory, an imposing monolith that you can't miss. It's pretty impressive, and quite beautiful. If I hadn't already read about Mt Conner, I'm sure I would have started clapping with glee at finally seeing 'the rock'.
Before long, we came upon Uluru / Ayers Rock and we found that she's one of those beautys that gets more and more beautiful the closer you get to her.
We found ourselves the free camping spot (after driving back and forth past it a couple of times… doh!) that overlooks Uluru and set up camp for the night.
After waking up to see the sunrise, we set off early to go and cycle around Uluru.
I can't think of a better way to see the rock, it's an easy ride, all on flat ground. Even though it's a dirt path, with some sandy parts, it's mostly packed dirt and easy to ride. And this way you get to go around the whole rock and see everything up close. There are plenty that decide to walk it (I mean, the bikes are expensive at $45 each for 3 hours) but it's 10kms and if you don't get it done early, you could easily find yourself walking in 37°C, as was forecast for that day.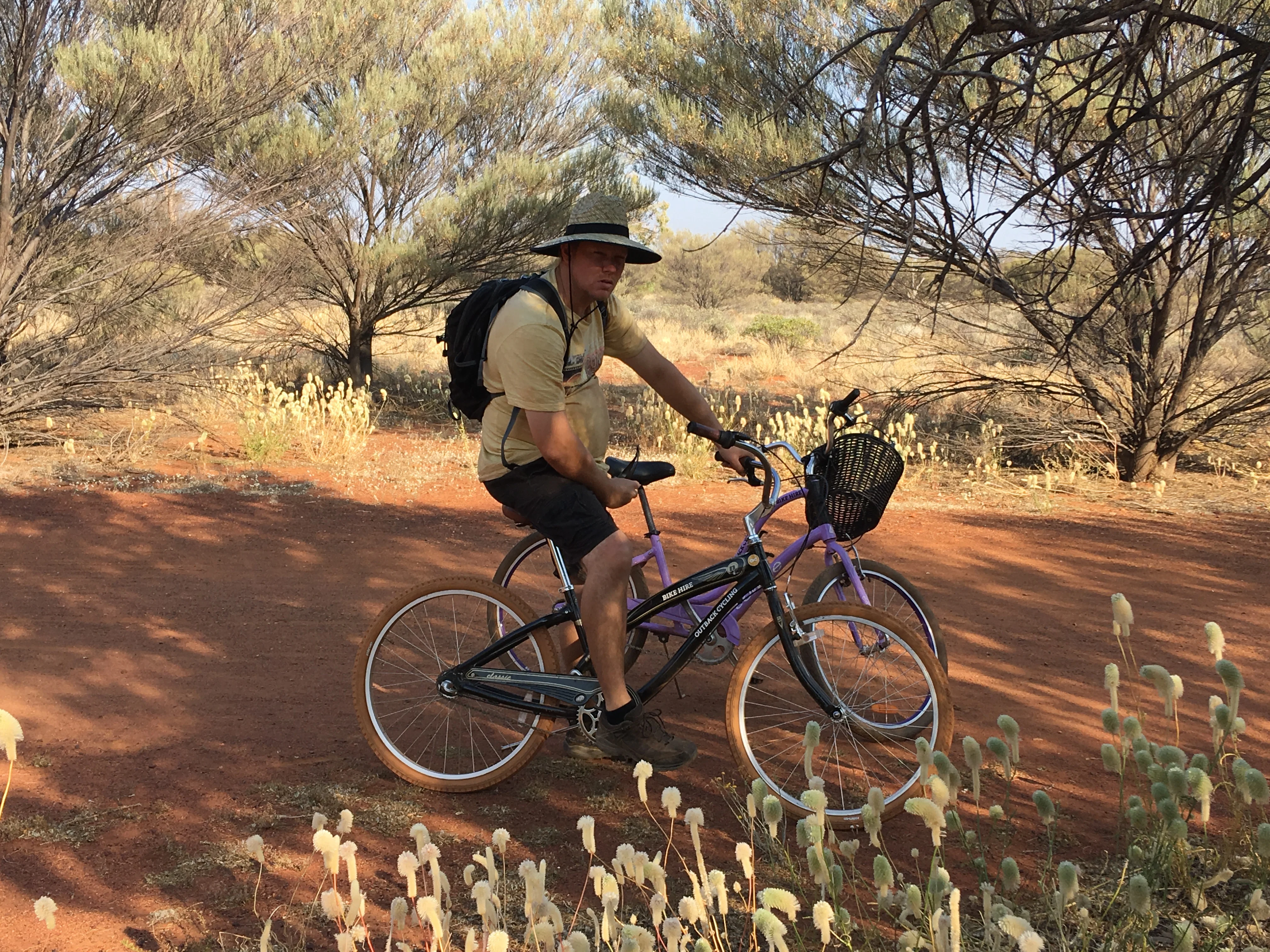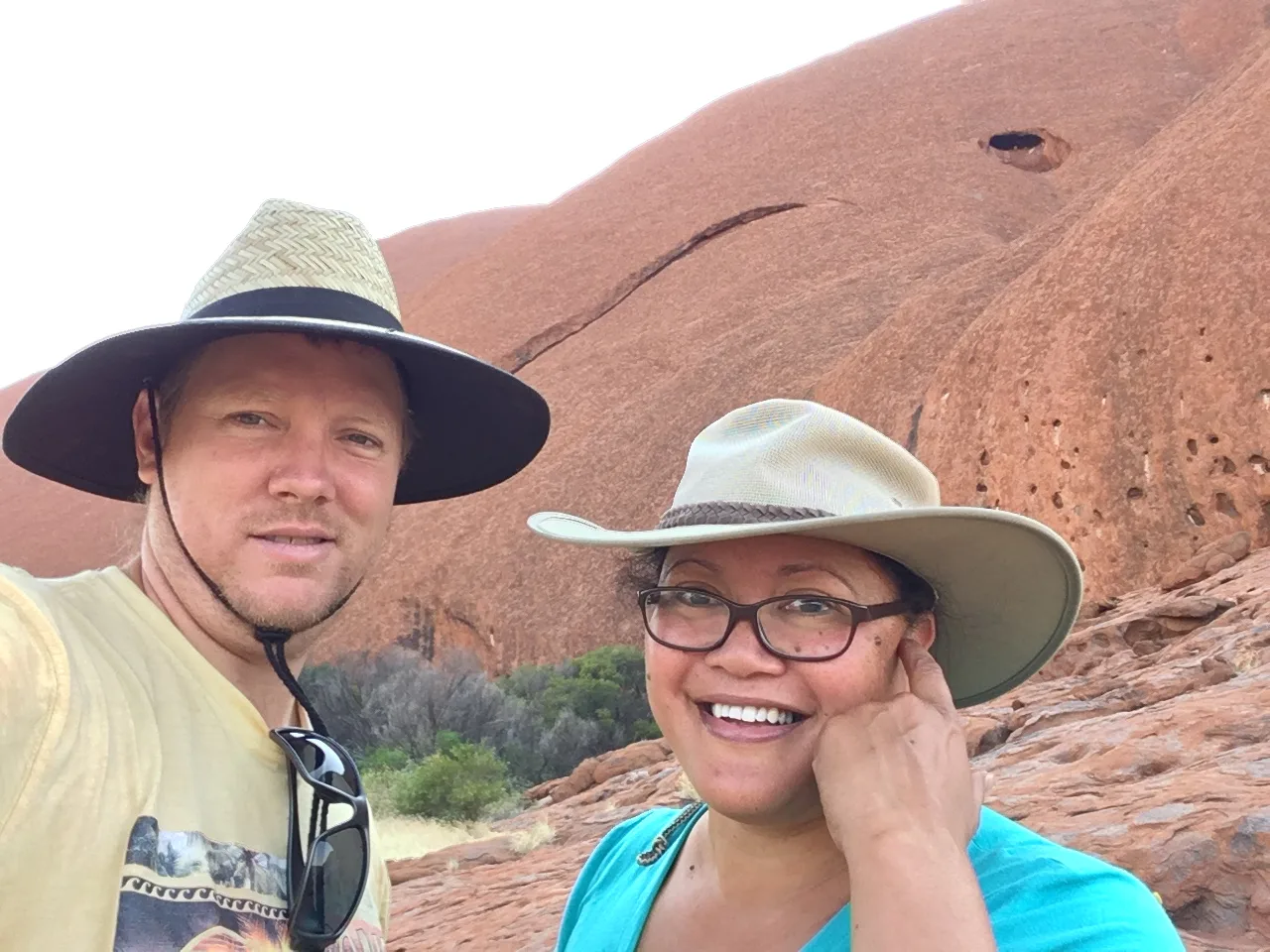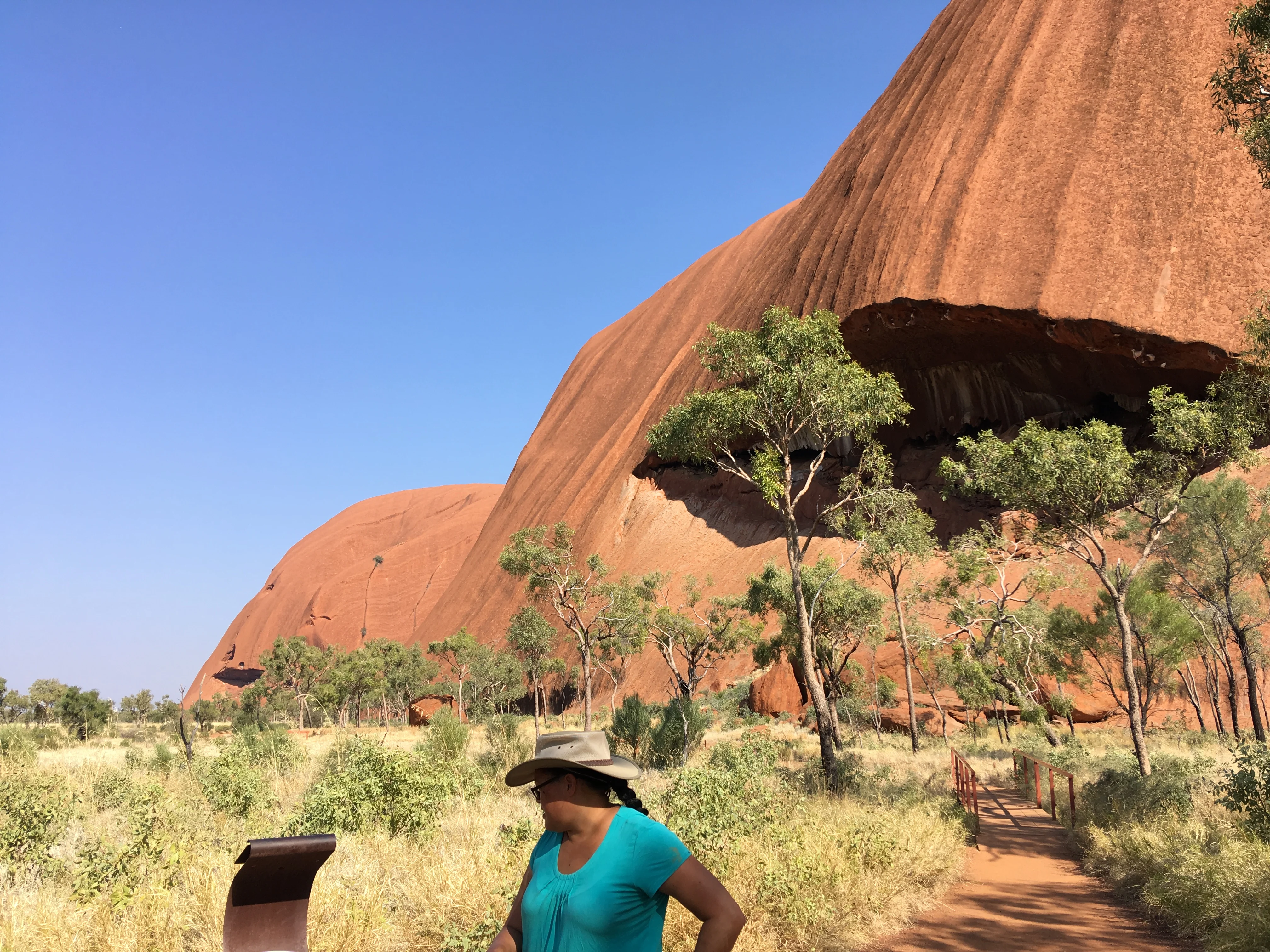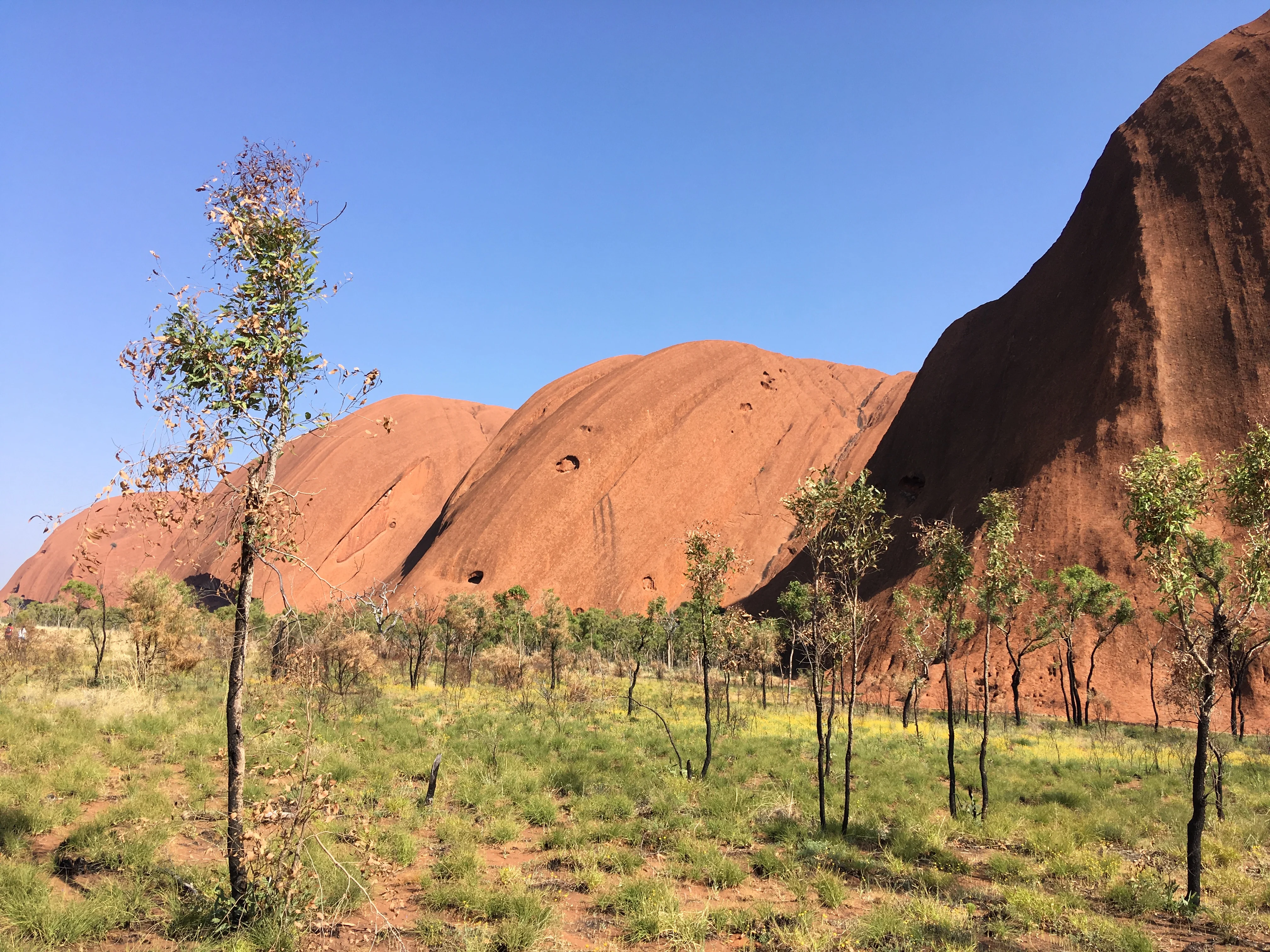 After our morning admiring Uluru, we hit the road again and got back on to the Stuart Highway heading south. Just a quick stop at the NT/SA border as this is the first time in 30 years that Ben has been back to South Australia, his birth state, so that deserved a photo. (No, I didn't push him to get out and take a photo… much.)
We found a big, gravel carpark about 100kms past the border, where a few others campers were setting up, and decided to join them. With such a huge area though, we didn't have to camp close to each other.
And you know what, it was our favourite campsite to date! A big gravel carpark, no amenities, no mosquitoes, no people, no dust. Just a beautiful sunset and sunrise.
And it was our favourite. There's just no accounting for some peoples taste huh.
More Driving
Okay, just because we haven't done enough driving yet, and it feels kinda weird to just spend the day in a gravel car park, we packed up and continued south.
Coober Pedy was the next town so while we were there we retreated to the relative cool of the Old Timers Mine. It was interesting to see how the opal is mined and the conditions that miners would work in. I love the idea of living in the underground homes though, they're a very comfortable 23°C while outside it was in the high 30's.
We made it as far as Woomera where we spent one night. The next morning we had one of the most comical pack ups we've ever done.
The wind had really picked up overnight and our tent was getting buffeted about so we decided to just pack up as quickly as we could and stop for breakfast somewhere along the way. While packing up I was putting things in the car when our neighbour raced straight past me as he saw our tent 'taking off' with Ben being flung around inside (he was fine, laughing actually); between the three of us we managed to get the tent down, despite the endless laughing and having to re-do things because trying to pack up quickly meant we forgot to do some bits (like shorten the poles so it actually fits on the trailer).
Just 2 hrs drive to Port Augusta and …
Car Troubles
It was a nice easy drive into Port Augusta and we were excited to see lots of shops, a Foodland (a childhood memory for Ben which he hadn't seen in any of the other states), Barnacle Bills (!) and The Reject Shop (don't judge us).
Ben mentioned that the engine sounded a bit different so he found a spot to park and pop the hood. Ugh. What he found was that oil had been spouting out everywhere. So we didn't just have an oil leak, we had a gush. Great.
Thankfully, it doesn't look like it had been going on for ages.
But how lucky are we?! Of all the thousands of kilometres, through the harshest environment that Australia has to offer, our trusty little Teracan waited until we were in a big town, with multiple mechanics including the newly arrived Hyundai Service Centre, that's not so hot to make me melt, with a caravan park within walking distance of the mechanics.
So, though we were bummed out that we had car trouble and would be stuck for at least the weekend and probably a few more days, we couldn't forget to be so, soooo grateful that it happened in a safe place for us.
So began the desperate hunt for a mechanic (an open one for a start, being a Saturday we were already on the back foot), we found one and he was able to quickly diagnose a cracked oil line to the turbo, he sent us off to the Hyundai Service Centre. They didn't have any mechanics working that day so we have to wait until Monday.
With a car gushing oil, we needed to find a campsite pronto, and not drive the car until we could get it back to a mechanic. The caravan park was just a couple of kilometres away, but with the wind picking up pretty strong we needed to get the most sheltered spot we could. We drove around the caravan park leaving a trail of oil (oops :-/) before finding a spot right up against the fence, that would allow us to at least put our tent up without getting blown away. (Just as well too, the ground is rock hard and it's impossible to drive any tent pegs in)
Just a short walk to the bottle-o and we were armed with the supplies that would make our evening enjoyable after such a big day… and week.
French bubbles and spag bol. Of course.
Camping Info
Central Australian Transport Heritage Centre
18th – 19th September
Powered site – $25 per night
Uluru By Sunrise
20th September
Free camping – no power, facilities or noise control.
Tarcoonyinna Rest Area
21st September
Free camp – no facilities, just a big gravel car park. 
Woomera Traveller Village & Caravan Park
22nd September
Powered site – $25 per night
Shoreline Caravan Park
23rd September
Powered site – $35 per night
Diesel Prices
BP Alice Springs $1.359/L
Caltex Yulara Ayers Rock $1.869/L
Erldunda Roadhouse $1.819/L
Caltex Marla $1.569/L
BP Glendambo $1.499/L