Best off road caravans Australia with a bathroom
Some of the most beautiful places around Australia, can only be reached at the end of a long, dusty and very bumpy road… and that's if there's even a road at all!
And it's for places like this that an off road caravan becomes very appealing.
The best off road caravans in Australia are robust, well made with high quality workmanship and attention to detail, high(er) ground clearance, articulating coupling and large departure angle.
And once your get to you campsite they are comfortable, warm (or cool) with many ammenities like a well equipped kitchen, space to relax and a full bathroom.
It's a great way to travel and see more of Australia, but still have all the comforts, conveniences and luxuries of home.
If you're looking for an off road caravan Australia, we've hunted the internet for some of the best off road caravans in Australia.
Just be aware that all manufacturers classify their caravans differently and there is no set rules for what makes a caravan 'off-road' or not.
But here is what we think is the minimum criteria for being able to call it an off road caravan. 
What makes a caravan an off road caravan
We've written about what makes a off road caravan different from a 'regular' caravan, and it's three core things:
1. Higher ground clearance
Along with the higher ground clearance, a large rear departure angle is also necessary to avoid scraping the back end on uneven terrain.
2. Off road caravan suspension
The best off road caravan suspension is an airbag suspension system; this uses a pressurised rubber bag to absorb the caravans load. 
At the very least you should have an independent suspension system using coil springs with trailing arms and shock absorbers.
It's really important to have a suspension system that is designed to perform over hundreds of kilometres of rough terrain or corrugations.
3. Durability
The chassis needs to be robust enough to withstand rough tracks and hours over washboard roads; it also requires some 'armour' on the outside like checkerplate to prevents damage from rocks, stones, branches etc.
On the inside, the cabinetry should be well made you using quality fittings, glue, screws etc, with attention to details that will ensure they don't fall out after being shaken about for a couple of hours on the road.
Factors to keep in mind when towing an off road caravan
Weight – since off road caravans are built more robust, they are going to be heavier than a regular touring or road caravan of the same size. You need to ensure that you have a tow vehicle that is correctly rated for the van you intend it to pull.
---
Off Road Caravans in Australia
I have scoured the internet and found all the off road caravans that I possibly could.
And I've managed to find 146 caravan manufacturers with almost 1,500 different models of off road caravans!
I've listed all 146 of the manufacturers at the end of this post, if you just want to see who they are.
All 1500 off road caravans on a spreadsheet
However, if you want to see all 1500 different models, we've made available a spreadsheet where I've painstakingly gone through every manufacturer's website and listed every model of theirs that they have defined as an off road caravan.
I've included the Make, Model, Length, Width, Height, Weights, Number of people it sleeps, whether it has a bathroom or not, the battery set-up, aircon, tow hitch and Base Price; and the URL so you can go and check it out for yourself.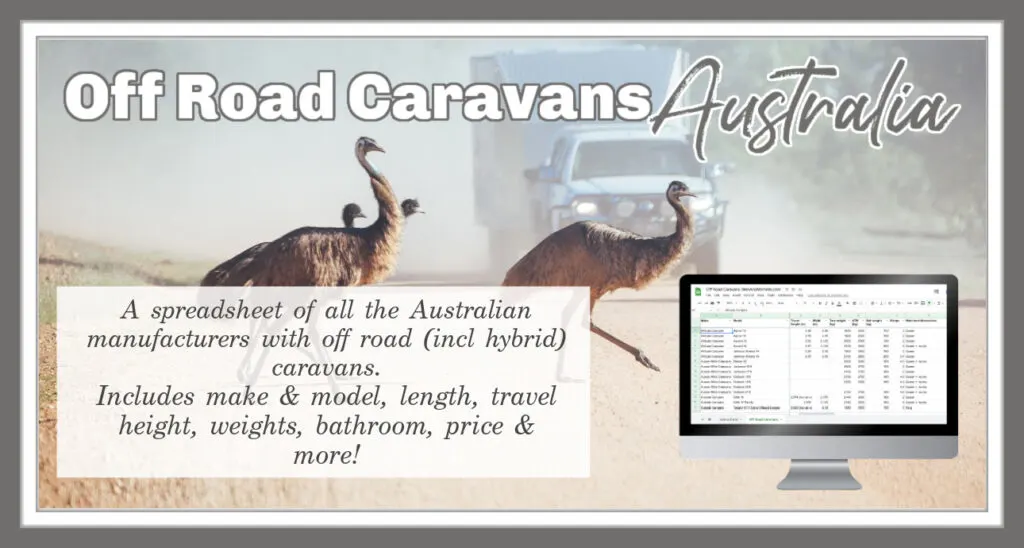 Click here to buy the Off Road Caravans spreadsheet.
Hybrid Off Road Caravans
A hybrid caravan is generally smaller and lighter than an off-road caravan with the kitchen usually outside; and if there is a bathroom it will either be a small wet bath inside or an ensuite tent on the outside. Check out our post on Hybrid Caravans if this is more what you're after.
---
15 Australian off road caravans, with a bathroom
If you just want to see a selection of some of the off road caravans available in Australia, here are 15 that I think would be great for any Aussie adventure. (And if you're looking for an off-road caravan with an ensuite, all the campers on this list do include an internal bathroom).
Where I've been able to find the specifications, I've included the dimensions and weights for each caravan. Only use these as a guide, as every manufacturer measures differently and may not include options that may be added later.
Provincial Liberty
The Provincial range of off road caravans has only just come across my radar, so we'll start here.
There are 3 caravans in their range, the Liberty and Senator are geared toward couple travellers, while the Estate accommodates families with their triple bunk beds.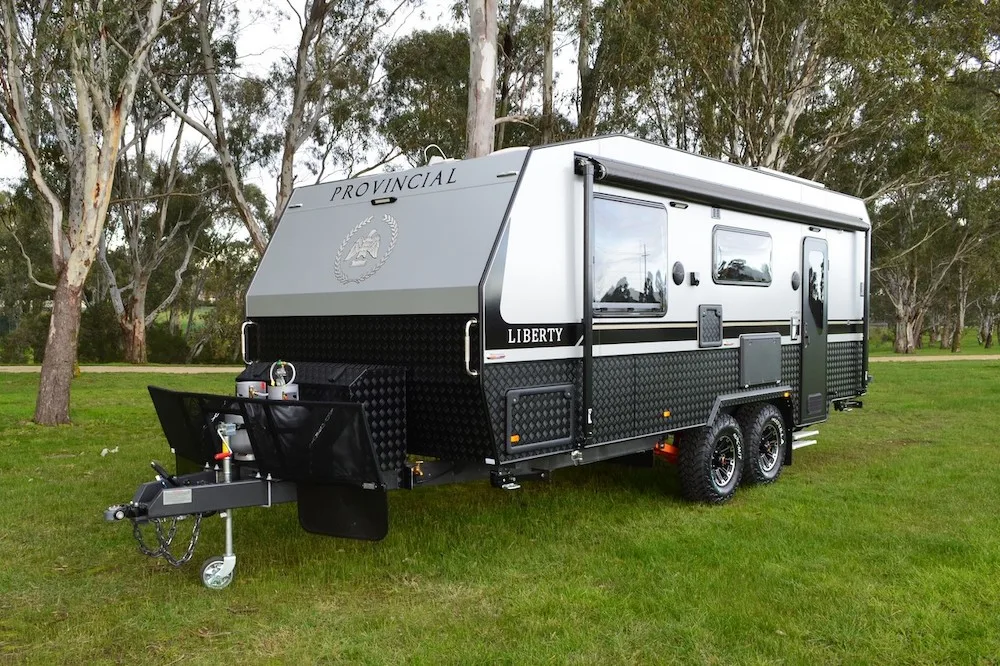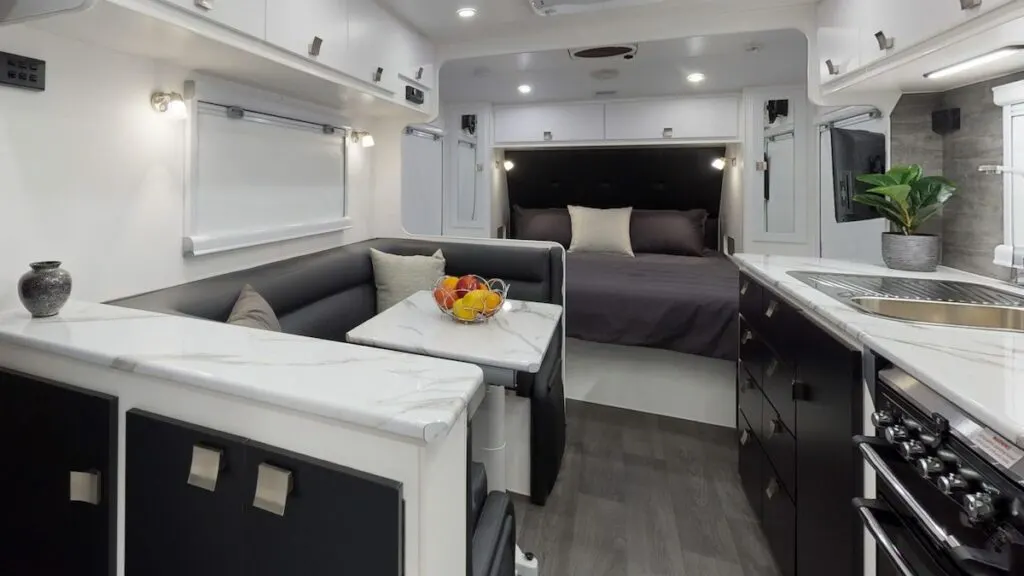 Length: 8850mm 
Width: 2350mm
Height: 3100mm
Tare: 2700-2750kg
ATM: 3500kg
Sleeps: 2-3
https://provincialcaravans.com.au/
---
AOR Quantum FH
Australian Off Road (AOR) have a number of off road caravans and campers in their range. The Quauntum FH fits everything you need into just 14′, and it comes with either a queen size bed or two singles.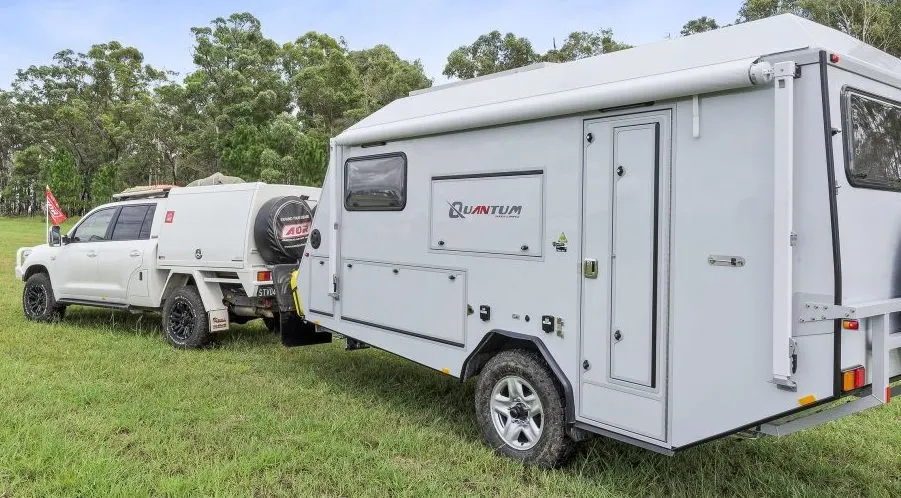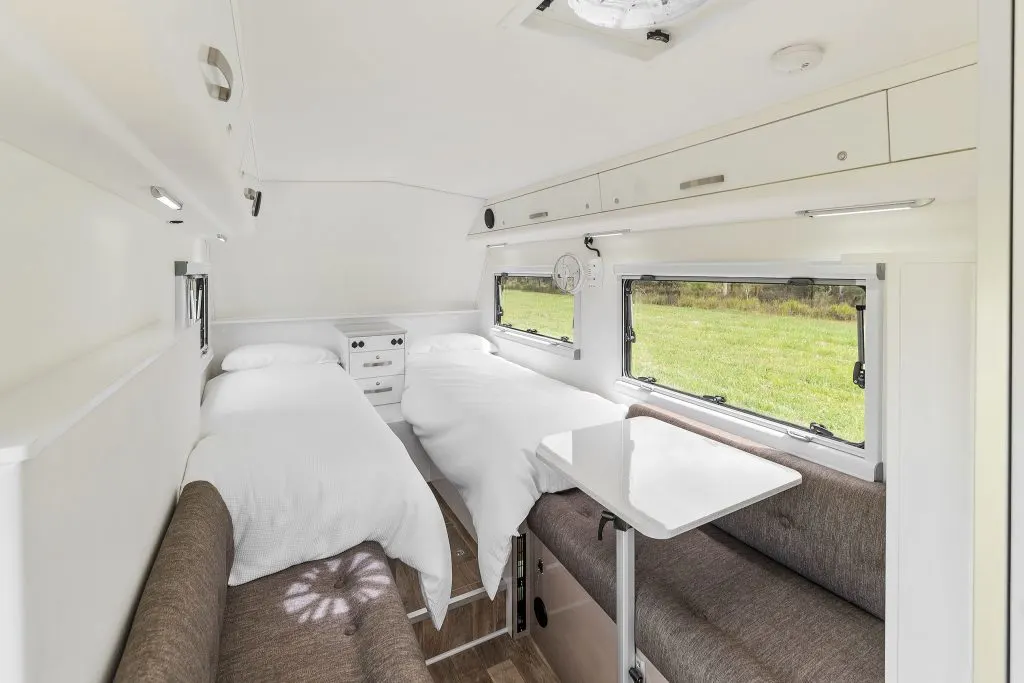 Length: 6400mm 
Width: 1950mm
Height: 2840mm
Tare: 1840kg
ATM: 2500kg
Sleeps: 2
https://australianoffroad.com.au/
---
Trakmaster Pilbara S series
At the time of writing this (Dec 2023), Trakmaster have been doing a big update of their range on their website. The Pilbara S series is being replaced by a new model soon… so watch this space!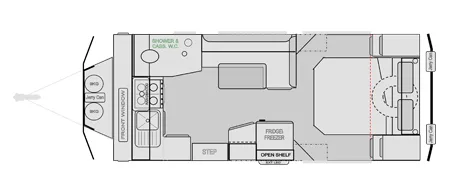 Length: 5100mm – also comes in 5.6m and 5.9m lengths
Width: 2286mm
Sleeps: 2
---
Sunland Blue Heeler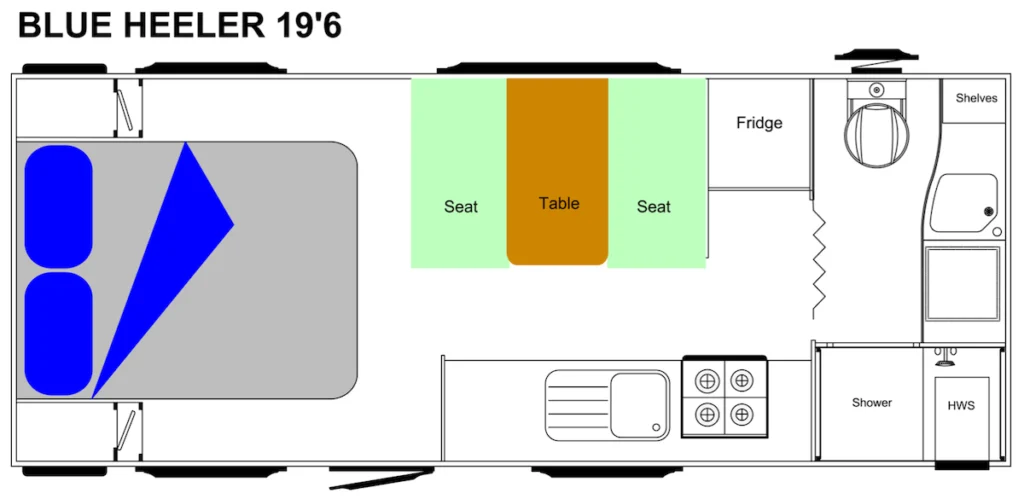 Length: 5600mm – also in 5.9m & 6.2m lengths
Tare: 2250kg
ATM: 3500kg
Sleeps: 2
Price: $139,990
---
Kedron CP5 Compact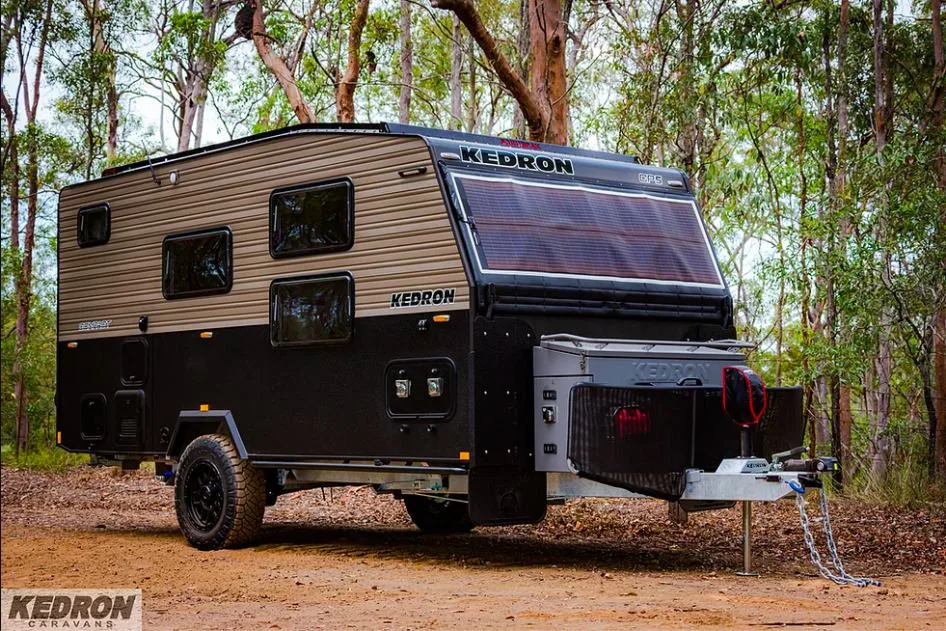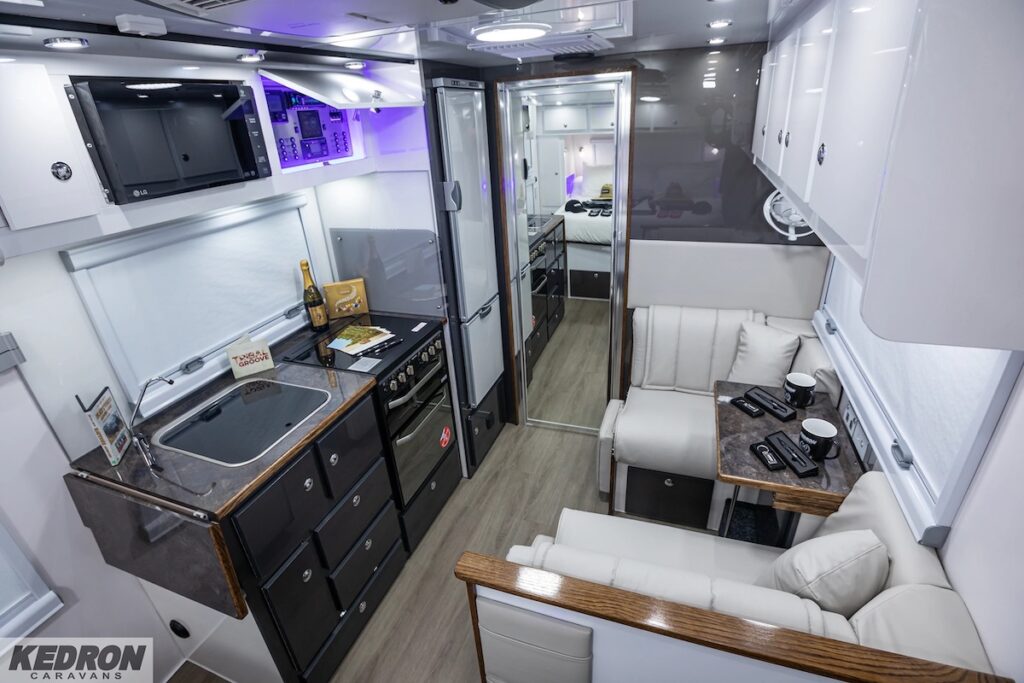 Length: 4870mm 
Sleeps: 2
---
Rhinomax Lost Trak
The Lost Trak by Rhinomax comes in either a single axle 16ft version, or a dual axle 18.5ft version. Both have options for bunk layouts.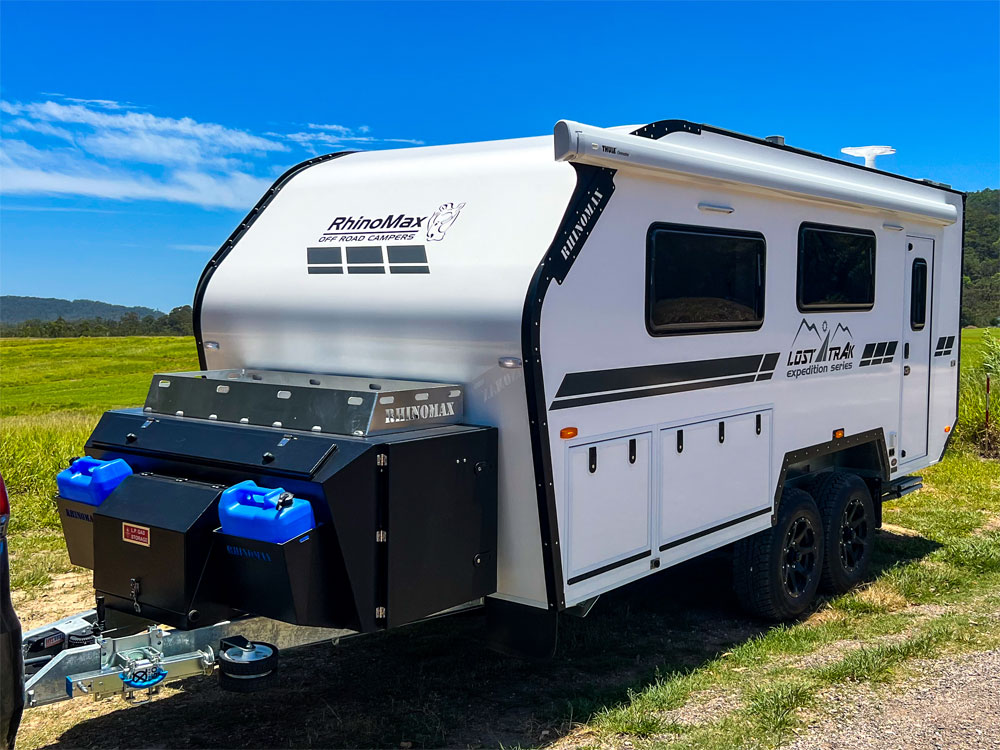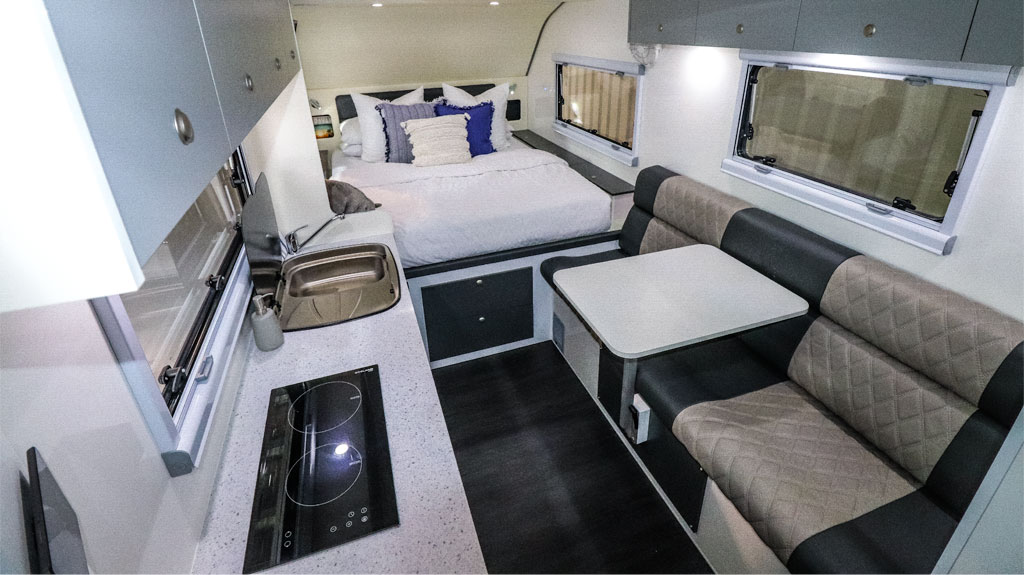 Length: 7300mm 
Width: 2100mm
Height: 2880mm
Tare: 2490kg
ATM: 3500kg
Sleeps: up to 5, with bunk options available
---
Crusader XCountry Trailbreaker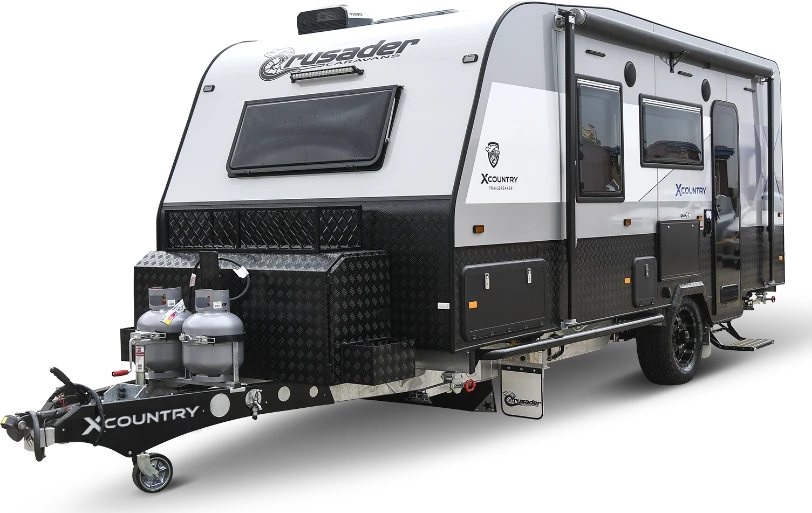 Travel length: 8156mm
Tare: 2460kg
ATM: 3200kg
Sleeps: 2
---
Ezytrail Ceduna 13 MK3 Twin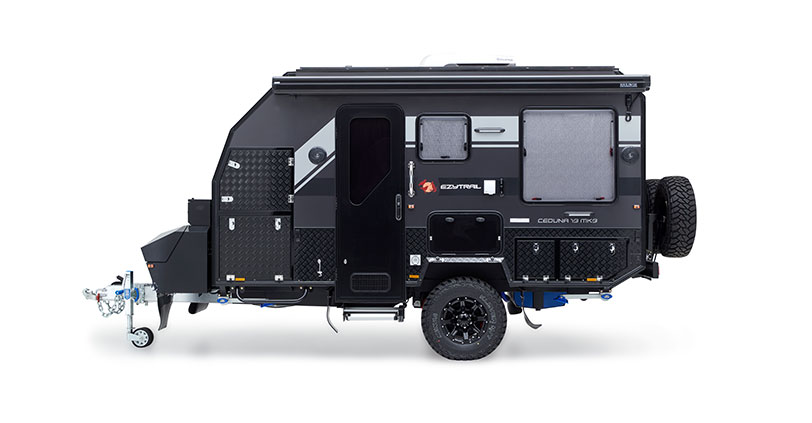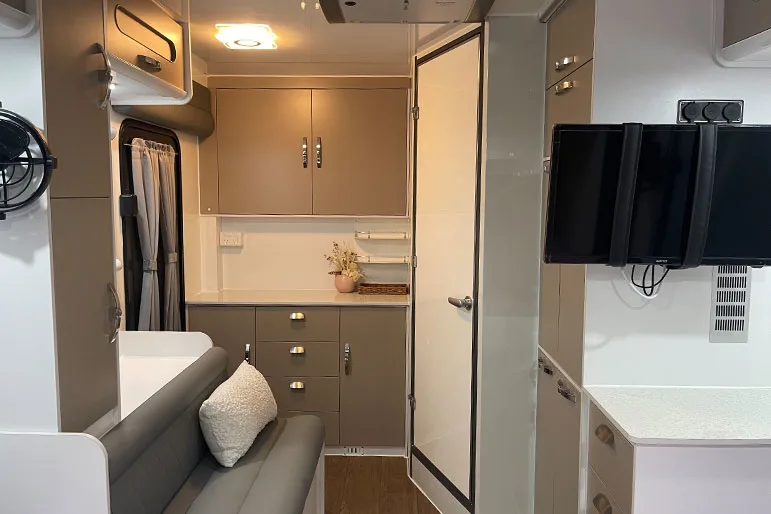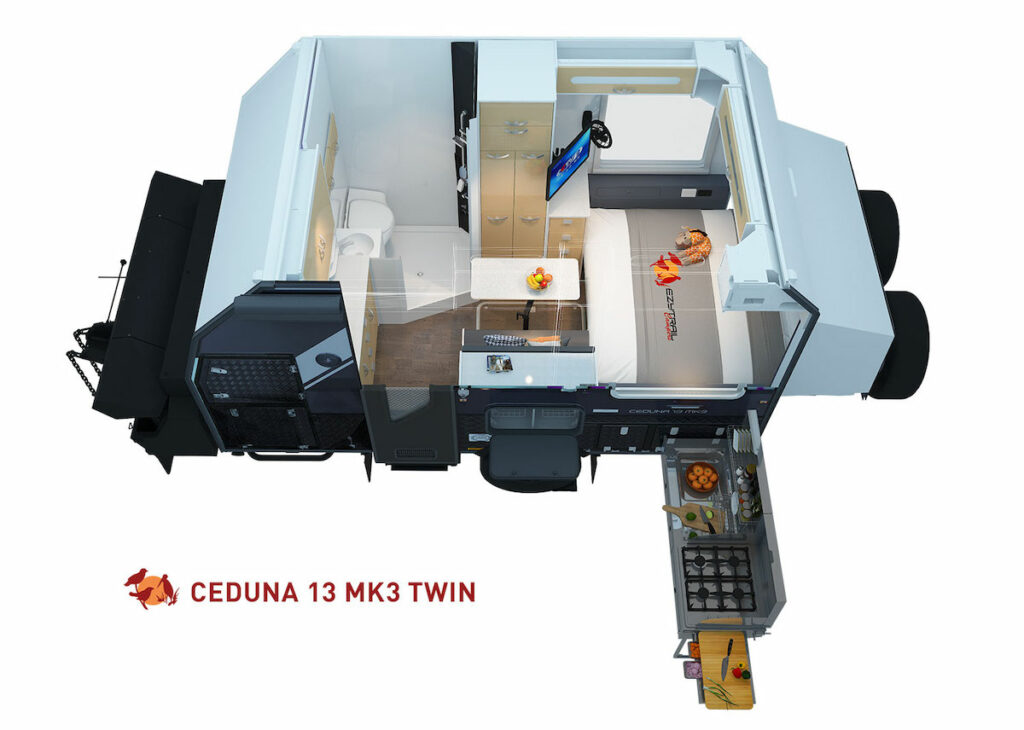 Length: 6055mm 
Width: 2230mm
Height: 3040mm
Tare: 2380kg
ATM: 2900kg
Sleeps: 2
www.ezytrailcampertrailers.com.au
---
JB Caravans Gator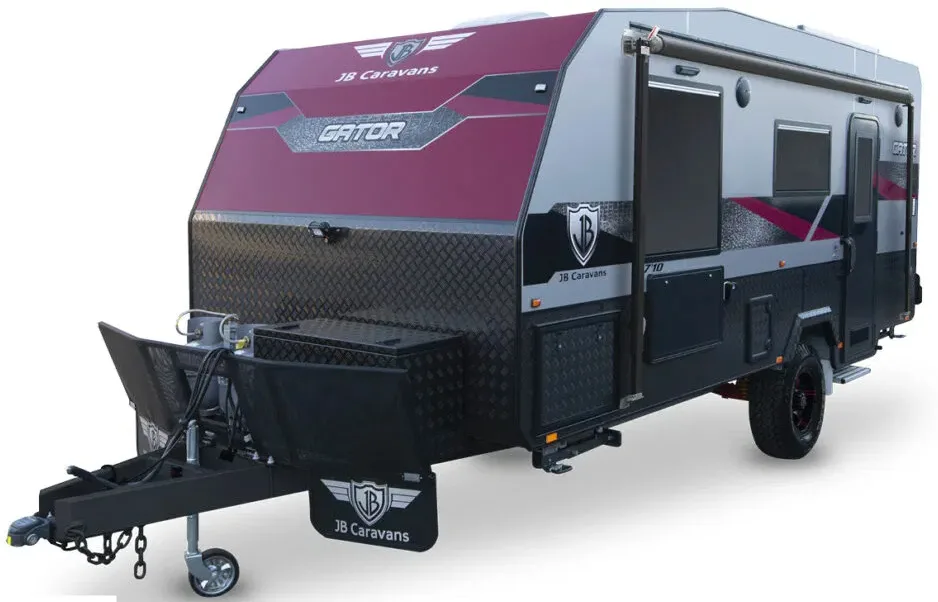 Length: 6900mm 
Width: 2480mm
Height: 3000mm
Sleeps: 2
Price from: $105,600
---
Lotus Freelander
The Freelander comes in 11 layouts ranging in size from 17' to 22'6.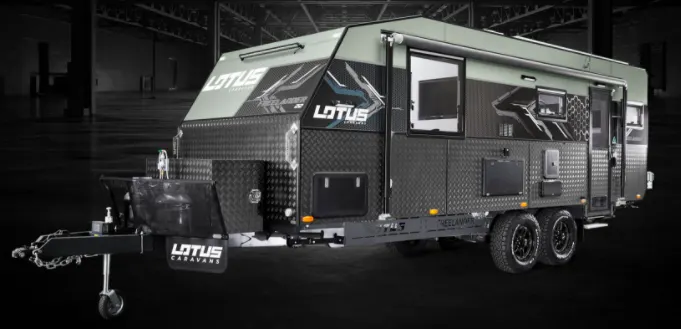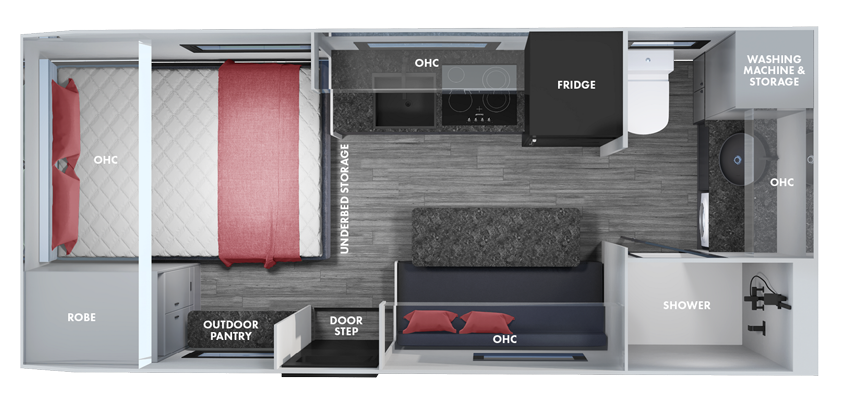 Length: 5180-6860mm 
Width: 2500mm
Height: 3220mm
Sleeps: 2
---
MDC XT12HR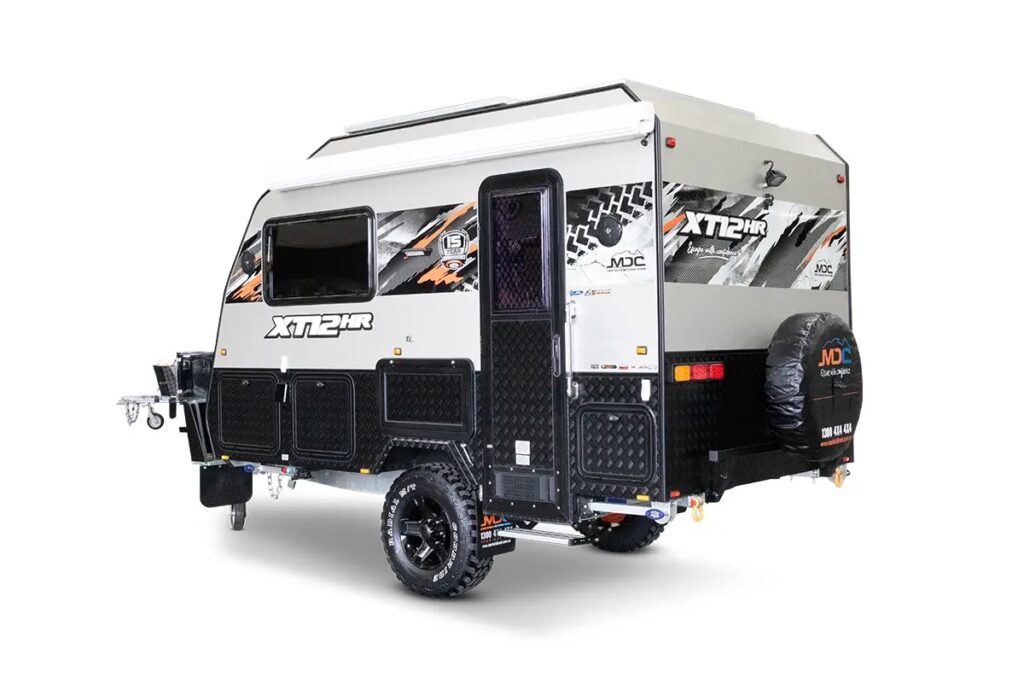 Length: 5543mm 
Width: 2293mm
Height: 3028mm
Tare: 1785kg
ATM: 3000kg
Sleeps: 2
Price from: $49,990
---
Royal Flair Razor XT
The Razor XT by Royal Flair Caravans comes in a variety of sizes and layouts; but I really like the one below that has an electric drop down bed over the club lounge.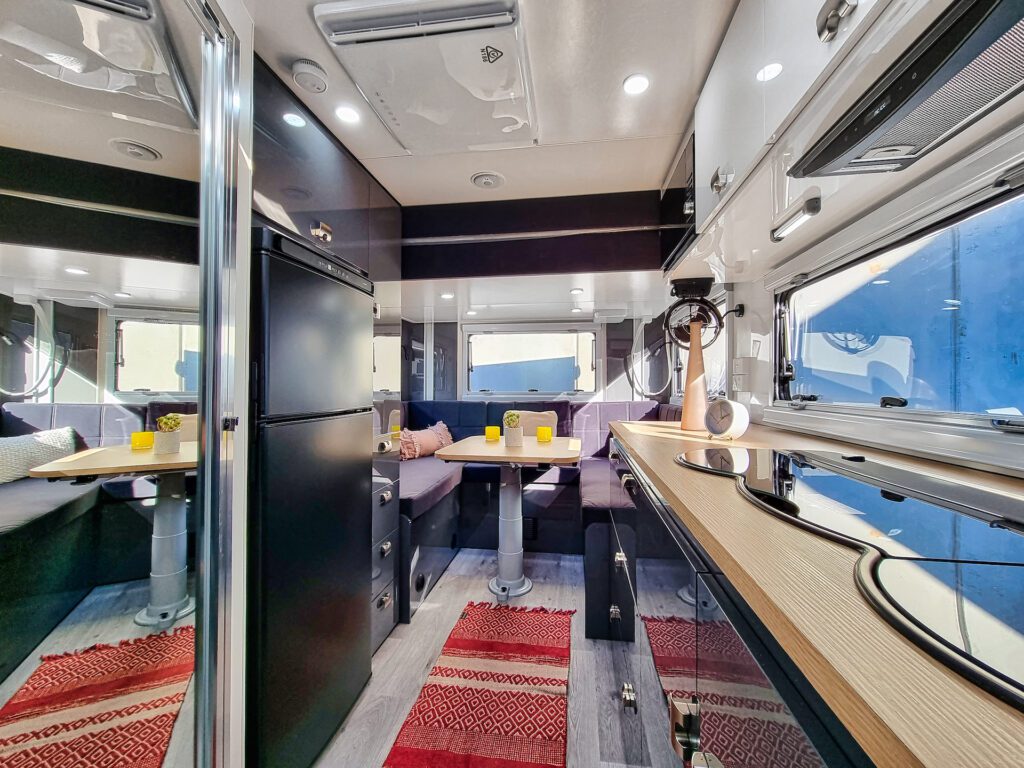 Length: 4420mm 
Width: 2285mm
Height: 3070mm
Tare: 2235kg
ATM: 2735kg
Sleeps: 2
---
Mountain Trail LXV 4.7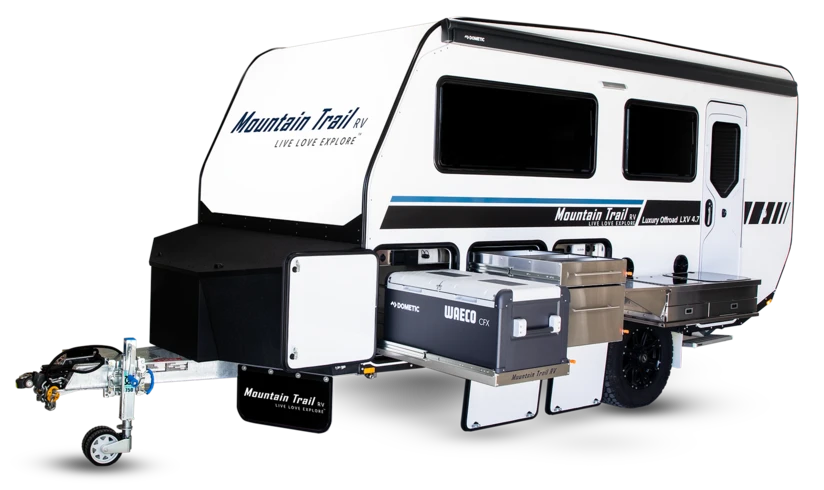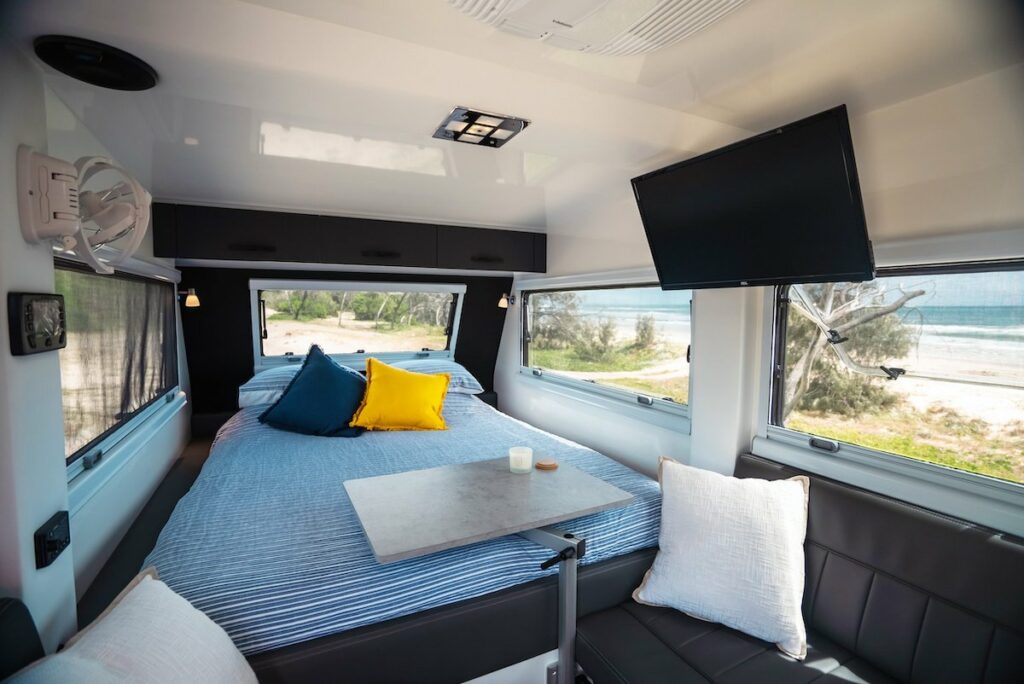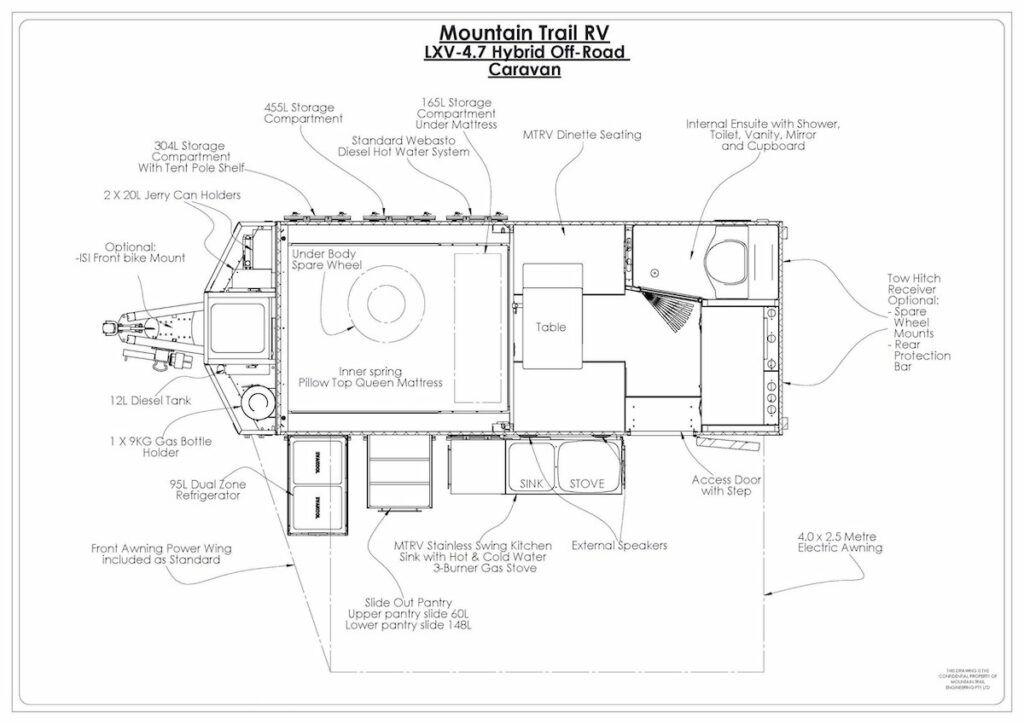 Length: 6310mm 
Width: 2090mm
Height: 2800mm
Tare: 1900kg
ATM: 2800kg
Sleeps: 2
---
ExploreX 4.9m Bush Rat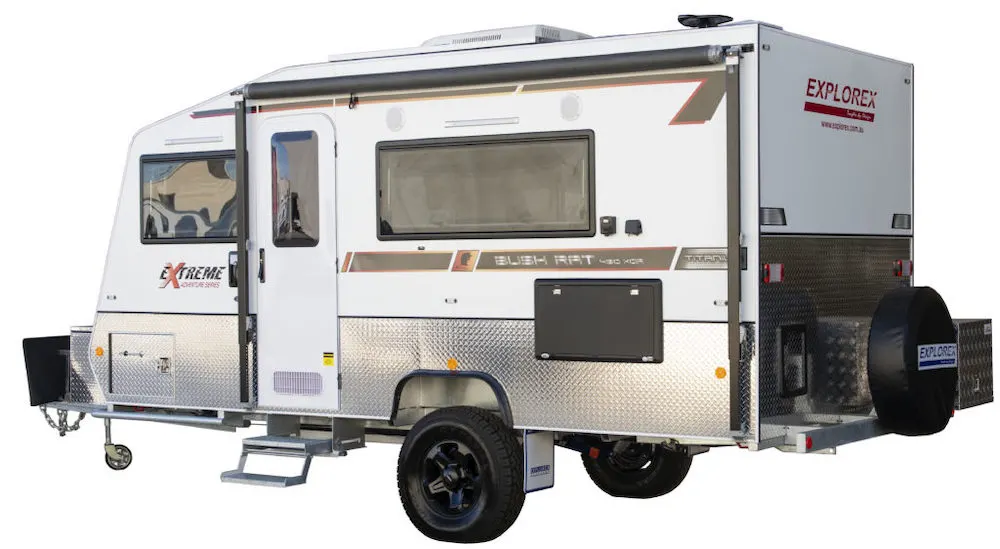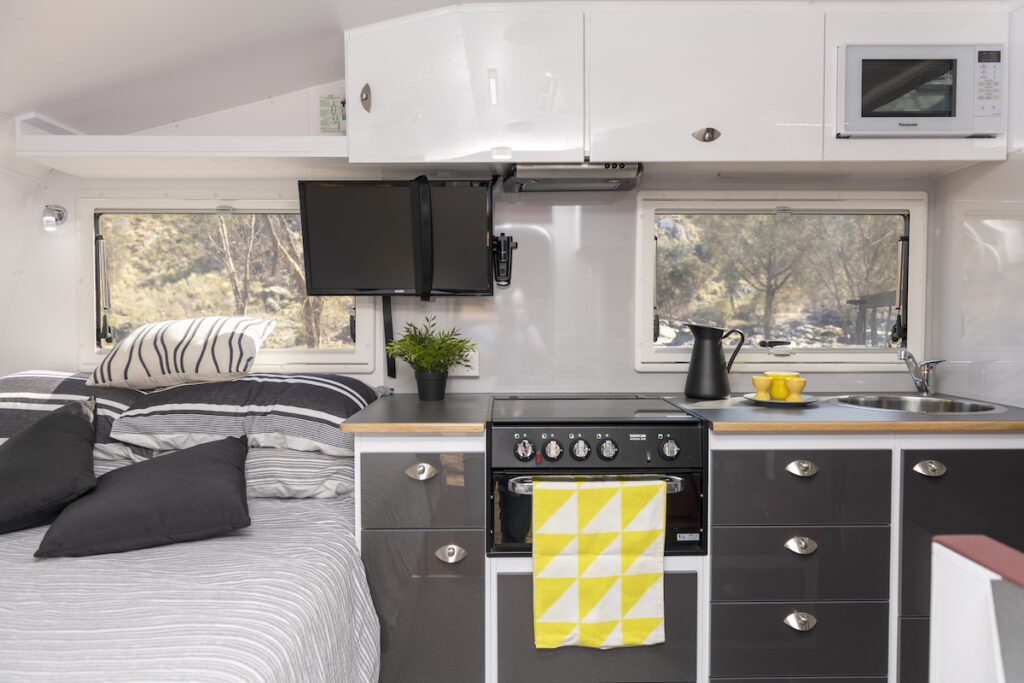 Length: 4900mm 
Sleeps: 2
---
Masterpiece Caravans XTM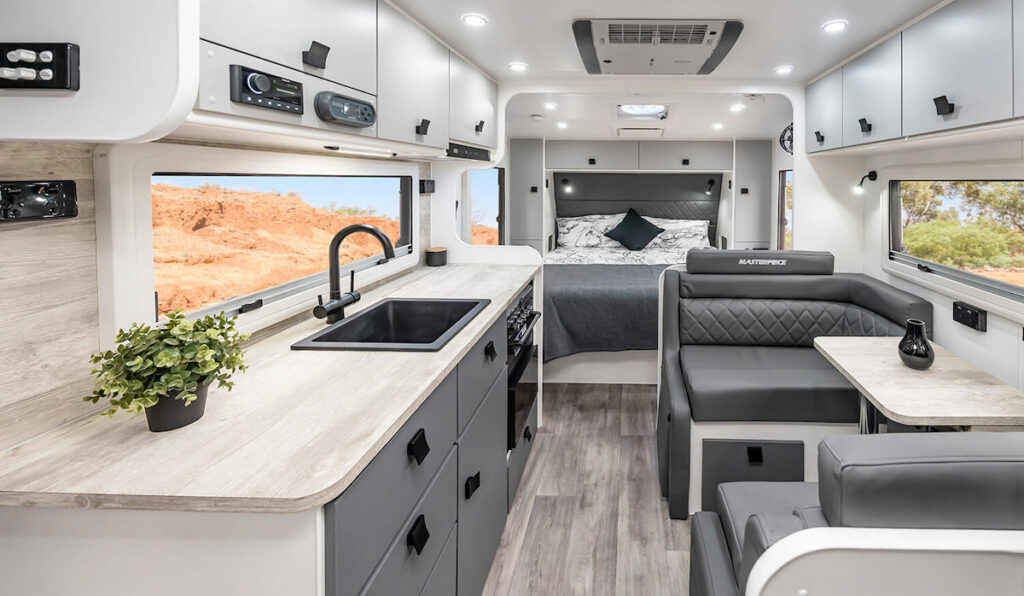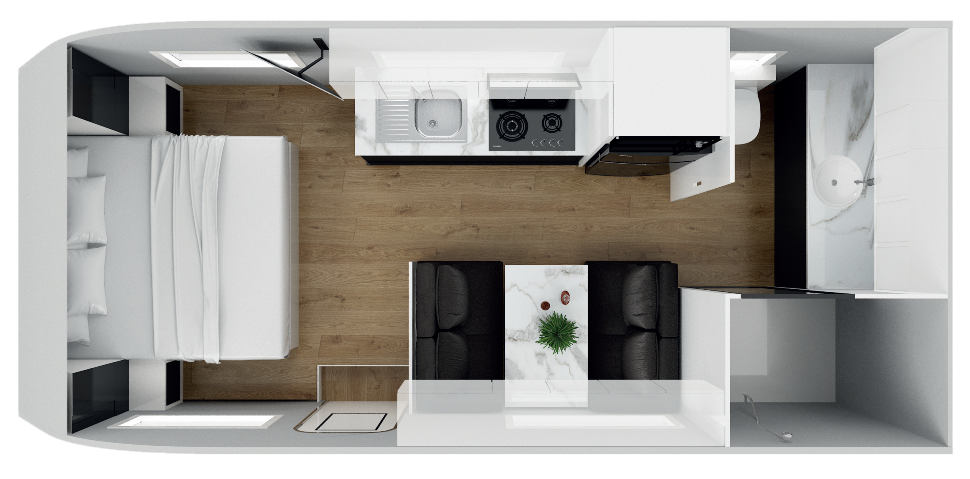 Length: 7075mm 
Width: 2495mm
Height: 3050mm
Tare: 2180 kg
ATM: 2800 kg
Sleeps: 2
www.masterpiececaravans.com.au
---
146 Off Road Caravan Manufacturers in Australia
This list is all the caravan manufacturers in Australia (that I could find) that have off road caravans in their range.
Some of them are 100% manufactured in Australia, some have components manufactured overseas and put together here in Australia, and some are completely manufactured overseas.
Buy the Off Road Caravans spreadsheet
I hope you found this article on off road caravans useful.
Don't forget, if you want to be able to sort through the full list of off road caravans, we have them on a spreadsheet, available for just $15.
BTW – To anyone that has already purchased the Hybrid Caravans spreadsheet and want to add this one, send me an email at admin@benandmichelle.com and I'll send you a discount code.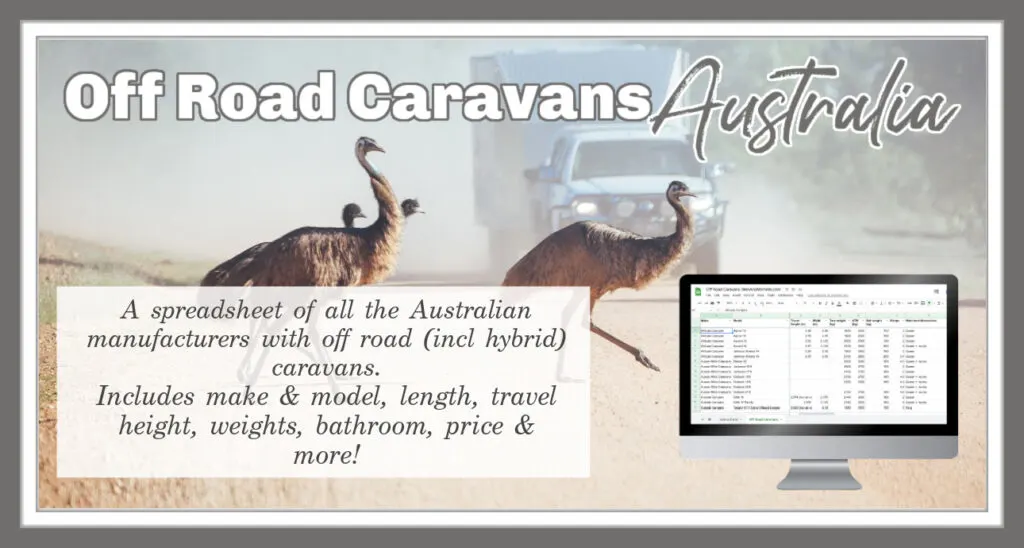 ---
Are you planning on travelling Australia in an off road caravan? If so, which one is your favourite?