Motorhomes Australia
Even though I've titled this article 'Best Motorhomes Australia' I'm sure we're all cognisant of the fact that the best motorhome, is the one that's sitting in your driveway, or you're sitting in it right now enjoying a peanut butter and banana sandwich at some beachside location.
The point is… there is no best that suits everyone.
And even if you can't afford the best for you, any motorhome is better than none. As long as you get out there and enjoy the freedom that a mobile home affords us, and experience the beauty of our amazing country, it doesn't really matter what type of vehicle you're in.
But that doesn't stop us dreaming, right?
I'm a constant dreamer, always trying to figure out which would be the best motorhome for us to travel in.
And that sends me down a rabbit hole of motorhome research.
Difference between motorhome / RV / Campervan / A Class / B Class / C Class
There are a lot of classifications that get flung around the internet, sometimes making it difficult to understand exactly what you're looking at. 
Americans, Canadians, Europeans and Australians use different names for everything but this chart below shows you how RVs are generally defined here compared to the USA.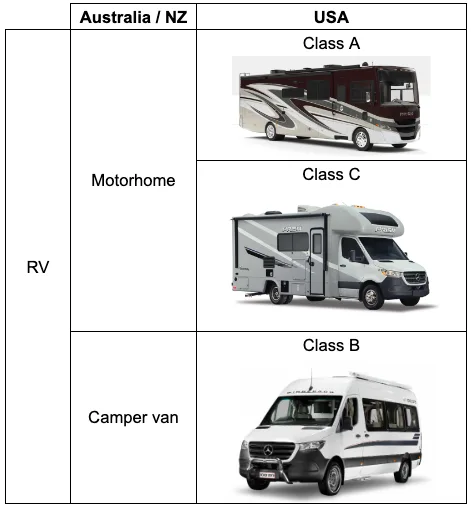 RV – The term RV, or Recreational Vehicle, encompasses all sorts of vehicles, both powered or towed. It includes motorhomes, caravans, camper vans, fifth wheels and campers.
Class A – are the motorhomes that look more like a bus. They can be diesel or petrol and the motor is in the rear of the vehicle.
Class C – are smaller and have the luton peak over the cab, which is used as either a bed or for storage.
Class B – is the equivalent of our camper vans, with a sliding door access.
Best Motorhomes in Australia in 2024
Here in Australia, we don't have a massive selection of RVs to choose from. But there's still a pretty big list.
I've managed to find 30 motorhome manufacturers with over 200 different models of motorhomes!
I've listed all of the manufacturers at the end of this post, if you just want to see who they are. Jump to end of post to see the list of manufacturers.
All 200 motorhomes on a spreadsheet
But if want to see all 200 different models, we've made available a spreadsheet where I've painstakingly gone through every manufacturer's website and listed each of their motorhome models.
I've included all the different types of motorhomes / RVs / camper vans, from the smallest campervan with no bathroom, right through to large luxurious buses.
The spreadsheet lists Make, Model, Length, Width, Height, Weights, Number of people it sleeps, bathroom, the battery set-up, aircon, Base Price and the URL so you can go and check it out for yourself.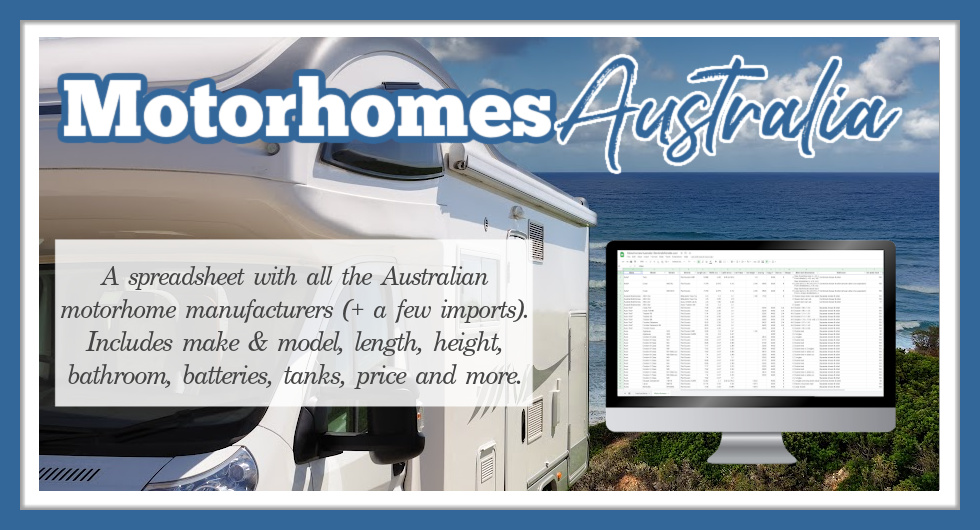 Click here to buy the Motorhomes Australia spreadsheet.
9 of the best motorhomes available in Australia now
Here are 9 of the best motorhomes Australia. They've each got features that make this motorhome a great touring rig, whether you're a solo traveller, couple or a family.
Suncamper Sherwood Conqueror
https://suncampermotorhomes.com.au/motorhomes/compact-motorhomes/sherwood-conqueror/
Now this looks like a bit of a beast motorhome!
The Sherwood Conqueror by Suncamper Motorhomes, is based on their popular E Series but with a host of accessories as standard.
You can see the roof mounted brush bars, spot lights and LED floodlight bar in the photo below, but there's also upgraded lithium and solar, long range fuel tanks (plus loads more) that make this a fantastic off road, off grid motorhome.
Length: 5.85m
Belted seats: 2
Sleeps: 4
Price: from $194,990
Windsor Daintree
https://www.windsorrvs.com.au/Motorhomes/Windsor-Daintree
Windsor may have been known to you previously for their caravans, but since 2019 Windsor have been producing a range of motorhomes built at Apollo's manufacturing facility in South-east QLD.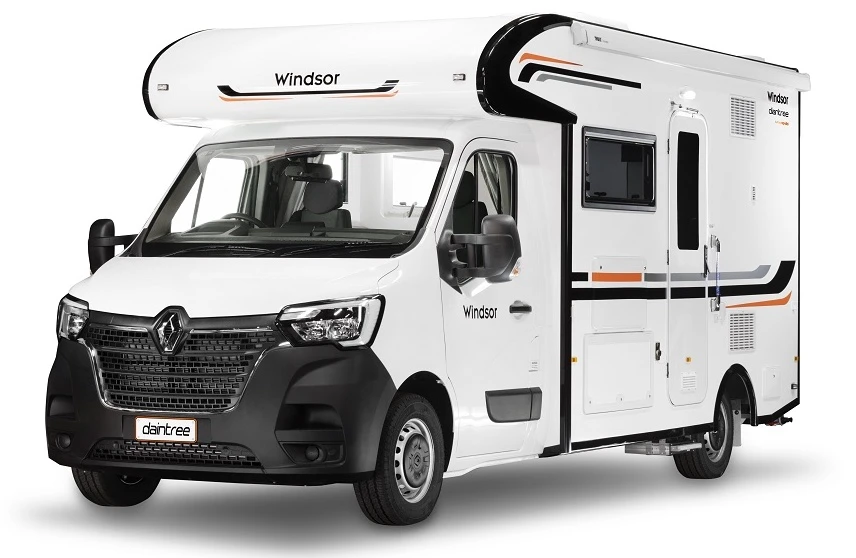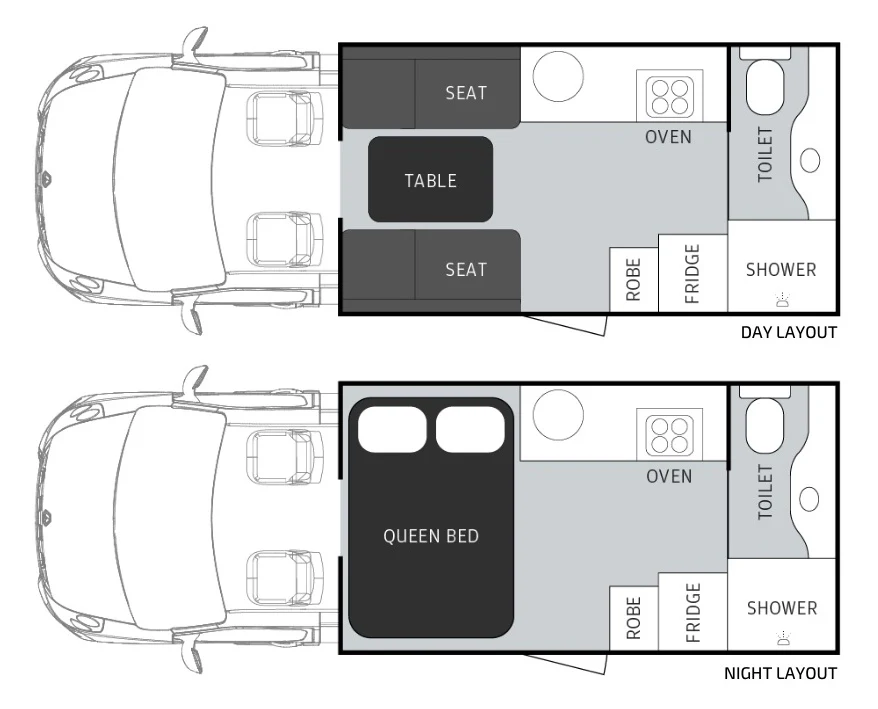 Length: 6.58m
Belted seats: 2
Sleeps: 2
Price: from $164,990
Explorer Motorhomes Pathfinder
https://explorermotorhomes.com.au/our-range/pathfinder/
I've waxed lyrical about the Explorer Motorhomes previously on this blog, and I haven't changed my tune. I love that they fit into a regular size carpark and they're 4WD.
The Pathfinder is, in my opinion, great for singles. You can have the full double bed, or opt for a single bed and use the extra space for storage. You can also have a friend stay over if you want, with the option of the dining area converting to another bed.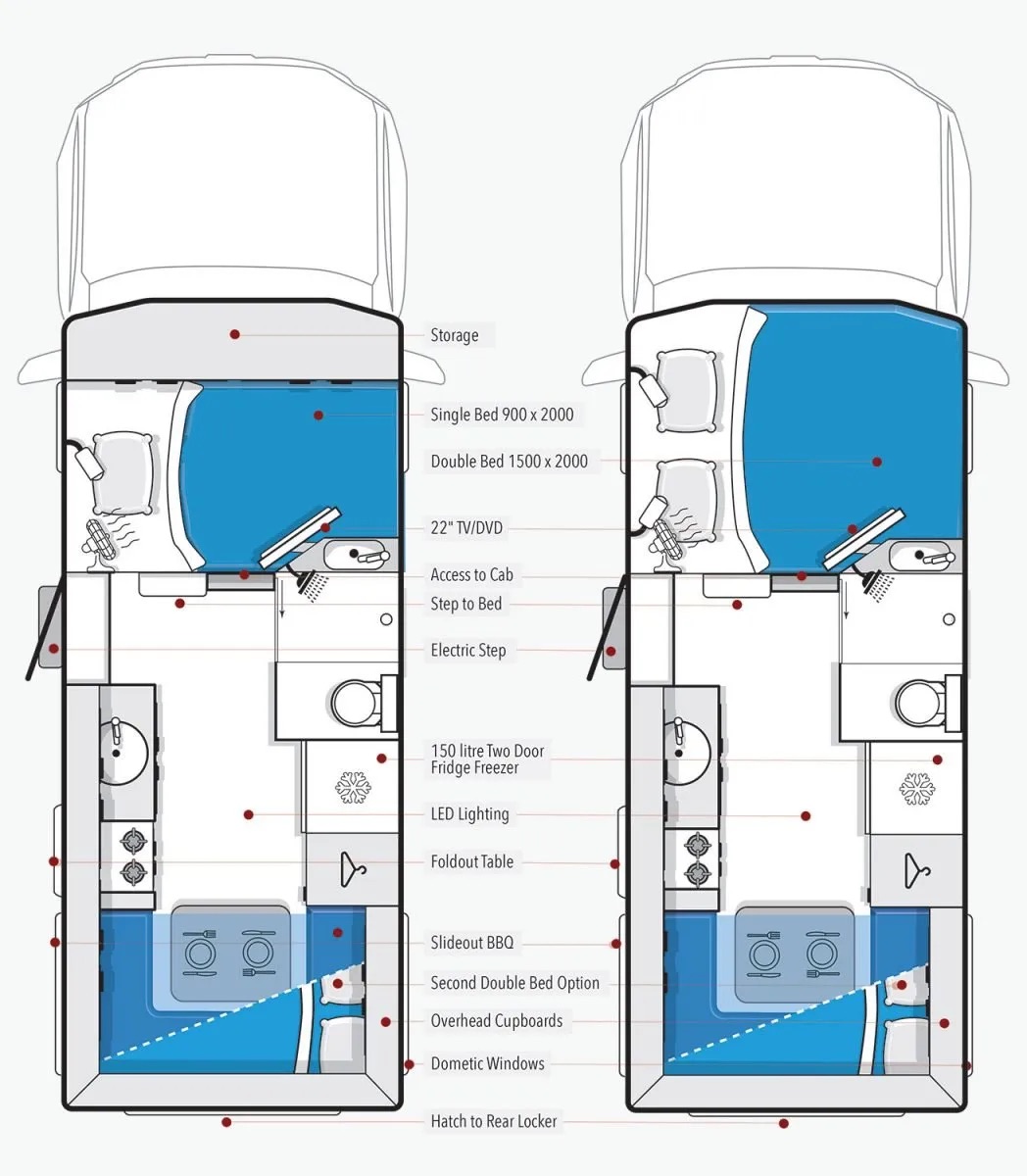 Length: 5.8m
Belted seats: 2
Sleeps: 2-4
Avida Motorhomes – Leura 
https://avidarv.com.au/motorhomes-for-sale/leura-small-motorhome/
Avida is one of the bigger motorhome manufacturers in Australia, with 9 different models with various layouts available. The Leura is one of their smaller motorhomes, but with their clever use of space, and an electric roll down bed, it manages to have a spacious and well appointed living, and sleeping, area.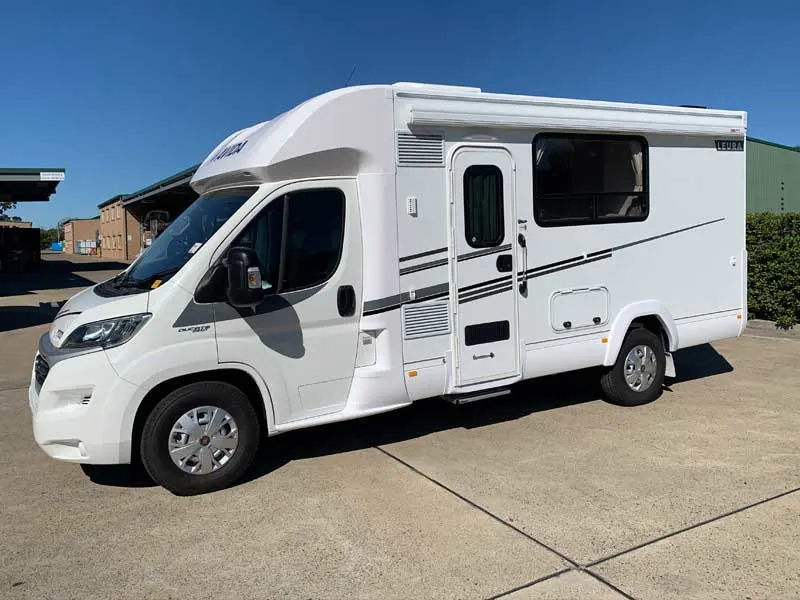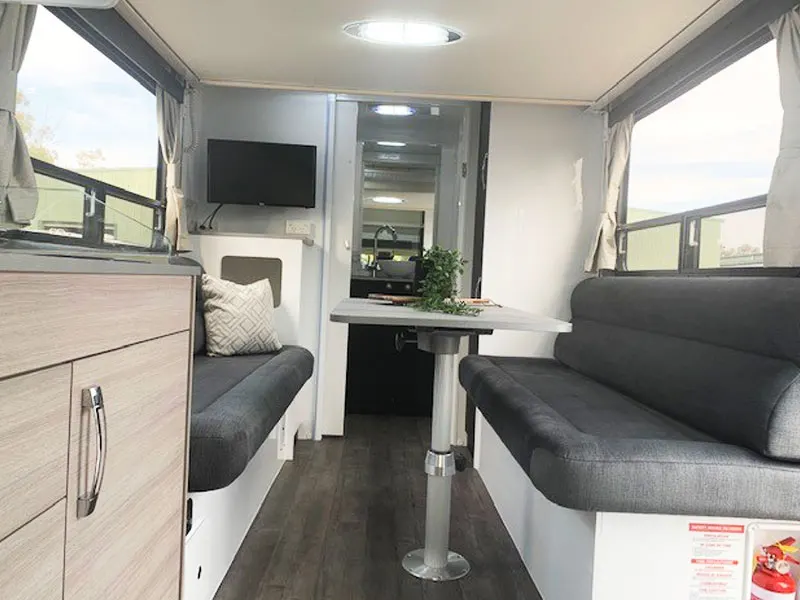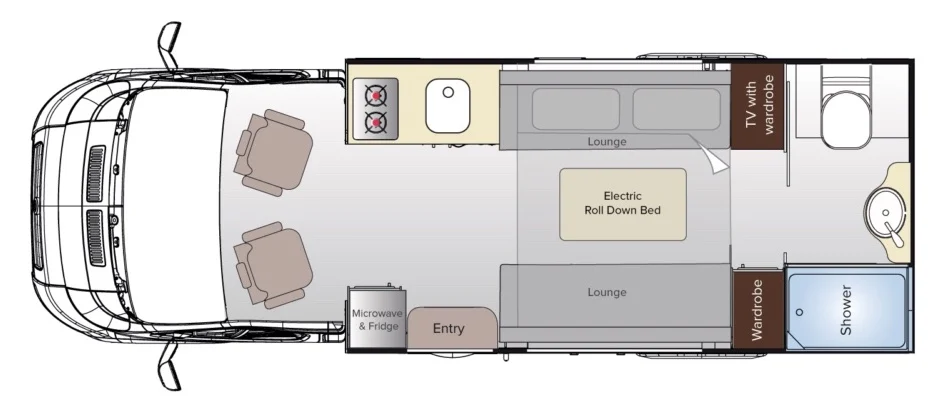 Length: 6.714m
Belted seats: 2
Sleeps: 2
Price: from $163,800
Sunliner Chase
https://www.sunliner.com.au/motorhomes/chase
What if you're a solo traveller? Sunliner have got you covered with their Chase model. 
Small and compact, this little rig still has all the comforts, and space, of the larger rigs. But it all fits into a vehicle that fits easily into a standard sized car park space.
Sunliner are another one of the big players in the Australian motorhomes industry; and they have lots of other models, which you can see on their website.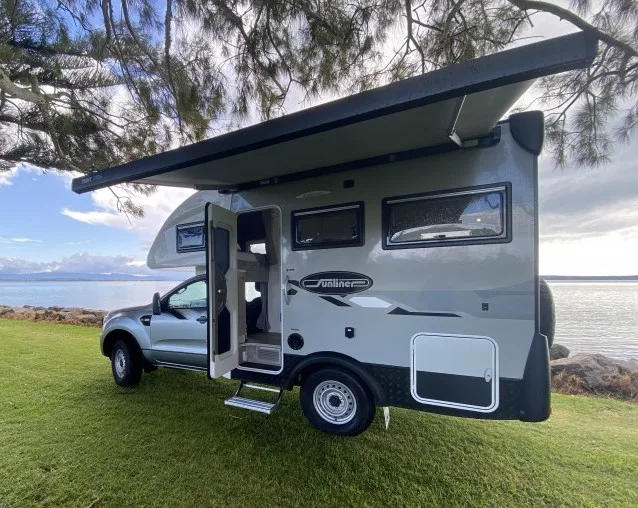 Length: 5.9m
Belted seats: 2
Sleeps: 2
Price: from $141,888
Winnebago Cottesloe
https://www.gowinnebago.com.au/motorhomes/winnebago-cottesloe
Winnebago have 9 models in their motorhome range (including 2 campervans) and one of the smaller ones is the Cottesloe.
I'm seeing a lot more motorhome manufacturers utilise the drop down bed and Winnebago is no exception.
In the Cottesloe, the bed drops down over the living area at the front of the vehicle, leaving plenty of room for the kitchen in the middle of the rig, and a spacious bathroom at the rear.
Length: 7.05m
Belted seats: 2
Sleeps: 2
Price: from $187,000
Jayco Optimum
https://www.jayco.com.au/range/jayco-motorhomes/jayco-optimum
The Jayco Optimum is the largest motorhome in the Jayco range. And it deserves it's name!
It has all the luxury and space that a family of four could want. Its large 29ft is increased even more with the massive slide out almost the entire length of the motorhome.
It even has a dishwasher.
Built on either the Fiat Ducato, Mercedes-Benz Sprinter or Iveco Daily chassis.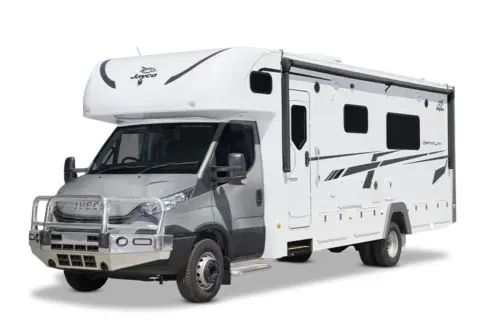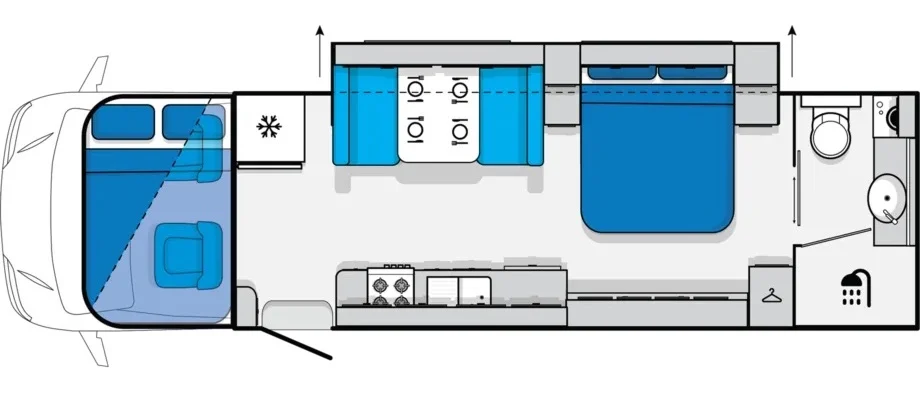 Length: 8.995m
Belted seats: 4
Sleeps: 4
Price: from $277,990
Tiffin Allegro
https://www.tiffinmotorhomes.com.au/product/2022-tiffin-allegro-breeze-33ibr-orders-from-factory/
If you, like me, have spent any amount of time scouring the internet looking at the myriad of RVs that are available; chances are high that you will have come across the Tiffin range of motorhomes.
Like many of the American RVs, these things are HUGE, and we rarely see vehicles of this size here in Australia.
But… Tiffin recognised that their smallest Class A diesel pusher, the Allegro, is the right size for Australia. Since 2011 they've been importing a right hand drive version of the Allegro to Australia. Built in America, but to Australian standards.
It's a plush ride.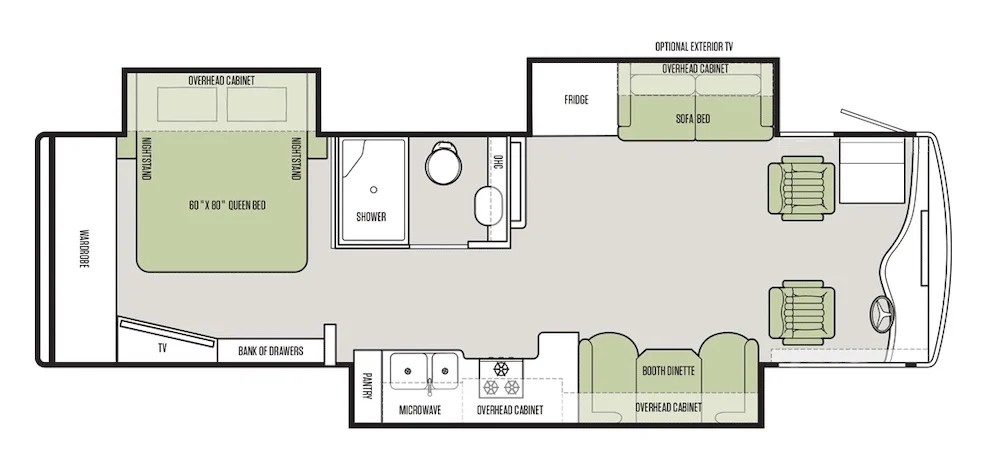 Length: 10.2m
Belted seats: 4-6
Sleeps: 4-6
Trakka Akuna A2M
https://trakka.com.au/collections/akuna/products/a2m
The Akuna A2M is a compact campervan built on the Volkswagen Crafter MWB. Even though it's small, they've still managed to fit in north-south sleeping arrangements (so you don't have to climb over each other to get in and out of bed) into a van that's only 6m.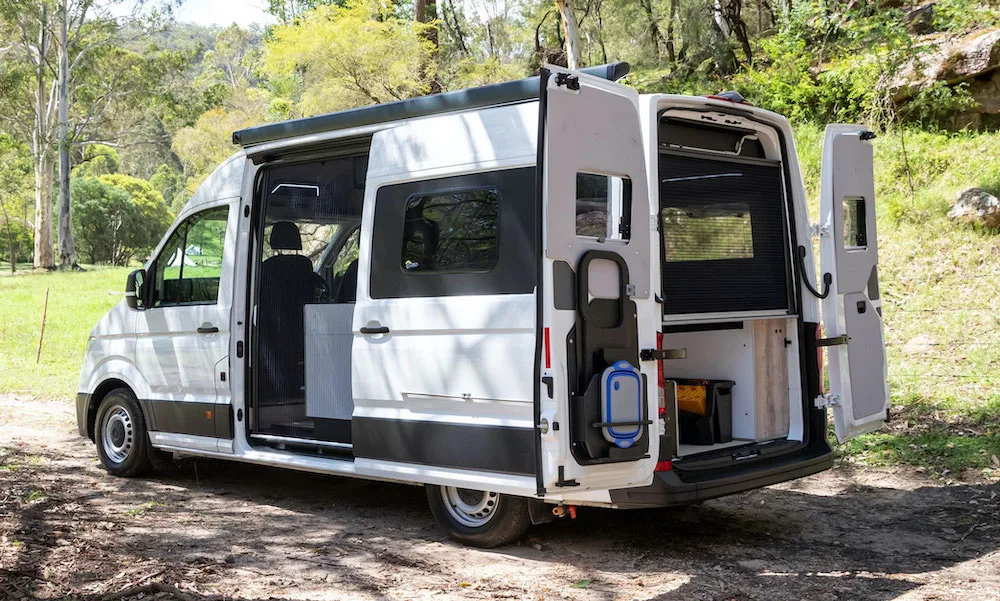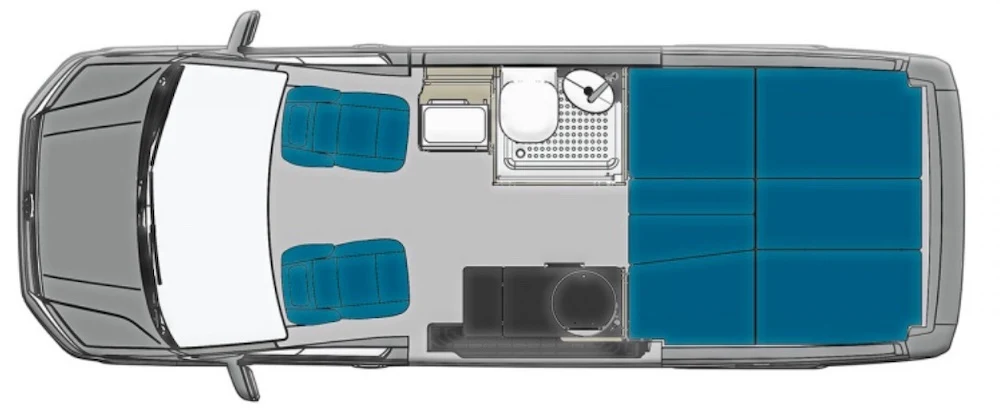 Length: 5.99m
Belted seats: 2
Sleeps: 2
Price: $165,374
30 Motorhome Manufacturers in Australia
This list is all the motorhome manufacturers in Australia (that I could find) that have motorhomes and campervans in their range.
*Adria, Auto-Trail & Tiffin are manufactured overseas and imported new into Australia.
And again, if you want to see the full list of motorhome and campervan models we've got a spreadsheet with all the info. Buy the Motorhomes Spreadsheet ($9) here.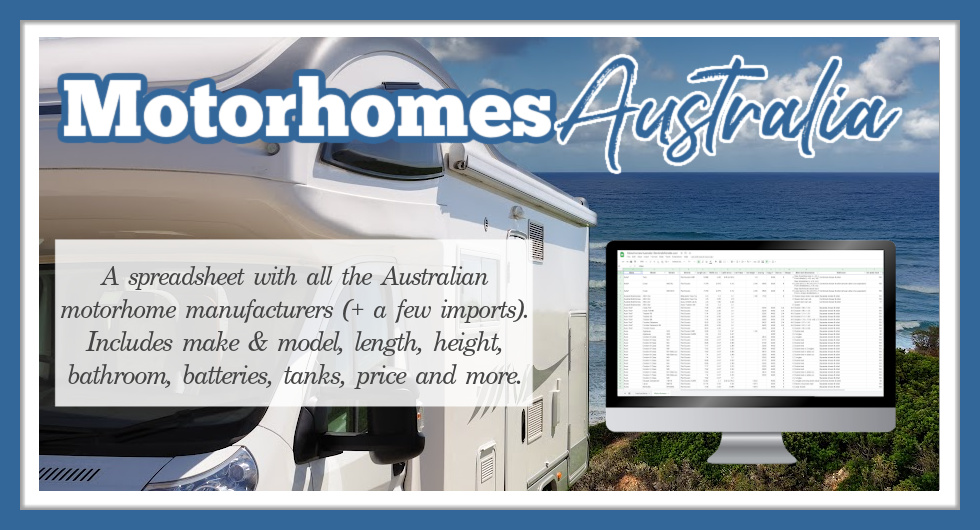 Is a motorhome on your list for the perfect way to do a road trip around Australia?