We've settled ourselves into Fingal Holiday Park for a couple of days and trying (emphasis on the word 'trying') to get caught up on the blog while still trying to solve a couple of set-up problems we've had. It's seems a bit hard to believe we've been in Australia almost three weeks now and are well and truly into our journey.
This blog post covers 4th July – 23rd July, from Sydney NSW to Fingal Head, NSW.
We only spent about five days in Sydney and, believe it or not, we managed to buy our vehicle (Hyundai Terracan) and camper trailer within that time. We weren't trying to set some record for setting ourselves up in super quick time, but we were conscious of the fact that each night we spent in some dodgy pub hotel was another $100 out of our budget. (Thank you so much for the offers of accommodation from our Sydney peeps! All the cars we looked at were out in the wild West so it made the most sense to stay out there. xx)
We're really happy with the purchase of our car, and we've now resigned ourselves to our camper trailer and are reasonably happy with that too. If you're interested you can read about our purchasing 'learnings' here.
F-f-f-f-freezing First Night
As soon as we'd paid for and picked up our camper trailer we found the nearest caravan park to go and set up. Well… I say it was the nearest caravan park, but we didn't actually know how to use WikiCamps yet (an app with all the campsites in Australia) and ended up driving for another couple of hours to find one that was open, would take us and had room for us.
We finally made it there at 4pm and hustled to get our tent up, with no instructions, never having put one like this up before and in quickly diminishing light. We're happy to say, there were no fights and we had it up in pretty quick time! (maybe 30 minutes)
But oh lordy, was it cold! Thank goodness we'd bought a winter weight duvet/doona just the day before so we huddled together on our too hard camping mattress and shivered our way through an endlessly long and cold (and sleepless) night.
Port Macquarie
The next day it was an easy decision to head straight to Port Macquarie where hopefully it was warmer and where we could set up camp in a caravan park, and set about getting all the things we need/want for this trip. Since Ben's parents live in Port Macquarie it also meant that we could spend some time with them while we got all our jobs done.
We stayed for a week and hammered our bank account some more: service on the trailer, portable fridge (got an awesome fridge/freezer combo), new battery, solar panels, camp chairs, pillows, storage containers, LED lights, dustpan and broom, wheel chocks, jerry cans… oh the list goes on.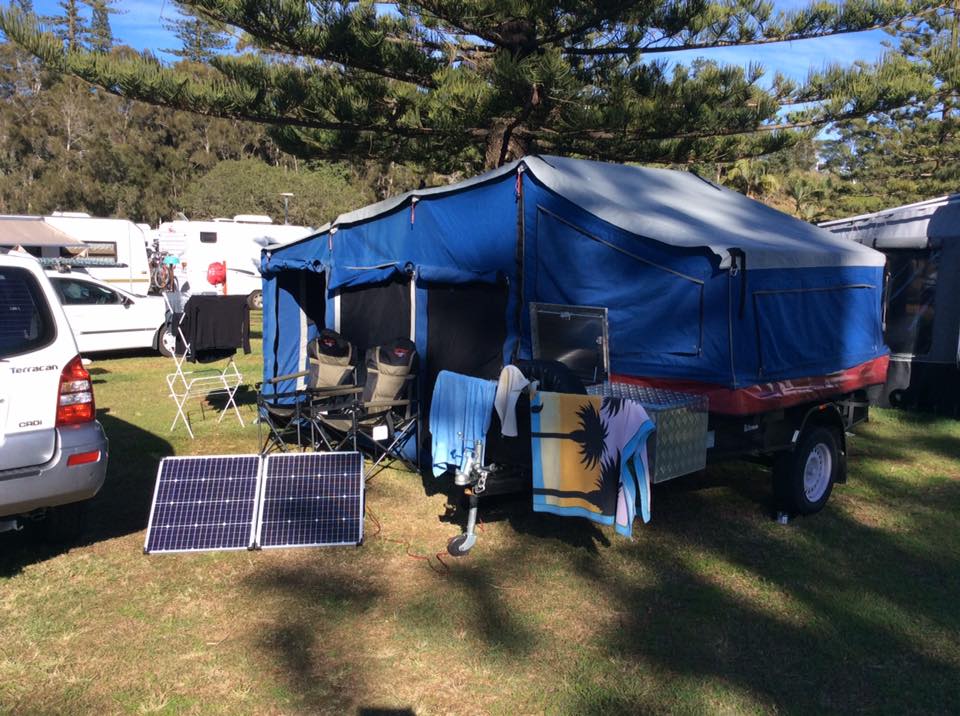 But thank goodness for mums (and dads) who pile you up with other necessities like pots and pans (!), food containers, cooking utensils, butane stove (with 14 cans of butane!), tools and so much more. We got to spend time with the parents each day and it was wonderful to have that time.
The Official Start
We left the safe haven of Port Macquarie on Monday 17th July and we're marking that date as the official start of our journey. No warm home with family to go and spend the evening with, no home-cooked meals made with mums love, no retreating to their couch should it all turn belly-up.
As every epic journey should, ours started with a trip to the tyre shop for a wheel alignment. :-/
Yuraygir National Park, NSW
We headed about three hours north to a tiny place called Minnie Water, the Yuraygir National Park has a camp ground there with big sites right on the beach. It's beautiful. (I'll let some pictures tell the story much better than I can.)
It's a pity it's still too cold to swim but it's wonderful to be by the sea and be able to have a camp fire at night.
Packing up camp
We think that we'll stick to about three hours driving per day, and would like to stay about three nights in each location. This became particularly important when we found that it takes us two hours to pack up camp! We're quickly realising the old saying:
A place for everything and everything in it's place
is going to be VERY important for us. Packing up when you've got to start with a tent that has clothes and things strewn everywhere is going to get old, real quick.
We're culling as we're going, so that we only carry (and continually pack and unpack) things that we use regularly. But I'm sure it will be an ongoing lesson.
We did a time lapse of us packing up after our first stay. It took two hours. You can see it in the video at the end of this post.
Fingal Head
Next stop was another beach location just south of Tweed Heads. Thankfully the weather is getting warmer with each step northwards, but the nights are still pretty cold.
However, there's benefits to travelling in the off season. While we had most of the unpowered tent area all to ourselves, it did start getting busier on Friday night. More people arrived on Saturday, but by Sunday mid-morning everyone had gone again. It made us grateful all over again that we get to do this trip and don't have to trudge off to work on Monday mornings.
I think Sunday afternoon/evening has gone from my least favourite time of the week to my absolute favourite.
Camping info
Port Macquarie Breakwater Holiday Park
9th-16th July
Unpowered site – 2 adults – $32/night
Powered site – 2 adults – $37.80/night
Illaroo Camp Area (North), Yaraygir National Park
17th-19th July
Unpowered site – 2 adults – $24/night plus car entry of $8/day (we opted to buy the yearly car pass for $45)
Fingal Holiday Park
20th-23rd July
Unpowered site – 2 adults – $28/night